Archive S-T
«« Previous page
·
Kathryn Harkup: Making the Monster. The Science Behind Mary Shelley's Frankenstein
·
Antti Tuomainen: Die letzten Meter bis zum Friedhof
·
The River of Consciousness by Oliver Sacks
·
Isabelle Giordano: Romy Schneider, film par film
·
The Poetry Pharmacy: Tried-and-True Prescriptions for the Heart, Mind and Soul by William Sieghart
·
Lecture & rencontre: Kate Tempest à Paris – Écoute la ville tomber
·
Konstantin Sloetsjevski: Zij lag gekleed als Colombine (vertaling Paul Bezembinder)
·
Earthly Signs. Moscow Diaries, 1917-1922 by Marina Tsvetaeva
·
Susan Sontag: Debriefing. Collected Stories
·
F. Scott Fitzgerald: Princeton – The Last Day
·
Oliver Sacks: On The Move. A Life
·
Queer Shakespeare. Desire and Sexuality
The year 1818 saw the publication of one of the most influential science-fiction stories of all time.
Frankenstein: Or, Modern Prometheus by Mary Shelley had a huge impact on gothic horror and science-fiction genres, and her creation has become part of our everyday culture, from cartoons to Hallowe'en costumes. Even the name 'Frankenstein' has become a by-word for evil scientists and dangerous experiments. How did a teenager with no formal education come up with the idea for an extraordinary novel such as Frankenstein?
Clues are dotted throughout Georgian science and popular culture. The years before the book's publication saw huge advances in our understanding of the natural sciences, in areas such as electricity and physiology, for example. Sensational science demonstrations caught the imagination of the general public, while the newspapers were full of lurid tales of murderers and resurrectionists.
Making the Monster explores the scientific background behind Mary Shelley's book. Is there any science fact behind the science fiction? And how might a real-life Victor Frankenstein have gone about creating his monster? From tales of volcanic eruptions, artificial life and chemical revolutions, to experimental surgery, 'monsters' and electrical experiments on human cadavers, Kathryn Harkup examines the science and scientists that influenced Shelley, and inspired her most famous creation.
Kathryn Harkup is a chemist and author. Kathryn completed a PhD then a postdoc at the University of York before realising that talking, writing and demonstrating science appealed far more than spending hours slaving over a hot fume-hood. Kathryn went on to run outreach in engineering, computing, physics and maths at the University of Surrey, which involved writing talks on science and engineering topics that would appeal to bored teenagers, and she is now a science communicator delivering talks and workshops on the quirky side of science.
Making the Monster
The Science Behind Mary Shelley's Frankenstein
By: Kathryn Harkup
Published: 08-02-2018
Format: Hardback
Edition: 1st
Extent: 304 pp
ISBN: 9781472933737
Imprint: Bloomsbury Sigma
Illustrations: 11 black and white illustrations
Dimensions: 216 x 135 mm
£16.99
new books
fleursdumal.nl magazine
More in: - Book News, Archive G-H, Archive S-T, Archive S-T, Art & Literature News, Mary Shelley, Natural history, Percy Byssche Shelley, Shelley, Mary, Shelley, Percy Byssche, Tales of Mystery & Imagination
---
Jaako ist 37, als sein Arzt ihm eröffnet, dass er keine Grippe hat, sondern sterben wird, und zwar sehr bald: Jemand hat ihn über längere Zeit hinweg vergiftet.
Das an sich ist schon geeignet, einem Mann so richtig den Tag zu verderben. Leider wird Jaako bei der Rückkehr nach Hause außerdem noch Zeuge, wie ihn seine Frau mit Petri betrügt, dem jungen, knackigen Angestellten ihrer gemeinsamen Firma. Der Firma, die in jüngster Zeit gefährlich Konkurrenz bekommen hat.
Jaako beschließt herauszufinden, wer ihn um die Ecke bringen will. Und er wird sein Unternehmen für die Zeit nach seinem Tod fit machen. Der Handel mit den in Japan zu Höchstpreisen gehandelten Matsutake-Pilzen läuft nämlich ausgezeichnet, und in Finnlands Wäldern wachsen nun einmal die besten. Doch das neue Konkurrenzunternehmen kämpft wirklich mit harten Bandagen.
Ist es da Jaakos Schuld, wenn es zu Toten kommt? Und hat er überhaupt Zeit für anderer Leute Sorgen? Denn so viel ist klar: Mit dem Tod vor Augen geht alles leichter, gilt es doch jede Minute zu genießen.
«Die letzten Meter bis zum Friedhof» ist nicht einfach ein Kriminalroman, sondern ein besonderes Buch: lustig und tragisch, berührend und skurril, lebensklug und nachdenklich, ein Roman, der trotz seines makabren Themas die Lebensgeister weckt, und eine schräge Lektüre, bei der man sich fühlt, als befände man sich in einem Film von Aki Kaurismäki.
Antti Tuomainen, Jahrgang 1971, ist einer der angesehensten und erfolgreichsten finnischen Schriftsteller. Er wurde u.a. mit dem Clue Award, dem Finnischen Krimipreis ausgezeichnet, seine Romane erscheinen in über 25 Ländern. Antti Tuomainen lebt mit seiner Frau in Helsinki.
Antti Tuomainen
Die letzten Meter bis zum Friedhof
Erscheinungstermin: 24.01.2018
384 Seiten
Hardcover
€19,95
Übersetzt von: Niina Wagner; Jan Costin Wagner
Verlag: Rowohlt
ISBN: 978-3-498-06552-2
new books
fleursdumal.nl magazine
More in: - Book Lovers, - Book Stories, Archive S-T, Art & Literature News, CRIME & PUNISHMENT, Tales of Mystery & Imagination
---
From the best-selling author of Gratitude, On the Move, and Musicophilia, a collection of essays that displays Oliver Sacks's passionate engagement with the most compelling and seminal ideas of human endeavor: evolution, creativity, memory, time, consciousness, and experience.
Oliver Sacks, a scientist and a storyteller, is beloved by readers for the extraordinary neurological case histories (Awakenings, An Anthropologist on Mars) in which he introduced and explored many now familiar disorders–autism, Tourette's syndrome, face blindness, savant syndrome.
He was also a memoirist who wrote with honesty and humor about the remarkable and strange encounters and experiences that shaped him (Uncle Tungsten, On the Move, Gratitude).
Sacks, an Oxford-educated polymath, had a deep familiarity not only with literature and medicine but with botany, animal anatomy, chemistry, the history of science, philosophy, and psychology.
The River of Consciousness is one of two books Sacks was working on up to his death, and it reveals his ability to make unexpected connections, his sheer joy in knowledge, and his unceasing, timeless project to understand what makes us human.
Oliver Sacks was born in 1933 in London and was educated at Queen's College, Oxford. He completed his medical training at San Francisco's Mount Zion Hospital and at UCLA before moving to New York.
Familiar to the readers of The New Yorker and The New York Review of Books, Dr. Sacks spent more than fifty years working as a neurologist and wrote many books, including The Man Who Mistook His Wife for a Hat, Musicophilia, and Hallucinations, about the strange neurological predicaments and conditions of his patients.
The New York Times referred to him as "the poet laureate of medicine," and over the years he received many awards, including honors from the Guggenheim Foundation, the National Science Foundation, the American Academy of Arts and Letters, The American Academy of Arts and Sciences, and the Royal College of Physicians. His memoir On the Move was published shortly before his death in August 2015.
The River of Consciousness
By Oliver Sacks
Hardcover
Oct 24, 2017
256 Pages
$27.00
Published by Knopf
5-1/2 x 8-3/8
ISBN 9780385352567
new books
fleursdumal.nl magazine
More in: - Book News, - Book Stories, Archive S-T, Art & Literature News, CINEMA, RADIO & TV, DRUGS & MEDICINE & LITERATURE, Natural history, Oliver Sacks, Psychiatric hospitals
---
"Romy Schneider est bien plus qu'une star de cinéma. Elle est une véritable icône, un symbole fort pour une génération entière.
Femme libre, artiste accomplie, elle continue de fasciner encore aujourd'hui. Elle incarne la femme moderne, elle est l'image même de ces femmes qui, dans les années 1970, ont cherché à gagner leur liberté et la maîtrise de leur destin.
Elle est "l'image de toutes les femmes" comme le disait si justement Claude Sautet. On aime Romy car dès son plus jeune âge, elle rue dans les brancards et s'élève contre sa famille et une mère étouffante.
On aime Romy car elle aime aimer les hommes, sans entraves et sans barrières. Mais on l'aime aussi parce qu'elle est une mère attentive et chaleureuse, parce qu'elle a choisi de prendre sa vie à bras-le-corps, plutôt deux fois qu'une, avec passion toujours : "Dans la vie, comme au cinéma, j'applique la devise Tout ou rien. La témérité est quelque chose qui m'a toujours aidée à avancer."
Tels sont les mots de Romy. Elle est une Antigone des temps modernes qui, comme l'héroïne grecque, affirme haut et fort "Je veux tout!""  Isabelle Giordano.
Isabelle Giordano
Romy Schneider, film par film
Albums hors série, Gallimard Loisirs
Parution : 05-10-2017
256 pages, ill.,
sous couverture illustrée,
245 x 285 mm, cartonné
ISBN : 9782742450350
Gencode : 9782742450350
Prix € 39,90
Gallimard Loisirs
fleursdumal.nl magazine
More in: - Book News, - Book Stories, Archive G-H, Archive S-T, CINEMA, RADIO & TV, The Ideal Woman, THEATRE
---
In the years since he first had the idea of prescribing short, powerful poems for all manner of spiritual ailments, William Sieghart has taken his Poetry Pharmacy around the length and breadth of Britain, into the pages of the Guardian, onto BBC Radio 4 and onto the television, honing his prescriptions all the time.

This pocket-sized book presents the most essential poems in his dispensary: those which, again and again, have really shown themselves to work. Whether you are suffering from loneliness, lack of courage, heartbreak, hopelessness, or even from an excess of ego, there is something here to ease your pain.
– 'The book is delightful; it rightly resituates poetry in relation to its biggest and most serious task: helping us to live and die well' – Alain de Botton
– William Sieghart has had a distinguished career in publishing and the arts. He established the Forward Prizes for Poetry in 1992, and founded National Poetry Day in 1994. He is a former chairman of the Arts Council Lottery Panel, and current chairman of both the Somerset House Trust and Forward Thinking, a charity seeking peace in the Middle East and acceptance of British Muslims. His previous anthologies include Winning Words: Inspiring Poems for Everyday Life (2014), Poems of the Decade: An Anthology of the Forward Books of Poetry (2015) and 100 Prized Poems: Twenty-five Years of the Forward Books (2016).
William Sieghart
The Poetry Pharmacy
Tried-and-True Prescriptions for the Heart, Mind and Soul
Published September 2017
Hardback
176 Pages
£12.99
Particular Books
Penguin Books Ltd
ISBN: 9781846149542
new books
fleursdumal.nl magazine
More in: - Book Lovers, - Book News, Archive S-T, Archive S-T, Art & Literature News
---

Mercr. 17/01-2018 – 20h
Lecture & rencontre
Kate Tempest
Écoute la ville tomber
Rencontre animée par Clémentine Goldszal
Interprète : Marguerite Capelle
tarif : 5 € / adhérent : 0 € RÉSERVER
Maison de la Poésie
Passage Molière
157 rue Saint-Martin
75003 Paris
www.maisondelapoesieparis.com
Becky, Harry, Leon, Pete. Quatre jeunes gens dans le Londres d'aujourd'hui. Ils ont des rêves, des aspirations, que la ville nourrit puis feint d'encourager pour mieux les broyer. Écoute la ville tomber est le roman d'une génération abîmée par le cynisme mais qui refuse d'abandonner l'utopie. Kate Tempest attrape le lecteur à chaque phrase, avec la furieuse envie de montrer le monde tel qu'il est. Sorti en 2016 en Angleterre, le roman est resté plusieurs semaines dans la liste des best-sellers du Sunday Times, atteignant les 100 000 exemplaires.
Poétesse, musicienne et performeuse mêlant rap, slam, rock & spoken word, Kate Tempest est, à 30 ans à peine, une artiste majeure du temps présent. Comparée à Zadie Smith ou à Virginie Despentes, cette jeune prodige surprend et impressionne, elle cristallise toutes les révoltes qui animent nos temps troubles.
À lire – Kate Tempest, Écoute la ville tomber, traduit de l'anglais par Madeleine Nasalik, Rivages, 2018. Les Nouveaux anciens, trad. de l'anglais par D' de Kabal et Louise Bartlett, L'Arche, 2017.
À écouter – Kate Tempest, Let Them Eat Chaos, Fiction Records, 2016.
Les nouveaux anciens
Kate Tempest 
Paru le 18 octobre 2017
Poésie, broché
Editeur Arche
Nombre de pages 72
Traduit de l'anglais par D' de Kabal et Louise Bartlett
ISBN : 978-2-85181-928-4 – €12
Dans ce poème épique urbain, Kate Tempest revisite par les mythes nos vies modernes désenchantées. Selon elle, les dieux de l'Antiquité resurgissent dans le monde contemporain à travers nos actes quotidiens de violence, de bravoure, de sacrifice ou d'amour. Nous sommes toujours mythiques, nous sommes toujours divins. Elle dépeint ainsi une traversée des âges, de la naissance à la mort de l'être humain, sans occulter ses failles, ses erreurs ni ses regrets. Célébrant l'humain trop humain des supermarchés, des rues, des bars et des open-space, elle s'inscrit dans la tradition d'un hip hop old-school, entre poésie, rap et poésie parlée. Une écriture dramatique puissamment cadencée, avec une rythmique très musicale et un « flow » à couper le souffle.
Ecoute la ville tomber
Kate Tempest
Madeleine Nasalik (Traducteur)
Traduit de l'anglais
Collection: Littérature étrangère Rivages
ISBN: 978-2-7436-4199-3
EAN: 9782743641993
Parution: janvier, 2018
400 pages
Format : 14.0 x 20.5
Prix: €22,50
Becky, Harry, Leon. Ils sont jeunes, hésitent entre le cynisme et le besoin éperdu d'utopie. Chacun a des rêves, des aspirations, que la ville nourrit et feint d'encourager pour mieux les broyer. Ce roman résonne des bruits et du rythme de notre époque, dans la prose incandescente de Kate Tempest, star du hip-hop, poétesse et artiste déjà légendaire à 30 ans à peine, admirée par Virginie Despentes, Lola Lafon ou Don DeLillo. Best-seller international, ce livre impose la jeune Anglaise comme une voix majeure de la scène littéraire d'aujourd'hui.
Kate Tempest
Lecture & rencontre
Mercr. 17/01-2018 – 20h
Maison de la Poésie
75003 Paris
fleursdumal.nl magazine
More in: Archive S-T, Archive S-T, Art & Literature News, Kate Tempest, Literary Events, Tempest, Kate, TRANSLATION ARCHIVE
---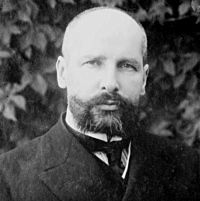 Zij lag gekleed als Colombine
Zij lag gekleed als Colombine
nog vol van leven dood te zijn,
deze speelster-concubine…
half toegedekt met een gordijn,
het masker bij haar op de grond.
Wat heeft zij níet aan tekst gespuid
door die verkleurde, open mond?
Pas nu komt er geen vuil meer uit!
Konstantin Sloetsjevski
(1837 – 1904)
В костюме светлом Коломбины…
gedicht 1883
vertaling Paul Bezembinder 2016.
(Meer over Paul Bezembinder is te vinden op zijn website: www.paulbezembinder.nl)
fleursdumal.nl magazine
More in: Archive S-T, Archive S-T, CLASSIC POETRY, Sloetsjevski
---
A moving collection of autobiographical essays from a Russian poet and refugee of the Bolshevik Revolution.
Marina Tsvetaeva ranks with Anna Akhmatova, Osip Mandelstam, and Boris Pasternak as one of Russia's greatest twentieth-century poets. Her suicide at the age of forty-eight was the tragic culmination of a life buffeted by political upheaval.
The essays collected in this volume are based on diaries she kept during the turbulent years of the Revolution and Civil War.
In them she records conversations of women in the markets, soldiers and peasants on the train traveling from the Crimea to Moscow in October 1917, fighting in the streets of Moscow, a frantic scramble with co-workers to dig frozen potatoes out of a cellar, and poetry readings organized by a newly minted Soviet bohemia.
Alone in Moscow with two small children, no income, and a missing husband, Tsvetaeva struggled to feed her daughters (one of whom died of malnutrition in an orphanage), find employment in the Soviet bureaucracy, and keep writing poetry. Her keen and ruthless eye observes with compassion and humor—bringing the social, economic, and cultural chaos of the period to life. These autobiographical writings not only give a vivid eyewitness account of Russian history but provide vital insights into the workings of Tsvetaeva's unique poetics.
Includes black and white photographs.
Earthly Signs
Moscow Diaries, 1917-1922
By Marina Tsvetaeva
Translated by Jamey Gambrell
Poetry
Paperback
Dec 05, 2017
288 Pages
Paperback
$17.95
Published by NYRB Classics
ISBN 9781681371627
new books
fleursdumal.nl magazine
More in: - Book News, Achmatova, Anna, Archive S-T, Archive S-T, Art & Literature News, Mandelstam, Osip, Pasternak, Boris, REPRESSION OF WRITERS, JOURNALISTS & ARTISTS, Tsvetaeva, Marina
---
'Debriefing' collects all of Susan Sontag's shorter fiction, a form she turned to intermittently throughout her writing life.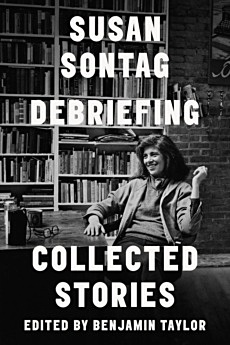 The book ranges from allegory to parable to autobiography and shows her wrestling with problems not assimilable to the essay, her more customary mode. Here she catches fragments of life on the fly, dramatizes her private griefs and fears, lets characters take her where they will.
The result is a collection of remarkable brilliance, versatility, and charm. Sontag's work has typically required time for people to catch up to it. These challenging works of literary art―made more urgent by the passage of years―await a new generation of readers.
This is an invaluable record of the creative output of one of the most inquisitive and analytical thinkers of the twentieth century at the height of her power.
Susan Sontag (1933–2004) was the author of numerous works of nonfiction, including the groundbreaking collection of essays, Against Interpretation (FSG, 1966), and of four novels, including In America (FSG, 2000), which won the National Book Award. She died in New York City on December 28, 2004.
Benjamin Taylor is the author of his family memoir, The Hue and Cry at Our House, as well as Proust: The Search in the Yale Jewish Lives series; Naples Declared, a travel memoir; and the award-winning novels, Tales Out of School and The Book of Getting Even. He edited Saul Bellow: Letters and There Is Simply Too Much to Think About, Bellow's collected nonfiction. Taylor is a past fellow and current trustee of the John Simon Guggenheim Memorial Foundation.
Susan Sontag;
Debriefing.
Collected Stories
Edited by Benjamin Taylor
Publ. Farrar, Straus and Giroux
Hardcover
$27.00
Publ.date: nov. 2017
ISBN: 9780374100759
336 Pages
fleursdumal.nl magazine
More in: - Book News, - Book Stories, -Short Stories Archive, Archive S-T, Art & Literature News, Susan Sontag
---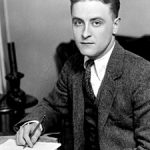 F. Scott Fitzgerald
Princeton -The Last Day
 
The last light wanes and drifts across the land,
The low, long land, the sunny land of spires.
The ghosts of evening tune again their lyres
And wander singing, in a plaintive band
Down the long corridors of trees. Pale fires
Echo the night from tower top to tower.
Oh sleep that dreams and dream that never tires,
Press from the petals of the lotus-flower
Something of this to keep, the essence of an hour!
 
No more to wait the twilight of the moon
In this sequestrated vale of star and spire;
For one, eternal morning of desire
Passes to time and earthy afternoon.
Here, Heracletus, did you build of fire
And changing stuffs your prophecy far hurled
Down the dead years; this midnight I aspire
To see, mirrored among the embers, curled
In flame, the splendor and the sadness of the world.
 
F. Scott Fitzgerald (1896 – 1940)
Princeton -The Last Day
fleursdumal.nl magazine
More in: Archive S-T, Archive S-T, F. Scott Fitzgerald, Fitzgerald, F. Scott
---
When Oliver Sacks was twelve years old, a perceptive schoolmaster wrote in his report: "Sacks will go far, if he does not go too far."
It is now abundantly clear that Sacks has never stopped going. From its opening pages on his youthful obsession with motorcycles and speed, On the Move is infused with his restless energy.
As he recounts his experiences as a young neurologist in the early 1960s, first in California, where he struggled with drug addiction, and then in New York, where he discovered a long-forgotten illness in the back wards of a chronic hospital, we see how his engagement with patients comes to define his life.
With unbridled honesty and humor, Sacks shows us that the same energy that drives his physical passions—weight lifting and swimming—also drives his cerebral passions.
He writes about his love affairs, both romantic and intellectual; his guilt over leaving his family to come to America; his bond with his schizophrenic brother; and the writers and scientists—Thom Gunn, A. R. Luria, W. H. Auden, Gerald M. Edelman, Francis Crick—who influenced him.
On the Move is the story of a brilliantly unconventional physician and writer—and of the man who has illuminated the many ways that the brain makes us human.
English:
On The Move:
A Life
Author: Oliver Sacks
Publisher: Alfred A. Knopf
Published: 2015
ISBN-10: 0385352549
ISBN-13: 9780385352543
Format: Hardcover
In Dutch:
Oliver Sacks:
Onderweg
Nederlands
Uitg. De Bezige Bij
Vertaald door
Otto Biersma & Luud Dorresteijn
432 pagina's
Verschijningsjaar 2016
ISBN10 9023499484
ISBN13 9789023499480
fleursdumal.nl magazine
More in: - Book News, - Bookstores, Archive S-T, DRUGS & MEDICINE & LITERATURE, Oliver Sacks
---
Queer Shakespeare: Desire and Sexuality draws together 13 essays, which offer a major reassessment of the criticism of desire, body and sexuality in Shakespeare's drama and poetry.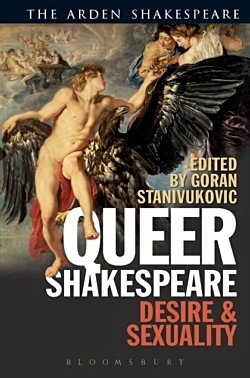 Bringing together some of the most prominent critics working at the intersection of Shakespeare criticism and queer theory, this collection demonstrates the vibrancy of queer Shakespeare studies.
Taken together, these essays explore embodiment, desire, sexuality and gender as key objects of analyses, producing concepts and ideas that draw critical energy from focused studies of time, language and nature.
The Afterword extends these inquiries by linking the Anthropocene and queer ecology with Shakespeare criticism.
Works from Shakespeare's entire canon feature in essays which explore topics like glass, love, antitheatrical homophobia, size, narrative, sound, female same-sex desire and Petrarchism, weather, usury and sodomy, male femininity and male-to-female crossdressing, contagion, and antisocial procreation.
Queer Shakespeare
Desire and Sexuality
Editor(s): Goran Stanivukovic
Published: 13-07-2017
Format: Hardback
Edition: 1st
Extent: 424 pp
ISBN: 9781474295246
Imprint: The Arden Shakespeare
Dimensions: 198 x 129 mm
Bloomsbury Publishing
$144.00
Queer Shakespeare. Desire and Sexuality
fleursdumal.nl magazine
More in: - Book Lovers, - Book News, - Book Stories, Archive S-T, Archive S-T, Art & Literature News, CINEMA, RADIO & TV, Shakespeare, William, THEATRE, TRAVESTY & POETRY
---
Older Entries »
« Newer Entries
Thank you for reading FLEURSDUMAL.NL - magazine for art & literature