Archive S-T
«« Previous page
·
Rachel Feder: Harvester of Hearts. Motherhood under the Sign of Frankenstein
·
Tori Telfer: Lady Killers. Deadly Women Throughout History
·
Patti Smith: The New Jerusalem – Bilingual edition – Nexus Library
·
Patrick Tudoret: Fromentin. Le roman d'une vie
·
Detlef Siegfried: 1968. Protest, Revolte, Gegenkultur
·
Willem van Toorn: De jongenskamer. Een gedicht
·
Dichter en schrijver F. Starik overleden
·
Patti Smith: The New Jerusalem (Nexus Bibliotheek – Tweetalige uitgave)
·
The Walter Scott Prize 2018 longlist is out
·
Schlecky Silberstein: Das Internet muss weg. Eine Abrechnung
·
Sara Teasdale: The Voice
·
Toon Tellegen: De seringenboom. Herinneringen aan mijn broer
In the period between 1815 and 1820, Mary Shelley wrote her most famous novel, Frankenstein; or, The Modern Prometheus, as well as its companion piece, Mathilda, a tragic incest narrative that was confiscated by her father, William Godwin, and left unpublished until 1959. She also gave birth to four—and lost three—children.
In this hybrid text, Rachel Feder interprets Frankenstein and Mathilda within a series of provocative frameworks including Shelley's experiences of motherhood and maternal loss, twentieth-century feminists' interests in and attachments to Mary Shelley, and the critic's own experiences of pregnancy, childbirth, and motherhood.
Harvester of Hearts explores how Mary Shelley's exchanges with her children—in utero, in birth, in life, and in death—infuse her literary creations. Drawing on the archives of feminist scholarship, Feder theorizes "elective affinities," a term she borrows from Goethe to interrogate how the personal attachments of literary critics shape our sense of literary history.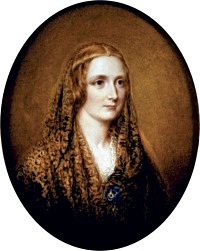 Feder blurs the distinctions between intellectual, bodily, literary, and personal history, reanimating the classical feminist discourse on Frankenstein by stepping into the frame.
The result—at once an experimental book of literary criticism, a performative foray into feminist praxis, and a deeply personal lyric essay—not only locates Mary Shelley's monsters within the folds of maternal identity but also illuminates the connections between the literary and the quotidian.
Rachel Feder is an assistant professor of English and literary arts at the University of Denver. Her scholarly and creative work has appeared in a range of publications including ELH, Studies in Romanticism, and a poetry chapbook from dancing girl press.
Rachel Feder (Author)
Harvester of Hearts
Motherhood under the Sign of Frankenstein
Cloth Text – $99.95
ISBN 978-0-8101-3753-0
Paper Text – $34.95
ISBN 978-0-8101-3752-3
August 2018
Women's Studies
Literary Criticism
152 pages
Northwestern University Press
new books
fleursdumal.nl magazine
More in: - Book News, - Book Stories, Archive E-F, Archive S-T, Art & Literature News, Mary Shelley, Shelley, Mary, Shelley, Percy Byssche, Tales of Mystery & Imagination
---
Author Tori Telfer's "Lady Killers," a thrilling and entertaining compendium, investigates female serial killers and their crimes through the ages.
When you think of serial killers throughout history, the names that come to mind are ones like Jack the Ripper, John Wayne Gacy, and Ted Bundy. But what about Tillie Klimek, Moulay Hassan, Kate Bender?
The narrative we're comfortable with is the one where women are the victims of violent crime, not the perpetrators. In fact, serial killers are thought to be so universally, overwhelmingly male that in 1998, FBI profiler Roy Hazelwood infamously declared in a homicide conference, "There are no female serial killers."
Lady Killers, based on the popular online series that appeared on Jezebel and The Hairpin, disputes that claim and offers fourteen gruesome examples as evidence.
Though largely forgotten by history, female serial killers such as Erzsébet Báthory, Nannie Doss, Mary Ann Cotton, and Darya Nikolayevna Saltykova rival their male counterparts in cunning, cruelty, and appetite for destruction.
Lady Killers
Deadly Women Throughout History
by Tori Telfer
2017
ISBN: 9780062433732
ISBN 10: 0062433733
Imprint: Harper Perennial
Pages: 352
List Price: 15.99 USD
TRUE CRIME – Murder- Serial Killers -History – Women
Illustrations by Dame Darcy
new books
fleursdumal.nl magazine
More in: - Book News, - Book Stories, Archive S-T, Art & Literature News, CRIME & PUNISHMENT, Tales of Mystery & Imagination, The Ideal Woman
---
The New Jerusalem, the latest book by Patti Smith – poet, punk legend and author of the bestsellers Just Kids and M Train – is now available for order. A stunning long prose poem in the tradition of St. John and William Blake, The New Jerusalem presents a prophetic vision of art and humanity, faith and freedom; a vision of escape from the rituals of power and the mechanisms of social control.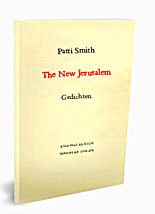 Illustrated with colour photographs and art work by Patti Smith, this beautiful hardbound volume is a true collector's item and will be irresistible to bibliophiles. With an introduction by Rob Riemen exploring the connection between art and spirituality in Patti Smith's poem and in art more broadly, The New Jerusalem can serve as a reminder of the prophetic power of poetry and a guide to all who need it in these times of resistance.
The New Jerusalem was presented at the Nexus Symposium with Patti Smith 'An Education in Counterculture', 26 May 2018 in Amsterdam.
The New Jerusalem, the new book by poet and punk legend Patti Smith. This long prose poem in the tradition of John's Revelation and the poetry of William Blake shows a prophetic vision of art and humanity, faith and freedom; an image of the escape from the rituals of power and the mechanisms of social control.
This beautiful bilingual (English & Dutch), bound edition features color illustrations and photos by Patti Smith and is irresistible to the real bibliophile. The introduction by Rob Riemen discusses the relationship between art and spirituality in the poem by Patti Smith and in art in a general sense.
Patti Smith
United States, 1946
Patti Smith is a singer and poet. As the 'Godmother of Punk', she protested against social conventions, mindless factory labour and the commercialised world with her powerful and controversial music. She grew up with the music of Bob Dylan, lived together with photographer Robert Mapplethorpe and became a familiar face in the turbulent art scene of New York City. In 1974 Smith started performing with guitarist Lenny Kaye, forming the core of The Patti Smith Group. Her debut album Horses (1975) is considered to be one of the most influential albums in the history of rock music. With Bruce Springsteen she wrote Because the Night, her biggest hit. In addition to many albums, Smith also published poetry and books, including Just Kids (2010), her award-winning autobiography on life in New York in the seventies and her relation with Mapplethorpe.
Rob Riemen
The Netherlands, 1962
Rob Riemen is the founder and president of the Nexus Institute, established in 1994. He has also been editor-in-chief of the journal Nexus since its creation in 1991. In Nexus, prominent and original thinkers and writers reflect on important contemporary issues in essays on art, culture, politics and society. Riemen is the author of Nobility of Spirit. A Forgotten Ideal (2008), on the ideals of European humanism, translated into eighteen languages, and To Fight Against this Age (2018), with essays on the eternal return of fascism and on the European spirit.
The New Jerusalem – Bilingual edition – Nexus Library
ISBN: 9789090309798
Publisher: Nexus Institute
Publication Date: May 26th, 2018
Pages: 76
By Patti Smith, Rob Riemen (Introduction By), Onno Kosters (Translator)
Bilingual English-Dutch, hardbound, illustrated colour edition
Translation Onno Kosters (The New Jerusalem), Liz Waters (introduction)
The New Jerusalem is available for sale in the United States at:
McNally Jackson, New York City
Book Culture, New York City
Strand Bookstore, New York City
Rizzoli Bookstore, New York City
Mast Books, New York City
Greenlight Bookstore, Brooklyn
# more information on website Nexus Institute
fleursdumal.nl magazine
More in: #Biography Archives, #Editors Choice Archiv, - Book News, - Bookstores, Archive S-T, Archive S-T, Art & Literature News, Nexus Instituut, Patti Smith, Smith, Patti
---
De La Rochelle, sa ville natale — où il revint sans cesse — à Paris, de la Côte d'Azur à la Vallée du Loir, de Venise à la Belgique et à la Hollande, de l'Algérie à l'Égypte, la vie romanesque d'un écrivain et peintre — un des plus grands orientalistes — parmi les plus admirés de son temps.
Entre 1820 et 1876, le siècle défile, riche en convulsions politiques, en bouleversements économiques et sociaux, en révolutions artistiques. C'est dans cette France en ébullition — il vécut deux révolutions, un coup d'État signant les débuts du Second Empire, les guerres coloniales, la guerre de 70, la Commune de Paris, enfin l'avènement de la IIIe République — qu'Eugène Fromentin mène son destin d'homme libre et d'homme de foi, aussi fiévreux et amoureux que sage, d'une exigence égale dans ses deux arts.
Auteur de Dominique, encensé par George Sand, Flaubert, Sainte-Beuve et bien d'autres, modèle pionnier de l'« écrivain voyageur », découvreur d'un certain Orient, il s'en fera le chantre par sa plume et son pinceau. Écrivain, son œuvre est entrée dans La Pléiade. Peintre, il est représenté dans le monde entier : au Louvre, à Orsay, La Rochelle, mais aussi Londres, New York, Boston, Philadelphie, Saint-Pétersbourg ou Doha.
C'est une figure unique de l'histoire artistique que ces pages font renaître. D'une plume brillante, quasi fraternelle pour son sujet, Patrick Tudoret brosse ici le roman d'une vie.
Comme Fromentin, Patrick Tudoret a longtemps vécu à La Rochelle où il garde de solides attaches. Il est l'auteur d'une quinzaine d'ouvrages parus notamment aux éditions de La Table Ronde (groupe Gallimard), chez Grasset ou aux Belles Lettres, et de pièces de théâtre jouées à Paris et en province.Docteur en science politique de l'université Paris I Panthéon-Sorbonne, il a aussi étudié la philosophie et l'esthétique. Ses livres lui ont valu plusieurs prix dont le Grand Prix de la Critique, en 2009. Son dernier roman, L'homme qui fuyait le Nobel, paru fin 2015 chez Grasset, a connu un vif succès, obtenanten 2016 le Prix Claude Farrère et le Prix des Grands Espaces.
288 pages
Bibliographie,
1 Illustration N&B,
12 Illustrations couleurs
Livre broché
14 x 21 cm
Parution: 09/03/2018
CLIL : 3662
EAN13 : 9782251448039
Code distributeur: 59879
13,99 euro
Editions Les Belles Lettres
new books
fleursdumal.nl magazine
More in: - Book News, - Book Stories, Archive S-T, Art & Literature News
---
Hinter der Zeitenwende von 1968 steckt mehr als nur eine politische Revolte: Männer ließen sich die Haare lang wachsen, Frauen wollten endlich die Pille nehmen dürfen, Drogen wurden konsumiert, Musikfestivals, Kommunen und neue Zeitschriften stellten das vorhandene Weltbild auf den Kopf.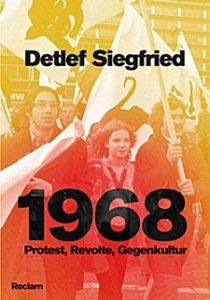 So unterschiedliche Heldenfiguren wie Twiggy, Rudi Dutschke, Che Guevara, Jimi Hendrix und Mao Tse-Tung traten auf den Plan, während die deutsche Politik noch mit dem Vermächtnis der NS-Zeit zu kämpfen hatte.
Es wäre jedoch ein Irrtum zu glauben, alles habe erst 1968 begonnen. Detlef Siegfried zeigt, welche gesellschaftlichen Veränderungen und politischen Ereignisse schon im Vorfeld nötig waren, damit die Revolte der Schüler, Studenten und Lehrlinge Fahrt aufnehmen konnte. Dabei lässt er nicht nur die Gegenkultur in Großstädten wie Berlin oder Frankfurt am Main wieder aufleben, sondern rückt auch Schauplätze aus der bundesrepublikanischen Provinz ins Rampenlicht. Doch wie viel revolutionäre Dynamik ließ sich in die »roten« Siebzigerjahre hinüberretten? Und was wurde eigentlich aus all den Linken?
Detlef Siegfried, geb. 1958, ist Professor für neuere deutsche und europäische Geschichte an der Universität Kopenhagen. Er hat mehrere Bücher zu Alltagskultur, Pop und Linksradikalismus in der Bundesrepublik veröffentlicht, darunter Time is on my side. Konsum und Politik in der westdeutschen Jugendkultur der 60er Jahre (2006) und Sound der Revolte. Studien zur Kulturrevolution um 1968 (2008).
Siegfried, Detlef:
1968
Protest, Revolte, Gegenkultur
Originalausgabe Reclam
Geb. Format: 16 x 24 cm
299 Seiten
60 farb. Abb.
ISBN: 978-3-15-011149-9
€ 28,00
new books
fleursdumal.nl magazine
More in: - Book News, - Book Stories, Archive S-T, Art & Literature News, Protests of MAY 1968
---
W is de hoofdpersoon in de gedichten van De jongenskamer die samen één verhalend gedicht vormen.

Het begint in de jaren voor de Tweede Wereldoorlog en eindigt in de onherkenbaar veranderde wereld van nu – maar wel met een liefdesgedicht.
De kamer achter de werkplaats van W's vader, een kleermaker, is de plek waar onder invloed van de tijd en de geschiedenis de eerste ideeën van W en zijn broers ontstaan over liefde, vriendschap, kunst en sport – én over de politieke en sociale werkelijkheid en de rol die het individu daarin kan spelen.
Al de liefdeservaringen, de vriendschappen, de boeken, de reizen die het leven van W bepalen, lijken toch altijd met onzichtbare draden verbonden met de eerste waarnemingen uit de jongenskamer.
Willem van Toorn (Amsterdam, 1935) is dichter, schrijver en vertaler. Hij publiceerde een groot aantal romans en verhalen- en gedichtenbundels, en was redacteur van het literair tijdschrift Raster.
Willem van Toorn
De jongenskamer.
Een gedicht
Uitgeverij: Querido
Paperback
ISBN: 9789021409351
Prijs: € 17,99
Publicatiedatum: 13-02-2018
new poetry
fleursdumal.nl magazine
More in: - Book News, Archive S-T, Archive S-T, Art & Literature News, LITERARY MAGAZINES, Willem van Toorn
---
De Amsterdamse schrijver en dichter F.Starik (pseudoniem van Frank von der Möhlen) is vorige week vrijdag (16 maart 2018) overleden aan een hartstilstand. Hij was 59 jaar oud.
Starik schreef tien dichtbundels en was een van de dichters die bij toerbeurt in Amsterdam een speciaal geschreven gedicht voorlazen bij de uitvaart van eenzaam gestorven mensen.
Hij trad regelmatig op, op festivals als Oerol en Lowlands en literaire evenementen als De Nacht van de Poëzie en Crossing Border. Afgelopen zondag was zijn laatste optreden, op het internationale dichtersfestival StAnza, in Schotland.
F. Starik was stadsdichter van Amsterdam van 2010 tot 2012. Bij zijn afscheid als stadsdichter ontving hij van burgemeester Van der Laan het Ereteken van Verdienste.
# meer informatie over Starik is te vinden op de website van zijn uitgeverij Nieuw Amsterdam
fleursdumal.nl magazine
More in: Archive S-T, Archive S-T, Art & Literature News, Galerie des Morts, In Memoriam
---
Het besluit van president Trump de Amerikaanse ambassade in Israël naar Jeruzalem te verhuizen inspireerde Patti Smith tot het schrijven van een gedicht, The New Jerusalem.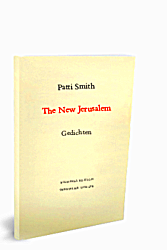 Dit nieuwe, nog ongepubliceerde werk van de beroemde punkpoëet verschijnt exclusief bij Nexus als tweetalige uitgave in de Nexus Bibliotheek. Naast The New Jerusalem zal deze uitgave ook een drietal eerdere gedichten bevatten. De vertaling van de gedichten wordt verzorgd door Onno Kosters. The New Jerusalem wordt gepresenteerd bij het Nexus-symposium 'An Education in Counterculture', 26 mei in Amsterdam.
. . .these things we saw written on the immense screen once known as sky. And these things we heard as prophecy's lullaby. The mountain is the mountain. The Lord is the Lord. The holy city belongs to none. The mountains of Judah belong to none. The yielding seed belongs to none. And we are the new Jerusalem.
Patti Smith, USA 1946, is zangeres en dichteres. Als 'Godmother of Punk' protesteerde zij met krachtige, controversiële muziek tegen de gevestigde orde en wezenloze fabrieksarbeid in de vercommercialiseerde wereld. Ze groeide op met de muziek van Bob Dylan, leefde samen met fotograaf Robert Mapplethorpe en werd een bekend gezicht in de turbulente New Yorkse kunstscene.
In 1974 begon Smith op te treden met gitarist Lenny Kaye, met wie ze nog steeds de kern van de band The Patti Smith Group vormt. Haar debuutalbum Horses (1975) wordt gezien als een van de invloedrijkste albums in de geschiedenis van de rockmuziek. Samen met Bruce Springsteen schreef ze Because the Night, haar grootste hit. Naast vele albums schreef Smith ook dichtbundels en boeken, waaronder Just Kids (2010), haar bekroonde autobiografie over het leven in New York in de jaren zeventig en haar relatie met Mapplethorpe.
Nexus Bibliotheek
Patti Smith:
The New Jerusalem (mei 2018)
Nexus Bibliotheek deel XII,
tweetalige,
gebonden editie
Patti Smith
Spreker bij:
An Education in Counterculture
Nexus-symposium
26 mei 2018
13.30 – 17.30
DeLaMar Theater Amsterdam
fleursdumal.nl magazine
More in: #Editors Choice Archiv, - Book Lovers, Archive S-T, Archive S-T, Art & Literature News, Bob Dylan, Literary Events, LITERARY MAGAZINES, Nexus Instituut, Patti Smith, Smith, Patti
---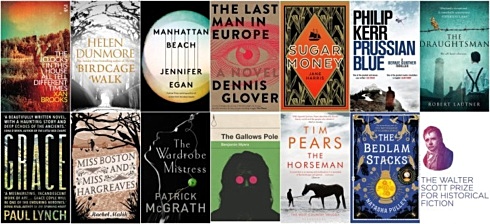 The judges of the Walter Scott Prize 2018 announced a longlist of thirteen books:
The books are:
# The Clocks In This House All Tell Different Times by Xan Brooks
# Birdcage Walk by Helen Dunmore
# Manhattan Beach by Jennifer Egan
# The Last Man In Europe by Dennis Glover
# Sugar Money by Jane Harris
# Prussian Blue by Philip Kerr
# The Draughtsman by Robert Lautner
# Grace by Paul Lynch
# The Wardrobe Mistress by Patrick McGrath
# Miss Boston and Miss Hargreaves by Rachel Malik
# The Gallows Pole by Benjamin Myers
# The Horseman by Tim Pears
# The Bedlam Stacks by Natasha Pulley
The Judges said:
"This year our Prize has attracted a record number of entries, and historical fiction continues to ride a wave of publishing success. As a result, we have been able to make our selection from a body of remarkable and varied novels. In our longlist, we have attempted to represent different styles – from lyrical to experimental, and from epic to intimate.
"All human life is here, from outlaws making a living forging coins in Yorkshire's badlands, to post-war London theatre society. We hope that in representing such a richness of styles and diversity of settings, the Walter Scott Prize can bring to public attention new work, while at the same time rewarding writers at the top of their game. We're looking forward to bringing the best of these forward to shortlist in April."
# end March 2018: Academy Recommends list announced
# April 2018: Shortlist announced
# 14th-17th June 2018: Baillie Gifford Borders Book Festival, Melrose – Winner of Walter Scott Prize 2018 announced and presented
# more information on the website of the Walter Scott Prize
fleursdumal.nl magazine
More in: - Book Lovers, Archive S-T, Art & Literature News, Awards & Prizes, Literary Events, Sir Walter Scott, The Art of Reading
---
Eine fundamentale Abrechnung mit dem Internet von einem der einflussreichsten Blogger der Republik
Ausgerechnet Schlecky Silberstein, Kultakteur in der Netzgemeinde, propagiert diesen Leitspruch: »Das Internet muss weg.« Der Blogger und Online Comedian kennt das Netz wie seine Westentasche. Und gerade deshalb warnt er davor. Dank Fake News, Filterblasen und Social Bots erlangen Konzerne, politische Entscheidungsträger und Kriminelle zunehmend Kontrolle über weite Teile der Menschheit. Schlecky Silberstein analysiert den »Daten-Kasino-Kapitalismus«, in dem unsere Daten als Handelsware gezielt eingesetzt werden, um unser Verhalten vorherzusagen und zu beeinflussen. Nicht nur Donald Trump wusste ihn auf seinem Weg zur Macht zu nutzen, auch unsere eigene Gesellschaft droht von programmierbaren Propaganda-Maschinen gelenkt zu werden. Können wir einen verantwortungsvollen Umgang mit dem Internet lernen oder hilft nur noch die sofortige Abschaltung?
Schlecky Silberstein, geboren 1981, ist einer der wichtigsten Blogger Deutschlands. Sein gleichnamiger Blog hat über 600.000 regelmäßige Leser, rund 130.000 folgen ihm auf Facebook. Die von ihm produzierte Comedy Show »Bohemian Browser Ballett« ist fester Bestandteil von »funk«, dem jungen Online-Medienangebot von ARD und ZDF. Schlecky Silberstein lebt in Berlin.
Schlecky Silberstein
Das Internet muss weg
Eine Abrechnung
Paperback,
Klappenbroschur,
272 Seiten,
13,5 x 21,5 cm,
16 s/w Abbildungen
ISBN: 978-3-8135-0794-2
€ 16,00
Verlag: Knaus
Erscheinungstermin: 5. März 2018
fleursdumal.nl magazine
More in: Archive S-T, AUDIO, CINEMA, RADIO & TV, BOOKS. The final chapter?, PRESS & PUBLISHING
---
The Voice
Atoms as old as stars,
Mutation on mutation,
Millions and millions of cells
Dividing yet still the same,
From air and changing earth,
From ancient Eastern rivers,
From turquoise tropic seas,
Unto myself I came.
My spirit like my flesh
Sprang from a thousand sources,
From cave-man, hunter and shepherd,
From Karnak, Cyprus, Rome;
The living thoughts in me
Spring from dead men and women,
Forgotten time out of mind
And many as bubbles of foam.
Here for a moment's space
Into the light out of darkness,
I come and they come with me
Finding words with my breath;
From the wisdom of many life-times
I hear them cry: 'Forever
Seek for Beauty, she only
Fights with man against Death!'
Sara Teasdale
(1884 – 1933)
fleursdumal.nl magazine
More in: Archive S-T, Archive S-T, Teasdale, Sara
---
Toon Tellegen: 'Iedereen bewonderde mijn broer, maar ik het meest van iedereen.'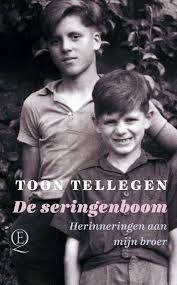 Als kleine jongen keek Toon Tellegen op tegen zijn zes jaar oudere broer, die onverzettelijk was, alle regels aan zijn laars lapte en zijn eigen weg ging. Toen die broer in 2016 overleed, begon hij zijn herinneringen op te schrijven aan de tijd dat ze allebei nog thuis woonden. Zijn grote broer kon alles, hij durfde alles en vaak liep dat uit de hand.
Maar al berusten Tellegens kleurrijke herinneringen voor een groot deel op waarheid, zijn fantasie geeft de stoere heldendaden een nog absurdistischere wending. Moeten we al die heldendaden geloven? Ja, want als het niet echt gebeurd is, had het wel zo kúnnen gebeuren!
Net als in Een vorig leven roept Tellegen in De seringenboom de wereld van zijn jeugd op, en wekt hij die voorbije tijd tot leven in mooie, ontroerende en grappige verhalen.
Toon Tellegen (Brielle, 1941) is dichter, kinderboekenschrijver en schrijver van proza en toneel voor volwassenen.
Toon Tellegen
De seringenboom.
Herinneringen aan mijn broer
Uitgeverij Querido
Hardcover
ISBN: 9789021408897
Prijs: € 18,99
Publicatiedatum: 06-03-2018
new books
fleursdumal.nl magazine
More in: - Book News, Archive S-T, Archive S-T, Art & Literature News, Toon Tellegen
---
Older Entries »
« Newer Entries
Thank you for reading FLEURSDUMAL.NL - magazine for art & literature