Archive G-H
·
Cristina García: Here in Berlin. A Novel
·
Le Prix Médicis 2017 à Yannick Haenel pour "Tiens ferme ta couronne"
·
Daniel Galera: The Shape of Bones. A Novel
·
Tom Hanks: Uncommon Type. Some Stories
·
Gail Godwin: Grief Cottage
·
Tentoonstelling Anton Heyboer in Gemeentemuseum Den Haag
·
Nomineer een pionier voor de Pé Hawinkels Prijs
·
Toneelschuur Producties met adembenemende voorstelling van 'Het lijden van de jonge Werther'
·
Maria Callas biografie door Arianna Huffington
·
Leigh HUNT: Deaths of Little Children
·
Johan HARSTAD: Max, Mischa & het Tet-offensief
·
Rainer GANAHL: Dadalenin
Here in Berlin is a portrait of a city through snapshots, an excavation of the stories and ghosts of contemporary Berlin—its complex, troubled past still pulsing in the air as it was during World War II. Critically acclaimed novelist Cristina García brings the people of this famed city to life, their stories bristling with regret, desire, and longing.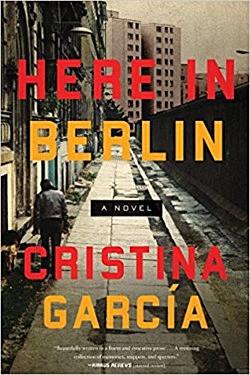 An unnamed Visitor travels to Berlin with a camera looking for reckonings of her own. The city itself is a character—vibrant and postapocalyptic, flat and featureless except for its rivers, its lakes, its legions of bicyclists. Here in Berlin she encounters a people's history: the Cuban teen taken as a POW on a German submarine, only to return home to a family who doesn't believe him; the young Jewish scholar hidden in a sarcophagus until safe passage to England is found; the female lawyer haunted by a childhood of deprivation in the bombed-out suburbs of Berlin who still defends those accused of war crimes; a young nurse with a checkered past who joins the Reich at a medical facility more intent to dispense with the wounded than to heal them; and the son of a zookeeper at the Berlin Zoo, fighting to keep the animals safe from both war and an increasingly starving populace.
A meditation on war and mystery, this is an exciting new work by one of our most gifted novelists, one that seeks to align the stories of the past with the stories of the future.
Cristina Garcia is the author of seven novels, including Dreaming in Cuban, a finalist for the National Book Award that just celebrated its twenty-fifth anniversary; The Agüero Sisters, Monkey Hunting, A Handbook to Luck, The Lady Matador's Hotel, and King of Cuba. Her work has been translated into fourteen languages. García has edited anthologies, written children's books, published poetry, and taught at universities nationwide. She lives in the San Francisco Bay area.
Title: Here in Berlin
Subtitle: A Novel
Author: Cristina García
Publisher: Counterpoint
Format Hardcover
ISBN-10 1619029596
ISBN-13 9781619029590
Publication October 2017
Main content pages 224
fleursdumal.nl magazine
More in: - Book News, - Bookstores, Archive G-H, Art & Literature News, FDM in Berlin, Photography
---
Un homme a écrit un énorme scénario sur la vie de Herman Melville : The Great Melville, dont aucun producteur ne veut.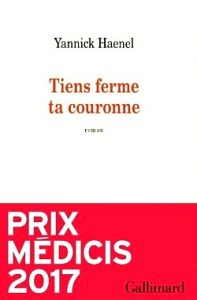 Un jour, on lui procure le numéro de téléphone du grand cinéaste américain Michael Cimino, le réalisateur mythique de Voyage au bout de l'enfer et de La Porte du paradis. Une rencontre a lieu à New York : Cimino lit le manuscrit.
S'ensuivent une série d'aventures rocambolesques entre le musée de la Chasse à Paris, l'île d'Ellis Island au large de New York, et un lac en Italie.
On y croise Isabelle Huppert, la déesse Diane, un dalmatien nommé Sabbat, un voisin démoniaque et deux moustachus louches ; il y a aussi une jolie thésarde, une concierge retorse et un très agressif maître d'hôtel sosie d'Emmanuel Macron.
Quelle vérité scintille entre cinéma et littérature?
La comédie de notre vie cache une histoire sacrée : ce roman part à sa recherche.
Yannick Haenel
Tiens ferme ta couronne
Collection L'Infini, Gallimard
Parution : 17-08-2017
ISBN : 9782070177875
352 pages, 140 x 205 mm
Achevé d'imprimer : 12-06-2017
Prix €20,00
fleursdumal.nl magazine
More in: - Book News, - Bookstores, Archive G-H, Art & Literature News, Awards & Prizes
---
A young man wakes up at dawn to drive to the Andes, to climb the Cerro Bonete–a mountain untouched by ice axes and climbers, one of the planet's final mountains to be conquered–as an act of heroic bravado, or foolishness.

But instead, he finds himself dragged, by the undertow of memory, to Esplanada, the neighborhood he grew up in, to the brotherhood of his old friends, and to the clearing in the woods where he witnessed an act that has run like a scar through the rest of his life.
Back in Esplanada, the young man revisits his initiation into adulthood and recalls his boyhood friends who formed a strange and volatile pack. Together they play video games, get drunk around bonfires, pick fights, and goad each other into bike races where the winner is the boy who has the most spectacular crash. Caught between the threat of not being man enough, the desire to please his friends, and the intoxicating contact-high of danger, the boy finds himself following the rules of the pack even as the risks mount. And in a moment that reverberates and repeats itself in new ways in his adulthood, his fantasies of who he is and what it means to be a man come crashing down, and life asserts itself as an endless rehearsal for a heroic moment that may never arrive.
From one of Brazil's most dazzling writers, The Shape of Bones is an exhilarating story of mythic power. Daniel Galera has written a pulse-racing novel with the otherworldly wisdom of a parable.
Daniel Galera is a Brazilian writer, translator, and editor. He was born in Sao Paolo, but spent most of his life in Porto Alegre, only returning to Sao Paulo in 2005. He has published four novels in Brazil to great acclaim, the latest of which, Blood-Drenched Beard, was awarded the 2013 Sao Paolo Literature Prize. In addition to writing, he has also translated the work of Zadie Smith and Jonathan Safran Foer into Portuguese.
"A book of visceral and tender beauty whose echoes persist long after the final page." – David Mitchell, author of The Bone Clocks
A coming of age tale of brutal beauty and disarming tenderness from one of Brazil's most exciting young novelists, an author writing in the footsteps of "Roberto Bolaño, Jim Harrison, the Coen brothers and … Denis Johnson" (The New York Times)
The Shape of Bones
A Novel
By Daniel Galera
Translated by Alison Entrekin
Literary Fiction – Crime Mysteries
Hardcover
Aug 15, 2017
240 Pages
Publ. Penguin Random House
new books
fleursdumal.nl magazine
More in: - Book News, - Book Stories, Archive G-H, Art & Literature News
---
A collection of seventeen wonderful short stories showing that two-time Oscar winner Tom Hanks is as talented a writer as he is an actor.
A gentle Eastern European immigrant arrives in New York City after his family and his life have been torn apart by his country's civil war.

A man who loves to bowl rolls a perfect game – and then another and then another and then many more in a row until he winds up ESPN's newest celebrity, and he must decide if the combination of perfection and celebrity has ruined the thing he loves.

An eccentric billionaire and his faithful executive assistant venture into America looking for acquisitions and discover a down and out motel, romance and a bit of real life.
These are just some of the tales Tom Hanks tells in this first collection of his short stories. They are surprising, intelligent, heart-warming, and, for the millions and millions of Tom Hanks fans, an absolute must-have.
Tom Hanks has been an actor, screenwriter, director and through Playtone, a producer. His writing has appeared in The New York Times, Vanity Fair and The New Yorker. This is his first collection of fiction.
Publisher: Cornerstone
ISBN: 9781785151514
Number of pages: 416
Weight: 620 g
Dimensions: 222 x 144 x 38 mm
October 2017
Hardback
£13.99
fleursdumal.nl magazine
More in: - Book News, - Bookstores, -Short Stories Archive, Archive G-H, Art & Literature News, CINEMA, RADIO & TV
---
The haunting tale of a desolate cottage, and the hair-thin junction between this life and the next, from bestselling National Book Award finalist Gail Godwin.
After his mother's death, eleven-year-old Marcus is sent to live on a small South Carolina island with his great aunt, a reclusive painter with a haunted past.
Aunt Charlotte, otherwise a woman of few words, points out a ruined cottage, telling Marcus she had visited it regularly after she'd moved there thirty years ago because it matched the ruin of her own life.
Eventually she was inspired to take up painting so she could capture its utter desolation.
The islanders call it "Grief Cottage," because a boy and his parents disappeared from it during a hurricane fifty years before. Their bodies were never found and the cottage has stood empty ever since. During his lonely hours while Aunt Charlotte is in her studio painting and keeping her demons at bay, Marcus visits the cottage daily, building up his courage by coming ever closer, even after the ghost of the boy who died seems to reveal himself.
Full of curiosity and open to the unfamiliar and uncanny given the recent upending of his life, he courts the ghost boy, never certain whether the ghost is friendly or follows some sinister agenda.
Grief Cottage is the best sort of ghost story, but it is far more than that–an investigation of grief, remorse, and the memories that haunt us. The power and beauty of this artful novel wash over the reader like the waves on a South Carolina beach.
Gail Godwin is a three-time National Book Award finalist and the bestselling author of twelve critically acclaimed novels, including Violet Clay, Father Melancholy's Daughter, Evensong, The Good Husband and Evenings at Five. She is also the author of The Making of a Writer, her journal in two volumes (ed. Rob Neufeld). She has received a Guggenheim Fellowship, National Endowment for the Arts grants for both fiction and libretto writing, and the Award in Literature from the American Academy of Arts and Letters. Gail Godwin lives in Woodstock, New York.
"Marcus' fascination with the ghostly presence of an adolescent boy, thought to have perished at Grief Cottage in a hurricane, allows Godwin to explore themes of loss, connection, and growth unfettered by the corporeal world." – Kirkus Reviews
Grief Cottage
A Novel
By: Gail Godwin
Published: 06-06-2017
Format: Hardback
Edition: 1st
Extent: 336
ISBN: 9781632867049
Imprint: Bloomsbury USA
Dimensions: 6 1/8″ x 9 1/4″
List price: $27.00
new books
fleursdumal.nl magazine
More in: - Book Lovers, - Book News, Archive G-H, Art & Literature News
---
Wat men doorgaans niet weet is dat Heyboer in de jaren 60 en 70 een gevierd kunstenaar was wiens werk werd aangekocht door het MoMA in New York, getoond op de Documenta in Kassel, en met grote tentoonstellingen werd geëerd in het Gemeentemuseum Den Haag en het Stedelijk Museum Amsterdam.
In 1975 werd hij zelfs samen met David Hockney en Lucian Freud in LACMA in Los Angeles gepresenteerd als een van de belangrijkste Europese schilders van dat moment. Veertig jaar na zijn laatste grote museale tentoonstelling wil het Gemeentemuseum de internationale kwaliteit van zijn oeuvre opnieuw voor het voetlicht brengen.
De tentoonstelling toont de ontwikkeling van zijn oeuvre met de nadruk op de periode 1956-1977, maar belicht ook het 'systeem' waarmee de kunstenaar een manier vond om het leven voor zichzelf dragelijk te maken. Zo wordt duidelijk hoe het leven en werk van Heyboer onlosmakelijk met elkaar verbonden zijn.
Nog te zien t/m 04 februari 2018
Gemeentemuseum Den Haag
Stadhouderslaan 41, 2517 HV Den Haag
Publicatie: Bij de tentoonstelling verschijnt een catalogus met teksten van onder meer Kees Keijer.
Anton Heyboer (Sabang, Indonesië, 1924 – Den Ilp, 2005) bekleedt een unieke positie binnen de moderne kunst. Met zijn mysterieuze, mystieke en hoogst persoonlijke beeldtaal plaatste hij zich in de jaren zestig en zeventig lijnrecht tegenover de toen heersende zakelijke kunststromingen zoals popart en minimal art.
In zijn etsen en tekeningen ontwikkelde Heyboer een 'systeem' om grip te krijgen op de demonen die hem sinds de Tweede Wereldoorlog achtervolgden, en om het leven voor zichzelf draaglijk te maken. Het is de kunst die zijn leven redt. Samen met zijn befaamde 'vijf bruiden' leefde Heyboer volgens de regels van zijn systeem, teruggetrokken in een zelfgebouwde, labyrintische woonruimte in Den Ilp. Hij creëerde zo zijn eigen, veilige universum waarin de kunst en zijn leven onlosmakelijk met elkaar verbonden zijn.
De kracht van Heyboers unieke werk bleef niet onopgemerkt. In de jaren zeventig werd Heyboer in één adem genoemd met kunstenaars als David Hockney en Lucian Freud en werd hij voorgedragen als een van Europa's belangrijkste schilders van het moment. Hij maakte internationaal naam, maar vanaf 1975 trok hij zich volledig terug uit de kunstwereld en werd vooral zijn excentrieke leven een kolfje naar de hand van de roddelpers . Meer dan veertig jaar later brengt deze publicatie de internationale kwaliteit van zijn werk uit de jaren zestig en zeventig opnieuw voor het voetlicht.
Anton Heyboer
Het goede moment
Doede Hardeman, Hans Locher, Kees Keijer e.a
Uitgeverij Hannibal – Hannibal
Prijs: € 27,50
28,5 x 22 cm
192 bladzijden
Hardcover
Quadrichromie
Nederlandstalige editie
ISBN 978 94 9267 710 5
# Meer informatie website Haags Gemeentemuseum
fleursdumal.nl magazine
More in: - Book News, - Book Stories, Archive G-H, Art & Literature News, Dutch Landscapes, Exhibition Archive, FDM Art Gallery, The Ideal Woman
---
De Pé Hawinkels Prijs is een nieuwe prijs voor makers en instanties die met creatieve initiatieven de grenzen van de literatuur oprekken.
Hawinkels (1942-1977) was iemand die zich niet in een hokje liet stoppen. Hij zorgde voor verbreding van de literatuur door zich bezig te houden met proza, poëzie, columns, jazzrecensies, vertalingen en zelfs songteksten (voor Herman Brood).
Welke schrijver, dichter, vertaler, journalist, filmmaker, uitgever, boekhandelaar droeg de afgelopen tijd met een bijzonder initiatief bij aan de verbreding van de literatuur? Dit kan zowel inhoudelijk als in vorm zijn, met bijvoorbeeld een app voor lezers, een politiek pamflet, een publiciteitsstunt of een project ten behoeve van verspreiding van boeken.
Vanaf nu kunt u een literair pionier nomineren. DAT KAN VIA DE WEBSITE VAN HET WINTERTUINFESTIVAL. Een vakkundige jury buigt zich over de genomineerden en kiest een winnaar. De prijs wordt op 25 november tijdens het Wintertuinfestival uitgereikt.
De Herfst van Hawinkels
De uitreiking van de Pé Hawinkels Prijs is een onderdeel van De Herfst van Hawinkels. In 2017 is het 40 jaar geleden dat Hawinkels overleed, hij zou anders dit jaar 75 zijn geworden. Dit najaar wordt het leven en werk van Hawinkels gevierd, onder meer met een expositie, een werkconferentie en een programma met jazz en voordrachten.
Wintertuin/De Nieuwe Oost is initiatiefnemer van de Pé Hawinkels Prijs en richt zich als productiehuis nadrukkelijk op ontwikkeling binnen het vakgebied. Met deze prijs wordt vernieuwing in de literatuur beloond en onder de aandacht gebracht.
   # Meer info website wintertuinfestival  
Nomineer een pionier voor de Pé Hawinkels Prijs
fleursdumal.nl magazine
More in: - Book News, Archive G-H, Archive G-H, Art & Literature News, Hawinkels, Pé, TRANSLATION ARCHIVE, Wintertuin Festival
---
Eline Arbo, nieuwe maakster bij Toneelschuur Producties, bewerkt voor deze eerste voorstelling zelf de klassieke roman van Johann Wolfgang von Goethe, waarin Werther vecht voor zijn ideale liefde.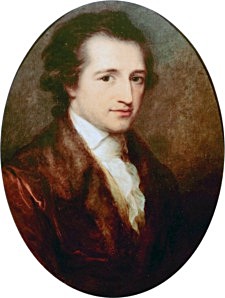 En zij daagt je uit na te denken over: Waar geloof ik in? En hoe ver ben ik bereid daarvoor te gaan?
Tijdens zijn verblijf op het platteland wordt Werther hevig verliefd op Lotte, een meisje dat al verloofd is met Albert. Hij gooit zijn hartstocht volledig in de strijd. Wanneer zijn liefde voor Lotte onbeantwoord blijft, ziet hij geen andere uitweg dan de dood.
Goethes eerste roman is na zijn publicatie in 1774, te midden van de 'Sturm und Drang'-periode, direct een ongekend succes en leidt tot een heuse 'Werther-Fieber' onder jongvolwassenen: mannen herkennen zich in zijn verhaal, kleden zich identiek aan hun held en een golf van zelfmoorden raast door Europa.
Eline Arbo over 'Het lijden van de jonge Werther'
"Ik ben gefascineerd door de stelligheid van Werther om het gevoel als richtlijn voor zijn handelen te gebruiken. Hij is volhardend in zijn houding – met de dood tot gevolg. Is hij een hysterische egoïst of ligt er juist kracht in Werthers irrationele levenswijze? Juist die spanning tussen gevoel en verstand vind ik interessant en wil ik in deze voorstelling onderzoeken."
Eline Arbo studeerde in de zomer van 2016 af aan de Regie Opleiding van de Amsterdamse Hogeschool voor de Kunsten en viel daar op met haar afstudeervoorstellingen Manifesten en Antigone. Arbo onderzoekt in haar voorstellingen sociaal maatschappelijke thema's via eigenzinnige concepten.
regie Eline Arbo tekst Johann Wolfgang von Goethe bewerking Eline Arbo gebaseerd op de vertaling van Thérèse Cornips (© 1975 Stichting Thérèse Cornips) met Diewertje Dir, Sander Plukaard, Victor IJdens decor Juul Dekker kostuums Sarah Nixon licht Varja Klosse dramaturgie Thomas Lamers muzikaal leider Thijs van Vuure met dank aan Sofie de Wilde, Roos Matla, Saar Scheerlings, Sarah Lefevre, Eva Bosma, Huib Nelissen Decorbouw
Het lijden van de jonge Werther, theater
Van: Johann Wolfgang von Goethe
Door: Toneelschuur Producties
Regie: Eline Arbo.
23/9, Toneelschuur, Haarlem.
Tournee t/m 19/10.
vr 06 okt 2017
Den Haag
Theater aan het Spui
wo 18 okt t/m
do 19 okt 2017
Amsterdam
Theater Bellevue
'Een groot expressionistisch theaterfeest' ★★★★★ Volkskrant
'Prachtige vondsten in overtuigend debuut' Haarlems Dagblad
   # Meer info website toneelschuur   

Toneelschuur Producties / Eline Arbo:
Het lijden van de jonge Werther, theater
Van Johann Wolfgang von Goethe
fleursdumal.nl magazine
More in: Archive G-H, Art & Literature News, Goethe, Johann Wolfgang von, J.W. von Goethe, THEATRE, TRANSLATION ARCHIVE
---
Maria Callas was zonder twijfel de meest getalenteerde zangeres van de twintigste eeuw. Ze was een stijlicoon, maar bovenal een vrouw met een dramatisch leven vol uitersten.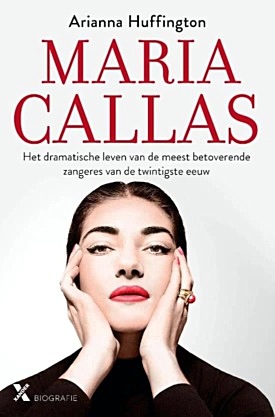 Deze biografie brengt Callas briljant tot leven en toont haar transformatie van mollig, verlegen meisje tot de prachtige, gevierde sopraan met een larger-than-life-imago.
Met behulp van een schat aan materiaal en tal van interviews documenteert Arianna Huffington de eindeloze onenigheid tussen Callas en haar moeder, de geleidelijke ondergang van haar eerste huwelijk, haar gepassioneerde liefdesrelatie met Aristoteles Onassis, de pijn en vernedering toen hij haar verliet en haar geheime abortus.
Het resultaat is een overtuigend en ontroerend portret.
Arianna Stassinopoulos Huffington (1950) is een Grieks-Amerikaanse journalist, bestsellerauteur, columnist, actrice en medeoprichter van The Huffington Post.
Maria Callas
Arianna Huffington
€19,99
ISBN: 9789401607377
Uitg. Xander Amsterdam
fleursdumal.nl magazine
More in: - Book News, - Book Stories, Archive G-H, Art & Literature News, BIOGRAPHY, Maria Callas, THEATRE
---
Deaths of Little Children
by Leigh Hunt
A Grecian philosopher being asked why he wept for the death of his son, since the sorrow was in vain, replied, "I weep on that account." And his answer became his wisdom. It is only for sophists to contend that we, whose eyes contain the fountains of tears, need never give way to them. It would be unwise not to do so on some occasions. Sorrow unlocks them in her balmy moods. The first bursts may be bitter and overwhelming; but the soil on which they pour would be worse without them. They refresh the fever of the soul—the dry misery which parches the countenance into furrows, and renders us liable to our most terrible "flesh-quakes."
There are sorrows, it is true, so great, that to give them some of the ordinary vents is to run a hazard of being overthrown. These we must rather strengthen ourselves to resist, or bow quietly and drily down, in order to let them pass over us, as the traveller does the wind of the desert. But where we feel that tears would relieve us, it is false philosophy to deny ourselves at least that first refreshment; and it is always false consolation to tell people that because they cannot help a thing, they are not to mind it. The true way is, to let them grapple with the unavoidable sorrow, and try to win it into gentleness by a reasonable yielding. There are griefs so gentle in their very nature that it would be worse than false heroism to refuse them a tear. Of this kind are the deaths of infants. Particular circumstances may render it more or less advisable to indulge in grief for the loss of a little child; but, in general, parents should be no more advised to repress their first tears on such an occasion, than to repress their smiles towards a child surviving, or to indulge in any other sympathy. It is an appeal to the same gentle tenderness; and such appeals are never made in vain. The end of them is an acquittal from the harsher bonds of affliction—from the typing down of the spirit to one melancholy idea.
It is the nature of tears of this kind, however strongly they may gush forth, to run into quiet waters at last. We cannot easily, for the whole course of our lives, think with pain of any good and kind person whom we have lost. It is the divine nature of their qualities to conquer pain and death itself; to turn the memory of them into pleasure; to survive with a placid aspect in our imaginations. We are writing at this moment just opposite a spot which contains the grave of one inexpressibly dear to us. We see from our window the trees about it, and the church spire. The green fields lie around. The clouds are travelling overhead, alternately taking away the sunshine and restoring it. The vernal winds, piping of the flowery summer-time, are nevertheless calling to mind the far-distant and dangerous ocean, which the heart that lies in that grave had many reasons to think of. And yet the sight of this spot does not give us pain. So far from it, it is the existence of that grave which doubles every charm of the spot; which links the pleasures of our childhood and manhood together; which puts a hushing tenderness in the winds, and a patient joy upon the landscape; which seems to unite heaven and earth, mortality and immortality, the grass of the tomb and the grass of the green field; and gives a more maternal aspect to the whole kindness of nature. It does not hinder gaiety itself. Happiness was what its tenant, through all her troubles, would have diffused. To diffuse happiness, and to enjoy it, is not only carrying on her wishes, but realising her hopes; and gaiety, freed from its only pollutions, malignity and want of sympathy, is but a child playing about the knees of its mother.
The remembered innocence and endearments of a child stand us instead of virtues that have died older. Children have not exercised the voluntary offices of friendship; they have not chosen to be kind and good to us; nor stood by us, from conscious will, in the hour of adversity. But they have shared their pleasures and pains with us as well as they could; the interchange of good offices between us has, of necessity, been less mingled with the troubles of the world; the sorrow arising from their death is the only one which we can associate with their memories. These are happy thoughts that cannot die. Our loss may always render them pensive; but they will not always be painful. It is a part of the benignity of Nature that pain does not survive like pleasure, at any time, much less where the cause of it is an innocent one. The smile will remain reflected by memory, as the moon reflects the light upon us when the sun has gone into heaven.
When writers like ourselves quarrel with earthly pain (we mean writers of the same intentions, without implying, of course, anything about abilities or otherwise), they are misunderstood if they are supposed to quarrel with pains of every sort. This would be idle and effeminate. They do not pretend, indeed, that humanity might not wish, if it could, to be entirely free from pain; for it endeavours, at all times, to turn pain into pleasure: or at least to set off the one with the other, to make the former a zest and the latter a refreshment. The most unaffected dignity of suffering does this, and, if wise, acknowledges it. The greatest benevolence towards others, the most unselfish relish of their pleasures, even at its own expense, does but look to increasing the general stock of happiness, though content, if it could, to have its identity swallowed up in that splendid contemplation. We are far from meaning that this is to be called selfishness. We are far, indeed, from thinking so, or of so confounding words. But neither is it to be called pain when most unselfish, if disinterestedness by truly understood. The pain that is in it softens into pleasure, as the darker hue of the rainbow melts into the brighter. Yet even if a harsher line is to be drawn between the pain and pleasure of the most unselfish mind (and ill-health, for instance, may draw it), we should not quarrel with it if it contributed to the general mass of comfort, and were of a nature which general kindliness could not avoid. Made as we are, there are certain pains without which it would be difficult to conceive certain great and overbalancing pleasures. We may conceive it possible for beings to be made entirely happy; but in our composition something of pain seems to be a necessary ingredient, in order that the materials may turn to as fine account as possible, though our clay, in the course of ages and experience, may be refined more and more. We may get rid of the worst earth, though not of earth itself.
Now the liability to the loss of children—or rather what renders us sensible of it, the occasional loss itself—seems to be one of these necessary bitters thrown into the cup of humanity. We do not mean that every one must lose one of his children in order to enjoy the rest; or that every individual loss afflicts us in the same proportion. We allude to the deaths of infants in general. These might be as few as we could render them. But if none at all ever took place, we should regard every little child as a man or woman secured; and it will easily be conceived what a world of endearing cares and hopes this security would endanger. The very idea of infancy would lose its continuity with us. Girls and boys would be future men and women, not present children. They would have attained their full growth in our imaginations, and might as well have been men and women at once. On the other hand, those who have lost an infant, are never, as it were, without an infant child. They are the only persons who, in one sense, retain it always, and they furnish their neighbours with the same idea. The other children grow up to manhood and womanhood, and suffer all the changes of mortality. This one alone is rendered an immortal child. Death has arrested it with his kindly harshness, and blessed it into an eternal image of youth and innocence.
Of such as these are the pleasantest shapes that visit our fancy and our hopes. They are the ever-smiling emblems of joy; the prettiest pages that wait upon imagination. Lastly, "Of these are the kingdom of heaven." Wherever there is a province of that benevolent and all-accessible empire, whether on earth or elsewhere, such are the gentle spirits that must inhabit it. To such simplicity, or the resemblance of it, must they come. Such must be the ready confidence of their hearts and creativeness of their fancy. And so ignorant must they be of the "knowledge of good and evil," losing their discernment of that self-created trouble, by enjoying the garden before them, and not being ashamed of what is kindly and innocent.
Deaths of Little Children
by Leigh Hunt (1784 – 1859)
fleursdumal.nl magazine
More in: Archive G-H, Archive G-H, Galerie des Morts, Hunt, Leigh
---
Eens in de zoveel jaar verschijnt er een roman die zó verslavend is dat je er afspraken voor afzegt, uit de trein vergeet te stappen en stiekem iets eerder van je werk vertrekt. Zo'n uitzonderlijke roman schreef Johan Harstad: zijn manier van vertellen maakt dat je niet rust voordat je de laatste pagina hebt omgeslagen.
Max, Mischa & het Tet-offensief is het verhaal van toneelregisseur Max Hansen, die als puber vanuit Noorwegen naar Amerika emigreert. Hij heeft moeite om zijn jeugd in Stavanger, waar hij als kind van communistische ouders het Tet-offensief naspeelde, achter zich te laten, maar ontdekt in New York dat eigenlijk iedereen daar ontheemd is. In kunstenares Mischa, acteur Mordecai en Vietnamveteraan Owen vindt hij dierbare lotgenoten.
Harstads magnum opus is een hypnotiserende vertelling die vele decennia en continenten omspant: van de oorlog in Vietnam en Apocalypse Now tot jazzmuziek, van Mark Rothko en Burning Man tot de aanslag op de Twin Towers. Uitgeverij Podium zegt bijzonder trots te zijn dat zij deze monumentale roman als eerste buitenlandse uitgever kunnen brengen, in een indrukwekkende vertaling van Edith Koenders en Paula Stevens.
Quote: 'De werelden die Harstad creëert zijn zo verontrustend, romantisch en verslavend, dat het mij moeite kost om naar de echte terug te keren.' Arjen Lubach
Johan Harstad (1979) debuteerde in 2001 met een bundel verzameld proza. Zijn debuutroman Buzz Aldrin, waar ben je gebleven? werd opgevolgd door de roman Hässelby, een David Lynch-achtig verhaal over een man die al 42 jaar bij zijn vader woont. In 2011 verscheen zijn young adult sf-roman Darlah. Naast zijn schrijverschap werkt Harstad als grafisch ontwerper onder het label LACKTR. Voorafgaand aan zijn succesvolle roman Buzz Aldrin, waar ben je gebleven? publiceerde de Noorse schrijver Johan Harstad de verhalenbundel Ambulance. De Nederlandse vertaling van deze verhalenbundel verscheen in 2014. In 2017 verschijnt zijn nieuwe roman: Max, Mischa & het Tet-offensief.
Bibliografie Johan Harstad
2006 Buzz Aldrin, waar ben je gebleven? (roman)
2009 Hässelby (roman)
2011 Darlah (roman)
2014 Ambulance (verhalen)
2017 Max, Mischa & het Tet-offensief (roman)*
Johan Harstad
Max, Mischa & het Tet-offensief
1232 pagina's – € 29,99
Omslag: b'IJ Barbara
ISBN: 978 90 5759 849 4
vertaler: Edith Koenders & Paula Stevens
Uitgeverij Podium
fleursdumal.nl magazine
More in: - Book News, Archive G-H, Art & Literature News, DICTIONARY OF IDEAS
---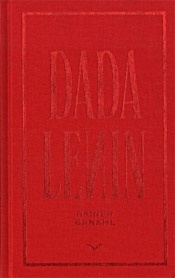 DADALENIN reconstructs and speculates about how Dada and Lenin had more in common than is usually assumed. The book points to some of the tragicomic aspects of their parallel and overlapping artistic and political histories in order to question the unfulfilled legacy of the avant-garde. In Rainer Ganahl's voluminous series of works DADA and Lenin are abundant sources of historical imagination. To dive into the historical situation Ganahl uses a variety of artistic media and techniques–ranging from animation movies to theatre performances, from ink drawings to bronze sculptures, departing from a number of historical details and catch phrases, from the no-man's land between porn, terror and the history of the avant-gardes.
Dadalenin
Rainer Ganahl
Publisher Taube
ISBN 9783981451849
608 p,
ills in colour & bw,
15 x 23 cm, hb, English
€25.00
fleursdumal.nl magazine
More in: - Book News, Archive G-H, Art & Literature News, Dada, DADA, Dadaïsme
---
Older Entries »
Thank you for reading FLEURSDUMAL.NL - magazine for art & literature