Archive C-D
«« Previous page
·
Dennis Whitehead: SHELL SHOCK. Twin Sisters Struck Down by the Horrors of World War I
·
Mirjam Van Hengel: Een knipperend ogenblik. Biografie Remco Campert
·
François Cheng: Enfin le royaume. Quatrains
·
Gladys Cromwell: Preparation
·
Girls are Coming Out of the Woods by Tishani Doshi
·
Willa Cather: Arcadian Winter
·
Gladys Cromwell: Grief
·
Gladys Cromwell: The Actor-Soldier
·
Mijnheer Cros: Charles Cros
·
Gladys Cromwell: The Poet
·
Samuel Taylor Coleridge: Rime of the Ancient Mariner
·
Gladys Cromwell: Star Song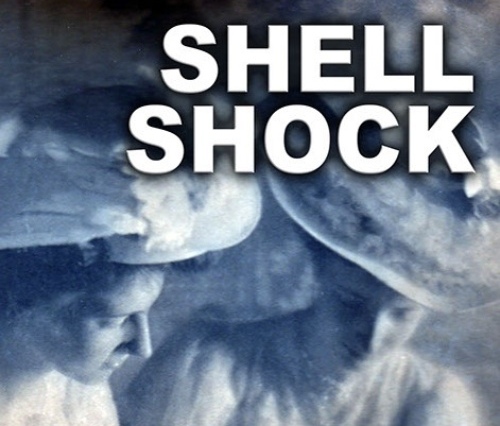 The true story of twin sisters, Dorothea and Gladys Cromwell, born into New York's Gilded Age, living lives of wealth and privilege, as told by Dennis Whitehead.

Amid the fervor of America's entry into the First World War, the sisters volunteered for service with the American Red Cross in France, a country they knew and loved. To French soldiers seeking refreshment and solace in the Red Cross canteen, the identical twins were known as anges jumeaux, the twin angels.
Witnessing the non-stop horrors in the worst fighting in the war, the sisters were utterly exhaustion, both mentally and physically, when they boarded the SS La Lorraine for the return journey home. They had wished to continue their service to the people of France after the fighting stopped but were convinced to return to New York by their brother.
What happened on that ship, on that frigid January 1919 evening, almost one-hundred years ago, is one of the great untold stories of World War I, and the impact that modern warfare had upon not just the men in the trenches, but upon its women and other non-combatants, as well as civilians, that remained unrecognized until the Vietnam War.
Dennis Whitehead: A native of Cincinnati and a graduate of Ohio University, Dennis Whitehead is a writer, photographer, and media producer in Arlington, Virginia.
Shell Shock: Twin Sisters Born Into New York's Gilded Age Struck Down by the Horrors of War
by Dennis Whitehead
Kindle Edition
$2,99
Available for download
Language: English
File Size: 27502 KB
Print Length: 52 pages
Publisher: MMImedia LLC (July 18, 2018)
Publication Date: July 18, 2018
Amazon Digital
# More information and link with Amazon Kindle Edition
Shell Shock is the story of the twin Cromwell sisters who served with the American Red Cross in World War I France. Witnessing the unrelenting horrors of war, the Cromwell sisters illustrate the unrecognized trauma wrought upon non-combatants in the First World War. Gladys Cromwell (1885-1919) was a very talented poet.
# Digital biography
American writers
Gladys Cromwell
fleursdumal.nl magazine
More in: #Biography Archives, *War Poetry Archive, - Book Stories, Archive C-D, Archive W-X, AUDIO, CINEMA, RADIO & TV, Gladys Cromwell, Photography, WAR & PEACE
---
'Eigenlijk wil ik gewoon elke morgen wakker worden en niks weten en gaan schrijven.'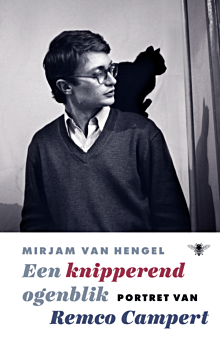 Dat zegt Remco Campert, de virtuoos terloopse dichter die altijd zijn vinger aan de pols van de tijd heeft gehouden.
Het verhaal van zijn leven loopt van de naoorlogse avant-garde via feestende jongeren rond het Vondelpark en toenemende publieke zichtbaarheid naar de stilte van een werkkamer. Er was de afwezige vader, er kwamen en gingen grote liefdes, maar altijd bleef het schrijven, dicht op de eigen huid.
Mirjam van Hengel, die eerder het succesvolle Hoe mooi alles (2014) publiceerde over de liefde tussen Leo en Tineke Vroman, sprak wekelijks met Campert en kreeg inzage in al zijn papieren.
Ze schreef een portret over de man die al meer dan een halve eeuw het Nederlandse literaire landschap kleurt, die even graag alleen is als in gezelschap, even lui als productief, even opgeruimd als melancholiek, even betrokken bij de wereld als onverstoorbaar zichzelf.
Mirjam van Hengel (1967) studeerde Nederlandse letterkunde aan de Universiteit Utrecht. Ze was jarenlang redacteur bij uitgeverij Van Oorschot en uitgeverij Querido en is poëzieprogrammeur bij onder meer De Nieuwe Liefde. In 2014 verscheen haar boek Hoe mooi alles. Leo en Tineke Vroman, een liefde in oorlogstijd, dat lovend werd ontvangen en bewerkt tot theaterstuk.
Remco Campert (1929) is dichter, romancier en columnist. Voor zijn poëzie ontving hij onder meer de Reina Prinsen Geerligsprijs, de Poëzieprijs van de gemeente Amsterdam, de Jan Campertprijs, de P.C. Hooft-prijs en De Gouden Ganzenveer. In 2015 werd hij bekroond met de Prijs der Nederlandse Letteren. De vader van Remco Campert was de dichter Jan Campert, die 'Het Lied der Achttien Dooden' schreef, zijn moeder de actrice Joeki Broedelet. Voorjaar 1950 richt Remco Campert met Rudy Kousbroek het tijdschrift Braak op. In juli van hetzelfde jaar wordt de redactie uitgebreid met Lucebert en Bert Schierbeek. Na het verschijnen van de bloemlezing Atonaal in 1951, onder redactie van Simon Vinkenoog, worden de daarin opgenomen dichters onder wie Gerrit Kouwenaar, Jan G. Elburg en Hugo Claus, aangeduid als de Vijftigers.
Remco Camperts verhalen en romans worden gewaardeerd door een groot publiek en boeken als Het leven is vurrukkulluk (1961) en Tjeempie! of Liesje in luiletterland (1968) staan nog steeds op de leeslijsten.
In 1976 ontvangt hij de P.C. Hooftprijs voor zijn poëzie: 'Het hele poëtische oeuvre van Remco Campert overziend, is de jury onder de indruk gekomen van de persoonlijke kroniek van de jaren 1950-1970 die erin is neergeschreven. De hachelijke en belachelijke feiten van deze levensperiode zijn door de dichter onvergetelijk geboekstaafd.'
Van 1989 tot 1995 leest Campert met Jan Mulder en Bart Chabot in theaters voor uit eigen werk. Van 1996 tot 2006 schrijft Campert samen met Mulder een gezamenlijke column op de voorpagina van de Volkskrant, CaMu. Sinds 2012 heeft hij in deze krant een eigen wekelijkse column en daarnaast zijn 'Somberman', over het gelijknamige personage dat hij voor het eerst opvoerde in Somberman's actie, het Boekenweekgeschenk van 1985. In 2004 verscheen Een liefde in Parijs, zijn eerste roman in meer dan tien jaar, die zeer lovend werd besproken en uitgroeide tot een grote bestseller. Het Parool schreef: 'Hier is de meester aan het werk.' In 2006 volgde Het satijnen hart, een weemoedig portret van een schilder die tot op hoge leeftijd niet kan kiezen tussen liefde en kunst.
De afgelopen vijf jaar verschenen onder meer de roman Hôtel du Nord (2013), de dichtbundels Licht van mijn leven (2014, met litho's van Ysbrant) en Verloop van jaren: 40 poëtische notities (2015). Het fotoboek De ziel krijgt voeten (2013), maakte hij met zijn dochter Cleo Campert. Zijn verzamelde columns voor de Volkskrant zijn te lezen in Het verband tussen de dingen ben ik zelf (2012), Te vroeg in het seizoen (2014), Vandaag ben ik een lege kartonnen doos (2015), Zonder roken bij mij geen poëzie (2016) en Somberman op drift (2016). In 2016 verscheen eveneens Campert & Campert, een bundeling van alle stukken van Remco én zijn vader Jan Campert in Elsevier. Recent verscheen de dichtbundel Open ogen (2018).   (Bron: Bezige Bij)
Titel: Een knipperend ogenblik.
Portret van Remco Campert
Auteur: Mirjam Van Hengel
Biografie
Taal: Nederlands
Uitgever: Bezige Bij, De
Druk: 1e
Aantal pagina's 512
Uitvoering: Gebonden
Verschenen: 23 augustus 2018
Presentatie: 5 september 2018
ISBN 9789403122908
€ 29,99
new books
portret van Remco Campert
fleursdumal.nl magazine
More in: #Biography Archives, - Book News, - Bookstores, Archive C-D, Archive G-H, Art & Literature News, Campert, Remco, Remco Campert
---
Forme brève, mais moins abrupte que le haïku, le quatrain ne s'en tient pas au lapidaire, il sait donner du rythme à la pensée, à l'émotion, à la surprise, il sait initier un questionnement, amorcer une méditation, esquisser un chant.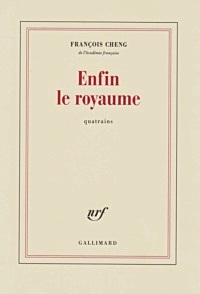 À la suite des poètes chinois des origines, mais aussi d'Omar Khayyâm et d'Emily Dickinson, François Cheng atteste ici du pouvoir singulier de ce mode d'expression resserré, pourtant si peu enclos, si ouvert aux résonances, aux errances fertiles, voire à une manière salutaire d'envoûtement simple.
François Cheng (1929) de l'Académie française (2002) – Grand prix de la Francophonie de l'Académie française (2001)
François Cheng
Enfin le royaume. Quatrains
Collection Blanche, Gallimard
Parution : 08-02-2018
160 pages
140 x 205 mm
Genre : Poésie: Littérature française
Époque : XXe-XXIe siècle
ISBN : 9782072767449
Gencode : 9782072767449
Code distributeur : G01421
Prix: €15,00
new poetry François Cheng
fleursdumal.nl
More in: - Book News, - Bookstores, Archive C-D, Archive C-D, Art & Literature News
---
Preparation
A time will come when I shall breathe
New melodies to soothe and fold,
Like portions of a mellow sheath,
My sorrow. While my songs withhold
Their tones, I pause before the years;
I gaze on the grey world ; I strive
To clear the mist of doubting tears.
My songs, what music you ll derive
From silence in the time to come!
Gladys Cromwell
(1885-1919)
Preparation
fleursdumal.nl magazine
More in: Archive C-D, Cromwell, Gladys, Gladys Cromwell
---
Tishani Doshi on Girls are Coming Out of the Woods: "I want to give this book to the people I love, and say to them, memorize this, never forget. – Jeet Thayil Each poem promises the sharpness of broken sea-shells, the smell of brine.
In this collection, Tishani Doshi inhabits the different homes: her childhood, the body, cities that were passed through, cycles of rain. There are poems of celebration and homages, as there are poems lamenting human cruelty and dispassion. This is also a book of travel and of homecoming, of familiar decay and startling, haunting discoveries of our oldest themes of love, grief, suffering and anger."
Girls are coming out of the woods,
wrapped in cloaks and hoods,
carrying iron bars and candles
and a multitude of scars, collected
on acres of premature grass and city
buses, in temples and bars. Girls
are coming out of the woods
with panties tied around their lips,
making such a noise, it's impossible
to hear. Is the world speaking too?
Tishani Doshi in Girls are Coming Out of the Woods (fragment)
Tishani Doshi is an award-winning poet and dancer of Welsh-Gujarati descent. She was born in Madras, India, in 1975. She received her masters in writing from the Johns Hopkins University in America and worked in London in advertising before returning to India in 2001 to work with the choreographer Chandralekha, with whom she performed on many international stages. An avid traveller, she has been trekking in the Ethiopian Bale Mountains, visited Antarctica with a group of high-school students, and documented the largest transvestite gathering in Koovakam. She has written about her travels in newspapers such as the Guardian, International Herald Tribune, The Hindu and the Financial Times. She won an Eric Gregory Award for her poetry in 2001. In 2006, she won the All-India Poetry Competition, and her debut collection, Countries of the Body (Aark Arts), won the Forward Prize for Best First Collection. Her first novel, The Pleasure Seekers (Bloomsbury, 2010), was longlisted for the Orange Prize and shortlisted for the Hindu Fiction Award, and has been translated into several languages. Her second poetry collection, Everything Begins Elsewhere, was published by Bloodaxe Books in 2012. Her third, Girls Are Coming Out of the Woods, is due from Bloodaxe in 2018. Tishani Doshi currently lives on a beach between two fishing villages in Tamil Nadu with her husband and three dogs, and sometimes moonlights as a dancer.
Girls are Coming Out of the Woods
by Tishani Doshi
PBS Recommendation Summer 2018
Publisher: Bloodaxe Books Ltd
Publication Date: 10 May 2018
Paperback £9.95
ISBN: 9781780371979
Pages: 96
Size: 234 x 156mm
Engelstalig
new poetry
fleursdumal.nl magazine
More in: #Editors Choice Archiv, - Book News, - Bookstores, Archive C-D, Art & Literature News
---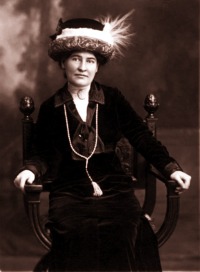 Arcadian Winter
Woe is me to tell it thee,
Winter winds in Arcady!
Scattered is thy flock and fled
From the glades where once it fed,
And the snow lies drifted white
In the bower of our delight,
Where the beech threw gracious shade
On the cheek of boy and maid:
And the bitter blasts make roar
Through the fleshless sycamore.
White enchantment holds the spring,
Where thou once wert wont to sing,
And the cold hath cut to death
Reeds melodious of thy breath.
He, the rival of thy lyre,
Nightingale with note of fire,
Sings no more; but far away,
From the windy hill-side gray,
Calls the broken note forlorn
Of an aged shepherd's horn.
Still about the fire they tell
How it long ago befell
That a shepherd maid and lad
Met and trembled and were glad;
When the swift spring waters ran,
And the wind to boy or man
Brought the aching of his sires–
Song and love and all desires.
Ere the starry dogwoods fell
They were lovers, so they tell.
Woe is me to tell it thee,
Winter winds in Arcady!
Broken pipes and vows forgot,
Scattered flocks returning not,
Frozen brook and drifted hill,
Ashen sun and song-birds still;
Songs of summer and desire
Crooned about the winter fire;
Shepherd lads with silver hair,
Shepherd maids no longer fair.
Willa Cather
(1873-1947)
poetry
fleursdumal.nl magazine
More in: #More Poetry Archives, Archive C-D, Archive C-D
---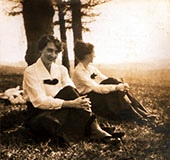 Grief
Exultant whirlwind wrung the branches ;
And the weak leaves were loosed with power.
I heard the pelting dissonances ;
Anguish in the autumn shower.
But living petals now take wing
Like butterflies with dusky flashes;
April flutters her white ashes
Inaudibly, remembering.
Gladys Cromwell
(1885-1919)
Grief
fleursdumal.nl magazine
More in: Archive C-D, Cromwell, Gladys, Gladys Cromwell
---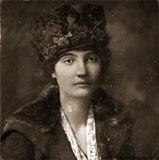 The Actor-Soldier
On the grass I m lying,
My blanket is the sky ;
This feeling is called dying.
No one will testify
They saw me suffer this ;
There s no one passing by.
The wonder of it is,
I m by myself at last
With plain realities.
No one is here to cast
A part for me to play ;
My term of life is past.
No one is here to see
How I can meet and take
This end ; how gallantly
Though the ice that binds a lake
Must weigh less heavily
Than Death to my soul awake.
Gladys Cromwell
(1885-1919)
The Actor-Soldier
fleursdumal.nl magazine
More in: Archive C-D, Cromwell, Gladys, Gladys Cromwell
---
Mijnheer Cros gaat op een bijzondere manier in op het leven van Charles Cros (1842-1888).

Deze literaire ingenieur (Liesbeth van Nes) en boeiende buitenstaander (Bernlef) kan worden genoemd als de literaire voorloper op Dada, het surrealisme en het absurdisme, maar ook als de commercieel weinig gewiekste uitvinder van de fonograaf, de kleurenfotografie en (met een knipoog) de communicatie met andere planeten.
Een bescheiden selectie van zijn poëzie en monologen vormt in samenhang met zijn hinkende privéleven, de springplank voor losjes op zijn leven geïnspireerde schetsen, in proza, poëzie en beeld van Harry van Doveren, Kreek Daey Ouwens, Theo Rikken en Ineke van Doorn.
Charles Cros (1842-1888) was een Frans dichter. Hij mag worden gezien als een van de literaire voorlopers van het dadaïsme, het surrealisme en het absurdisme. Daarnaast was hij uitvinder van de fonograaf en de kleurenfotografie. Het lukte hem echter niet deze uitvindingen te gelde te maken.
Mijnheer Cros
Cros, Charles
Rikken, Theo – Doveren, Harry van – Doorn, Ineke van – Daey Ouwens, Kreek
ISBN 978-90-8684-162-2
Formaat: 12.5 x 20 cm.
Omvang: 128 pag.
€17,50
2018
Uitgeverij IJzer
new books
fleursdumal.nl magazine
More in: - Book News, Archive C-D, Art & Literature News, Cros, Charles, DADA, Ouwens, Kreek Daey, Photography, SURREALISM
---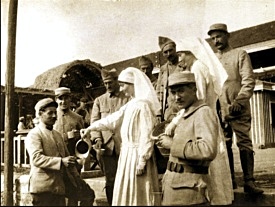 The Poet
O tell me, tell me,
How did you drain
Your song to drops
Clear as rain?
What labor, what sorrow,
What sacrifice,
Crystal d your song
To beryl ice?
What burning gladness
Warmed it again
To a vapor sweet,
Clear as rain?
O tell me, tell me,
Melody s price
Is it work, is it pain,
Is it sacrifice?
Gladys Cromwell
(1885-1919)
The Poet
fleursdumal.nl magazine
More in: *War Poetry Archive, Archive C-D, Cromwell, Gladys, Gladys Cromwell
---
Samuel Taylor Coleridge
Part I
It is an ancient Mariner,
And he stoppeth one of three.
'By thy long grey beard and glittering eye,
Now wherefore stopp'st thou me?
The bridegroom's doors are opened wide,
And I am next of kin;
The guests are met, the feast is set:
Mayst hear the merry din.'
He holds him with his skinny hand,
"There was a ship," quoth he.
'Hold off! unhand me, grey-beard loon!'
Eftsoons his hand dropped he.
He holds him with his glittering eye—
The Wedding-Guest stood still,
And listens like a three years' child:
The Mariner hath his will.
The Wedding-Guest sat on a stone:
He cannot choose but hear;
And thus spake on that ancient man,
The bright-eyed Mariner.
"The ship was cheered, the harbour cleared,
Merrily did we drop
Below the kirk, below the hill,
Below the lighthouse top.
The sun came up upon the left,
Out of the sea came he!
And he shone bright, and on the right
Went down into the sea.
Higher and higher every day,
Till over the mast at noon—"
The Wedding-Guest here beat his breast,
For he heard the loud bassoon.
The bride hath paced into the hall,
Red as a rose is she;
Nodding their heads before her goes
The merry minstrelsy.
The Wedding-Guest he beat his breast,
Yet he cannot choose but hear;
And thus spake on that ancient man,
The bright-eyed Mariner.
"And now the storm-blast came, and he
Was tyrannous and strong:
He struck with his o'ertaking wings,
And chased us south along.
With sloping masts and dipping prow,
As who pursued with yell and blow
Still treads the shadow of his foe,
And foward bends his head,
The ship drove fast, loud roared the blast,
And southward aye we fled.
And now there came both mist and snow,
And it grew wondrous cold:
And ice, mast-high, came floating by,
As green as emerald.
And through the drifts the snowy clifts
Did send a dismal sheen:
Nor shapes of men nor beasts we ken—
The ice was all between.
The ice was here, the ice was there,
The ice was all around:
It cracked and growled, and roared and howled,
Like noises in a swound!
At length did cross an Albatross,
Thorough the fog it came;
As it had been a Christian soul,
We hailed it in God's name.
It ate the food it ne'er had eat,
And round and round it flew.
The ice did split with a thunder-fit;
The helmsman steered us through!
And a good south wind sprung up behind;
The Albatross did follow,
And every day, for food or play,
Came to the mariner's hollo!
In mist or cloud, on mast or shroud,
It perched for vespers nine;
Whiles all the night, through fog-smoke white,
Glimmered the white moonshine."
'God save thee, ancient Mariner,
From the fiends that plague thee thus!—
Why look'st thou so?'—"With my crossbow
I shot the Albatross."
Part II
"The sun now rose upon the right:
Out of the sea came he,
Still hid in mist, and on the left
Went down into the sea.
And the good south wind still blew behind,
But no sweet bird did follow,
Nor any day for food or play
Came to the mariners' hollo!
And I had done a hellish thing,
And it would work 'em woe:
For all averred, I had killed the bird
That made the breeze to blow.
Ah wretch! said they, the bird to slay,
That made the breeze to blow!
Nor dim nor red, like God's own head,
The glorious sun uprist:
Then all averred, I had killed the bird
That brought the fog and mist.
'Twas right, said they, such birds to slay,
That bring the fog and mist.
The fair breeze blew, the white foam flew,
The furrow followed free;
We were the first that ever burst
Into that silent sea.
Down dropped the breeze, the sails dropped down,
'Twas sad as sad could be;
And we did speak only to break
The silence of the sea!
All in a hot and copper sky,
The bloody sun, at noon,
Right up above the mast did stand,
No bigger than the moon.
Day after day, day after day,
We stuck, nor breath nor motion;
As idle as a painted ship
Upon a painted ocean.
Water, water, every where,
And all the boards did shrink;
Water, water, every where,
Nor any drop to drink.
The very deep did rot: O Christ!
That ever this should be!
Yea, slimy things did crawl with legs
Upon the slimy sea.
About, about, in reel and rout
The death-fires danced at night;
The water, like a witch's oils,
Burnt green, and blue, and white.
And some in dreams assured were
Of the Spirit that plagued us so;
Nine fathom deep he had followed us
From the land of mist and snow.
And every tongue, through utter drought,
Was withered at the root;
We could not speak, no more than if
We had been choked with soot.
Ah! well-a-day! what evil looks
Had I from old and young!
Instead of the cross, the Albatross
About my neck was hung."
Part III
"There passed a weary time. Each throat
Was parched, and glazed each eye.
A weary time! a weary time!
How glazed each weary eye—
When looking westward, I beheld
A something in the sky.
At first it seemed a little speck,
And then it seemed a mist;
It moved and moved, and took at last
A certain shape, I wist.
A speck, a mist, a shape, I wist!
And still it neared and neared:
As if it dodged a water-sprite,
It plunged and tacked and veered.
With throats unslaked, with black lips baked,
We could nor laugh nor wail;
Through utter drought all dumb we stood!
I bit my arm, I sucked the blood,
And cried, A sail! a sail!
With throats unslaked, with black lips baked,
Agape they heard me call:
Gramercy! they for joy did grin,
And all at once their breath drew in,
As they were drinking all.
See! see! (I cried) she tacks no more!
Hither to work us weal;
Without a breeze, without a tide,
She steadies with upright keel!
The western wave was all a-flame,
The day was well nigh done!
Almost upon the western wave
Rested the broad bright sun;
When that strange shape drove suddenly
Betwixt us and the sun.
And straight the sun was flecked with bars,
(Heaven's Mother send us grace!)
As if through a dungeon-grate he peered
With broad and burning face.
Alas! (thought I, and my heart beat loud)
How fast she nears and nears!
Are those her sails that glance in the sun,
Like restless gossameres?
Are those her ribs through which the sun
Did peer, as through a grate?
And is that Woman all her crew?
Is that a Death? and are there two?
Is Death that Woman's mate?
Her lips were red, her looks were free,
Her locks were yellow as gold:
Her skin was as white as leprosy,
The Nightmare Life-in-Death was she,
Who thicks man's blood with cold.
The naked hulk alongside came,
And the twain were casting dice;
'The game is done! I've won! I've won!'
Quoth she, and whistles thrice.
The sun's rim dips; the stars rush out:
At one stride comes the dark;
With far-heard whisper o'er the sea,
Off shot the spectre-bark.
We listened and looked sideways up!
Fear at my heart, as at a cup,
My life-blood seemed to sip!
The stars were dim, and thick the night,
The steersman's face by his lamp gleamed white;
From the sails the dew did drip—
Till clomb above the eastern bar
The horned moon, with one bright star
Within the nether tip.
One after one, by the star-dogged moon,
Too quick for groan or sigh,
Each turned his face with a ghastly pang,
And cursed me with his eye.
Four times fifty living men,
(And I heard nor sigh nor groan)
With heavy thump, a lifeless lump,
They dropped down one by one.
The souls did from their bodies fly,—
They fled to bliss or woe!
And every soul it passed me by,
Like the whizz of my crossbow!"
Part IV
'I fear thee, ancient Mariner!
I fear thy skinny hand!
And thou art long, and lank, and brown,
As is the ribbed sea-sand.
I fear thee and thy glittering eye,
And thy skinny hand, so brown.'— Poem:
"Fear not, fear not, thou Wedding-Guest!
This body dropped not down.
Alone, alone, all, all alone,
Alone on a wide wide sea!
And never a saint took pity on
My soul in agony.
The many men, so beautiful!
And they all dead did lie;
And a thousand thousand slimy things
Lived on; and so did I.
I looked upon the rotting sea,
And drew my eyes away;
I looked upon the rotting deck,
And there the dead men lay.
I looked to heaven, and tried to pray;
But or ever a prayer had gusht,
A wicked whisper came and made
My heart as dry as dust.
I closed my lids, and kept them close,
And the balls like pulses beat;
Forthe sky and the sea, and the sea and the sky,
Lay like a load on my weary eye,
And the dead were at my feet.
The cold sweat melted from their limbs,
Nor rot nor reek did they:
The look with which they looked on me
Had never passed away.
An orphan's curse would drag to hell
A spirit from on high;
But oh! more horrible than that
Is the curse in a dead man's eye!
Seven days, seven nights, I saw that curse,
And yet I could not die.
The moving moon went up the sky,
And no where did abide:
Softly she was going up,
And a star or two beside—
Her beams bemocked the sultry main,
Like April hoar-frost spread;
But where the ship's huge shadow lay,
The charmed water burnt alway
A still and awful red.
Beyond the shadow of the ship
I watched the water-snakes:
They moved in tracks of shining white,
And when they reared, the elfish light
Fell off in hoary flakes.
Within the shadow of the ship
I watched their rich attire:
Blue, glossy green, and velvet black,
They coiled and swam; and every track
Was a flash of golden fire.
O happy living things! no tongue
Their beauty might declare:
A spring of love gushed from my heart,
And I blessed them unaware:
Sure my kind saint took pity on me,
And I blessed them unaware.
The selfsame moment I could pray;
And from my neck so free
The Albatross fell off, and sank
Like lead into the sea."
Part V
"Oh sleep! it is a gentle thing,
Beloved from pole to pole!
To Mary Queen the praise be given!
She sent the gentle sleep from heaven,
That slid into my soul.
The silly buckets on the deck,
That had so long remained,
I dreamt that they were filled with dew;
And when I awoke, it rained.
My lips were wet, my throat was cold,
My garments all were dank;
Sure I had drunken in my dreams,
And still my body drank.
I moved, and could not feel my limbs:
I was so light—almost
I thought that I had died in sleep,
And was a blessed ghost.
And soon I heard a roaring wind:
It did not come anear;
But with its sound it shook the sails,
That were so thin and sere.
The upper air burst into life!
And a hundred fire-flags sheen,
To and fro they were hurried about!
And to and fro, and in and out,
The wan stars danced between.
And the coming wind did roar more loud,
And the sails did sigh like sedge;
And the rain poured down from one black cloud;
The moon was at its edge.
The thick black cloud was cleft, and still
The moon was at its side:
Like waters shot from some high crag,
The lightning fell with never a jag,
A river steep and wide.
The loud wind never reached the ship,
Yet now the ship moved on!
Beneath the lightning and the moon
The dead men gave a groan.
They groaned, they stirred, they all uprose,
Nor spake, nor moved their eyes;
It had been strange, even in a dream,
To have seen those dead men rise.
The helmsman steered, the ship moved on;
Yet never a breeze up blew;
The mariners all 'gan work the ropes,
Where they were wont to do;
They raised their limbs like lifeless tools—
We were a ghastly crew.
The body of my brother's son
Stood by me, knee to knee:
The body and I pulled at one rope,
But he said nought to me."
'I fear thee, ancient Mariner!'
"Be calm, thou Wedding-Guest!
'Twas not those souls that fled in pain,
Which to their corses came again,
But a troop of spirits blest:
For when it dawned—they dropped their arms,
And clustered round the mast;
Sweet sounds rose slowly through their mouths,
And from their bodies passed.
Around, around, flew each sweet sound,
Then darted to the sun;
Slowly the sounds came back again,
Now mixed, now one by one.
Sometimes a-dropping from the sky
I heard the skylark sing;
Sometimes all little birds that are,
How they seemed to fill the sea and air
With their sweet jargoning!
And now 'twas like all instruments,
Now like a lonely flute;
And now it is an angel's song,
That makes the heavens be mute.
It ceased; yet still the sails made on
A pleasant noise till noon,
A noise like of a hidden brook
In the leafy month of June,
That to the sleeping woods all night
Singeth a quiet tune.
Till noon we quietly sailed on,
Yet never a breeze did breathe;
Slowly and smoothly went the ship,
Moved onward from beneath.
Under the keel nine fathom deep,
From the land of mist and snow,
The spirit slid: and it was he
That made the ship to go.
The sails at noon left off their tune,
And the ship stood still also.
The sun, right up above the mast,
Had fixed her to the ocean:
But in a minute she 'gan stir,
With a short uneasy motion—
Backwards and forwards half her length
With a short uneasy motion.
Then like a pawing horse let go,
She made a sudden bound:
It flung the blood into my head,
And I fell down in a swound.
How long in that same fit I lay,
I have not to declare;
But ere my living life returned,
I heard and in my soul discerned
Two voices in the air.
'Is it he?' quoth one, 'Is this the man?
By him who died on cross,
With his cruel bow he laid full low
The harmless Albatross.
The spirit who bideth by himself
In the land of mist and snow,
He loved the bird that loved the man
Who shot him with his bow.'
The other was a softer voice,
As soft as honey-dew:
Quoth he, 'The man hath penance done,
And penance more will do.'
Part VI
First Voice
But tell me, tell me! speak again,
Thy soft response renewing—
What makes that ship drive on so fast?
What is the ocean doing?
Second Voice
Still as a slave before his lord,
The ocean hath no blast;
His great bright eye most silently
Up to the moon is cast—
If he may know which way to go;
For she guides him smooth or grim.
See, brother, see! how graciously
She looketh down on him.
First Voice
But why drives on that ship so fast,
Without or wave or wind?
Second Voice
The air is cut away before,
And closes from behind.
Fly, brother, fly! more high, more high!
Or we shall be belated:
For slow and slow that ship will go,
When the Mariner's trance is abated.
"I woke, and we were sailing on
As in a gentle weather:
'Twas night, calm night, the moon was high;
The dead men stood together.
All stood together on the deck,
For a charnel-dungeon fitter:
All fixed on me their stony eyes,
That in the moon did glitter.
The pang, the curse, with which they died,
Had never passed away:
I could not draw my eyes from theirs,
Nor turn them up to pray.
And now this spell was snapped: once more
I viewed the ocean green,
And looked far forth, yet little saw
Of what had else been seen—
Like one that on a lonesome road
Doth walk in fear and dread,
And having once turned round walks on,
And turns no more his head;
Because he knows a frightful fiend
Doth close behind him tread.
But soon there breathed a wind on me,
Nor sound nor motion made:
Its path was not upon the sea,
In ripple or in shade.
It raised my hair, it fanned my cheek
Like a meadow-gale of spring—
It mingled strangely with my fears,
Yet it felt like a welcoming.
Swiftly, swiftly flew the ship,
Yet she sailed softly too:
Sweetly, sweetly blew the breeze—
On me alone it blew.
Oh! dream of joy! is this indeed
The lighthouse top I see?
Is this the hill? is this the kirk?
Is this mine own country?
We drifted o'er the harbour-bar,
And I with sobs did pray—
O let me be awake, my God!
Or let me sleep alway.
The harbour-bay was clear as glass,
So smoothly it was strewn!
And on the bay the moonlight lay,
And the shadow of the moon.
The rock shone bright, the kirk no less,
That stands above the rock:
The moonlight steeped in silentness
The steady weathercock.
And the bay was white with silent light,
Till rising from the same,
Full many shapes, that shadows were,
In crimson colours came.
A little distance from the prow
Those crimson shadows were:
I turned my eyes upon the deck—
Oh, Christ! what saw I there!
Each corse lay flat, lifeless and flat,
And, by the holy rood!
A man all light, a seraph-man,
On every corse there stood.
This seraph-band, each waved his hand:
It was a heavenly sight!
They stood as signals to the land,
Each one a lovely light;
This seraph-band, each waved his hand,
No voice did they impart—
No voice; but oh! the silence sank
Like music on my heart.
But soon I heard the dash of oars,
I heard the Pilot's cheer;
My head was turned perforce away,
And I saw a boat appear.
The Pilot and the Pilot's boy,
I heard them coming fast:
Dear Lord in heaven! it was a joy
The dead men could not blast.
I saw a third—I heard his voice:
It is the Hermit good!
He singeth loud his godly hymns
That he makes in the wood.
He'll shrieve my soul, he'll wash away
The Albatross's blood."
Part VII
"This Hermit good lives in that wood
Which slopes down to the sea.
How loudly his sweet voice he rears!
He loves to talk with marineers
That come from a far country.
He kneels at morn, and noon, and eve—
He hath a cushion plump:
It is the moss that wholly hides
The rotted old oak-stump.
The skiff-boat neared: I heard them talk,
'Why, this is strange, I trow!
Where are those lights so many and fair,
That signal made but now?'
'Strange, by my faith!' the Hermit said—
'And they answered not our cheer!
The planks looked warped! and see those sails,
How thin they are and sere!
I never saw aught like to them,
Unless perchance it were
Brown skeletons of leaves that lag
My forest-brook along;
When the ivy-tod is heavy with snow,
And the owlet whoops to the wolf below,
That eats the she-wolf's young.'
'Dear Lord! it hath a fiendish look—
(The Pilot made reply)
I am afeared'—'Push on, push on!'
Said the Hermit cheerily.
The boat came closer to the ship,
But I nor spake nor stirred;
The boat came close beneath the ship,
And straight a sound was heard.
Under the water it rumbled on,
Still louder and more dread:
It reached the ship, it split the bay;
The ship went down like lead.
Stunned by that loud and dreadful sound,
Which sky and ocean smote,
Like one that hath been seven days drowned
My body lay afloat;
But swift as dreams, myself I found
Within the Pilot's boat.
Upon the whirl where sank the ship
The boat spun round and round;
And all was still, save that the hill
Was telling of the sound.
I moved my lips—the Pilot shrieked
And fell down in a fit;
The holy Hermit raised his eyes,
And prayed where he did sit.
I took the oars: the Pilot's boy,
Who now doth crazy go,
Laughed loud and long, and all the while
His eyes went to and fro.
'Ha! ha!' quoth he, 'full plain I see,
The Devil knows how to row.'
And now, all in my own country,
I stood on the firm land!
The Hermit stepped forth from the boat,
And scarcely he could stand.
O shrieve me, shrieve me, holy man!
The Hermit crossed his brow.
'Say quick,' quoth he 'I bid thee say—
What manner of man art thou?'
Forthwith this frame of mine was wrenched
With a woeful agony,
Which forced me to begin my tale;
And then it left me free.
Since then, at an uncertain hour,
That agony returns;
And till my ghastly tale is told,
This heart within me burns.
I pass, like night, from land to land;
I have strange power of speech;
That moment that his face I see,
I know the man that must hear me:
To him my tale I teach.
What loud uproar bursts from that door!
The wedding-guests are there:
But in the garden-bower the bride
And bride-maids singing are;
And hark the little vesper bell,
Which biddeth me to prayer!
O Wedding-Guest! this soul hath been
Alone on a wide wide sea:
So lonely 'twas, that God himself
Scarce seemed there to be.
O sweeter than the marriage-feast,
'Tis sweeter far to me,
To walk together to the kirk
With a goodly company!—
To walk together to the kirk,
And all together pray,
While each to his great Father bends,
Old men, and babes, and loving friends,
And youths and maidens gay!
Farewell, farewell! but this I tell
To thee, thou Wedding-Guest!
He prayeth well, who loveth well
Both man and bird and beast.
He prayeth best, who loveth best
All things both great and small;
For the dear God who loveth us,
He made and loveth all."
The Mariner, whose eye is bright,
Whose beard with age is hoar,
Is gone; and now the Wedding-Guest
Turned from the bridegroom's door.
He went like one that hath been stunned,
And is of sense forlorn:
A sadder and a wiser man
He rose the morrow morn.
Samuel Taylor Coleridge (1772 – 1834)
Poem: Rime of the Ancient Mariner
fleursdumal.nl magazine
More in: Archive C-D, Coleridge, Coleridge, Samuel Taylor
---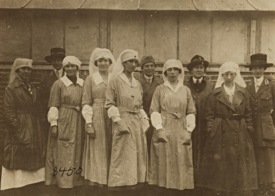 Star Song
There are twisted roots that grow
Even from a fragile white anemone.
But a star has no roots; to and fro
It floats in the light of the sky, like a water-lily,
And fades on the blue flood of day.
A star has no roots to hold it,
No living lonely entity to lose.
Floods of dim radiance fold it;
Night and day their silent aura transfuse;
But no change a star can bruise.
A star is adrift and free.
When day comes, it floats into space and complies;
Like a spirit quietly,
Like a spirit, amazed in a wider paradise
At mortal tears and sighs.
Gladys Cromwell
(1885-1919)
Star Song
fleursdumal.nl magazine
More in: Archive C-D, Cromwell, Gladys, Gladys Cromwell
---
Older Entries »
« Newer Entries
Thank you for reading FLEURSDUMAL.NL - magazine for art & literature