Archive C-D
«« Previous page
·
Digby Mackworth Dolben: From Sappho
·
Pierre Corneille: Chanson
·
Emily Dickinson: A Syllable (Poem)
·
Ellen Deckwitz winnaar E. du Perronprijs 2019
·
Raymond Garfield Dandridge: The Poet
·
Gilbert Keith Chesterton: Nightmare (Poem)
·
Forever Words. The Unknown Poems by Johnny Cash
·
Poetry by Diana Marie Delgado: Tracing the Horse
·
Gladys Cromwell: Dusk (Poem)
·
Emily Dickinson: Aspiration (Poem)
·
Dichter Jules Deelder overleden
·
Emily Dickinson: Drowning is not so pitiful (Poem)
From Sappho
Thou liest dead, lie on: of thee
No sweet remembrances shall be,
Who never plucked Pierian rose,
Who never chanced on Anteros.
Unknown, unnoticed, there below
Through Aides' houses shalt thou go
Alone, for never a flitting ghost
Shall find in thee a lover lost.
Digby Mackworth Dolben
(1848 – 1867)
From Sappho
• fleursdumal.nl magazine
More in: Archive C-D, Archive C-D, Digby Mackworth Dolben, Sappho
---
Chanson
Vos beaux yeux sur ma franchise
N'adressent pas bien leurs coups,
Tête chauve et barbe grise
Ne sont pas viande pour vous ;
Quand j'aurais l'heure de vous plaire,
Ce serait perdre du temps ;
Iris, que pourriez-vous faire
D'un galant de cinquante ans ?
Ce qui vous rend adorable
N'est propre qu'à m'alarmer,
Je vous trouve trop aimable
Et crains de vous trop aimer :
Mon cœur à prendre est facile,
Mes vœux sont des plus constants ;
Mais c'est un meuble inutile
Qu'un galant de cinquante ans.
Si l'armure n'est complète,
Si tout ne va comme il faut,
Il vaut mieux faire retraite
Que d'entreprendre un assaut :
L'amour ne rend point la place
À de mauvais combattants,
Et rit de la vaine audace
Des galants de cinquante ans.
Pierre Corneille
(1606-1684)
Chanson
• fleursdumal.nl magazine
More in: Archive C-D, Archive C-D, Corneille, Pierre
---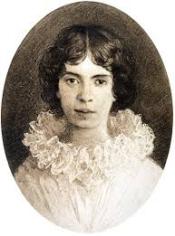 A Syllable
Could mortal lip divine
The undeveloped freight
Of a delivered syllable,
'T would crumble with the weight.
Emily Dickinson
(1830-1886)
A Syllable
• fleursdumal.nl magazine
More in: Archive C-D, Archive C-D, Dickinson, Emily
---
De E. du Perronprijs 2019 is toegekend aan Ellen Deckwitz voor haar bundel Hogere Natuurkunde (Uitgeverij Pluim).
De jury bekroont een fascinerende en onheilspellende dichtbundel, waarin verschillende genres, stemmen en stemmingen met elkaar worden verweven. De andere genomineerden waren Stephan Enter (Pastorale) en Asha Karami (Godface).
Aan het woord is een kleindochter die de stem van haar grootmoeder laat klinken en haar oorlogservaringen in Nederlands-Indië onder woorden probeert te brengen.
Het levensverhaal wordt alleen in flarden verteld. Deckwitz' verhalende poëzie laat zien hoe families getekend worden door een land van herkomst dat werd verwoest. Het leed en de veerkracht, ingewikkeld met elkaar verbonden, blijven bestaan in elkaar opvolgende generaties. Dit is een bundel die in een tijd van mondiale crisis troost en relativering biedt.
De prijs bestaat uit een geldbedrag van 2500 euro en een textielobject, ontworpen door studio 'by aaaa' (Moyra Besjes en Natasja Lauwers) en vervaardigd bij het TextielMuseum in Tilburg.
De uitreiking is uitgesteld naar het najaar en vindt plaats op 15 oktober 2020, aanvang 20.00 uur in de LocHal aan de Burgemeester Brokxlaan 1000 in Tilburg. Voorafgaand aan de uitreiking houdt Maxim Februari, winnaar van de P.C. Hooft-prijs 2020, de negende E. du Perronlezing met als titel 'E. du Perron en de pseudo-identiteiten'.
De E. du Perronprijs is een initiatief van de Gemeente Tilburg, de Tilburg School of Humanities and Digital Sciences van Tilburg University en Kunstloc Brabant. Vorig jaar won Jan Leyers de prijs voor zijn boek Allah in Europa. Eerdere laureaten waren onder meer Margot Vanderstraeten (2017), Stefan Hertmans (2016) en Ilja Leonard Pfeijffer (2015).
Voor tijden, programma en aanmelding, zie www.kunstlocbrabant.nl/eduperron2019
Hogere natuurkunde
Auteur: Ellen Deckwitz
Uitgever: Uitgeverij Pluim
Taal: Nederlands
Hedendaagse poezie
Bindwijze: Paperback
Druk 1
September 2019
Aantal pagina's: 80
EAN 9789492928054
NUR code 301
EUR 21,99
• fleursdumal.nl magazine
More in: #Editors Choice Archiv, - Book News, Archive C-D, Archive C-D, Awards & Prizes
---
The Poet
The poet sits and dreams and dreams;
He scans his verse; he probes his themes.
Then turns to stretch or stir about,
Lest, like his thoughts, his strength give out.
Then off to bed, for he must rise
And cord some wood, or tamp some ties,
Or break a field of fertile soil,
Or do some other manual toil.
He dare not live by wage of pen,
Most poorly paid of poor paid men,
With shoes o'er-run, and threadbare clothes,—
And editors among the foes
Who mock his song, deny him bread,
Then sing his praise when he is dead.
Raymond Garfield Dandridge
(1882 – 1930)
The Poet
• fleursdumal.nl magazine
More in: Archive C-D, Archive C-D, CLASSIC POETRY
---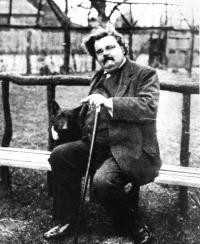 Nightmare
The silver and violet leopard of the night
Spotted with stars and smooth with silence sprang;
And though three doors stood open, the end of light
Closed like a trap; and stillness was a clang.
Under the leopard sky of lurid stars
I strove with evil sleep the hot night long,
Dreams dumb and swollen of triumphs without wars,
Of tongueless trumpet and unanswering gong.
I saw a pale imperial pomp go by,
Helmet and hornèd mitre and heavy wreath;
Their high strange ensigns hung upon the sky
And their great shields were like the doors of death.
Their mitres were as moving pyramids
And all their crowns as marching towers were tall;
Their eyes were cold under their carven lids
And the same carven smile was on them all.
Over a paven plain that seemed unending
They passed unfaltering till it found an end
In one long shallow step; and these descending
Fared forth anew as long away to wend.
I thought they travelled for a thousand years;
And at the end was nothing for them all,
For all that splendour of sceptres and of spears,
But a new step, another easy fall.
The smile of stone seemed but a little less,
The load of silver but a little more:
And ever was that terraced wilderness
And falling plain paved like a palace floor.
Rust red as gore crawled on their arms of might
And on their faces wrinkles and not scars:
Till the dream suddenly ended; noise and light
Loosened the tyranny of the tropic stars.
But over them like a subterranean sun
I saw the sign of all the fiends that fell;
And a wild voice cried "Hasten and be done,
Is there no steepness in the stairs of hell?"
He that returns, He that remains the same,
Turned the round real world, His iron vice;
Down the grey garden paths a bird called twice,
And through three doors mysterious daylight came.
Gilbert Keith Chesterton
(1874 – 1936)
Nightmare
• fleursdumal.nl magazine
More in: Archive C-D, Archive C-D, Chesterton, Gilbert Keith, G.K. Chesterton
---
These never-before-published poems by Johnny Cash make the perfect gifts for music lovers and fans alike.
Edited and introduced by Pulitzer Prize-winning poet Paul Muldoon with a foreword by John Carter Cash, this poetry collection is illustrated with facsimile reproductions of Cash's own handwritten pages. Now an album with music by Rosanne Cash, Brad Paisley, Willie Nelson, Kacey Musgraves, Elvis Costello, and more.
Since his first recordings in 1955, Johnny Cash has been an icon in the music world. In this collection of poems and song lyrics that have never been published before, we see the world through his eyes and view his reflection on his own interior reality, his frailties and his strengths alike. In his hallmark voice, he pens verses about love, pain, freedom, and mortality, and expresses insights on culture, his family, his fame, even Christmas. Forever Words confirms Johnny Cash as a brilliant and singular American literary figure. His music is a part of our collective history, and here the depth of his artistry and talent become even more evident.
JOHNNY CASH (1932–2003) was an American icon and country music superstar. He performed everywhere from Folsom State Prison to the White House. In 1980 he became the youngest living person to be chosen for the Country Music Hall of Fame; he was inducted into the Nashville Songwriters Hall of Fame in 1977, the Rock & Roll Hall of Fame in 1992, and the Gospel Music Hall of Fame in 2010. A recipient of the Kennedy Center Honors as well as the National Medal of Arts, he won nineteen Grammy Awards, four of them posthumously.
PAUL MULDOON is the author of twelve collections of verse, including Moy Sand and Gravel, for which he won the 2003 Pulitzer Prize for Poetry. He is the Howard G. B. Clark Profes­sor at Princeton University, and between 1999 and 2004 he was Professor of Poetry at Oxford. Since 2007, Muldoon has been poetry editor of The New Yorker. He is a fellow of the Royal Soci­ety of Literature and of the American Academy of Arts and Letters.
Forever Words
The Unknown Poems
By Johnny Cash
Cat.: Poetry | Music
Paperback
$18.00
ISBN 9780399575150
144 Pages
Nov 12, 2019
Published by Plume
# new poetry
forever words
the unknown poems
by johnny cash
• fleursdumal.nl magazine
More in: # Music Archive, - Book News, Archive C-D, Archive C-D, Archive M-N, Art & Literature News, AUDIO, CINEMA, RADIO & TV
---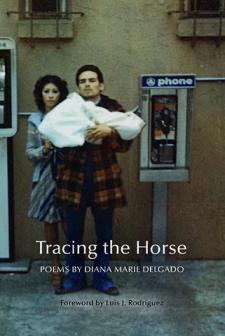 Set in Southern California's San Gabriel Valley, Diana Marie Delgado's debut poetry collection 
follows the coming-of-age of a young Mexican-American woman trying to make sense of who she is amidst a family and community weighted by violence and addiction.
With bracing vulnerability, the collection chronicles the effects of her father's drug use and her brother's incarceration, asking the reader to consider reclamation and the power of the self.
Diana Marie Delgado is the author of Tracing the Horse and the chapbook Late Night Talks with Men I Think I Trust. She is the recipient of numerous grants, including a fellowship from the National Endowment for the Arts. A graduate of Columbia University she currently resides in Tucson, where she is the Literary Director of the Poetry Center at the University of Arizona.
Come back with me
to the ruins.
We will look
through family
photographs;
I can show you
what the wind
and I did.
Who keeps
the stars
from falling
out of the sky?
Diana Marie Delgado
fragment from: Never Mind I'm Dead
Series: New Poets of America (Book 43)
Paperback: 112 pages
Publisher: BOA Editions Ltd.
September 10, 2019
Language: English
ISBN-10: 1942683871
ISBN-13: 978-1942683872
Product Dimensions: 6 x 0.2 x 8.5 inches
$ 17.00
# new poetry
Diana Marie Delgado
Tracing the Horse
• fleursdumal.nl magazine
More in: - Book News, Archive C-D, Archive C-D
---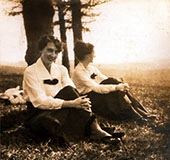 Dusk
As flowers at dusk their choicest perfumes hold,
Some hearts hoard beauty when the body s old:
I see an age-bent woman lead the herd
To pasture, with no need of guiding word.
While the dull beasts in the tall grasses browse,
Inside her soul the earth s enchantments drowse ;
The needles pause between her wasted hands,
For light is always mellow where she stands.
No motion marks her life s harmonious dream ;
It is a part of Nature s quiet theme.
Each day renews the uneventful past,
Although her spirit nears a change at last.
From the grey threshold of her silent home
One night, her spirit, kin to evening s shade,
Will float away from crevices life made,
Like seaweed from a cliff into white foam.
Gladys Cromwell
(1885-1919)
Dusk
From: Songs of the Dust, 1915
• fleursdumal.nl magazine
More in: Archive C-D, Cromwell, Gladys, Gladys Cromwell
---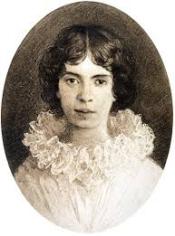 Aspiration
We never know how high we are
Till we are called to rise;
And then, if we are true to plan,
Our statures touch the skies.
The heroism we recite
Would be a daily thing,
Did not ourselves the cubits warp
For fear to be a king.
Emily Dickinson
(1830-1886)
Aspiration
• fleursdumal.nl magazine
More in: Archive C-D, Archive C-D, Dickinson, Emily
---
Op 19 december 2019 is – na een zeer kort ziekbed – overleden dichter J.A. (Jules) Deelder. De dichter werd volgens zijn familie "tot zijn eigen verbazing" 75 jaar oud.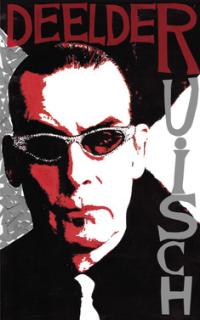 Jules Deelder (Rotterdam, 1944 – 2019) was een opvallende verschijning en erg geliefd als schrijver, dichter, muzikant en performer. Hij was zijn leven lang een groot liefhebber van Jazz en fan van de Rotterdamse voetbalclub Sparta. De club riep hem, kort voor zijn dood, nog uit tot lid van verdienste. Verder stond Deelder bekend als 'De nachtburgemeester van Rotterdam'.
Jules Deelder werd gerekend tot de 'performance poets' ( of 'popdichters') een beweging die aansloot bij de 'Beat Generation' van Amerikaanse dichters als Allen Ginsberg en Jack Kerouac.
De familie van Deelder en uitgeverij De Bezige Bij, staan met dit gedicht stil bij zijn overlijden:
Zijn gaan is
een komen
Zijn komen
een gaan
Hij houdt niet
van zitten
Hij blijft
liever staan
Zichzelf
en de wereld
een raadsel
(Uit: De Zwarte Jager – J.A. Deelder, 1973)
I.M.
Jules Deelder
(1944 – 2019)
• fleursdumal.nl magazine
More in: # Music Archive, #Archive A-Z Sound Poetry, #Beat Generation Archives, #Editors Choice Archiv, Archive C-D, Archive C-D, In Memoriam, Jules Deelder
---
Drowning is not so pitiful
Drowning is not so pitiful
As the attempt to rise.
Three times, 't is said, a sinking man
Comes up to face the skies,
And then declines forever
To that abhorred abode
Where hope and he part company, —
For he is grasped of God.
The Maker's cordial visage,
However good to see,
Is shunned, we must admit it,
Like an adversity.
Emily Dickinson
(1830-1886)
Drowning is not so pitiful
• fleursdumal.nl magazine
More in: Archive C-D, Archive C-D, Dickinson, Emily
---
Older Entries »
« Newer Entries
Thank you for reading FLEURSDUMAL.NL - magazine for art & literature