Archive C-D
«« Previous page
·
Gladys Cromwell: Leisure
·
Tentoonstelling 'Cremer Noordwaarts 2010-2020' in museum JAN
·
Mary Jean Chan: Flèche
·
John Cooper Clarke: I Wanna Be Yours
·
Natalie Diaz: Postcolonial Love Poem
·
Digby Mackworth Dolben: Anacreontic
·
Alan Chazaro: This Is Not a Frank Ocean Cover Album
·
Gladys Cromwell: Love
·
Cécile Coulon: Noir volcan. Poésie
·
Emily Dickinson: The Inevitable
·
'Small Days and Nights' a novel by Tishani Doshi
·
Paul Celan: "Etwas ganz und gar Persönliches" – Briefe 1934-1970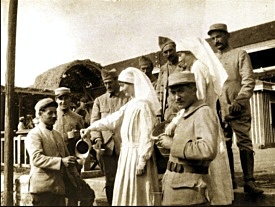 Leisure
When I have nothing else to do,
When I am free, the hour kind,
I like to lift reflections from
The pool of my mind.
I'm thirsty, and I like to drink
A wisdom cool and clear ;
Standing precautionary, shy,
As lion or as deer.
Cromwell, Gladys
[1885-1919]
Leisure
(Poem)
• fleursdumal.nl magazine
More in: Archive C-D, Archive C-D, Cromwell, Gladys, Gladys Cromwell
---
Jan Cremer (1940) schildert zijn avontuurlijke leven al zo'n 65 jaar met woorden en penselen.
Vanaf 1 juni wordt een grote selectie van monumentale zeegezichten die Cremer de afgelopen tien jaar heeft geschilderd, tentoongesteld in Museum JAN. Nooit eerder werden deze werken samengebracht in een tentoonstelling. "Cremer Noordwaarts 2010-2020" combineert deze recente doeken met zijn foto's van reizen naar o.a. Mongolië en Groenland.
In zijn atelier in Umbrië legt Jan Cremer herinneringen vast aan de tijd dat hij de wereldzeeën naar het noorden bevoer. Cremer:
"Ik heb altijd naar de zee verlangd. Zelfs als kind. Ik zeilde en wilde weten wat er achter de horizon lag. Ik hou het meest van de storm. "
De reizen maakten een grote indruk op hem. Naast het fysiek zware werk, de schoonheid van de uitgestrekte watervlakte en de vrijheid die hij voelde, was er altijd de dreiging van het geweld van de natuur aan boord. Dit is te zien in zijn metershoge schilderijen. Meestal is er een heldere zee en een lucht daarboven, maar soms is er geen horizon, geen scheidslijn, zodat de doeken bijna abstract worden. Zelden is er een persoon of teken van menselijk leven op deze zeegezichten te zien.
Cremer maakt zijn olieverf zelf en brengt deze, net als in zijn vroege jaren, voor een groot deel aan op het linnen of de jute met bijvoorbeeld penselen, spatels en zijn handen. Zo beeldhouwt hij zijn golven en schuimkoppen tot driedimensionale vormen, die beweging en diepte suggereren. Als kijker word je meegezogen in de kolkende watermassa, Cremers zeegezichten zijn nooit rimpelig of glad, ze zijn woest en onrustig als de schilder en zijn leven zelf.
Museum JAN toont in de tentoonstelling 'Cremer – Noordwaarts 2010-2020' een ruime selectie monumentale zeegezichten die Jan Cremer in het afgelopen decennium schilderde.
"Ik sodemieter verf op een doek. Ik druip, spat, sla en schop. Ik vecht met verf. Soms win ik."

Bij de tentoonstelling verschijnt een catalogus uitgegeven door Uitgeverij Waanders en de Kunst.
Cremer – Noordwaarts (2010-2020)
Zee-gezichten
Door Marieke Uildriks, Daan van Lent, Ralph Keuning
Sinds ongeveer 2005 schildert Jan Cremer zeegezichten. Als jonge matroos bevoer hij verschillende zeeën in het noorden van Europa. Die reizen maakten enorme indruk op hem.
Behalve het fysiek zware werk en de schoonheid van de uitgestrekte watervlakten, de vrijheid die hij voelde, was er aan boord ook altijd de dreiging van het geweld van de natuur. Dat is terug te zien in zijn onstuimige doeken. Cremer: 'Ik heb altijd naar de zee verlangd. Als kind al. Ik heb gevaren en wilde weten wat er achter de horizon zat.' Als kijker wordt je in de kolkende massa water gezogen, Cremers zeegezichten zijn nooit kabbelend of spiegelglad, ze zijn woest en onrustig als de schilder en zijn leven zelf.
24 x 29 vm
96 pagina's
63 kleurillustraties
Paperback
Nederlands
ISBN 9789462622999
Inclusief tijdlijn Jan Cremer en tentoonstellingsoverzicht.
€ 19,95
Tentoonstelling Jan Cremer
t/m 25 oktober 2020
Museum JAN, Amstelveen
Museum JAN is een museum in Amstelveen voor beeldende kunst en blinkt uit in glaskunst. De eigen collectie bestaat uit unieke glasobjecten, bijeengebracht door de oprichter Jan van der Togt. Hij verzamelde internationale topkunst en zocht naar wat hem esthetisch boeide. Naast deze karaktervolle collectie biedt Museum JAN een breed en aansprekend tentoonstellingsprogramma.
Museum JAN
Dorpsstraat 50
1182 JE Amstelveen
info@museumjan.nl
+31 (0)20 641 5754
# Website Museum JAN: https://nl.museumjan.nl/
• fleursdumal.nl magazine
More in: Archive C-D, Art & Literature News, Expressionisme, Jan Cremer, Jan Cremer, Natural history
---
Flèche (the French word for 'arrow') is an offensive technique commonly used in fencing, a sport of Mary Jean Chan's young adult years, when she competed locally and internationally for her home city, Hong Kong.
This cross-linguistic pun presents the queer, non-white body as both vulnerable ('flesh') and weaponised ('flèche'), and evokes the difficulties of reconciling one's need for safety alongside the desire to shed one's protective armour in order to fully embrace the world.
Central to the collection is the figure of the poet's mother, whose fragmented memories of political turmoil in twentieth-century China are sensitively threaded through the book in an eight-part poetic sequence, combined with recollections from Chan's childhood.
As complex themes of multilingualism, queerness, psychoanalysis and cultural history emerge, so too does a richly imagined personal, maternal and national biography.
The result is a series of poems that feel urgent and true, dazzling and devastating by turns.
Mary Jean Chan grew up in Hong Kong and studied at Swarthmore College, the University of Oxford and Royal Holloway, University of London. Her debut pamphlet, A Hurry of English, was selected as the 2018 Poetry Book Society Summer Pamphlet Choice. In 2017, Chan's poem '//' was shortlisted for the 2017 Forward Prize for Best Single Poem. She is a Ledbury Poetry Critic, editor of Oxford Poetry, advisory board member at the Poetry Translation Centre and member of the Folio Prize Academy. She is a Lecturer in Creative Writing (Poetry) at Oxford Brookes University and lives in London.
Flèche
Mary Jean Chan
Publisher: Faber & Faber
Series: Faber Poetry
Paperback
88 pages
Language: English
ISBN-10: 0571348041
ISBN-13: 978-0571348046
March 31, 2020
£10.99
# new poetry
Mary Jean Chan
Flèche
• fleursdumal.nl magazine
More in: #Editors Choice Archiv, - Book News, Archive C-D, Archive C-D
---
The poet laureate of Punk holds forth in inimitable fashion about his sprawling, idiosyncratic career and the stars and artists with whom he has worked and been championed by. Brimming with his distinctive dry humour and wordplay, I Wanna Be Yours is a beautifully rambling memoir for lifelong fans and new converts alike.
This is a memoir as wry, funny, moving and vivid as only John Cooper Clarke could deliver. Inimitable and iconic, his book will be a joy for both lifelong fans and for a whole new generation.
John Cooper Clarke is a phenomenon: Poet Laureate of Punk, rock star, fashion icon, TV and radio presenter, social and cultural commentator, reluctant national treasure. At 5 feet 11 inches (116lb, 32in chest, 27in waist), in trademark suit jacket, skin-tight drainpipes and dark glasses, with jet-black back-combed hair and mouth full of gold teeth, he is instantly recognizable. As a writer his voice is equally unmistakable and his inimitable dry Salford drawl shines through the prose.
I Wanna Be Yours covers an extraordinary life, filled with remarkable personalities: from Nico to Chuck Berry, from all the great punks to Bernard Manning, and on to more recent fans and collaborators Alex Turner and Plan B – who have championed his work. Interspersed with stories of his rock and roll and performing career, John also reveals his boggling encyclopaedic knowledge of twentieth-century popular culture, his private passions and guilty pleasures: from Baudelaire, Pam Ayres and Rimbaud to football to Coronation Street, comprising horse racing and gambling, politics and jokes – and much more.
'John Cooper Clarke is one of Britain's outstanding poets. His anarchic punk poetry has thrilled people for decades and his no nonsense approach to his work and life in general has appealed to many people including myself for many years. Long may his slender frame and spiky top produce words and deeds that keep us on our toes and alive to the wonders of the world.' – Sir Paul McCartney
I Wanna Be Yours (Hardback)
John Cooper Clarke (author)
Publisher: Pan Macmillan
ISBN: 9781509896103
Number of pages: 320
Hardback
Coming soon
01/10/2020
£20.00
# new books
John Cooper Clarke
I Wanna Be Yours
• fleursdumal.nl magazine
More in: # Punk poetry, #Archive A-Z Sound Poetry, *Concrete + Visual Poetry A-E, Archive C-D, Archive C-D
---
Here, the bodies of indigenous, Latinx, black and brown women are simultaneously the body politic and the body ecstatic, and portrayed with a glowing intimacy: the alphabet of a hand in the dark, the hips' silvered percussion, a thigh's red-gold geometry, the emerald tigers that leap in a throat.
Natalie Diaz was born and raised in the Fort Mojave Indian Village in Needles, California, on the banks of the Colorado River. She is Mojave and an enrolled member of the Gila River Indian Tribe.
Her first poetry collection, When My Brother Was an Aztec, won an American Book Award. She is a 2018 MacArthur Fellow, as well as a Lannan Literary Fellow and a Native Arts and Cultures Foundation Artist Fellow.
She was awarded the Holmes National Poetry Prize and a Hodder Fellowship from Princeton University. She is a member of the Board of Trustees for the United States Artists, where she is an alumna of the Ford Fellowship. Diaz is the Maxine and Jonathan Marshall Chair in Modern and Contemporary Poetry at Arizona State University.
Postcolonial Love Poem
Natalie Diaz
Paperback
128 pages
Publisher: Faber & Faber
Published: 16/07/2020
Language: English
ISBN-10: 0571359868
ISBN-13: 978-0571359868
£10.99
# new poetry
Postcolonial Love Poem
by Natalie Diaz
• fleursdumal.nl magazine
More in: #Editors Choice Archiv, - Book News, Archive C-D, Archive C-D
---
Anacreontic
On the tender myrtle-branches,
In the meadow lotus-grassed,
While the wearied sunlight softly
To the Happy Islands passed,
Reddest lips the reddest vintage
Of the bright Aegean quaffing,
There I saw them lie, the evening
Hazes rippled with their laughing.
Round them boys, with hair as golden
As Queen Cytherea's own is,
Sang to lyres wreathed with ivy
Of the beautiful Adonis
(Of Adonis the Desired,
He has perished on the mountain,)
While their voices, rising, falling,
As the murmur of a fountain,
Glittered upwards at the mention
Of his beauty unavailing ;
Scattered into rainbowed teardrops
To the at ai of the wailing.
Digby Mackworth Dolben
(1848 – 1867)
Anacreontic
• fleursdumal.nl magazine
More in: Archive C-D, Archive C-D, Digby Mackworth Dolben
---
Poetry. California Interest. Chicanx Studies. In his debut short collection, poet Alan Chazaro takes us from the moonlit Bay Bridge to dark Oakland bars to tire shops to backyards to the fireworks and dirt paths of Mexico City.
Chazaro's speakers battle to find internal truths in a world defined by external opposition. Here, we glide from Frank Ocean to 80s synthpop, from Half Moon Bay to Athens, from Oscar De La Hoya to Wolverine. This is a collection about navigating multiple worlds, about traversing from boyhood into manhood. In poems that crackle with "scorpions in the dark" and "Lauryn Hill's voodoo" and "fat / Adidas laces and barbershop fades," Chazaro explores what it means to curate a sense of self as a millennial first-generation California Chicanx writer. His speakers are driven by a desire to control their identity in a world where they haven't been able to control much else—as the children of immigrants, as the occupants of ever-shifting spaces, as bodies that belong and don't belong.
Structured like a rap mixtape, each poem on the "track list" is an ode to some vibration of memory, sound, or Chazaro's native Bay Area landscape. THIS IS NOT A FRANK OCEAN COVER ALBUM, just as we are not ever actually ourselves—but a collection of fragments from our component influences and cultures, a reflection of the choices we make in search of a more genuine self.
"I say fuck
because it feels right
about now,
and I say love because
what wrong
could it bring?
I haven't shot a pistol
since my stepdad
flung his Desert Eagle
from the bedroom and took us
to burst freedom as kids."
• Winner of the Spring 2018 Black River Chapbook Competition
• Alan Chazaro is the author of THIS IS NOT A FRANK OCEAN COVER ALBUM (Black Lawrence Press, 2019) and PIÑATA THEORY (Black Lawrence Press, 2020). He is currently an adjunct professor at the University of San Francisco, a columnist at Palette Poetry, and is raising money for NBA arena workers during COVID-19.
Alan Chazaro
This Is Not a Frank Ocean Cover Album
2019
Publisher: Black Lawrence Press
ISBN: 978-1-62557-825-9
Poetry
Paperback
Pages:40
Price: $ 9.95
• fleursdumal.nl magazine
More in: #Editors Choice Archiv, - Book News, Archive C-D, Archive C-D
---
Love
Hush, hush, O wind!
Between the leaves jou creep.
You grope like something blind.
The tree tops as they sleep,
The standing spears of grass,
You'll touch them when you pass.
Still, still, O love!
My need awaits your dower,
My foolish heart your power;
Though sorrow dawn anew
I may not strive with you.
Cromwell, Gladys
[1885-1919]
Love
(Poem)
• fleursdumal.nl magazine
More in: Archive C-D, Archive C-D, Cromwell, Gladys, Gladys Cromwell
---
En 2018 s'est produit un phénomène que personne n'avait vu venir et qui restera dans l'histoire de la poésie française : un recueil a rencontré à la fois un succès critique et public.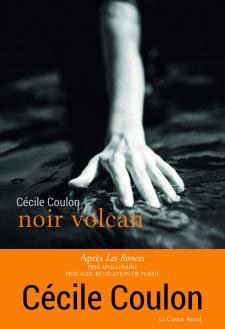 Cécile Coulon avait alors 27 ans, elle était connue comme romancière depuis déjà plusieurs années, et son premier recueil, Les Ronces, suscita un intérêt et un engouement dépassant de loin le cercle « habituel » des lecteurs de poésie.
Son second recueil, Noir volcan, est tout aussi éruptif, celui d'une poésie affranchie, libératrice, terrienne. Il fait partie d'un étonnant renouveau de la poésie constaté par les libraires dont Alexandre Bord : « Des poétesses comme Cécile Coulon et Rupi Kaur, dont les textes ont pu être lus au préalable sur les réseaux sociaux, attirent en librairie des lecteurs qui n'avaient jamais acheté un recueil de poésie. » Il est évident à la lire, que Cécile Coulon ne peut vivre sans poésie.
Cécile Coulon est née en 1990 à Clermont-Ferrand. En quelques années, elle a fait une ascension fulgurante. Elle a publié sept romans dont Trois saisons d'orage (Viviane Hamy), prix des Libraires, et Une bête au paradis (L'Iconoclaste), prix littéraire du Monde. Son premier recueil de poésie, Les Ronces (Le Castor Astral), a reçu le prestigieux prix Apollinaire.
Noir volcan
de Cécile Coulon (Auteur)
Alexandre Bord (Préface)
Broché : 160 pages
Editeur : Le castor astral
6 février 2020
Collection : Poésie
Langue : Français
ISBN-13 : 979-1027802449
ASIN : B07Z76LM7B
Dimensions du produit:
14,1 x 1,5 x 20,5 cm
15,00 EUR
# new books
Cécile Coulon:
Noir volcan
Poésie
• fleursdumal.nl magazine
More in: #Editors Choice Archiv, - Book News, - Bookstores, Archive C-D, Archive C-D, Art & Literature News
---
The Inevitable
While I was fearing it, it came,
But came with less of fear,
Because that fearing it so long
Had almost made it dear.
There is a fitting a dismay,
A fitting a despair.
'Tis harder knowing it is due,
Than knowing it is here.
The trying on the utmost,
The morning it is new,
Is terribler than wearing it
A whole existence through.
Emily Dickinson
(1830-1886)
The Inevitable (Poem)

• fleursdumal.nl magazine
More in: Archive C-D, Archive C-D, Dickinson, Emily
---
Poet, writer, and dancer Tishani Doshi was born in Madras, India, to Welsh and Gujarati parents. She earned a BA from Queens College in North Carolina and an MA from the Writing Seminars from the Johns Hopkins University. After working in the fashion magazine industry in London, Doshi returned to India.
An unexpected meeting with one of Indian dance's leading choreographers, Chandralekha, led Doshi to a career in dance. She currently performs internationally with the Chandralekha group. She is a freelance journalist, and her work has appeared in newspapers and journals such as the Guardian, the National, and the Hindu. She writes a regular column for New Indian Express and was a finalist in the Outlook/Picador India Non-Fiction Competition.
Doshi is widely acclaimed as a creative writer; her first book of poetry, Countries of the Body (2006), won a Forward Prize for Best First Collection. Her other collections include Everything Begins Elsewhere (2013), Dolce Marcescenza (Sweet Decay) (2015), and Girls Are Coming Out of the Woods (2018).
Doshi's first novel, The Pleasure Seekers (2010), was shortlisted for the Hindu Best Fiction Award and has been translated into several languages. She is also the author of Fountainville: New Stories from the Mabinogion (2013), a retelling of the Mabinogion myth, as well as two books about place and home, Madras Then Chennai Now (2013) and The Adulterous Citizen (2015). Her latest novel is Small Days and Nights (W. W. Norton, 2020).
From "The River of Girls" by Tishani Doshi the poem:
i.m. India's missing girls
This is not really myth or secret.
This murmur in the mouth
of the mountain where the sound
of rain is born.
  ( . . . . . )
This is the sound of ten million girls
singing of a time in the universe
when they were born with tigers
breathing between their thighs;
when they set out for battle
with all three eyes on fire,
their golden breasts held high
like weapons to the sky.
Tishani Doshi, "The River of Girls". Copyright © 2013 by Tishani Doshi.
Source: Everything Begins Elsewhere (Copper Canyon Press, 2013)
Her honors and awards include an Eric Gregory Award and an All-India Poetry Prize. She lives in Tamil Nadu, India.
Small Days and Nights
A Novel
by Tishani Doshi (Author)
Hardcover
$25.95
272 pages
Publisher: W. W. Norton & Company
January 21, 2020
Language: English
ISBN-10: 1324005238
ISBN-13: 978-1324005230
# fleursdumal.nl magazine
More in: - Book News, - Book Stories, Archive C-D, Archive C-D, Art & Literature News, REPRESSION OF WRITERS, JOURNALISTS & ARTISTS
---
Paul Celan, der meistgedeutete deutschsprachige Dichter nach 1945, ist auch der Autor eines eminenten Briefwerks.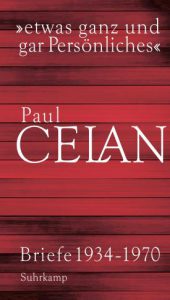 Mit dieser Ausgabe wird es nun erstmals als eigenes Werk sichtbar: in 691 Briefen, davon 330 bisher unpubliziert, an 252 Adressaten. Wer sind die Adressaten? Es sind die Mitglieder der Familie, geliebte Frauen, befreundete Autoren, sehr junge und begeisterte Leser, Übersetzerkollegen, französische Philosophen ebenso wie deutsche Germanisten und die Mitarbeiter vieler Verlage. Aus alledem entsteht in chronologischer Folge über vier Jahrzehnte ein Leben aus Briefen.
In ihnen zeigt sich Celan als herausragender Korrespondenzpartner mit einer enormen stilistischen Bandbreite, ausgeprägt in seiner Fähigkeit, auch auf Unbekannte einzugehen. Die Briefe offenbaren eine Vielzahl bisher verborgener biografischer Fakten, ermöglichen eine Präzisierung seiner Poetologie und zeigen ihn zugleich als Menschen in seinem ganz gewöhnlichen Alltag.
Das Jahr 2020 steht ganz im Zeichen von Paul Celan: Am 20. April jährte sich sein Todestag zum fünfzigsten Mal, und am 23. November 2020 wäre einer der wichtigsten deutschsprachigen Dichter nach 1945 einhundert Jahre alt geworden.
Paul Celan wurde als Paul Antschel am 23. November 1920 als einziger Sohn deutschsprachiger, jüdischer Eltern im damals rumänischen Czernowitz geboren. Nach dem Abitur 1938 begann Celan ein Medizinstudium in Frankreich, kehrte jedoch ein Jahr später nach Rumänien zurück, um dort Romanistik zu studieren. 1942 wurden Paul Celans Eltern deportiert. Im selben Herbst starb sein Vater in einem Lager an Typhus, seine Mutter wurde erschossen. Von 1942 bis 1944 musste Celan in verschiedenen rumänischen Arbeitslagern Zwangsarbeit leisten.
Von 1945 bis 1947 arbeitete er als Lektor und Übersetzer in Bukarest, wo auch erste Gedichte von Celan erschienen. Im Juli 1948 zog er von Wien aus nach Paris, wo der Dichter bis zu seinem Tod lebte. Dort lernte Celan 1951 die Künstlerin Gisèle de Lestrange kennen, die er ein Jahr später heiratete. Ihr gemeinsamer Sohn Eric kam 1955 zur Welt. Im Frühjahr 1970 nahm sich Celan in der Seine das Leben. (Suhrkamp Verlag)
"Dieses aus- und eindrucksvolle Mosaik ist die große Leistung der Herausgeberin Barbara Wiedemann, die schon so viele Publikationen zu Paul Celan verantwortet hat." – Martin Oehlen, Frankfurter Rundschau
Paul Celan
"Etwas ganz und gar Persönliches"
Briefe 1934-1970
Herausgegeben und kommentiert von Barbara Wiedemann
Deutschsprachig
Leinen
Literatur
Suhrkamp Verlag
1286 Seiten
78,00 €
Erschienen: 14.12.2019
ISBN: 978-3-518-42888-7
# new books
Paul Celan
Briefe 1934-1970
• fleursdumal.nl magazine
More in: - Book News, - Bookstores, Archive C-D, Archive C-D, Celan, Paul, Paul Celan
---
Older Entries »
« Newer Entries
Thank you for reading FLEURSDUMAL.NL - magazine for art & literature