Archive C-D
·
The Boy and The Bayonet by Paul Laurence Dunbar (Short story)
·
The Race Question by Paul Laurence Dunbar (Short story)
·
Emily Dickinson: Wild nights – Wild nights!
·
Emily Dickinson: The Outlet
·
Gladys Cromwell: Transmission
·
Emily Dickinson: I'm Nobody! Who are you?
·
Leonard Cohen: The Flame
·
Dennis Whitehead: SHELL SHOCK. Twin Sisters Struck Down by the Horrors of World War I
·
Mirjam Van Hengel: Een knipperend ogenblik. Biografie Remco Campert
·
François Cheng: Enfin le royaume. Quatrains
·
Gladys Cromwell: Preparation
·
Girls are Coming Out of the Woods by Tishani Doshi
THE BOY AND THE BAYONET
It was June, and nearing the closing time of school. The air was full of the sound of bustle and preparation for the final exercises, field day, and drills. Drills especially, for nothing so gladdens the heart of the Washington mother, be she black or white, as seeing her boy in the blue cadet's uniform, marching proudly to the huzzas of an admiring crowd. Then she forgets the many nights when he has come in tired out and dusty from his practice drill, and feels only the pride and elation of the result.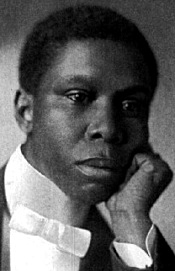 Although Tom did all he could outside of study hours, there were many days of hard work for Hannah Davis, when her son went into the High School. But she took it upon herself gladly, since it gave Bud the chance to learn, that she wanted him to have. When, however, he entered the Cadet Corps it seemed to her as if the first steps toward the fulfilment of all her hopes had been made. It was a hard pull to her, getting the uniform, but Bud himself helped manfully, and when his mother saw him rigged out in all his regimentals, she felt that she had not toiled in vain. And in fact it was worth all the trouble and expense just to see the joy and pride of "little sister," who adored Bud.
As the time for the competitive drill drew near there was an air of suppressed excitement about the little house on "D" Street, where the three lived. All day long "little sister," who was never very well and did not go to school, sat and looked out of the window on the uninteresting prospect of a dusty thoroughfare lined on either side with dull red brick houses, all of the same ugly pattern, interspersed with older, uglier, and viler frame shanties. In the evening Hannah hurried home to get supper against the time when Bud should return, hungry and tired from his drilling, and the chore work which followed hard upon its heels.
Things were all cheerful, however, for as they applied themselves to the supper, the boy, with glowing face, would tell just how his company "A" was getting on, and what they were going to do to companies "B" and "C." It was not boasting so much as the expression of a confidence, founded upon the hard work he was doing, and Hannah and the "little sister" shared that with him.
The child often, listening to her brother, would clap her hands or cry, "Oh, Bud, you're just splendid an' I know you'll beat 'em."
"If hard work'll beat 'em, we've got 'em beat," Bud would reply, and Hannah, to add an admonitory check to her own confidence, would break in with, "Now, don't you be too sho', son; dey ain't been no man so good dat dey wasn't somebody bettah." But all the while her face and manner were disputing what her words expressed.
The great day came, and it was a wonderful crowd of people that packed the great baseball grounds to overflowing. It seemed that all of Washington's coloured population was out, when there were really only about one-tenth of them there. It was an enthusiastic, banner-waving, shouting, hallooing crowd. Its component parts were strictly and frankly partisan, and so separated themselves into sections differentiated by the colours of the flags they carried and the ribbons they wore. Side yelled defiance at side, and party bantered party. Here the blue and white of Company "A" flaunted audaciously on the breeze beside the very seats over which the crimson and gray of "B" were flying, and these in their turn nodded defiance over the imaginary barrier between themselves and "C's" black and yellow.
The band was thundering out "Sousa's High School Cadet's March," the school officials, the judges, and reporters, and some with less purpose were bustling about, discussing and conferring. Altogether doing nothing much with beautiful unanimity. All was noise, hurry, gaiety, and turbulence. In the midst of it all, with blue and white rosettes pinned on their breasts, sat two spectators, tense and silent, while the breakers of movement and sound struck and broke around them. It meant too much to Hannah and "little sister" for them to laugh and shout. Bud was with Company "A," and so the whole programme was more like a religious ceremonial to them. The blare of the brass to them might have been the trumpet call to battle in old Judea, and the far-thrown tones of the megaphone the voice of a prophet proclaiming from the hill-top.
Hannah's face glowed with expectation, and "little sister" sat very still and held her mother's hand save when amid a burst of cheers Company "A" swept into the parade ground at a quick step, then she sprang up, crying shrilly, "There's Bud, there's Bud, I see him," and then settled back into her seat overcome with embarrassment. The mother's eyes danced as soon as the sister's had singled out their dear one from the midst of the blue-coated boys, and it was an effort for her to keep from following her little daughter's example even to echoing her words.
Company "A" came swinging down the field toward the judges in a manner that called for more enthusiastic huzzas that carried even the Freshman of other commands "off their feet." They were, indeed, a set of fine-looking young fellows, brisk, straight, and soldierly in bearing. Their captain was proud of them, and his very step showed it. He was like a skilled operator pressing the key of some great mechanism, and at his command they moved like clockwork. Seen from the side it was as if they were all bound together by inflexible iron bars, and as the end man moved all must move with him. The crowd was full of exclamations of praise and admiration, but a tense quiet enveloped them as Company "A" came from columns of four into line for volley firing. This was a real test; it meant not only grace and precision of movement, singleness of attention and steadiness, but quickness tempered by self-control. At the command the volley rang forth like a single shot. This was again the signal for wild cheering and the blue and white streamers kissed the sunlight with swift impulsive kisses. Hannah and Little Sister drew closer together and pressed hands.
The "A" adherents, however, were considerably cooled when the next volley came out, badly scattering, with one shot entirely apart and before the rest. Bud's mother did not entirely understand the sudden quieting of the adherents; they felt vaguely that all was not as it should be, and the chill of fear laid hold upon their hearts. What if Bud's company, (it was always Bud's company to them), what if his company should lose. But, of course, that couldn't be. Bud himself had said that they would win. Suppose, though, they didn't; and with these thoughts they were miserable until the cheering again told them that the company had redeemed itself.
Someone behind Hannah said, "They are doing splendidly, they'll win, they'll win yet in spite of the second volley."
Company "A," in columns of fours, had executed the right oblique in double time, and halted amid cheers; then formed left halt into line without halting. The next movement was one looked forward to with much anxiety on account of its difficulty. The order was marching by fours to fix or unfix bayonets. They were going at a quick step, but the boys' hands were steady—hope was bright in their hearts. They were doing it rapidly and freely, when suddenly from the ranks there was the bright gleam of steel lower down than it should have been. A gasp broke from the breasts of Company "A's" friends. The blue and white drooped disconsolately, while a few heartless ones who wore other colours attempted to hiss. Someone had dropped his bayonet. But with muscles unquivering, without a turned head, the company moved on as if nothing had happened, while one of the judges, an army officer, stepped into the wake of the boys and picked up the fallen steel.
No two eyes had seen half so quickly as Hannah and Little Sister's who the blunderer was. In the whole drill there had been but one figure for them, and that was Bud, Bud, and it was he who had dropped his bayonet. Anxious, nervous with the desire to please them, perhaps with a shade too much of thought of them looking on with their hearts in their eyes, he had fumbled, and lost all that he was striving for. His head went round and round and all seemed black before him.
He executed the movements in a dazed way. The applause, generous and sympathetic, as his company left the parade ground, came to him from afar off, and like a wounded animal he crept away from his comrades, not because their reproaches stung him, for he did not hear them, but because he wanted to think what his mother and "Little Sister" would say, but his misery was as nothing to that of the two who sat up there amid the ranks of the blue and white holding each other's hands with a despairing grip. To Bud all of the rest of the contest was a horrid nightmare; he hardly knew when the three companies were marched back to receive the judges' decision. The applause that greeted Company "B" when the blue ribbons were pinned on the members' coats meant nothing to his ears. He had disgraced himself and his company. What would his mother and his "Little Sister" say?
To Hannah and "Little Sister," as to Bud, all of the remainder of the drill was a misery. The one interest they had had in it failed, and not even the dropping of his gun by one of Company "E" when on the march, halting in line, could raise their spirits. The little girl tried to be brave, but when it was all over she was glad to hurry out before the crowd got started and to hasten away home. Once there and her tears flowed freely; she hid her face in her mother's dress, and sobbed as if her heart would break.
"Don't cry, Baby! don't cry, Lammie, dis ain't da las' time da wah goin' to be a drill. Bud'll have a chance anotha time and den he'll show 'em somethin'; bless you, I spec' he'll be a captain." But this consolation of philosophy was nothing to "Little Sister." It was so terrible to her, this failure of Bud's. She couldn't blame him, she couldn't blame anyone else, and she had not yet learned to lay all such unfathomed catastrophes at the door of fate. What to her was the thought of another day; what did it matter to her whether he was a captain or a private? She didn't even know the meaning of the words, but "Little Sister," from the time she knew Bud was a private, knew that that was much better than being captain or any of those other things with a long name, so that settled it.
Her mother finally set about getting the supper, while "Little Sister" drooped disconsolately in her own little splint-bottomed chair. She sat there weeping silently until she heard the sound of Bud's step, then she sprang up and ran away to hide. She didn't dare to face him with tears in her eyes. Bud came in without a word and sat down in the dark front room.
"Dat you, Bud?" asked his mother.
"Yassum."
"Bettah come now, supper's puty 'nigh ready."
"I don' want no supper."
"You bettah come on, Bud, I reckon you mighty tired."
He did not reply, but just then a pair of thin arms were put around his neck and a soft cheek was placed close to his own.
"Come on, Buddie," whispered "Little Sister," "Mammy an' me know you didn't mean to do it, an' we don' keer."
Bud threw his arms around his little sister and held her tightly.
"It's only you an' ma I care about," he said, "though I am sorry I spoiled the company's drill; they say "B" would have won anyway on account of our bad firing, but I did want you and ma to be proud."
"We is proud," she whispered, "we's mos' prouder dan if you'd won," and pretty soon she led him by the hand out to supper.
Hannah did all she could to cheer the boy and to encourage him to hope for next year, but he had little to say in reply, and went to bed early.
In the morning, though it neared school time, Bud lingered around and seemed in no disposition to get ready to go.
"Bettah git ready fer school," said Hannah cheerily to him.
"I don't believe I want to go any more," Bud replied.
"Not go any more? Why ain't you shamed to talk that way! O' cose you a goin' to school."
"I'm ashamed to show my face to the boys."
"What you say about de boys? De boys ain't a-goin' to give you no edgication when you need it."
"Oh, I don't want to go, ma; you don't know how I feel."
"I'm kinder sorry I let you go into dat company," said Hannah musingly; "'cause it was de teachin' I wanted you to git, not de prancin' and steppin'; but I did t'ink it would make mo' of a man of you, an' it ain't. Yo' pappy was a po' man, ha'd wo'kin', an' he wasn't high-toned neither, but from the time I first see him to the day of his death I nevah seen him back down because he was afeared of anything," and Hannah turned to her work.
"Little Sister" went up to Bud and slipped her hand in his. "You ain't a-goin' to back down, is you, Buddie?" she said.
"No," said Bud stoutly, as he braced his shoulders, "I'm a-goin'."
But no persuasion could make him wear his uniform.
The boys were a little cold to him, and some were brutal. But most of them recognised the fact that what had happened to Tom Harris might have happened to any one of them. Besides, since the percentage had been shown, it was found that "B" had outpointed them in many ways, and so their loss was not due to the one grave error. Bud's heart sank when he dropped into his seat in the Assembly Hall to find seated on the platform one of the blue-coated officers who had acted as judge the day before. After the opening exercises were over he was called upon to address the school. He spoke readily and pleasantly, laying especial stress upon the value of discipline; toward the end of his address he said: "I suppose Company 'A' is heaping accusations upon the head of the young man who dropped his bayonet yesterday." Tom could have died. "It was most regrettable," the officer continued, "but to me the most significant thing at the drill was the conduct of that cadet afterward. I saw the whole proceeding; I saw that he did not pause for an instant, that he did not even turn his head, and it appeared to me as one of the finest bits of self-control I had ever seen in any youth; had he forgotten himself for a moment and stopped, however quickly, to secure the weapon, the next line would have been interfered with and your whole movement thrown into confusion." There were a half hundred eyes glancing furtively at Bud, and the light began to dawn in his face. "This boy has shown what discipline means, and I for one want to shake hands with him, if he is here."
When he had concluded the Principal called Bud forward, and the boys, even his detractors, cheered as the officer took his hand.
"Why are you not in uniform, sir?" he asked.
"I was ashamed to wear it after yesterday," was the reply.
"Don't be ashamed to wear your uniform," the officer said to him, and Bud could have fallen on his knees and thanked him.
There were no more jeers from his comrades now, and when he related it all at home that evening there were two more happy hearts in that South Washington cottage.
"I told you we was more prouder dan if you'd won," said "Little Sister."
"An' what did I tell you 'bout backin' out?" asked his mother.
Bud was too happy and too busy to answer; he was brushing his uniform.
Paul Laurence Dunbar
(1872 – 1906)
The Boy and The Bayonet
From The Heart Of Happy Hollow, a collection of short stories reprinted in 1904 by Dodd, Mead and Company, New York.
Short Story
• fleursdumal.nl magazine
More in: Archive C-D, Archive C-D, Dunbar, Paul Laurence, Dunbar, Paul Laurence, Paul Laurence Dunbar
---
THE RACE QUESTION
Scene—Race track. Enter old coloured man, seating himself.
"Oomph, oomph. De work of de devil sho' do p'ospah. How 'do, suh? Des tol'able, thankee, suh. How you come on? Oh, I was des a-sayin' how de wo'k of de ol' boy do p'ospah. Doesn't I frequent the racetrack? No, suh; no, suh. I's Baptis' myse'f, an' I 'low hit's all devil's doin's. Wouldn't 'a' be'n hyeah to-day, but I got a boy named Jim dat's long gone in sin an' he gwine ride one dem hosses. Oomph, dat boy! I sut'ny has talked to him and labohed wid him night an' day, but it was allers in vain, an' I's feahed dat de day of his reckonin' is at han'.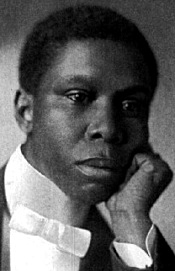 "Ain't I nevah been intrusted in racin'? Humph, you don't s'pose I been dead all my life, does you? What you laffin' at? Oh, scuse me, scuse me, you unnerstan' what I means. You don' give a ol' man time to splain hisse'f. What I means is dat dey has been days when I walked in de counsels of de on-gawdly and set in de seats of sinnahs; and long erbout dem times I did tek most ovahly strong to racin'.
"How long dat been? Oh, dat's way long back, 'fo' I got religion, mo'n thuty years ago, dough I got to own I has fell from grace several times sense.
"Yes, suh, I ust to ride. Ki-yi! I nevah furgit de day dat my ol' Mas' Jack put me on 'June Boy,' his black geldin', an' say to me, 'Si,' says he, 'if you don' ride de tail offen Cunnel Scott's mare, "No Quit," I's gwine to larrup you twell you cain't set in de saddle no mo'.' Hyah, hyah. My ol' Mas' was a mighty han' fu' a joke. I knowed he wan't gwine to do nuffin' to me.
"Did I win? Why, whut you spec' I's doin' hyeah ef I hadn' winned? W'y, ef I'd 'a' let dat Scott maih beat my 'June Boy' I'd 'a' drowned myse'f in Bull Skin Crick.
"Yes, suh, I winned; w'y, at de finish I come down dat track lak hit was de Jedgment Day an' I was de las' one up! Ef I didn't race dat maih's tail clean off, I 'low I made hit do a lot o' switchin'. An' aftah dat my wife Mandy she ma'ed me. Hyah, hyah, I ain't bin much on hol'in' de reins sence.
"Sh! dey comin' in to wa'm up. Dat Jim, dat Jim, dat my boy; you nasty putrid little rascal. Des a hundred an' eight, suh, des a hundred an' eight. Yas, suh, dat's my Jim; I don't know whaih he gits his dev'ment at.
"What's de mattah wid dat boy? Whyn't he hunch hisse'f up on dat saddle right? Jim, Jim, whyn't you limber up, boy; hunch yo'se'f up on dat hoss lak you belonged to him and knowed you was dah. What I done showed you? De black raskil, goin' out dah tryin' to disgrace his own daddy. Hyeah he come back. Dat's bettah, you scoun'ril.
"Dat's a right smaht-lookin' hoss he's a-ridin', but I ain't a-trustin' dat bay wid de white feet—dat is, not altogethah. She's a favourwright too; but dey's sumpin' else in dis worl' sides playin' favourwrights. Jim bettah had win dis race. His hoss ain't a five to one shot, but I spec's to go way fum hyeah wid money ernuff to mek a donation on de pa'sonage.
"Does I bet? Well, I don' des call hit bettin'; but I resks a little w'en I t'inks I kin he'p de cause. 'Tain't gamblin', o' co'se; I wouldn't gamble fu nothin', dough my ol' Mastah did ust to say dat a honest gamblah was ez good ez a hones' preachah an' mos' nigh ez skace.
"Look out dah, man, dey's off, dat nasty bay maih wid de white feet leadin' right fu'm 'de pos'. I knowed it! I knowed it! I had my eye on huh all de time. Oh, Jim, Jim, why didn't you git in bettah, way back dah fouf? Dah go de gong! I knowed dat wasn't no staht. Troop back dah, you raskils, hyah, hyah.
"I wush dat boy wouldn't do so much jummying erroun' wid dat hoss. Fust t'ing he know he ain't gwine to know whaih he's at.
"Dah, dah dey go ag'in. Hit's a sho' t'ing dis time. Bettah, Jim, bettah. Dey didn't leave you dis time. Hug dat bay mare, hug her close, boy. Don't press dat hoss yit. He holdin' back a lot o' t'ings.
"He's gainin'! doggone my cats, he's gainin'! an' dat hoss o' his'n gwine des ez stiddy ez a rockin'-chair. Jim allus was a good boy.
"Confound these spec's, I cain't see 'em skacely; huh, you say dey's neck an' neck; now I see 'em! now I see 'em! and Jimmy's a-ridin' like——Huh, huh, I laik to said sumpin'.
"De bay maih's done huh bes', she's done huh bes'! Dey's turned into the stretch an' still see-sawin'. Let him out, Jimmy, let him out! Dat boy done th'owed de reins away. Come on, Jimmy, come on! He's leadin' by a nose. Come on, I tell you, you black rapscallion, come on! Give 'em hell, Jimmy! give 'em hell! Under de wire an' a len'th ahead. Doggone my cats! wake me up w'en dat othah hoss comes in.
"No, suh, I ain't gwine stay no longah, I don't app'ove o' racin', I's gwine 'roun' an' see dis hyeah bookmakah an' den I's gwine dreckly home, suh, dreckly home. I's Baptis' myse'f, an' I don't app'ove o' no sich doin's!"
Paul Laurence Dunbar
(1872 – 1906)
The Race Question
From The Heart Of Happy Hollow, a collection of short stories reprinted in 1904 by Dodd, Mead and Company, New York.
Short story
• fleursdumal.nl magazine
More in: Archive C-D, Archive C-D, Dunbar, Paul Laurence, Dunbar, Paul Laurence, Paul Laurence Dunbar
---
Wild nights – Wild nights!
Wild nights – Wild nights!
Were I with thee
Wild nights should be
Our luxury!
Futile – the winds –
To a Heart in port –
Done with the Compass –
Done with the Chart!
Rowing in Eden –
Ah – the Sea!
Might I but moor – tonight –
In thee!
Emily Dickinson
(1830-1886)
Wild nights – Wild nights!
• fleursdumal.nl magazine
More in: Archive C-D, Archive C-D, Dickinson, Emily
---
The Outlet
My river runs to thee:
Blue sea, wilt welcome me?
My river waits reply.
Oh sea, look graciously!
I'll fetch thee brooks
From spotted nooks,—
Say, sea,
Take me!
Emily Dickinson
(1830-1886)
The Outlet, 1860
• fleursdumal.nl magazine
More in: Archive C-D, Dickinson, Emily
---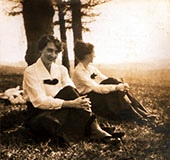 Transmission
A shell, expressed the verity
In tones more limpid than the sea,
Distilled the sea s infinity.
A mellow leaf disclosed the true
In more than sun s pellucid hue,
The sun was tinged in passing through.
A wing revealed the sky unseen,
Till motion made the air serene,
A wing a soaring life, I mean.
Gladys Cromwell
(1885-1919)
Transmission
fleursdumal.nl magazine
More in: Archive C-D, Cromwell, Gladys, Gladys Cromwell
---
I'm Nobody! Who are you?
I'm Nobody! Who are you?
Are you – Nobody – too?
Then there's a pair of us!
Don't tell! they'd advertise – you know!
How dreary – to be – Somebody!
How public – like a Frog –
To tell one's name – the livelong June –
To an admiring Bog! 
Emily Dickinson
(1830-1886)
I'm Nobody! Who are you?
fleursdumal.nl magazine
More in: Archive C-D, Archive C-D, Dickinson, Emily
---
The final collection of poetry from Leonard Cohen's body of work, introduced by son Adam Cohen. Plumbs the depths of humanity's darkest questions with a sense of yearning. Illustrations and notes throughout
The Flame is a stunning collection of Leonard Cohen's last poems, selected and ordered by the author in the final months of his life. Featuring lyrics, prose pieces and illustrations, the book also contains an extensive selection from Cohen's notebooks, which he kept in poetic form throughout his life, and offers an unprecedentedly intimate look inside the life and mind of a singular artist and thinker.
An enormously powerful final chapter in Cohen's storied literary career, The Flame showcases the full range of Leonard Cohen's lyricism, from the exquisitely transcendent to the darkly funny. By turns devastatingly sad and winningly strange, these are the works of a poet and lyricist who has plumbed the depths of our darkest questions and come up wanting, yearning for more.
Leonard Cohen began his artistic career in 1956 with the publication of his first book of poetry, Let Us Compare Mythologies. He went on to publish 12 more books, including two celebrated novels and gained worldwide recognition as an iconic singer-songwriter.
He released 14 studio albums, including three in the last years of his life when he also became one of the most acclaimed arena performing artists in the world.
Among his numerous honours, he is the recipient of the Grammy Lifetime Achievement Award 2010, the Prince of Asturias Award for Literature 2011, the inaugural New England PEN Award for Excellence in Lyrics 2012, the 2016 Juno Awards for Song of the Year and Album of the Year, and he has been inducted into the Canadian Songwriters Hall of Fame, the Rock and Roll Hall of Fame and the US Songwriters Hall of Fame. He died in November 2016.
The Flame
by Leonard Cohen (Author),
Adam Cohen (Introduction)
Language: English
Available as Hardback,
eBook, Downloadable audio
288 pages
Publisher: Canongate Books
Main edition 2 Oct. 2018
ISBN-10: 9781786893130
# new books
Leonard Cohen: The Flame
fleursdumal.nl magazine
More in: - Book News, - Bookstores, Archive C-D, Archive C-D, Art & Literature News, AUDIO, CINEMA, RADIO & TV, Leonard Cohen
---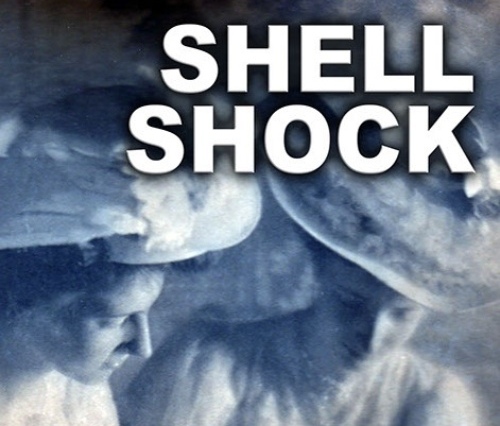 The true story of twin sisters, Dorothea and Gladys Cromwell, born into New York's Gilded Age, living lives of wealth and privilege, as told by Dennis Whitehead.

Amid the fervor of America's entry into the First World War, the sisters volunteered for service with the American Red Cross in France, a country they knew and loved. To French soldiers seeking refreshment and solace in the Red Cross canteen, the identical twins were known as anges jumeaux, the twin angels.
Witnessing the non-stop horrors in the worst fighting in the war, the sisters were utterly exhaustion, both mentally and physically, when they boarded the SS La Lorraine for the return journey home. They had wished to continue their service to the people of France after the fighting stopped but were convinced to return to New York by their brother.
What happened on that ship, on that frigid January 1919 evening, almost one-hundred years ago, is one of the great untold stories of World War I, and the impact that modern warfare had upon not just the men in the trenches, but upon its women and other non-combatants, as well as civilians, that remained unrecognized until the Vietnam War.
Dennis Whitehead: A native of Cincinnati and a graduate of Ohio University, Dennis Whitehead is a writer, photographer, and media producer in Arlington, Virginia.
Shell Shock: Twin Sisters Born Into New York's Gilded Age Struck Down by the Horrors of War
by Dennis Whitehead
Kindle Edition
$2,99
Available for download
Language: English
File Size: 27502 KB
Print Length: 52 pages
Publisher: MMImedia LLC (July 18, 2018)
Publication Date: July 18, 2018
Amazon Digital
# More information and link with Amazon Kindle Edition
Shell Shock is the story of the twin Cromwell sisters who served with the American Red Cross in World War I France. Witnessing the unrelenting horrors of war, the Cromwell sisters illustrate the unrecognized trauma wrought upon non-combatants in the First World War. Gladys Cromwell (1885-1919) was a very talented poet.
# Digital biography
American writers
Gladys Cromwell
fleursdumal.nl magazine
More in: #Biography Archives, *War Poetry Archive, - Book Stories, Archive C-D, Archive W-X, AUDIO, CINEMA, RADIO & TV, Gladys Cromwell, Photography, WAR & PEACE
---
'Eigenlijk wil ik gewoon elke morgen wakker worden en niks weten en gaan schrijven.'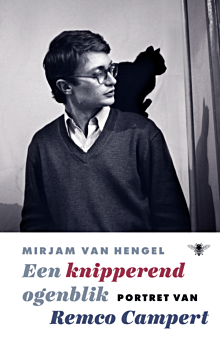 Dat zegt Remco Campert, de virtuoos terloopse dichter die altijd zijn vinger aan de pols van de tijd heeft gehouden.
Het verhaal van zijn leven loopt van de naoorlogse avant-garde via feestende jongeren rond het Vondelpark en toenemende publieke zichtbaarheid naar de stilte van een werkkamer. Er was de afwezige vader, er kwamen en gingen grote liefdes, maar altijd bleef het schrijven, dicht op de eigen huid.
Mirjam van Hengel, die eerder het succesvolle Hoe mooi alles (2014) publiceerde over de liefde tussen Leo en Tineke Vroman, sprak wekelijks met Campert en kreeg inzage in al zijn papieren.
Ze schreef een portret over de man die al meer dan een halve eeuw het Nederlandse literaire landschap kleurt, die even graag alleen is als in gezelschap, even lui als productief, even opgeruimd als melancholiek, even betrokken bij de wereld als onverstoorbaar zichzelf.
Mirjam van Hengel (1967) studeerde Nederlandse letterkunde aan de Universiteit Utrecht. Ze was jarenlang redacteur bij uitgeverij Van Oorschot en uitgeverij Querido en is poëzieprogrammeur bij onder meer De Nieuwe Liefde. In 2014 verscheen haar boek Hoe mooi alles. Leo en Tineke Vroman, een liefde in oorlogstijd, dat lovend werd ontvangen en bewerkt tot theaterstuk.
Remco Campert (1929) is dichter, romancier en columnist. Voor zijn poëzie ontving hij onder meer de Reina Prinsen Geerligsprijs, de Poëzieprijs van de gemeente Amsterdam, de Jan Campertprijs, de P.C. Hooft-prijs en De Gouden Ganzenveer. In 2015 werd hij bekroond met de Prijs der Nederlandse Letteren. De vader van Remco Campert was de dichter Jan Campert, die 'Het Lied der Achttien Dooden' schreef, zijn moeder de actrice Joeki Broedelet. Voorjaar 1950 richt Remco Campert met Rudy Kousbroek het tijdschrift Braak op. In juli van hetzelfde jaar wordt de redactie uitgebreid met Lucebert en Bert Schierbeek. Na het verschijnen van de bloemlezing Atonaal in 1951, onder redactie van Simon Vinkenoog, worden de daarin opgenomen dichters onder wie Gerrit Kouwenaar, Jan G. Elburg en Hugo Claus, aangeduid als de Vijftigers.
Remco Camperts verhalen en romans worden gewaardeerd door een groot publiek en boeken als Het leven is vurrukkulluk (1961) en Tjeempie! of Liesje in luiletterland (1968) staan nog steeds op de leeslijsten.
In 1976 ontvangt hij de P.C. Hooftprijs voor zijn poëzie: 'Het hele poëtische oeuvre van Remco Campert overziend, is de jury onder de indruk gekomen van de persoonlijke kroniek van de jaren 1950-1970 die erin is neergeschreven. De hachelijke en belachelijke feiten van deze levensperiode zijn door de dichter onvergetelijk geboekstaafd.'
Van 1989 tot 1995 leest Campert met Jan Mulder en Bart Chabot in theaters voor uit eigen werk. Van 1996 tot 2006 schrijft Campert samen met Mulder een gezamenlijke column op de voorpagina van de Volkskrant, CaMu. Sinds 2012 heeft hij in deze krant een eigen wekelijkse column en daarnaast zijn 'Somberman', over het gelijknamige personage dat hij voor het eerst opvoerde in Somberman's actie, het Boekenweekgeschenk van 1985. In 2004 verscheen Een liefde in Parijs, zijn eerste roman in meer dan tien jaar, die zeer lovend werd besproken en uitgroeide tot een grote bestseller. Het Parool schreef: 'Hier is de meester aan het werk.' In 2006 volgde Het satijnen hart, een weemoedig portret van een schilder die tot op hoge leeftijd niet kan kiezen tussen liefde en kunst.
De afgelopen vijf jaar verschenen onder meer de roman Hôtel du Nord (2013), de dichtbundels Licht van mijn leven (2014, met litho's van Ysbrant) en Verloop van jaren: 40 poëtische notities (2015). Het fotoboek De ziel krijgt voeten (2013), maakte hij met zijn dochter Cleo Campert. Zijn verzamelde columns voor de Volkskrant zijn te lezen in Het verband tussen de dingen ben ik zelf (2012), Te vroeg in het seizoen (2014), Vandaag ben ik een lege kartonnen doos (2015), Zonder roken bij mij geen poëzie (2016) en Somberman op drift (2016). In 2016 verscheen eveneens Campert & Campert, een bundeling van alle stukken van Remco én zijn vader Jan Campert in Elsevier. Recent verscheen de dichtbundel Open ogen (2018).   (Bron: Bezige Bij)
Titel: Een knipperend ogenblik.
Portret van Remco Campert
Auteur: Mirjam Van Hengel
Biografie
Taal: Nederlands
Uitgever: Bezige Bij, De
Druk: 1e
Aantal pagina's 512
Uitvoering: Gebonden
Verschenen: 23 augustus 2018
Presentatie: 5 september 2018
ISBN 9789403122908
€ 29,99
new books
portret van Remco Campert
fleursdumal.nl magazine
More in: #Biography Archives, - Book News, - Bookstores, Archive C-D, Archive G-H, Art & Literature News, Campert, Remco, Remco Campert
---
Forme brève, mais moins abrupte que le haïku, le quatrain ne s'en tient pas au lapidaire, il sait donner du rythme à la pensée, à l'émotion, à la surprise, il sait initier un questionnement, amorcer une méditation, esquisser un chant.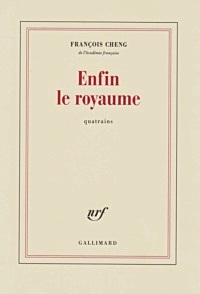 À la suite des poètes chinois des origines, mais aussi d'Omar Khayyâm et d'Emily Dickinson, François Cheng atteste ici du pouvoir singulier de ce mode d'expression resserré, pourtant si peu enclos, si ouvert aux résonances, aux errances fertiles, voire à une manière salutaire d'envoûtement simple.
François Cheng (1929) de l'Académie française (2002) – Grand prix de la Francophonie de l'Académie française (2001)
François Cheng
Enfin le royaume. Quatrains
Collection Blanche, Gallimard
Parution : 08-02-2018
160 pages
140 x 205 mm
Genre : Poésie: Littérature française
Époque : XXe-XXIe siècle
ISBN : 9782072767449
Gencode : 9782072767449
Code distributeur : G01421
Prix: €15,00
new poetry François Cheng
fleursdumal.nl
More in: - Book News, - Bookstores, Archive C-D, Archive C-D, Art & Literature News
---
Preparation
A time will come when I shall breathe
New melodies to soothe and fold,
Like portions of a mellow sheath,
My sorrow. While my songs withhold
Their tones, I pause before the years;
I gaze on the grey world ; I strive
To clear the mist of doubting tears.
My songs, what music you ll derive
From silence in the time to come!
Gladys Cromwell
(1885-1919)
Preparation
fleursdumal.nl magazine
More in: Archive C-D, Cromwell, Gladys, Gladys Cromwell
---
Tishani Doshi on Girls are Coming Out of the Woods: "I want to give this book to the people I love, and say to them, memorize this, never forget. – Jeet Thayil Each poem promises the sharpness of broken sea-shells, the smell of brine.
In this collection, Tishani Doshi inhabits the different homes: her childhood, the body, cities that were passed through, cycles of rain. There are poems of celebration and homages, as there are poems lamenting human cruelty and dispassion. This is also a book of travel and of homecoming, of familiar decay and startling, haunting discoveries of our oldest themes of love, grief, suffering and anger."
Girls are coming out of the woods,
wrapped in cloaks and hoods,
carrying iron bars and candles
and a multitude of scars, collected
on acres of premature grass and city
buses, in temples and bars. Girls
are coming out of the woods
with panties tied around their lips,
making such a noise, it's impossible
to hear. Is the world speaking too?
Tishani Doshi in Girls are Coming Out of the Woods (fragment)
Tishani Doshi is an award-winning poet and dancer of Welsh-Gujarati descent. She was born in Madras, India, in 1975. She received her masters in writing from the Johns Hopkins University in America and worked in London in advertising before returning to India in 2001 to work with the choreographer Chandralekha, with whom she performed on many international stages. An avid traveller, she has been trekking in the Ethiopian Bale Mountains, visited Antarctica with a group of high-school students, and documented the largest transvestite gathering in Koovakam. She has written about her travels in newspapers such as the Guardian, International Herald Tribune, The Hindu and the Financial Times. She won an Eric Gregory Award for her poetry in 2001. In 2006, she won the All-India Poetry Competition, and her debut collection, Countries of the Body (Aark Arts), won the Forward Prize for Best First Collection. Her first novel, The Pleasure Seekers (Bloomsbury, 2010), was longlisted for the Orange Prize and shortlisted for the Hindu Fiction Award, and has been translated into several languages. Her second poetry collection, Everything Begins Elsewhere, was published by Bloodaxe Books in 2012. Her third, Girls Are Coming Out of the Woods, is due from Bloodaxe in 2018. Tishani Doshi currently lives on a beach between two fishing villages in Tamil Nadu with her husband and three dogs, and sometimes moonlights as a dancer.
Girls are Coming Out of the Woods
by Tishani Doshi
PBS Recommendation Summer 2018
Publisher: Bloodaxe Books Ltd
Publication Date: 10 May 2018
Paperback £9.95
ISBN: 9781780371979
Pages: 96
Size: 234 x 156mm
Engelstalig
new poetry
fleursdumal.nl magazine
More in: #Editors Choice Archiv, - Book News, - Bookstores, Archive C-D, Art & Literature News
---
Older Entries »
Thank you for reading FLEURSDUMAL.NL - magazine for art & literature