*Concrete + Visual Poetry A-E
·
Marcel BROODTHAERS: Eine Retrospektive
·
Theo van Doesburg: Anthologie Bonset
·
Hugo Ball Gedichte
·
Guillaume Apollinaire Poésie
Marcel Broodthaers. Eine Retrospektive ist eine große Überblicksschau über das facettenreiche Werk des belgischen Künstlers Marcel Broodthaers (1924 –1976), der im Umfeld von Pop, Minimal und Konzeptkunst eine eigenwillige, kritische Position formuliert. Broodthaers wandte sich im Alter von vierzig Jahren von der Dichtung kommend der bildenden Kunst zu und fand mit seinen installativen, kinematografischen und institutionskritischen Arbeiten innerhalb kürzester Zeit großen Anklang in der avantgardistischen Kunstszene Europas.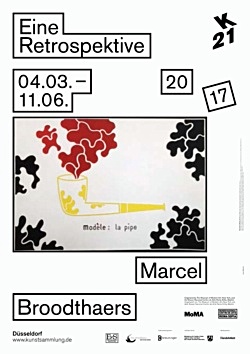 Die über vier Jahre am Museum of Modern Art, New York, und am Museo Nacional Centro de Arte Reina Sofia, Madrid, sorgfältig entwickelte Ausstellung von über 400 Werken unterschiedlichster Medien und Gattungen findet mit der Düsseldorfer Station ihren Abschluss an dem Ort, der Broodthaers' kurze, aber höchst produktive künstlerische Karriere weitgehend befördert hat. In Düsseldorf hat Broodthaers nicht nur gelebt (von 1970 bis 1972) und entscheidende Impulse der lokalen, international bestens vernetzten Kunstszene aufgenommen, verarbeitet und zurückgegeben.
In Düsseldorf wurden auch etliche Arbeiten und Ausstellungen realisiert, darunter die zu Broodthaers' Hauptwerk "Musée d'Art Moderne, Département des Aigles" (Museum Moderner Kunst, Abteilung Adler), 1968 – 72, gehörende legendäre Schau "Section des Figures" (Sektion der Figuren), 1972, in der Städtischen Kunsthalle Düsseldorf.
Die lange erwartete Retrospektive von Marcel Broodthaers führt in ein faszinierendes Werk ein, das mit seinem Verständnis von Poesie als "Störung von Weltordnung", von "Poesie als indirekter politischer Frage" für eine radikal offene und prozessuale Lesart von Kunst plädierte und damit maßgeblich zu einem bis heute gültigen Verständnis von Kunst beigetragen hat.
Marcel Broodthaers. Eine Retrospektive wurde kuratiert von Christophe Cherix, The Robert Lehman Foundation Chief Curator of Drawings and Prints at MoMA, und Manuel J. Borja-Villel, Direktor Museo Nacional Centro de Arte Reina Sofía, zusammen mit Francesca Wilmott, kuratorische Assistenz am Department of Drawing and Prints, MoMA. In der Kunstsammlung Nordrhein-Westfalen, Düsseldorf, wird die Ausstellung von der Kuratorin Doris Krystof betreut.
Die Ausstellung
Marcel Broodthaers.
Eine Retrospektive
04.03 – 11.06.2017
K21 Ständehaus
Ständehausstraße 1
40217 Düsseldorf
fleursdumal.nl magazine
More in: *Concrete + Visual Poetry A-E, Art & Literature News, FDM Art Gallery, Marcel Broodthaers, Marcel Broodthaers
---
 I. K.  B o n s e t

(Theo van Doesburg)

Anthologie Bonset

De Stijl 1921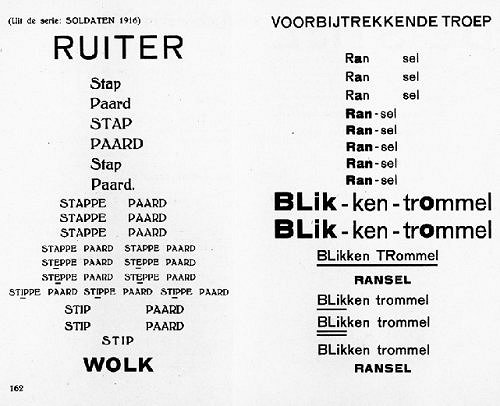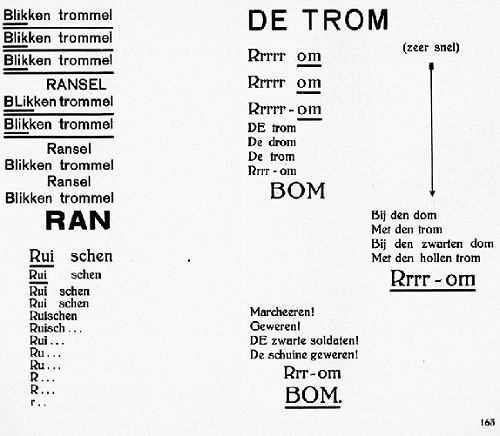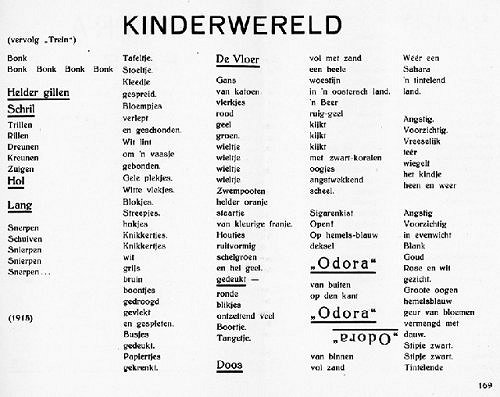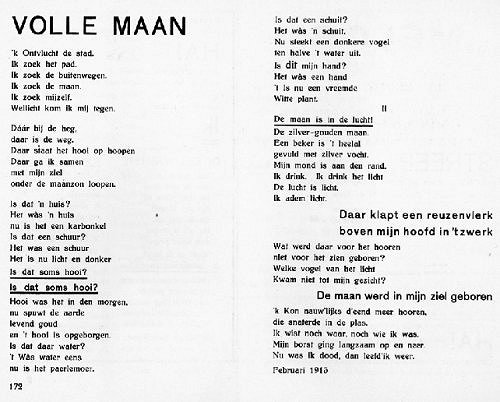 Theo van Doesburg (I.K. Bonset) De Stijl 1921
kemp=mag poetry magazine – magazine for art & literature
More in: #Archive A-Z Sound Poetry, *Concrete + Visual Poetry A-E, Dada, Doesburg, Theo van, Theo van Doesburg (I.K. Bonset)
---
H u g o   B a l l

(1886-1927)
Seepferdchen und Flugfische
tressli bessli nebogen leila
flusch kata
ballubasch
zack hitti zopp
zack hitti zopp
hitti betzli betzli
prusch kata
ballubasch
fasch kitti bimm
zitti kitillabi billabi billabi
zikko di zakkobam
fisch kitti bisch
bumbalo bumbalo bumbalo bambo
zitti kitillabi
zack hitti zopp
treßli beßli nebogen grügü
blaulala violabimini bisch
violabimini bimini bimini
fusch kata
ballubasch
zick hiti zopp
Karawane
jolifanto bambla o falli bambla
großgiga m'pfa habla horem
egiga goramen
higo bloiko russula huju
hollaka hollala
anlogo bung
blago bung blago bung
bosso fataka
ü üü ü
schampa wulla wussa olobo
hej tatta gorem
eschige zunbada
wulubu ssubudu uluwu ssubudu
tumba ba-umf
kusa gauma
ba – umf
Gadji beri bimba
gadji beri bimba glandridi laula lonni cadori
gadjama gramma berida bimbala glandri galassassa laulitalomini
gadji berl bin blassa glassala laula lonni cadorsu sassala bim
gadjama tuffm i zimzalla binban gligla wowolimai bin beri ban
o katalominai rhinozerossola hopsamen laulitalomini hoooo
gadjama rhinozerossola hopsamen
bluku terullala blaulala loooo
zimzim urullala zimzim urullala zimzim zanzibar zimzalla zam
elifantolim brussala bulomen brussala bulomen tromtata
velo da bang bang affalo purzamai affalo purzamal lengado tor
gadjama bimbalo glandridi glassala zingtata pimpalo ögrögöööö
viola laxato viola zimbrabim viola uli paluji malooo
tuffm im zimbrabim negramai bumbalo negramai bumbalo tuffm i zim
gadjama bimbala oo beri gadjama gaga di gadjama affalo pinx
gaga di bumbalo bumbalo gadjamen
gaga di bling blong
gaga blung
More in: #Archive A-Z Sound Poetry, *Concrete + Visual Poetry A-E, Ball, Hugo, Dada, Visual & Concrete Poetry
---
G u i l l a u m e   A p o l l i n a i r e

(1880-1918)
LE PONT MIRABEAU
Sous le pont Mirabeau coule la Seine
Et nos amours
Faut-il qu'il m'en souvienne
La joie venait toujours après la peine.
Vienne la nuit sonne l'heure
Les jours s'en vont je demeure
Les mains dans les mains restons face à face
Tandis que sous
Le pont de nos bras passe
Des éternels regards l'onde si lasse
Vienne la nuit sonne l'heure
Les jours s'en vont je demeure
L'amour s'en va comme cette eau courante
L'amour s'en va
Comme la vie est lente
Et comme l'Espérance est violente
Vienne la nuit sonne l'heure
Les jours s'en vont je demeure
Passent les jours et passent les semaines
Ni temps passé
Ni les amours reviennent
Sous le pont Mirabeau coule la Seine
ANNIE
Sur la côte du Texas
Entre Mobile et Galveston il y a
Un grand jardin tout plein de roses
Il contient aussi une villa
Qui est une grande rose
Une femme se promène souvent
Dans le jardin toute seule
Et quand je passe sur la route bordée de tilleuls
Nous nous regardons
Comme cette femme est mennonite
Ses rosiers et ses vêtements n'ont pas de boutons
Il en manque deux à mon veston
La dame et moi suivons presque le même rite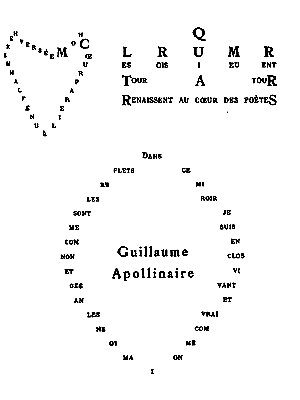 LA BLANCHE NEIGE
Les anges les anges dans le ciel
L'un est vêtu en officier
L'un est vêtu en cuisinier
Et les autres chantent
Bel officier couleur du ciel
Le doux printemps longtemps après Noël
Te médaillera d'un beau soleil
D'un beau soleil
Le cuisinier plume les oies
Ah! tombe neige
Tombe et que n'ai-je
Ma bien-aimée entre mes bras
L'ADIEU
J'ai cueilli ce brin de bruyère
L'automne est morte souviens-t'en
Nous ne nous verrons plus sur terre
Odeur du temps brin de bruyère
Et souviens-toi que je t'attends
fleursdumal.nl magazine
More in: *Concrete + Visual Poetry A-E, *War Poetry Archive, Apollinaire, Guillaume, Guillaume Apollinaire
---
Thank you for reading FLEURSDUMAL.NL - magazine for art & literature