Archive C-D
«« Previous page
·
Samuel Taylor COLERIDGE: Youth And Age a poem
·
Tristan CORBIÈRE: Feminin singulier
·
Samuel Taylor COLERIDGE: Xanadu – Kubla Khan
·
Samuel Taylor COLERIDGE: The Presence of Love
·
Hart CRANE: Passage
·
G.K. CHESTERTON: A Ballade of Suicide
·
Samuel Taylor COLERIDGE: Frost at Midnight poem
·
Robert DESNOS: Coucher avec elle
·
Samuel Taylor COLERIDGE: Desire
·
Jules DEELDER schrijft het Poëziegeschenk 2017
·
Schilderen met woorden – Een nieuwe kijk op de poëzie van COUPERUS
·
Hart CRANE: North Labrador
Samuel Taylor Coleridge
Youth And Age a poem
Verse, a breeze 'mid blossoms straying,
Where Hope clung feeding, like a bee
Both were mine! Life went a-maying
With Nature, Hope, and Poesy,
When I was young!
When I was young? Ah, woeful When!
Ah! for the change 'twixt Now and Then!
This breathing house not built with hands,
This body that does me grievous wrong,
O'er aery cliffs and glittering sands
How lightly then it flashed along,
Like those trim skiffs, unknown of yore,
On winding lakes and rivers wide,
That ask no aid of sail or oar,
That fear no spite of wind or tide!
Nought cared this body for wind or weather
When Youth and I lived in't together.
Flowers are lovely; Love is flower-like;
Friendship is a sheltering tree;
O the joys! that came down shower-like,
Of Friendship, Love, and Liberty,
Ere I was old!
Ere I was old? Ah woeful Ere,
Which tells me, Youth's no longer here!
O Youth! for years so many and sweet
'Tis known that Thou and I were one,
I'll think it but a fond conceit
It cannot be that Thou art gone!
Thy vesper-bell hath not yet tolled
And thou wert aye a masker bold!
What strange disguise hast now put on,
To make believe that thou art gone?
I see these locks in silvery slips,
This drooping gait, this altered size:
But Springtide blossoms on thy lips,
And tears take sunshine from thine eyes:
Life is but Thought: so think I will
That Youth and I are housemates still.
Dew-drops are the gems of morning,
But the tears of mournful eve!
Where no hope is, life's a warning
That only serves to make us grieve
When we are old:
That only serves to make us grieve
With oft and tedious taking-leave,
Like some poor nigh-related guest
That may not rudely be dismist;
Yet hath out-stayed his welcome while,
And tells the jest without the smile.
Samuel Taylor Coleridge (1772 – 1834)
Poem: Youth And Age
fleursdumal.nl magazine
More in: Archive C-D, Coleridge, Coleridge, Samuel Taylor
---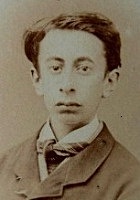 Tristan Corbière
Feminin singulier
Éternel Féminin de l'éternel Jocrisse!
Fais-nous sauter, pantins nous payons les décors!
Nous éclairons la rampe…. Et toi, dans la coulisse,
Tu peux faire au pompier le pur don de ton corps.
Fais claquer sur nos dos le fouet de ton caprice,
Couronne tes genoux!… et nos têtes dix-cors;
Ris! montre tes dents! mais … nous avons la police,
Et quelque chose en nous d'eunuque et de recors.
… Ah tu ne comprends pas?…–Moi non plus–Fais la belle
Tourne: nous sommes soûls! Et plats: Fais la cruelle!
Cravache ton pacha, ton humble serviteur!…
Après, sache tomber!–mais tomber avec grâce–
Sur notre sable fin ne laisse pas de trace!…
–C'est le métier de femme et de gladiateur.–
Tristan Corbière (1845 – 1875)
Feminin singulier
fleursdumal.nl magazine
More in: *Archive Les Poètes Maudits, Archive C-D, Corbière, Tristan
---
Samuel Taylor Coleridge
Xanadu – Kubla Khan
In Xanadu did Kubla Khan
A stately pleasure-dome decree:
Where Alph, the sacred river, ran
Through caverns measureless to man
Down to a sunless sea.
So twice five miles of fertile ground
With walls and towers were girdled round:
And there were gardens bright with sinuous rills,
Where blossomed many an incense-bearing tree;
And here were forests ancient as the hills,
Enfolding sunny spots of greenery.
But oh! that deep romantic chasm which slanted
Down the green hill athwart a cedarn cover!
A savage place! as holy and enchanted
As e'er beneath a waning moon was haunted
By woman wailing for her demon-lover!
And from this chasm, with ceaseless turmoil seething,
As if this earth in fast thick pants were breathing,
A mighty fountain momently was forced:
Amid whose swift half-intermitted burst
Huge fragments vaulted like rebounding hail,
Or chaffy grain beneath the thresher's flail:
And 'mid these dancing rocks at once and ever
It flung up momently the sacred river.
Five miles meandering with a mazy motion
Through wood and dale the sacred river ran,
Then reached the caverns measureless to man,
And sank in tumult to a lifeless ocean:
And 'mid this tumult Kubla heard from far
Ancestral voices prophesying war!
The shadow of the dome of pleasure
Floated midway on the waves;
Where was heard the mingled measure
From the fountain and the caves.
It was a miracle of rare device,
A sunny pleasure-dome with caves of ice!
A damsel with a dulcimer
In a vision once I saw:
It was an Abyssinian maid,
And on her dulcimer she played,
Singing of Mount Abora.
Could I revive within me
Her symphony and song,
To such a deep delight 'twould win me
That with music loud and long
I would build that dome in air,
That sunny dome! those caves of ice!
And all who heard should see them there,
And all should cry, Beware! Beware!
His flashing eyes, his floating hair!
Weave a circle round him thrice,
And close your eyes with holy dread,
For he on honey-dew hath fed
And drunk the milk of Paradise.
Samuel Taylor Coleridge (1772 – 1834)
Xanadu – Kubla Khan
fleursdumal.nl magazine
More in: Archive C-D, Coleridge, Coleridge, Samuel Taylor
---
Samuel Taylor Coleridge
The Presence of Love
And in Life's noisiest hour,
There whispers still the ceaseless Love of Thee,
The heart's Self-solace and soliloquy.
You mould my Hopes, you fashion me within;
And to the leading Love-throb in the Heart
Thro' all my Being, thro' my pulse's beat;
You lie in all my many Thoughts, like Light,
Like the fair light of Dawn, or summer Eve
On rippling Stream, or cloud-reflecting Lake.
And looking to the Heaven, that bends above you,
How oft! I bless the Lot that made me love you.
Samuel Taylor Coleridge (1772 – 1834)
Poem: The Presence of Love
fleursdumal.nl magazine
More in: Archive C-D, Coleridge, Coleridge, Samuel Taylor
---
Hart Crane
(1889 – 1932)
Passage
Where the cedar leaf divides the sky
I heard the sea.
In sapphire arenas of the hills
I was promised an improved infancy.
Sulking, sanctioning the sun,
My memory I left in a ravine,-
Casual louse that tissues the buck-wheat,
Aprons rocks, congregates pears
In moonlit bushels
And wakens alleys with a hidden cough.
Dangerously the summer burned
(I had joined the entrainments of the wind).
The shadows of boulders lengthened my back:
In the bronze gongs of my cheeks
The rain dried without odour.
"It is not long, it is not long;
See where the red and black
Vine-stanchioned valleys-": but the wind
Died speaking through the ages that you know
And bug, chimney-sooted heart of man!
So was I turned about and back, much as your smoke
Compiles a too well-known biography.
The evening was a spear in the ravine
That throve through very oak. And had I walked
The dozen particular decimals of time?
Touching an opening laurel, I found
A thief beneath, my stolen book in hand.
"'Why are you back here-smiling an iron coffin?
" "To argue with the laurel," I replied:
"Am justified in transience, fleeing
Under the constant wonder of your eyes-."
He closed the book. And from the Ptolemies
Sand troughed us in a glittering,, abyss.
A serpent swam a vertex to the sun
-On unpaced beaches leaned its tongue and
drummed.
What fountains did I hear? What icy speeches?
Memory, committed to the page, had broke.
Hart Crane poetry
fleursdumal.nl magazine
More in: Archive C-D, Crane, Hart
---
G.K. Chesterton
A Ballade of Suicide
The gallows in my garden, people say,
Is new and neat and adequately tall;
I tie the noose on in a knowing way
As one that knots his necktie for a ball;
But just as all the neighbours on the wall
Are drawing a long breath to shout "Hurray!"
The strangest whim has seized me. . . After all
I think I will not hang myself to-day.
To-morrow is the time I get my pay
My uncle's sword is hanging in the hall
I see a little cloud all pink and grey
Perhaps the rector's mother will NOT call
I fancy that I heard from Mr. Gall
That mushrooms could be cooked another way
I never read the works of Juvenal
I think I will not hang myself to-day.
The world will have another washing-day;
The decadents decay; the pedants pall;
And H.G. Wells has found that children play,
And Bernard Shaw discovered that they squall;
Rationalists are growing rational
And through thick woods one finds a stream astray,
So secret that the very sky seems small
I think I will not hang myself to-day.
ENVOI
Prince, I can hear the trumpet of Germinal,
The tumbrils toiling up the terrible way;
Even to-day your royal head may fall
I think I will not hang myself to-day.
G. K. Chesterton (1874 – 1936)
A Ballade of Suicide
fleursdumal.nl magazine
More in: Archive C-D, Chesterton, Gilbert Keith, G.K. Chesterton
---
Samuel Taylor Coleridge
Frost at Midnight

The Frost performs its secret ministry,
Unhelped by any wind. The owlet's cry
Came loud, -and hark, again! loud as before.
The inmates of my cottage, all at rest,
Have left me to that solitude, which suits
Abstruser musings: save that at my side
My cradled infant slumbers peacefully.
'Tis calm indeed! so calm, that it disturbs
And vexes meditation with its strange
And extreme silentness. Sea, hill, and wood,
With all the numberless goings-on of life,
Inaudible as dreams! the thin blue flame
Lies on my low-burnt fire, and quivers not;
Only that film, which fluttered on the grate,
Still flutters there, the sole unquiet thing.
Methinks its motion in this hush of nature
Gives it dim sympathies with me who live,
Making it a companionable form,
Whose puny flaps and freaks the idling Spirit
By its own moods interprets, every where
Echo or mirror seeking of itself,
And makes a toy of Thought.
But O! how oft,
How oft, at school, with most believing mind,
Presageful, have I gazed upon the bars,
To watch that fluttering stranger! and as oft
With unclosed lids, already had I dreamt
Of my sweet birthplace, and the old church-tower,
Whose bells, the poor man's only music, rang
From morn to evening, all the hot Fair-day,
So sweetly, that they stirred and haunted me
With a wild pleasure, falling on mine ear
Most like articulate sounds of things to come!
So gazed I, till the soothing things, I dreamt,
Lulled me to sleep, and sleep prolonged my dreams!
And so I brooded all the following morn,
Awed by the stern preceptor's face, mine eye
Fixed with mock study on my swimming book:
Save if the door half opened, and I snatched
A hasty glance, and still my heart leaped up,
For still I hoped to see the stranger's face,
Townsman, or aunt, or sister more beloved,
My playmate when we both were clothed alike!
Dear Babe, that sleepest cradled by my side,
Whose gentle breathings, heard in this deep calm,
Fill up the interspersed vacancies
And momentary pauses of the thought!
My babe so beautiful! it thrills my heart
With tender gladness, thus to look at thee,
And think that thou shalt learn far other lore,
And in far other scenes! For I was reared
In the great city, pent mid cloisters dim,
And saw nought lovely but the sky and stars.
But thou, my babe! shalt wander like a breeze
By lakes and sandy shores, beneath the crags
Of ancient mountain, and beneath the clouds,
Which image in their bulk both lakes and shores
And mountain crags: so shalt thou see and hear
The lovely shapes and sounds intelligible
Of that eternal language, which thy God
Utters, who from eternity doth teach
Himself in all, and all things in himself.
Great universal Teacher! he shall mould
Thy spirit, and by giving make it ask.
Therefore all seasons shall be sweet to thee,
Whether the summer clothe the general earth
With greenness, or the redbreast sit and sing
Betwixt the tufts of snow on the bare branch
Of mossy apple-tree, while the nigh thatch
Smokes in the sun-thaw; whether the eave-drops fall
Heard only in the trances of the blast,
Or if the secret ministry of frost
Shall hang them up in silent icicles,
Quietly shining to the quiet Moon.
Samuel Taylor Coleridge (1772 – 1834)
Frost at Midnight
fleursdumal.nl magazine
More in: Archive C-D, Coleridge, Coleridge, Samuel Taylor
---
Robert Desnos
Coucher avec elle
Coucher avec elle
Pour le sommeil côte à côte
Pour les rêves parallèles
Pour la double respiration
Coucher avec elle
Pour l'ombre unique et surprenante
Pour la même chaleur
Pour la même solitude
Coucher avec elle
Pour l'aurore partagée
Pour le minuit identique
Pour les mêmes fantômes
Coucher coucher avec elle
Pour l'amour absolu
Pour le vice, pour le vice
Pour les baisers de toute espèce
Coucher avec elle
Pour un naufrage ineffable
Pour se prouver et prouver vraiment
Que jamais n'a pesé sur l'âme et le corps des amants
Le mensonge d'une tache originelle
Robert Desnos (1900 – 1945)
Poème: Coucher avec elle, 1942
fleursdumal.nl magazine
More in: Archive C-D, Desnos, Robert
---
Samuel Taylor Coleridge
Desire
Where true Love burns Desire is Love's pure flame;
It is the reflex of our earthly frame,
That takes its meaning from the nobler part,
And but translates the language of the heart.
Samuel Taylor Coleridge (1772 – 1834)
Desire
fleursdumal.nl magazine
More in: Archive C-D, Coleridge, Coleridge, Samuel Taylor
---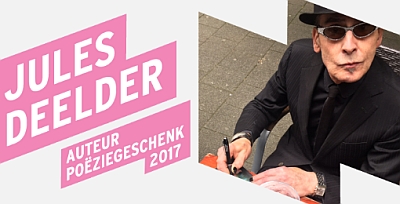 Humor en poëzie? "Jawel", zegt Jules Deelder (Rotterdam-Overschie, 1944), die het Poëziegeschenk 2017 zal schrijven. Met het thema humor in de Poëzieweek 2017 komt er aandacht voor gedichten die op de lachspieren werken, uit hilariteit, herkenbaarheid of uit ironie. Humor is in Deelders poëzie in ieder geval geen curiosum. Deze Nederlandse dichter van een omvangrijk oeuvre staat in binnen- en buitenland bekend om zijn memorabele performances, waarbij de Beat Generation nooit veraf lijkt.
Aan de vooravond van de Poëzieweek wordt in Nederland voor de 23ste keer de VSB Poëzieprijs uitgereikt en in Vlaanderen de Herman de Coninckprijs. De Poëzieweek start op donderdag 26 januari in Vlaanderen en Nederland met Gedichtendag en loopt t/m woensdag 1 februari; de prijsuitreiking van de Turing Gedichtenwedstrijd. Tijdens de Poëzieweek krijgen de klanten van de boekhandel bij aankoop van € 12,50 aan poëzie het Poëziegeschenk cadeau.
Gedichten worden in onze contreien eerder met ernst dan met humor geassocieerd. Het verdriet is eindeloos en de liefde hopeloos. Toch wordt er ook heel wat afgelachen in poëtenland. Soms is er de luide bulderlach bij een kolderiek nonsensgedicht, vaak is er ook een grijns van herkenning. De verwarrende situatie die de dichter beschrijft, hebben we zelf allemaal ook meegemaakt. Humor in poëzie kan ook wat ongemakkelijk zijn: valt hier wel om te lachen? Dichters gebruiken humor ook in de vorm van ironie of spot om een maatschappelijke wantoestand aan te klagen. Humor is bovenal een manier om met de meerduidigheid van de dingen om te gaan en dat is bij poëzie niet anders…
J.A. Deelder zette zijn eerste stappen in zijn carrière als performer in 1966. Na zijn poëziedebuut Gloria Satoria bij De Bezige Bij volgden nog vele bundels met als meest recente publicaties Tussentijds (2008), Ruisch (2011), Het graf van Descartes (2013) en Dag en nacht (2014). In zijn vaak absurdistische, maar steeds glasheldere poëzie wordt de jazz haast tastbaar. De onderwerpen die Deelder aansnijdt zijn de Tweede Wereldoorlog, Duitsland, Rotterdam, jazz en het leven van Deelder zelf. In 1982 debuteerde Deelder als prozaïst met Schöne Welt. Hierna verschenen een groot aantal verhalenbundels en gelegenheidsuitgaven waaronder Deelderama (2001), Swingkoning (2006) en Deelder lacht (2007). Deelder ontving voor zijn gehele oeuvre de Anna Blaman Prijs (1988), de Johnny Van Doorn-prijs voor de gesproken letteren (1999), en de Tollensprijs (2005). In 2005 mocht hij ook een Edison voor zijn cd Deelder blijft draaien in ontvangst nemen.
De Poëzieweek is een Nederlands-Vlaamse samenwerking van Stichting Poetry International, Poëziecentrum, Iedereen Leest Vlaanderen, Stichting Lezen Nederland, Awater, Poëzieclub, Het Literatuurhuis, Wintertuin, SLAG, Taalunie, SSS, het Nederlands Letterenfonds, Vlaams Fonds voor de Letteren, Turing Foundation, VSBfonds, Boek.be en de CPNB. Met de bundeling van deze activiteiten willen de organisatoren een groter bereik creëren voor poëzie.
fleursdumal.nl magazine
More in: Archive C-D, Art & Literature News, Jules Deelder, LIGHT VERSE, Literary Events, Poëzieweek
---
Nieuwe tentoonstelling Schilderen met woorden. Een nieuwe kijk op de poëzie van Louis Couperus. 13 november 2016 – 8 mei 2017 in het Louis Couperus Museum.
Gedurende een groot deel van zijn leven (om precies te zijn 25 jaar) heeft Louis Couperus poëzie geschreven. Tot nu toe is er te weinig aandacht geschonken aan dit onderwerp.
Deze winter visualiseert het Louis Couperus Museum de dichtkunst van de Haagse schrijver door middel van afbeeldingen en beeldhouwwerk waardoor de schrijver was geïnspireerd.
Tentoonstelling
Aan de wanden worden representatieve gedichten of citaten daaruit groot weer gegeven, op textiel afgedrukt. Bij elk fragment komt een afbeelding te hangen die inhoudelijk in verband staat met het betreffende gedicht. Reproducties van schilderijen – in een enkel geval zelfs een beeldhouwwerk – hebben Couperus soms regelrecht tot voorbeeld gediend. Ook de doorwerking van zijn poëzie in zijn proza komt aan bod. Op de televisiemonitor is een voordracht van zijn dichtkunst door acteur Joop Keesmaat te zien en te horen.
De expositie is gecentreerd rond 5 thema's uit Couperus' poëzie. Allereerst de figuur van Petrarca die hem de Laura-cyclus in gaf. Ten tweede de salon-schilderkunst uit de negentiende eeuw en daarmee samenhangend gedichten waarin Couperus bijna letterlijk 'met woorden schildert'. Vervolgens het beeld Alba van de Friese beeldhouwer Pier Pander, dat Couperus in het gelijknamige sonnet bezong. Dan de wereld van de Arthurlegenden die hem zo boeide, en de door Italië geïnspireerde gedichten. De 'aardse Couperus' (Arjan Peters) komt in de 'sonnettenroman' Endymion aan bod. Hierin vereenzelvigt Couperus zich met een volksjongen die in de klassieke metropool Alexandrië allerlei avonturen beleeft. Dit wordt op eigentijdse wijze gevisualiseerd door een stripverhaal van de hand van Mees Arnzt, een student van de Koninklijke Academie voor Beeldende Kunsten.
Verantwoording
De tentoonstelling wordt ingericht door gastconservator Frans van der Linden, medewerker van het Louis Couperus Museum, winnaar van de Couperuspenning en samensteller van het boekje O gouden, stralenshelle fantazie! Bloemlezing uit de poëzie van Louis Couperus (in de Prominentreeks van Uitgeverij Tiem, 2015).
De expositie wordt mede mogelijk gemaakt dankzij een bijdrage van het Prins Bernhard Cultuurfonds.
schilderen met woorden.
een nieuwe kijk op de poëzie van Couperus
13 november 2016 – 8 mei 2017
Louis Couperus Museum
Javastraat 17
2585 AB Den Haag
070-3640653
info@louiscouperusmuseum.nl
Openingstijden
Woensdag t/m zondag 12.00-17.00 uur
Voor groepen ook op afspraak
Het gehele jaar door geopend, met uitzondering van 1ste en 2de Kerstdag en Nieuwjaarsdag
Toegankelijk voor gehandicapten
# Meer informatie op website van het Couperus Museum
fleursdumal.nl magazine
More in: Archive C-D, Archive C-D, Art & Literature News, DICTIONARY OF IDEAS, Literary Events, Louis Couperus, Museum of Literary Treasures
---
Hart Crane
(1889 – 1932)
North Labrador
A land of leaning ice
Hugged by plaster-grey arches of sky,
Flings itself silently
Into eternity.
"Has no one come here to win you,
Or left you with the faintest blush
Upon your glittering breasts?
Have you no memories, O Darkly Bright?"
Cold-hushed, there is only the shifting moments
That journey toward no Spring –
No birth, no death, no time nor sun
In answer.
Hart Crane poetry
fleursdumal.nl magazine
More in: Archive C-D, Crane, Hart
---
Older Entries »
« Newer Entries
Thank you for reading FLEURSDUMAL.NL - magazine for art & literature