Archive C-D
«« Previous page
·
Jean Cocteau: The Difficulty of Being
·
Bob Dylan compleet. Het verhaal van de 492 songs – 2e druk
·
Paul van Ostaijen gedicht: Aan Cendrars
·
G.K. Chesterton: Lepanto
·
The Nobel Lecture Hardcover by Bob Dylan
·
Robert Desnos: Que voulez-vous que je vous dise ?
·
Gaëlle Nohant: Légende d'un dormeur éveillé ( Histoire du poète Robert Desnos)
·
Robert Desnos: Porte du second infini. À Antonin Artaud
·
Thomas Eyskens: Toen met een lijst van nu errond. Herman de Coninck biografie
·
Robert Desnos: Lumière de mes nuits Youki
·
Alex Dimitrov: Together and By Ourselves
·
Hart Crane: Interior
Reflections on life and art from the legendary filmmaker-novelist-poet-genius.
By the time he published The Difficulty of Being in 1947, Jean Cocteau had produced some of the most respected films and literature of the twentieth century, and had worked with the foremost artists of his time, including Proust, Gide, Picasso and Stravinsky.
This memoir tells the inside account of those achievements and of his glittering social circle. Cocteau writes about his childhood, about his development as an artist, and the peculiarity of the artist's life, about his dreams, friendships, pain, and laughter. He probes his motivations and explains his philosophies, giving intimate details in soaring prose. And sprinkled throughout are anecdotes about the elite and historic people he associated with.
Beyond illuminating a truly remarkable life, The Difficulty of Being is an inspiring homage to the belief that art matters.
Jean Cocteau (1889-1963) was a novelist, poet, filmmaker, artist and playwright. Born in a village just outside of Paris, he left home at fifteen and published his first volume of poetry, Aladdin's Lamp, at nineteen. He circulated in the highest ranks of bohemian Paris, and counted Picasso and Proust among his close friends. His most famous works include the novel Les Enfants terribles and the films Beauty and the Beast and Orpheus. He was openly gay and at one time an opium addict. He died of a heart attack after being informed of the death of his friend, the singer Edith Piaf.
The Neversink Library champions books from around the world that have been overlooked, under appreciated, looked askance at, or foolishly ignored.
The Difficulty of Being
BY Jean Cocteau
Introduction by Geoffrey O'Brien
Translated by Elizabeth Sprigge
Publisher: Melville House
Reflections on life and art from the legendary filmmaker-novelist-poet-genius.
Part of The Neversink Library
Pages176
ISBN9781612192901
"One of the master craftsmen." – Tennessee Williams
  #  more  on  website  of  The  Neversink  Library  
fleursdumal.nl magazine
More in: - Book News, - Book Stories, Archive C-D, Archive C-D, Art & Literature News, CINEMA, RADIO & TV, Jean Cocteau, THEATRE
---
Bob Dylan Compleet is een reis van het absolute begin naar het meest recente einde, onderweg stoppend bij albums en outtakes, films en concerten – alles gebaseerd op interviews met de songwriter zelf en de muzikanten, producers en bekenden om hem heen.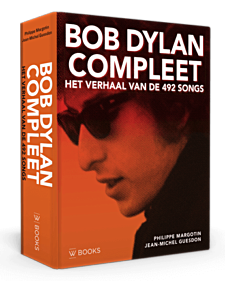 Daarbij is het boek rijk geïllustreerd met zowel iconische als onbekendere foto's van de beste fotografen uit de rockscene. Dit is een bijbel voor alle fans die het waard is om keer op keer uit de kast getrokken te worden bij het beluisteren van de klassieke liedjes.
Het is een uitgebreid en onmisbaar overzicht van een muzikale carrière die dit jaar werd en wordt gevierd met de 75ste verjaardag van Bob Dylan, een nieuw album en een optreden op Coachella (een van de grootste muziekfestivals in Amerika). Daarbij heeft Dylan de Nobelprijs voor de Literatuur in 2016 gewonnen.
704 pagina's, 492 nummers. Bob Dylan Compleet vertelt chronologisch en zonder een detail over te slaan het verhaal van een songwriter en muzikant die niet alleen in de muziek- maar ook in de wereldgeschiedenis een bijzondere plaats in neemt.
Philippe Margotin en Jean-Michel Guesdon schreven eerder de internationale hit The Beatles Compleet.
Jean-Michel Guesdon, Philippe Margotin
Bob Dylan compleet I
Het verhaal van de 492 songs – 2e druk
ISBN 9789462581548
Jaar 2016
2e Druk 2017
€ 59,95
704 pagina's
Taal Nederlands
Gebonden
Formaat 20,5 x 27 cm
Uitgeverij WBOOKS B.V.
fleursdumal.nl magazine
More in: - Book News, - Book Stories, Archive C-D, Art & Literature News, Bob Dylan, Dylan, Bob
---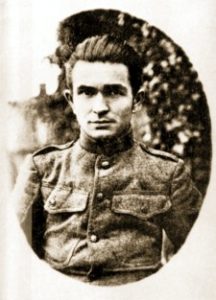 Aan Cendrars
Man              loopt              straat
luide  stem  tussen  huizen
hij               roept
                klinkt  klinker  klaar
Blaise         Blaise      BLAIS –
                                 se
               gij zijt het
               Cendrars
Paul van Ostaijen
(1896 – 1928)
Aan Cendrars
fleursdumal.nl magazine
More in: *Concrete + Visual Poetry K-O, Archive C-D, Archive O-P, Cendrars, Blaise, Ostaijen, Paul van, Paul van Ostaijen, Paul van Ostaijen
---
G.K. Chesterton
Lepanto
White founts falling in the Courts of the sun,
And the Soldan of Byzantium is smiling as they run;
There is laughter like the fountains in that face of all men feared,
It stirs the forest darkness, the darkness of his beard;
It curls the blood-red crescent, the crescent of his lips;
For the inmost sea of all the earth is shaken with his ships.
They have dared the white republics up the capes of Italy,
They have dashed the Adriatic round the Lion of the Sea,
And the Pope has cast his arms abroad for agony and loss,
And called the kings of Christendom for swords about the Cross.
The cold queen of England is looking in the glass;
The shadow of the Valois is yawning at the Mass;
From evening isles fantastical rings faint the Spanish gun,
And the Lord upon the Golden Horn is laughing in the sun.
Dim drums throbbing, in the hills half heard,
Where only on a nameless throne a crownless prince has stirred,
Where, risen from a doubtful seat and half attainted stall,
The last knight of Europe takes weapons from the wall,
The last and lingering troubadour to whom the bird has sung,
That once went singing southward when all the world was young.
In that enormous silence, tiny and unafraid,
Comes up along a winding road the noise of the Crusade.
Strong gongs groaning as the guns boom far,
Don John of Austria is going to the war,
Stiff flags straining in the night-blasts cold
In the gloom black-purple, in the glint old-gold,
Torchlight crimson on the copper kettle-drums,
Then the tuckets, then the trumpets, then the cannon, and he comes.
Don John laughing in the brave beard curled,
Spurning of his stirrups like the thrones of all the world,
Holding his head up for a flag of all the free.
Love-light of Spain–hurrah!
Death-light of Africa!
Don John of Austria
Is riding to the sea.
Mahound is in his paradise above the evening star,Lepanto
(Don John of Austria is going to the war.)
He moves a mighty turban on the timeless houri's knees,
His turban that is woven of the sunsets and the seas.
He shakes the peacock gardens as he rises from his ease,
And he strides among the tree-tops and is taller than the trees;
And his voice through all the garden is a thunder sent to bring
Black Azrael and Ariel and Ammon on the wing.
Giants and the Genii,
Multiplex of wing and eye,
Whose strong obedience broke the sky
When Solomon was king.
They rush in red and purple from the red clouds of the morn,
From the temples where the yellow gods shut up their eyes in scorn;
They rise in green robes roaring from the green hells of the sea
Where fallen skies and evil hues and eyeless creatures be,
On them the sea-valves cluster and the grey sea-forests curl,
Splashed with a splendid sickness, the sickness of the pearl;
They swell in sapphire smoke out of the blue cracks of the ground,–
They gather and they wonder and give worship to Mahound.
And he saith, "Break up the mountains where the hermit-folk can hide,
And sift the red and silver sands lest bone of saint abide,
And chase the Giaours flying night and day, not giving rest,
For that which was our trouble comes again out of the west.
We have set the seal of Solomon on all things under sun,
Of knowledge and of sorrow and endurance of things done.
But a noise is in the mountains, in the mountains, and I know
The voice that shook our palaces–four hundred years ago:
It is he that saith not 'Kismet'; it is he that knows not Fate;
It is Richard, it is Raymond, it is Godfrey at the gate!
It is he whose loss is laughter when he counts the wager worth,
Put down your feet upon him, that our peace be on the earth."
For he heard drums groaning and he heard guns jar,
(Don John of Austria is going to the war.)
Sudden and still–hurrah!
Bolt from Iberia!
Don John of Austria
Is gone by Alcalar.
St. Michaels on his Mountain in the sea-roads of the north
(Don John of Austria is girt and going forth.)
Where the grey seas glitter and the sharp tides shift
And the sea-folk labour and the red sails lift.
He shakes his lance of iron and he claps his wings of stone;
The noise is gone through Normandy; the noise is gone alone;
The North is full of tangled things and texts and aching eyes,
And dead is all the innocence of anger and surprise,
And Christian killeth Christian in a narrow dusty room,
And Christian dreadeth Christ that hath a newer face of doom,
And Christian hateth Mary that God kissed in Galilee,–
But Don John of Austria is riding to the sea.
Don John calling through the blast and the eclipse
Crying with the trumpet, with the trumpet of his lips,
Trumpet that sayeth ha!
Domino gloria!
Don John of Austria
Is shouting to the ships.
King Philip's in his closet with the Fleece about his neck
(Don John of Austria is armed upon the deck.)
The walls are hung with velvet that is black and soft as sin,
And little dwarfs creep out of it and little dwarfs creep in.
He holds a crystal phial that has colours like the moon,
He touches, and it tingles, and he trembles very soon,
And his face is as a fungus of a leprous white and grey
Like plants in the high houses that are shuttered from the day,
And death is in the phial and the end of noble work,
But Don John of Austria has fired upon the Turk.
Don John's hunting, and his hounds have bayed–
Booms away past Italy the rumour of his raid.
Gun upon gun, ha! ha!
Gun upon gun, hurrah!
Don John of Austria
Has loosed the cannonade.
The Pope was in his chapel before day or battle broke,
(Don John of Austria is hidden in the smoke.)
The hidden room in man's house where God sits all the year,
The secret window whence the world looks small and very dear.
He sees as in a mirror on the monstrous twilight sea
The crescent of his cruel ships whose name is mystery;
They fling great shadows foe-wards, making Cross and Castle dark,
They veil the plumèd lions on the galleys of St. Mark;
And above the ships are palaces of brown, black-bearded chiefs,
And below the ships are prisons, where with multitudinous griefs,
Christian captives sick and sunless, all a labouring race repines
Like a race in sunken cities, like a nation in the mines.
They are lost like slaves that sweat, and in the skies of morning hung
The stair-ways of the tallest gods when tyranny was young.
They are countless, voiceless, hopeless as those fallen or fleeing on
Before the high Kings' horses in the granite of Babylon.
And many a one grows witless in his quiet room in hell
Where a yellow face looks inward through the lattice of his cell,
And he finds his God forgotten, and he seeks no more a sign–
(But Don John of Austria has burst the battle-line!)
Don John pounding from the slaughter-painted poop,
Purpling all the ocean like a bloody pirate's sloop,
Scarlet running over on the silvers and the golds,
Breaking of the hatches up and bursting of the holds,
Thronging of the thousands up that labour under sea
White for bliss and blind for sun and stunned for liberty.
Vivat Hispania!
Domino Gloria!
Don John of Austria
Has set his people free!
Cervantes on his galley sets the sword back in the sheath
(Don John of Austria rides homeward with a wreath.)
And he sees across a weary land a straggling road in Spain,
Up which a lean and foolish knight for ever rides in vain,
And he smiles, but not as Sultans smile, and settles back the blade….
(But Don John of Austria rides home from the Crusade.)
G. K. Chesterton (1874 – 1936)
Poetry: Lepanto
fleursdumal.nl magazine
More in: Archive C-D, Chesterton, Gilbert Keith, G.K. Chesterton
---
Published for the first time in a beautiful collectible edition, the essential lecture delivered by the 2016 recipient of the Nobel Prize in Literature, Bob Dylan.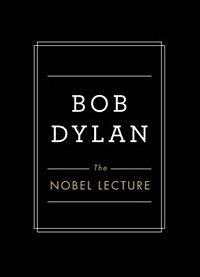 On October 13, 2016, Bob Dylan was awarded the Nobel Prize in Literature, recognizing his countless contributions to music and letters over the last fifty years. Some months later, he delivered an acceptance lecture that is now memorialized in book form for generations to come.
In The Nobel Lecture, Dylan reflects on his life and experience with literature, providing both a rare artistic statement and an intimate look at a uniquely American icon.
From finding inspiration in the music of Buddy Holly and Leadbelly to the works of literature that helped shape his own approach to writing—The Odyssey, Moby-Dick, and All Quiet on the Western Front—this is Dylan like you've never seen him before.
Bob Dylan
The Nobel Lecture Hardcover
32 pages
Hardcover
October 31, 2017
Language: English
ISBN-10: 1501189409
ISBN-13: 978-1501189401
$10.73
Publisher: Simon & Schuster
fleursdumal.nl magazine
More in: - Book News, - Bookstores, Archive C-D, Art & Literature News, Awards & Prizes, Bob Dylan, Dylan, Bob
---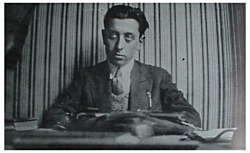 Que voulez-vous que je vous dise ?
À Théodore Fraenkel
C'est la pure vérité
Comme un manchon
Ma belle dame mettez vos deux mains
dans le bec de gaz
nous y verrons plus clair
Vous êtes perdue si vous ne m'égratignez
pas un peu
pour voir
plus clair
Un bateau s'arrête et fait son
testament
Les champs de blé réclament longuement la coiffure à la frégate.
Le mystérieux concierge enfonce
avec précaution sa clef dans ton œil
après vingt ans on est prié de dire son nom
mais la postérité n'exige pas de carte d'identité
à vos souhaits
Les miens sont simples
me donne à boire durant toute la mort
qu'on me fiche la guerre.
Robert Desnos (1900 – 1945)
Que voulez-vous que je vous dise ?
À Théodore Fraenkel
fleursdumal.nl magazine
More in: Archive C-D, Desnos, Robert, SURREALISM
---
Robert Desnos a vécu mille vies – écrivain, critique de cinéma, chroniqueur radio, résistant de la première heure –, sans jamais se départir de sa soif de liberté.
Pour raconter l'histoire extraordinaire de ce dormeur éveillé, Gaëlle Nohant épouse ses pas ; comme si elle avait écouté les battements de son cœur, s'était assise aux terrasses des cafés en compagnie d'Éluard ou de García Lorca, avait tressailli aux anathèmes d'André Breton, fumé l'opium avec Yvonne George, et dansé sur des rythmes endiablés au Bal Blomet aux côtés de Kiki et de Jean-Louis Barrault. S'identifiant à Youki, son grand amour, la romancière accompagne Desnos jusqu'au bout de la nuit.
Légende d'un dormeur éveillé révèle le héros irrésistible derrière le poète et ressuscite une époque incandescente et tumultueuse, des années folles à l'Occupation.
Gaëlle Nohant: Née à Paris en 1973, Gaëlle Nohant vit aujourd'hui à Lyon. Légende d'un dormeur éveillé est son troisième roman après L'Ancre des rêves (prix Encre Marine, 2007) et La Part des flammes (prix France Bleu/Page des libraires, 2015 et prix du Livre de Poche, 2016).
Gaëlle Nohant
Légende d'un dormeur éveillé
Roman
544 pages
23€
Paru le 17 août 2017
Illustration de couverture © Letizia Goffi
Éditions Héloïse d'Ormesson
ISBN : 978-2-35087-419-7
fleursdumal.nl magazine
More in: - Book News, - Book Stories, Archive C-D, Archive M-N, Art & Literature News, Desnos, Robert, REPRESSION OF WRITERS, JOURNALISTS & ARTISTS, HOLOCAUST, WAR, Surrealism, Surrealisme
---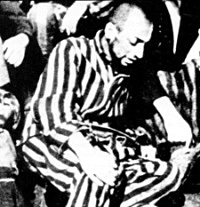 Porte du second infini
À Antonin Artaud
L'encrier périscope me guette au tournant
mon porte-plume rentre dans sa coquille
La feuille de papier déploie ses grandes ailes blanches
Avant peu ses deux serres
m'arracheront les yeux
Je verrai que du feu mon corps
feu mon corps !
Vous eûtes l'occasion de le voir en grand appareil
le jour de tous les ridicules
Les femmes mirent leurs bijoux dans leur bouche
comme Démosthène
Mais je suis inventeur d'un téléphone de
verre de Bohême et de
tabac anglais
en relation directe
avec la peur !
Robert Desnos (1900 – 1945)
Porte du second infini
À Antonin Artaud
fleursdumal.nl magazine
More in: Antonin Artaud, Archive C-D, Desnos, Robert, REPRESSION OF WRITERS, JOURNALISTS & ARTISTS, HOLOCAUST, WAR, SURREALISM
---
Met De lenige liefde (1969) werd Herman de Coninck op slag de populairste dichter van Vlaanderen, 'de man die zijn volk poëzie leerde lezen'.
Ook als leraar, journalist en geëngageerd hoofdredacteur van het Nieuw Wereldtijdschrift was hij van grote betekenis.
Na een leven vol poëzie bezweek hij in 1997 op een literair congres in Lissabon aan een hartaanval.
Nu is er dan eindelijk een biografie van de hand van Thomas Eyskens op basis van vele gesprekken met familie, vrienden en collega's, nooit eerder gepubliceerd fotomateriaal en nagelaten correspondentie. Een rijk portret van 'leven en werken, schrijven en liefhebben'.
Thomas Eyskens
Toen met een lijst van nu errond
Herman de Coninck biografie
Hardcover
ISBN: 9789029511407
Prijs: € 34,99
Publicatiedatum: 03-10-2017
Herman de Coninck biografie
fleursdumal.nl magazine
More in: - Book News, - Book Stories, Archive C-D, Archive C-D, Art & Literature News, BIOGRAPHY, Coninck, Herman de, DEAD POETS CORNER
---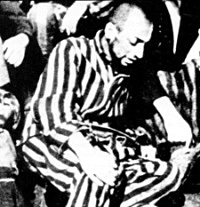 Le Livre secret pour Youki
Te souviens-tu des nuits où tu apparaissais
Sur le rectangle clair des vitres de ma porte ?
Où tu surgissais dans les ténèbres de ma maison
Où tu t'abattais sur mon lit comme un grand oiseau
Fatigué de passer les océans et les plaines et les forêts.
Te souviens-tu de tes paroles de salut
Te souviens-tu de mes paroles de bienvenue
de mes paroles d'amour ?
Non, il ne t'en souvient pas,
On ne se souvient pas du présent, personne…
Or, il est nuit,
Tu surviens, tu arrives, tu t'abats sur mon lit
Je suis ton serviteur et ton défenseur soumis
à ta loi et toi soumise à mon amour.
Il est minuit il est midi
Il est minuit et quart
Il est minuit et demie
Il est minuit à venir ou midi passé
Il est midi sonnant
Il est toujours midi sonnant pour mon amour
Pour notre amour
Tout sonne tout frémit et tes lèvres
Et sur mon lit tu t'abats entre minuit
et quatre heures du matin comme un grand albatros
Échappé des tempêtes.
Robert Desnos (1900 – 1945)
Lumière de mes nuits Youki 1932
dans Destinée arbitraire
fleursdumal.nl magazine
More in: Archive C-D, Desnos, Robert, Surrealism
---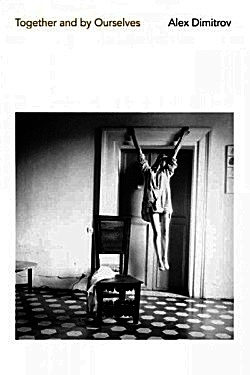 Together and by Ourselves, Alex Dimitrov's second book of poems, takes on broad existential questions and the reality of our current moment: being seemingly connected to one another, yet emotionally alone. Through a collage aesthetic and a multiplicity of voices, these poems take us from coast to coast, New York to LA, and toward uneasy questions about intimacy, love death, and the human spirit.
Dimitrov critiques America's long-lasting obsessions with money, celebrity, and escapism — whether in our personal or professional lives. What defines a life? Is love ever enough? Who are we when together and who are we by ourselves? These questions echo throughout the poems, which resist easy answers. The voice is both heartfelt and skeptical, bruised yet playful, and always deeply introspective.
Cocaine
People disappear.
And go looking for a place to be looked at.
All the way down Wilshire and above us: like a sheet of indigo tile.
As we waited, our nicotine glowed in the distance like flies
to some heaven, some high road.
"Who sat on mountaintops in cars reading books aloud to the canyons?"
Like gods and at home being extras at best.
I almost believed love then someone new called me
and time's been repeating. Time's on like a show.
(. . .)
When the car you steer best is not yours; or the body.
The house and the job. Rooms of white lines. Gold lobbies.
We cringe at these lists but without them, who's counting?
From the book: Together and By Ourselves
by: Alex Dimitrov
Alex Dimitrov
Together and By Ourselves
Publisher: Copper Canyon Press
$16.00, paperback, 2017
isbn 978-1-55659-510-3
cover-photo: Francesca Woodman
fleursdumal.nl magazine
More in: - Book News, Archive C-D, Art & Literature News, Francesca Woodman
---
Interior
It sheds a shy solemnity,
This lamp in our poor room.
O grey and gold amenity, —
Silence and gentle gloom!
Wide from the world, a stolen hour
We claim, and none may know
How love blooms like a tardy flower
Here in the day's after-glow.
And even should the world break in
With jealous threat and guile,
The world, at last, must bow and win
Our pity and a smile.
Hart Crane (1889 – 1932)
Interior
fleursdumal.nl magazine
More in: Archive C-D, Crane, Hart
---
Older Entries »
« Newer Entries
Thank you for reading FLEURSDUMAL.NL - magazine for art & literature