WAR & PEACE
«« Previous page
·
Roswitha Mair: Käthe Kollwitz. Ein Leben gegen jede Konvention
·
Laurence Binyon poetry: The Pity of It
·
Expositie Charlotte Salomon in Joods Historisch Museum Amsterdam
·
Robert Desnos: Faire part
·
Ysabelle Lacamp: Ombre parmi les ombres (Roman)
·
Bruno Fuligni: Mata Hari. Les vies insolentes de l'agent H 21
·
Laurence Binyon poetry: Ypres
·
Masha Gessen: The Future is History = winner of the 2017 National Book Award for Nonfiction
·
Prix Renaudot 2017 pour 'La Disparition de Josef Mengele' d'Olivier Guez
·
Prix Goncourt 2017 pour 'L'ordre du jour' d' Eric Vuillard
·
Barbara Zoeke: Die Stunde der Spezialisten
·
The Last Revolution – Nexus-conferentie 2017
Sie gilt als Künstlerin des sozialen Elends und der schmerzlichen Tragik des Krieges – Käthe Kollwitz.
Fröhlich, unkonventionell, sinnlich, neugierig – all das ist sie Zeit ihres Lebens. Immer wieder bricht Kollwitz mit gängigen Konventionen. So reist die Mutter von zwei Kindern etwa 1904 alleine nach Paris – eigentlich undenkbar zu dieser Zeit -, um die Kunst des plastischen Gestaltens zu lernen. Dort trifft sie u.a. auf Rodin.
Als zu Beginn des Ersten Weltkrieges ihr Sohn ums Leben kommt, beherrscht dieses Trauma über viele Jahre ihr Leben wie auch ihre Kunst.1919 wird sie als erste Frau Professorin an der Preußischen Akademie der Künste, bis nach Hitlers Machtergreifung ein dunkler Schatten über das Land zieht und sich auch auf ihr Leben legt.
Eine tiefgründige Romanbiografie, die das außergewöhnliche Leben dieser beeindruckenden Künstlerin facettenreich einfängt.
Roswitha Mair, Dr. phil., ist Kunsthistorikerin und lebt in Innsbruck. Zahlreiche Veröffentlichungen und Beiträge zur Kunst des 20. Jahrhunderts sowie Organisation und Konzeption von Kunstausstellungen.
Roswitha Mair :
Käthe Kollwitz.
Ein Leben gegen jede Konvention.
Romanbiografie
'Herder Spektrum Taschenbücher'
Herder Verlag GmbH
Juni 2017
231 Seiten
Kartoniert – Broschiert
Sprache: Deutsch
€16,00
EAN: 9783451069734
ISBN: 3451069733
new books
fleursdumal.nl magazine
More in: - Book News, Archive K-L, Archive M-N, Art & Literature News, Galerie Deutschland, Käthe Kollwitz, Sculpture, WAR & PEACE
---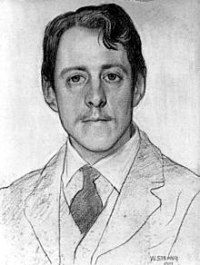 The Pity of It
I walked in loamy Wessex lanes, afar
From rail-track and from highway, and I heard
In field and farmstead many an ancient word
Of local lineage like "Thu bist," "Er war,"
"Ich woll," "Er sholl," and by-talk similar,
Nigh as they speak who in this month's moon gird
At England's very loins, thereunto spurred
By gangs whose glory threats and slaughters are.
Then seemed a Heart crying: "Whosoever they be
At root and bottom of this, who flung this flame
Between folk kin tongued even as are we,
"Sinister, ugly, lurid, be their fame;
May their familiars grow to shun their name,
And their brood perish everlastingly."
Laurence Binyon
(1869 – 1943)
The Pity of It
fleursdumal.nl magazine
More in: Archive A-B, CLASSIC POETRY, WAR & PEACE
---
Het Joods Historisch Museum markeert het honderdste geboortejaar van kunstenares Charlotte Salomon (1917-1943) met een bijzondere tentoonstelling gewijd aan haar artistieke nalatenschap: het kunstwerk Leven? of Theater?
Charlotte Salomon was 22 jaar toen ze in december 1938 vanuit Berlijn als vluchteling bij haar grootouders in Zuid-Frankrijk aankwam. Toen bij het uitbreken van de Tweede Wereldoorlog haar grootmoeder zelfmoord pleegde, begon Charlotte aan een 'totaal waanzinnig project' om mentaal te overleven. In vele honderden gouaches herschiep ze haar leven als een geschilderd theaterstuk. Charlotte Salomon werd in 1943 in Auschwitz vermoord.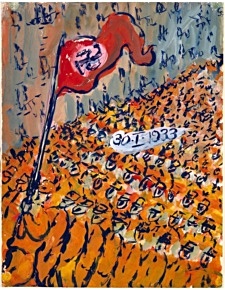 Na de Tweede Wereldoorlog vonden haar vader en zijn vrouw Leven? of Theater? in Zuid-Frankrijk. Zij schonken het in 1971 aan het Joods Historisch Museum. De afgelopen decennia reisden delen van het werk langs musea wereldwijd. Salomons levenswerk heeft altijd intense reacties opgeroepen bij het publiek en inspireerde kunstenaars, filmers, schrijvers en choreografen tot eigen creaties. Het Joods Historisch Museum toont nu voor het eerst het werk in zijn totaal – ruim 800 gouaches.
Charlotte Salomon;
Leven? of theater?
Nog t/m 25 maart 2018
Joods Historisch Museum en JHM Kindermuseum
Nieuwe Amstelstraat 1
1011 PL Amsterdam
# meer info op website joods historisch museum
fleursdumal.nl magazine
More in: - Book Stories, Art & Literature News, Charlotte Salomon, FDM Art Gallery, Galerie des Morts, Holocaust, REPRESSION OF WRITERS, JOURNALISTS & ARTISTS
---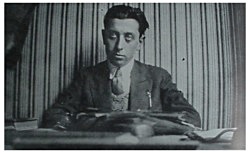 Faire part
Sur le pont du navire la couturière fait le point
couturière taille-moi un grand paon de mercure
je fais ce soir ma dernière communion
La dernière hirondelle fait l'automne
D'entre les becs de gaz blêmes
Se lève une figure sans signification.
Statues de verre flacon simulacre de l'amour
Vient la fameuse dame
Facteur de soustraction
avec une lettre pour moi
Mon cher Desnos Mon cher Desnos
Je vous donne rendez-vous
dans quelques jours
On vous préviendra
Vous mettrez votre habit d'outre monde
Et tout le monde sera bien content.
Robert Desnos
(1900 – 1945)
Faire part
fleursdumal.nl magazine
More in: Archive C-D, Archive C-D, Desnos, Robert, Holocaust, REPRESSION OF WRITERS, JOURNALISTS & ARTISTS, SURREALISM
---
L'histoire : Mai 45, libération du camp de Terezin. Un air de jazz siffloté par un petit tchèque aux oreilles en choux-fleurs bouleverse l'un des rescapés des camps qui vient d'échouer ici, au terme d'une longue marche de la mort.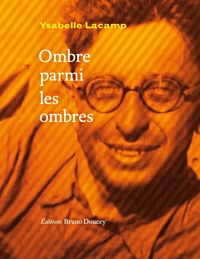 L'enfant s'appelle Leo Radek. Il est le dernier enfant survivant de Terezin, antichambre de la mort pour des milliers de juifs, où les nazis parquèrent des artistes pour servir de vitrine en une sordide mascarade. Lui aussi est bouleversé par la rencontre qu'il vient de faire : cet homme décharné, fiévreux, au regard bienveillant et si transparent, parle ce français qu'il aime, et c'est un poète.
Il s'appelle Robert Desnos. Comme un grand frère protecteur, le poète qui se meurt, trouve encore une fois les mots. Une rencontre inoubliable où la poésie triomphe sur la barbarie, et où l'humour est plus fort que la mort.
Quand Ysabelle Lacamp écrit, c'est une vibration tellurique qui la parcourt, la transcende et la brûle. Lorsque cette fièvre s'empare d'elle, elle fait la fête au verbe, rêve puissamment ses personnages, et nous emporte avec eux. Voilà pourquoi sa rencontre avec Robert Desnos, le poète volcanique qui fit danser les mots et les morts jusqu'à son dernier souffle, est une évidence de la vie. Dans ce camp de Terezin où elle nous entraîne, l'émotion est toujours à fleur de rire. Elle est l'auteure de nombreux romans, dont L'Homme sans fusil (Seuil, 2002), Le Jongleur de nuages (Flammarion, 2008) et, plus récemment, Marie Durand, Non à l'intolérance religieuse (Actes Sud junior, 2012). Son roman Ombre parmi les ombres est paru aux Éditions Bruno Doucey en 2018.
Ysabelle Lacamp:
Ombre parmi les ombres
(Roman)
Pages: 192
Prix: €16
ISBN : 978-2-36229-165-4
Format : Broché
Dimensions : 14cm X 18cm
Date de parution : 04/01/2018
ISBN : 978-2-36229-165-4
EAN : 9782362291654
Doucey éditions
new books
fleursdumal.nl magazine
More in: - Book News, - Book Stories, Archive C-D, Archive K-L, Art & Literature News, Desnos, Robert, WAR & PEACE
---
Peu de noms évoquent autant le mystère, la sensualité et l'intrigue que celui de Mata Hari. Son histoire est vraie, mais elle comporte tous les ingrédients d'un grand film d'aventure : ambition, argent, sexe, pouvoir et mort tragique…
Mère de famille, danseuse nue, espionne et femme fatale, Mata Hari a traversé plusieurs vies avant d'accéder au rang de personnage légendaire. Fusillée en 1917, elle a continué de vivre dans l'imaginaire collectif, devenant un mythe dont se sont emparés le cinéma et la publicité.
Première star mondiale, dont le nom sonne comme une marque, elle a inventé le strip-tease, créé un style vestimentaire et inauguré l'ère du renseignement technologique, puisque ce sont les interceptions de la tour Eiffel qui ont Iivré les secrets de l'«agent H 21». Une histoire folle d'une grande modernité.
À partir des archives de la Défense et d'une abondante documentation, Bruno Fuligni révèle la captivante histoire d'une vie faite d'amour, de mensonges et de subterfuges, la vie d'une femme dont le nom est devenu le symbole de l'espionnage au féminin.
Bruno Fuligni
Mata Hari. Les vies insolentes de l'agent H 21
Albums hors série, Gallimard Loisirs
Parution : 12-10-2017
192 pages, ill.,
sous couverture illustrée,
195 x 255 mm, cartonné
Genre : Albums illustrés Thème : histoire
Sous-thème : Temps présent (1914 – XXe s.)
ISBN : 9782742448012
Gencode : 9782742448012
Prix €35,00
new books
fleursdumal.nl magazine
More in: - Book News, - Book Stories, Archive E-F, Art & Literature News, CRIME & PUNISHMENT, FDM in Paris, Mata Hari, WAR & PEACE
---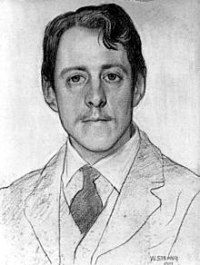 Ypres
She was a city of patience; of proud name,
Dimmed by neglecting Time; of beauty and loss;
Of acquiescence in the creeping moss.
But on a sudden fierce destruction came
Tigerishly pouncing: thunderbolt and flame
Showered on her streets, to shatter them and toss
Her ancient towers to ashes. Riven across,
She rose, dead, into never-dying fame.
White against heavens of storm, a ghost, she is known
To the world's ends. The myriads of the brave
Sleep round her. Desolately glorified,
She, moon-like, draws her own far-moving tide
Of sorrow and memory; toward her, each alone,
Glide the dark dreams that seek an English grave.
Laurence Binyon
(1869 – 1943)
Ypres
fleursdumal.nl magazine
More in: *War Poetry Archive, Archive A-B, WAR & PEACE
---
The visionary journalist and bestselling biographer of Vladimir Putin reveals how, in the space of a generation, Russia surrendered to a more virulent and invincible new strain of autocracy.
Hailed for her "fearless indictment of the most powerful man in Russia" (The Wall Street Journal), award-winning journalist Masha Gessen is unparalleled in her understanding of the events and forces that have wracked her native country in recent times.
In The Future Is History, she follows the lives of four people born at what promised to be the dawn of democracy. Each of them came of age with unprecedented expectations, some as the children and grandchildren of the very architects of the new Russia, each with newfound aspirations of their own—as entrepreneurs, activists, thinkers, and writers, sexual and social beings.
Gessen charts their paths against the machinations of the regime that would crush them all, and against the war it waged on understanding itself, which ensured the unobstructed reemergence of the old Soviet order in the form of today's terrifying and seemingly unstoppable mafia state. Powerful and urgent, The Future Is History is a cautionary tale for our time and for all time.
Masha Gessen's previous books include The Brothers: The Road to an American Tragedy and the national best seller The Man Without a Face: The Unlikely Rise of Vladimir Putin. She has immigrated to the United States twice—once, as a teenager, from the Soviet Union and again, more than thirty years later, from Putin's Russia. She lives in New York City.
Masha Gessen
The Future Is History
How Totalitarianism Reclaimed Russia
Hardcover
October 2017
528 Pages
ISBN 9781594634536
Published by Riverhead Books
fleursdumal.nl magazine
More in: - Book News, - Bookstores, Archive G-H, Art & Literature News, Awards & Prizes, PRESS & PUBLISHING, REPRESSION OF WRITERS, JOURNALISTS & ARTISTS, WAR & PEACE
---
1949: Josef Mengele arrive en Argentine. Caché derrière divers pseudonymes, l'ancien médecin tortionnaire à Auschwitz croit pouvoir s'inventer une nouvelle vie à Buenos Aires.
L'Argentine de Peron est bienveillante, le monde entier veut oublier les crimes nazis. Mais la traque reprend et le médecin SS doit s'enfuir au Paraguay puis au Brésil. Son errance de planque en planque, déguisé et rongé par l'angoisse, ne connaîtra plus de répit… jusqu'à sa mort mystérieuse sur une plage en 1979.  Comment le médecin SS a-t-il pu passer entre les mailles du filet, trente ans durant?

La Disparition de Josef Mengele est une plongée inouïe au cœur des ténèbres. Anciens nazis, agents du Mossad, femmes cupides et dictateurs d'opérette évoluent dans un monde corrompu par le fanatisme, la realpolitik, l'argent et l'ambition. Voici l'odyssée dantesque de Josef Mengele en Amérique du Sud. Le roman-vrai de sa cavale après-guerre.
Olivier Guez est l'auteur, entre autres, de L'Impossible retour, une histoire des juifs en Allemagne depuis 1945 (Flammarion), Éloge de l'esquive (Grasset) et Les Révolutions de Jacques Koskas (Belfond). Il a reçu en 2016 le prix allemand du meilleur scénario pour le film Fritz Bauer, un héros allemand.
Olivier Guez
La disparition de Josef Mengele Roman
EAN: 9782246855873
Parution: 16/08/2017
Pages: 240
Prix: €18.50
Editions Grasset
---
Prix Renaudot 2017 pour 'La Disparition de Josef Mengele' d'Olivier Guez
fleursdumal.nl magazines
---
More in: - Book News, - Bookstores, Archive Q-R, Art & Literature News, Awards & Prizes, PRESS & PUBLISHING, The Art of Reading, The talk of the town, WAR & PEACE
---
L'Allemagne nazie a sa légende. On y voit une armée rapide, moderne, dont le triomphe parait inexorable. Mais si au fondement de ses premiers exploits se découvraient plutôt des marchandages, de vulgaires combinaisons d'intérêts ?

Et si les glorieuses images de la Wehrmacht entrant triomphalement en Autriche dissimulaient un immense embouteillage de panzers ? Une simple panne ! Une démonstration magistrale et grinçante des coulisses de l'Anschluss par l'auteur de Tristesse de la terre et de 14 juillet.
Ils étaient vingt-quatre, près des arbres morts de la rive, vingt-quatre pardessus noirs, marron ou cognac, vingt-quatre paires d'épaules rembourrées de laine, vingt-quatre costumes trois pièces, et le même nombre de pantalons à pinces avec un large ourlet. Les ombres pénétrèrent le grand vestibule du palais du président de l'Assemblée ; mais bientôt, il n'y aura plus d'Assemblée, il n'y aura plus de président, et, dans quelques années, il n'y aura même plus de Parlement, seulement un amas de décombres fumants.
Éric Vuillard, né en 1968 à Lyon, est écrivain et cinéaste. Il a réalisé deux films, L'homme qui marche et Mateo Falcone. Il est l'auteur de Conquistadors (Léo Scheer, 2009, Babel n°1330), récompensé par le Grand prix littéraire du Web – mention spéciale du jury 2009 et le prix Ignatius J. Reilly 2010. Il a reçu le prix Franz-Hessel 2012 et le prix Valery-Larbaud 2013 pour deux récits publiés chez Actes Sud, La bataille d'Occident et Congo ainsi que le prix Joseph-Kessel 2015 pour Tristesse de la terre et le prix Alexandre Viallate pour 14 juillet.
Eric Vuillard
L'ordre du jour
Mai, 2017
160 pages
ISBN 978-2-330-07897-3
prix indicatif : 16, 00€
Actes Sud
Prix Goncourt 2017 pour 'L'ordre du jour' d' Eric Vuillard
fleursdumal.nl magazine
More in: - Book News, - Bookstores, Archive U-V, Art & Literature News, Awards & Prizes, PRESS & PUBLISHING, The Art of Reading, WAR & PEACE
---
Deutschland 1940: Max Koenig ist Professor für Altertumsforschung. Ein vererbtes Nervenleiden reißt ihn aus seinem beruflichen Leben und fort von seiner Familie.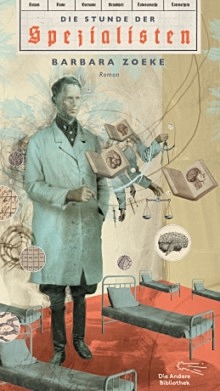 Er kommt in die Wittenauer Heilstätten und trifft dort auf Schwester Rosemarie, die versucht zu helfen, wo sie kann. Trotz seiner Hinfälligkeit wird Koenig zum Mittelpunkt einer kleinen Gruppe: dem Studienrat Dr. Carl Hohein, der eine Litanei auf die Farbe »Schwarz« komponiert, der jungen Pianistin Elfie, deren Hände zittern und die »Traumdeutsch« spricht, und schließlich Oscar, einem Jungen mit Trisomie 21.
Der Alltag auf der Station, die mangelhaften Essensrationen und die rassenhygienischen Kommentare der medizinischen »Spezialisten« werden nur durch die gegenseitige Unterstützung und kleine Freuden, wie die Besuche von Frau und Schwägerin, erträglich. Sie hoffen darauf, sich nach dem Krieg im Traumland Italien wiederzufinden. Doch Max Koenig und Oscar werden verlegt und ihren Angehörigen entzogen.
Töten wird sie Dr. Friedel Lerbe, ein Arzt, SS-Mann und fanatischer Verfechter der Rassenhygiene. Als Leiter einer Tötungsanstalt führt er das NS-»Euthanasie«-Programm mit bürokratischer Präzision aus – jedes Detail des Ablaufs wird von ihm kontrolliert. Ein ganzer Stab von »Pflegern«, Sekretärinnen, Technikern und Leichenbrennern steht diesem »Spezialisten« bei seinem Handwerk zur Seite.
Barbara Zoeke schildert das Geschehen aus unterschiedlichen Perspektiven – empathisch und erschütternd klar. Es gelingt ihr, dieses Verbrechen der Nationalsozialisten zu vergegenwärtigen und den Opfern, Angehörigen und Tätern eine literarische Stimme zu geben.
Barbara Zoeke erhält für ihren Roman "Die Stunde der Spezialisten" den Brüder-Grimm-Preis 2017 der Stadt Hanau!
Die Preisverleihung findet am 17. November in der Hanauer Stadtbibliothek/Kulturforum Hanau statt. Die Laudatio auf die Preisträgerin wird der Literatur-Chef der Frankfurter Allgemeinen Zeitung Andreas Platthaus halten. Die Auszeichnung ist mit 10.000 Euro dotiert.
Die Jury mit Literaturkritikerin Dr. Insa Wilke, Literaturprofessor Professor Dr. Heiner Boehncke und dem ehemaligen Vorsitzenden des hessischen Bibliotheksverbandes Aloys Lenz MdL a.D. votierte nach eingehender Diskussion der eingereichten Veröffentlichungen einstimmig für das kürzlich im Verlag "Die Andere Bibliothek" erschienene Buch. Der Magistrat der Stadt Hanau schloss sich einmütig dem Votum der Jury an.
Aus der Jury-Entscheidung:
"Barbara Zoekes Roman "Die Stunde der Spezialisten" widmet sich einem in der deutschsprachigen Literatur immer noch auffällig selten erzählten Verbrechen der Nationalsozialisten: der Ermordung von Psychiatriepatienten und Behinderten, allgemein unter dem Euphemismus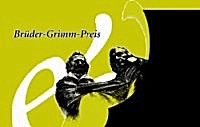 "Euthanasie" bekannt. Autorinnen wie Olga Martynova und entfernt auch Angela Steidele haben sich zuletzt mit diesem Stoff auseinandergesetzt; Barbara Zoeke ist jedoch die erste Autorin, die wohl auch aufgrund ihrer psychiatrischen Praxis die besondere Sprache der Patienten in eine literarische verwandelt und ihnen so auf besondere Weise ein Denkmal setzt. Virtuos komponiert sie auf diese Weise aus den Stimmen der Opfer wie auch der Täter in je spezifischen Sprechweisen ein beklemmendes Kunstwerk in humanistischen Traditionen, das bei seinen Leserinnen und Lesern für einen inneren Aufruhr sorgt, wie ihn nur hervorragende literarische Werke hervorzubringen imstande sind. Die Jury sieht in der meisterlichen Sprache des Romans und dem sensiblen Umgang mit den unterschiedlichen Stimmen überdies eine Nähe zu dem Werk der Brüder Grimm, das sich auf der Grenze zwischen Archiv, Sprachforschung und Erzählen bewegt."
Dr. Barbara Zoeke verbrachte ihre Kindheit im thüringischen Vogtland und studierte in Köln und Münster. Sie ist habilitierte Psychologin, forschte in den USA und war über mehrere Jahre im Vorstand der "International Society of Comparative Psychology". Sie lehrte und forschte an den Universitäten von Münster, Frankfurt, Würzburg und München. Neben wissenschaftlichen Arbeiten zur Wahrnehmung und zum Gedächtnis veröffentlichte sie erzählende Prosa, Lyrik und Sachbuchtexte. Die Autorin lebt seit 2008 in Berlin.
Barbara Zoeke
Die Stunde der Spezialisten
Seitenanzahl: 300
Originalausgaben
Bandnummer: 393
Originalausgabe,
nummeriert und limitiert
Gestaltung: Lars Henkel.
Kunstvolle Collagen für Cover,
Bezug, Vor- und Nachsatzpapier.
Fadenheftung, Lesebändchen.
ISBN: 9783847703938
2017 – 42,00 EUR
Die Andere Bibliothek
10969 Berlin
#  website  die  andere  bibliothek     

fleursdumal.nl magazine
More in: - Book News, - Bookstores, Archive Y-Z, Art & Literature News, DRUGS & MEDICINE & LITERATURE, Grimm, Andersen e.o.: Fables, Fairy Tales & Stories, WAR & PEACE
---
De Jasmijnrevolutie, de Egyptische Revolutie, Euromaidan: het is nu moeilijk voor te stellen dat de Russische Revolutie, precies een eeuw geleden, beloofde de laatste revolutie te zijn.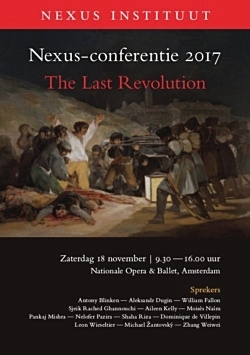 Ondanks bolsjewistisch optimisme en dromen van gelijkheid bracht zij evengoed, net als andere opstanden, een angstaanjagende vernietiging van vrijheid, waarden en waarheid.
Revoluties bleven volgen.
Vragen over mens en maatschappij blijven onopgelost. Vanwaar revoluties? Welke machten bevrijden en welke onderdrukken?
Wat leren we uit het feit dat de Franse Revolutie eindigde in een bloedbad, de Russische Revolutie verwerd tot totalitarisme, maar de Amerikaanse Revolutie succesvol was?
Op zaterdag 18 november brengt Nexus gezaghebbende denkers, politici, wetenschappers en ideologen van over de hele wereld bijeen voor een gezamenlijke zoektocht naar antwoorden, ideeën en argumenten.
Wat voor vrijheidsbeweging wacht de 21e eeuw? En wie zijn de individuen die tegen gevestigde machten in durven denken, die wel in opstand komen? Waar halen zij die kracht vandaan? Wat zal de ware laatste revolutie zijn?
Deelnemers
Antony Blinken – diplomaat en strateeg van Clinton en Obama
Aleksandr Dugin – politiek filosoof en adviseur van Poetin
William Fallon – oud-bevelhebber Amerikaanse strijdkrachtenDeelnemers
Sjeik Rached Ghannouchi – toppoliticus en leider Tunesische revolutie
Aileen Kelly – expert Russische intellectuele geschiedenis
Pankaj Mishra – essayist en romancier
Moisés Naím – Venezolaans staatsman en politiek filosoof
Nelofer Pazira – Afghaans-Canadees filmmaker en schrijver
Shaha Riza – Arabisch activist
Dominique de Villepin – Frans staatsman en diplomaat
Leon Wieseltier – publiek intellectueel
Michael Žantovský – diplomaat, vertaler, woordvoerder en vriend van Václav Havel
Zhang Weiwei – filosoof van China als belangrijkste supermacht
Conferentie
The Last Revolution
Nexus-conferentie 2017
Zaterdag 18 november 2017
9.30 — 16.00 uur
Nationale Opera & Ballet
Amsterdam
#  meer  info  op  website  nexus  instituut  

fleursdumal.nl magazine
More in: - Book News, - Book Stories, Art & Literature News, CRIME & PUNISHMENT, DICTIONARY OF IDEAS, Nexus Instituut, NONFICTION: ESSAYS & STORIES, PRESS & PUBLISHING, REPRESSION OF WRITERS, JOURNALISTS & ARTISTS, WAR & PEACE
---
Older Entries »
« Newer Entries
Thank you for reading FLEURSDUMAL.NL - magazine for art & literature