Dora Maria Sigerson Shorter: Ourselves Alone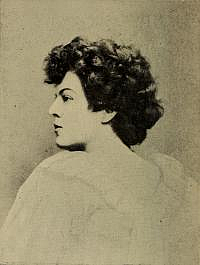 Ourselves Alone*
One morning, when dreaming in deep meditation,
I met a sweet colleen a-making her moan.
With sighing and sobbing she cried and lamented;
"Oh, where is my lost one, and where has he flown?
"My house it is small, and my field is but little,
Yet round flew my wheel as I sat in the sun,
He crossed the deep sea and went forth for my battle:
Oh, has he proved faithless—the fight is not won?"
And then I said: "Kathleen, ah! do you remember
When you were a queen, and your castles were strong,
You cried for the love of a cold-hearted stranger,
And in your fair island you planted the wrong?
"And oh," I cried, "Kathleen, I once heard you weeping
And sighing and sobbing and making your moan.
You sang of a lost one, a dear one, a false one—
'Oh, gone is my blackbird, and where has he flown?'
"Ah! many came forth to the sound of your crying,
And fought down the years for the freedom you pined.
How many lie still, in their cold exile sleeping,
Who sought in far lands your lost blackbird to find?
"And many are caught in the net of the stranger,
And all but forgotten the sound of your name,
For other loves call them to help and to save them:
They fell to dishonour—we hold them in shame.
"Oh, why drive me forth from your hearth into exile
And into far dangers? Your house is my own.
Faithful I serve, as I ever did serve you,
Standing together, ourselves—and alone."
*Sinn Fein Amhain
Dora Maria Sigerson Shorter
(1866 – 1918)
Ourselves Alone
• fleursdumal.nl magazine
More in: Archive S-T, Archive S-T, Sigerson Shorter, Dora Maria, WAR & PEACE