Archive C-D
·
Emily Dickinson: A Portrait (Poem)
·
Ellen Deckwitz: Dit gaat niet over grasmaaien
·
Het Feest der Poëzie: Voordracht en muziek tijdens 'Van en over Louis Couperus'
·
Forever Words. The Unknown Poems by Johnny Cash
·
Abraham a Santa Clara: Die Fischpredigt des hl. Antonius
·
Gladys Cromwell: The Gardener
·
Guillotine. Poems by Eduardo C. Corral
·
Emily Dickinson: A Book (Poem)
·
Gladys Cromwell: Leisure
·
Mary Jean Chan: Flèche
·
John Cooper Clarke: I Wanna Be Yours
·
Natalie Diaz: Postcolonial Love Poem
A Portrait
A face devoid of love or grace,
A hateful, hard, successful face,
A face with which a stone
Would feel as thoroughly at ease
As were they old acquaintances, —
First time together thrown.
Emily Dickinson
(1830-1886)
A Portrait
• fleursdumal.nl magazine
More in: Archive C-D, Archive C-D, Dickinson, Emily
---
Gedichten zijn overal: op straat, op gebouwen, in liedjes en films. En ze raken ons en blijven ons soms een leven lang bij, als een troost tijdens duistere nachten of een woordgrapje dat een glimlach oproept.
Toch deinzen mensen achteruit als ze het woord poëzie horen: te moeilijk, niks voor mij. Maar het is wél iets voor jou. Ellen Deckwitz legt uit waarom, biedt een helpende hand en neemt je mee langs de vele ontroerende, dramatische, ronduit hilarische en verbeeldingsrijke paden die de poëzie rijk is.
Poëzie voor dummy's. Een heerlijk boek dat niet alleen over lezen, maar ook over het leven gaat.
Ellen Deckwitz (1982) is een van de belangrijkste hedendaagse jonge dichters. Ze was Nederlands Kampioen Poetry Slam in 2009 en won met De steen vreest mijde C. Buddingh'-prijs voor het beste poëziedebuut. Ze is een geziene gast op festivals als Lowlands, de Nacht van de Poëzie en Saint Amour, ze draagt haar werk regelmatig voor op televisie en schrijft gedichten over het nieuws voor de NRC.
Ellen Deckwitz
Dit gaat niet over grasmaaien
24-09-2020
Nederlands
Paperback
Druk 1
oktober 2020
140 pagina's
Uitgeverij Pluim
EA 9789083095318
EUR 19,99
# more poetry
Ellen Deckwitz
• fleursdumal.nl magazine
More in: #Editors Choice Archiv, - Book News, - Bookstores, Archive C-D, Archive C-D
---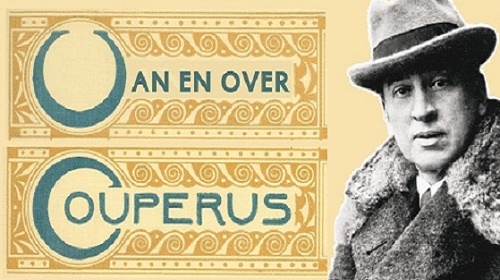 Het Feest der Poëzie brengt een afwisselende voorstelling met werk van en muziek uit het werk van de grootste Nederlandse romanschrijver.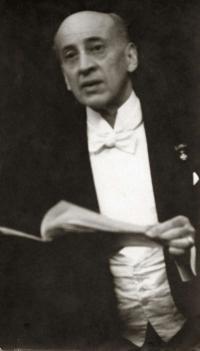 Voordrachtskunstenaar Simon Mulder brengt bekend en minder bekend werk van Louis Couperus, zoals fragmenten uit de schokkend decadente roman ´De berg van licht´, en de vertederende korte verhalen 'Het spoorwegongeluk' en 'Het verbeelde leven'.
Daarnaast vertelt hij enkele anekdotes over de grote schrijver die koekjes kocht (maar hoe?), na een optreden niet aan het voor hem georganiseerde erediner kon beginnen, en hoe en waarom hij door een Amerikaanse toeriste aangetroffen werd in een parfumerie.
Pianist Daan van de Velde en Simon Mulder besluiten de voorstelling met iets unieks: een declamatorium (stuk voor piano en voordracht) op Couperus' beroemde korte thriller 'De binocle'.
Data en praktische informatie:
2 voorstellingen, aanvang 20 en 21.30 uur
Locatie: Theatercafé Mascini, Zeedijk 24, 1012 AZ Amsterdam
Datum: zaterdagavond 28 november 2020
Duur: ca. 60 minuten
Entree: 12.- euro
Kaartverkoop: https://cafemascini.nl
Meer informatie over het Feest der Poëzie: www.feestderpoezie.nl
fleursdumal.nl magazine
www.fleursdumal.nl
More in: Archive C-D, Archive C-D, Art & Literature News, Feest der Poëzie, Louis Couperus
---
These never-before-published poems by Johnny Cash make the perfect gifts for music lovers and fans alike.
Ed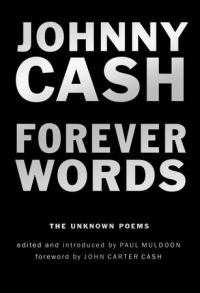 ited and introduced by Pulitzer Prize-winning poet Paul Muldoon with a foreword by John Carter Cash, this poetry collection is illustrated with facsimile reproductions of Cash's own handwritten pages. Now an album with music by Rosanne Cash, Brad Paisley, Willie Nelson, Kacey Musgraves, Elvis Costello, and more.
Since his first recordings in 1955, Johnny Cash has been an icon in the music world. In this collection of poems and song lyrics that have never been published before, we see the world through his eyes and view his reflection on his own interior reality, his frailties and his strengths alike.
In his hallmark voice, he pens verses about love, pain, freedom, and mortality, and expresses insights on culture, his family, his fame, even Christmas. Forever Words confirms Johnny Cash as a brilliant and singular American literary figure. His music is a part of our collective history, and here the depth of his artistry and talent become even more evident.
Forever Words
The Unknown Poems
By Johnny Cash
Category: Poetry | Music
Published by Blue Rider Press
Nov 15, 2016
144 Pages
ISBN 9780399575136
Hardcover $25.00
Nov 12, 2019
ISBN 9780399575150
Paperback
$18.00
# more poetry
Johnny Cash
Forever Words
The Unknown Poems
• fleursdumal.nl magazine
More in: #Editors Choice Archiv, - Book News, - Bookstores, Archive C-D, Archive C-D, Art & Literature News, Johnny Cash
---
Die Fischpredigt
des hl. Antonius
Antonius zur Predig
Die Kirche findt ledig,
Er geht zu den Flüssen
Und predigt den Fischen;
Sie schlag'n mit den Schwänzen,
Im Sonnenschein glänzen.
Die Karpfen mit Rogen
Sind all hierher zogen,
Haben d'Mäuler aufrissen,
Sich Zuhörens beflissen:
Kein Predig niemalen
Den Karpfen so g'fallen.
Spitzgoschete Hechte,
Die immerzu fechten,
Sind eilend herschwommen
Zu hören den Frommen:
Kein Predig niemalen
Den Hechten so g'fallen.
Auch jene Phantasten,
So immer beim Fasten,
Die Stockfisch ich meine,
Zur Predig erscheinen.
Kein Predig niemalen
Dem Stockfisch so g'fallen.
Gut Aalen und Hausen,
Die Vomehme schmausen,
Die selber sich bequemen,
Die Predig vernehrnen:
Kein Predig niemalen
Den Aalen so g'fallen.
Auch Krebsen, Schildkroten,
Sonst langsame Boten,
Steigen eilend vom Grund,
Zu hören diesen Mund:
Kein Predig niemalen
Den Krebsen so g'fallen.
Fisch große, Fisch kleine,
Vornehm und gemeine,
Erheben die Köpfe
Wie verständige Geschöpfe:
Auf Gottes Begehren
Antonium anhören.
Die Predigt geendet,
Ein jedes sich wendet,
Die Hechte bleiben Diebe,
Die Aale viel lieben.
Die Predig hat g'fallen.
Sie bleiben wie alle.
Die Krebs' gehn zurücke,
Die Stockfisch bleiben dicke,
Die Karpfen viel fressen,
Die Predig vergessen.
Die Predig hat g'fallen,
Sie bleiben wie alle.
Abraham a Santa Clara
(1644 – 1709)
Die Fischpredigt des hl. Antonius
• fleursdumal.nl magazine
More in: Archive C-D, Archive C-D, CLASSIC POETRY, POETRY ARCHIVE
---
The Gardener
At evening, I have seen him wander in
And out hetween the hedges ;
On the moss he treads, where shadows spin
A misty web. He skirts the edges
Indistinct of heliotrope and jessamine.
I wonder what he does, studious
And furtive in the gloom.
Is he covering the tremulous
Young plants that have no spreading bloom
When night is cool, to keep them joung and
luminous?
Or is he mutely speculating there
Upon the flowers themselves ;
His love observing them through the veiled air
As plain as when he weeds and delves
At noon, but with more secret and more wistful
care?
I call the garden mine. This votary
Who loves it makes it his ;
A poet owns his legend. If I were
To ask the garden whose it is.
It would reply : "My master is this gardener."
Cromwell, Gladys
[1885-1919]
The Gardener
(Poem)
• fleursdumal.nl magazine
More in: Archive C-D, Archive C-D, Cromwell, Gladys, Gladys Cromwell
---
Guillotine traverses desert landscapes cut through by migrants, the grief of loss, betrayal's lingering scars, the border itself—great distances in which violence and yearning find roots.
Through the voices of undocumented immigrants, border patrol agents, and scorned lovers, award-winning poet Eduardo C. Corral writes dramatic portraits of contradiction, survival, and a deeply human, relentless interiority. With extraordinary lyric imagination, these poems wonder about being unwanted or renounced. What do we do with unrequited love? Is it with or without it that we would waste away?
In the sequence "Testaments Scratched into a Water Station Barrel," with Corral's seamless integration of Spanish and English, poems curve around the surfaces upon which they are written, overlapping like graffiti left by those who may or may not have survived crossing the border. A harrowing second collection, Guillotine solidifies Corral's place in the expanding ecosystem of American poetry.
The astonishing second collection by the author of Slow Lightning, winner of the Yale Younger Poets Prize
Eduardo C. Corral is the author of Slow Lightning, winner of the Yale Younger Poets Prize. He was a founding fellow of the CantoMundo Writers Conference, and recipient of a Whiting Award. He teaches at North Carolina State University.
Guillotine.
Poems
Eduardo C. Corral
ISBN: 978-1-64445-030-7
Format: Paperback
Publication Date: 8/4/20
Subject: Poetry
Pages 72
Graywolf Press, Minneapolis, Minnesota
Price $16.00
# new poetry
Guillotine.
Poems by
Eduardo C. Corral
• fleursdumal.nl magazine
More in: #Editors Choice Archiv, - Book News, - Bookstores, Archive C-D, PRESS & PUBLISHING
---
 A Book
There is no frigate like a book
To take us lands away,
Nor any coursers like a page
Of prancing poetry.
This traverse may the poorest take
Without oppress of toll;
How frugal is the chariot
That bears a human soul!
Emily Dickinson
(1830-1886)
A Book
• fleursdumal.nl magazine
More in: - Book Stories, Archive C-D, Archive C-D, Dickinson, Emily
---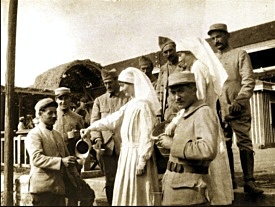 Leisure
When I have nothing else to do,
When I am free, the hour kind,
I like to lift reflections from
The pool of my mind.
I'm thirsty, and I like to drink
A wisdom cool and clear ;
Standing precautionary, shy,
As lion or as deer.
Cromwell, Gladys
[1885-1919]
Leisure
(Poem)
• fleursdumal.nl magazine
More in: Archive C-D, Archive C-D, Cromwell, Gladys, Gladys Cromwell
---
Flèche (the French word for 'arrow') is an offensive technique commonly used in fencing, a sport of Mary Jean Chan's young adult years, when she competed locally and internationally for her home city, Hong Kong.
This cross-linguistic pun presents the queer, non-white body as both vulnerable ('flesh') and weaponised ('flèche'), and evokes the difficulties of reconciling one's need for safety alongside the desire to shed one's protective armour in order to fully embrace the world.
Central to the collection is the figure of the poet's mother, whose fragmented memories of political turmoil in twentieth-century China are sensitively threaded through the book in an eight-part poetic sequence, combined with recollections from Chan's childhood.
As complex themes of multilingualism, queerness, psychoanalysis and cultural history emerge, so too does a richly imagined personal, maternal and national biography.
The result is a series of poems that feel urgent and true, dazzling and devastating by turns.
Mary Jean Chan grew up in Hong Kong and studied at Swarthmore College, the University of Oxford and Royal Holloway, University of London. Her debut pamphlet, A Hurry of English, was selected as the 2018 Poetry Book Society Summer Pamphlet Choice. In 2017, Chan's poem '//' was shortlisted for the 2017 Forward Prize for Best Single Poem. She is a Ledbury Poetry Critic, editor of Oxford Poetry, advisory board member at the Poetry Translation Centre and member of the Folio Prize Academy. She is a Lecturer in Creative Writing (Poetry) at Oxford Brookes University and lives in London.
Flèche
Mary Jean Chan
Publisher: Faber & Faber
Series: Faber Poetry
Paperback
88 pages
Language: English
ISBN-10: 0571348041
ISBN-13: 978-0571348046
March 31, 2020
£10.99
# new poetry
Mary Jean Chan
Flèche
• fleursdumal.nl magazine
More in: #Editors Choice Archiv, - Book News, Archive C-D, Archive C-D
---
The poet laureate of Punk holds forth in inimitable fashion about his sprawling, idiosyncratic career and the stars and artists with whom he has worked and been championed by. Brimming with his distinctive dry humour and wordplay, I Wanna Be Yours is a beautifully rambling memoir for lifelong fans and new converts alike.
This is a memoir as wry, funny, moving and vivid as only John Cooper Clarke could deliver. Inimitable and iconic, his book will be a joy for both lifelong fans and for a whole new generation.
John Cooper Clarke is a phenomenon: Poet Laureate of Punk, rock star, fashion icon, TV and radio presenter, social and cultural commentator, reluctant national treasure. At 5 feet 11 inches (116lb, 32in chest, 27in waist), in trademark suit jacket, skin-tight drainpipes and dark glasses, with jet-black back-combed hair and mouth full of gold teeth, he is instantly recognizable. As a writer his voice is equally unmistakable and his inimitable dry Salford drawl shines through the prose.
I Wanna Be Yours covers an extraordinary life, filled with remarkable personalities: from Nico to Chuck Berry, from all the great punks to Bernard Manning, and on to more recent fans and collaborators Alex Turner and Plan B – who have championed his work. Interspersed with stories of his rock and roll and performing career, John also reveals his boggling encyclopaedic knowledge of twentieth-century popular culture, his private passions and guilty pleasures: from Baudelaire, Pam Ayres and Rimbaud to football to Coronation Street, comprising horse racing and gambling, politics and jokes – and much more.
'John Cooper Clarke is one of Britain's outstanding poets. His anarchic punk poetry has thrilled people for decades and his no nonsense approach to his work and life in general has appealed to many people including myself for many years. Long may his slender frame and spiky top produce words and deeds that keep us on our toes and alive to the wonders of the world.' – Sir Paul McCartney
I Wanna Be Yours (Hardback)
John Cooper Clarke (author)
Publisher: Pan Macmillan
ISBN: 9781509896103
Number of pages: 320
Hardback
Coming soon
01/10/2020
£20.00
# new books
John Cooper Clarke
I Wanna Be Yours
• fleursdumal.nl magazine
More in: # Punk poetry, #Archive A-Z Sound Poetry, *Concrete + Visual Poetry A-E, Archive C-D, Archive C-D
---
Here, the bodies of indigenous, Latinx, black and brown women are simultaneously the body politic and the body ecstatic, and portrayed with a glowing intimacy: the alphabet of a hand in the dark, the hips' silvered percussion, a thigh's red-gold geometry, the emerald tigers that leap in a throat.
Natalie Diaz was born and raised in the Fort Mojave Indian Village in Needles, California, on the banks of the Colorado River. She is Mojave and an enrolled member of the Gila River Indian Tribe.
Her first poetry collection, When My Brother Was an Aztec, won an American Book Award. She is a 2018 MacArthur Fellow, as well as a Lannan Literary Fellow and a Native Arts and Cultures Foundation Artist Fellow.
She was awarded the Holmes National Poetry Prize and a Hodder Fellowship from Princeton University. She is a member of the Board of Trustees for the United States Artists, where she is an alumna of the Ford Fellowship. Diaz is the Maxine and Jonathan Marshall Chair in Modern and Contemporary Poetry at Arizona State University.
Postcolonial Love Poem
Natalie Diaz
Paperback
128 pages
Publisher: Faber & Faber
Published: 16/07/2020
Language: English
ISBN-10: 0571359868
ISBN-13: 978-0571359868
£10.99
# new poetry
Postcolonial Love Poem
by Natalie Diaz
• fleursdumal.nl magazine
More in: #Editors Choice Archiv, - Book News, Archive C-D, Archive C-D
---
Older Entries »
Thank you for reading FLEURSDUMAL.NL - magazine for art & literature