Tales of Mystery & Imagination
«« Previous page
·
SWEET ERMENGARDE, OR, THE HEART OF A COUNTRY GIRL BY H.P. LOVECRAFT
·
THE TERRIBLE OLD MAN BY H.P. LOVECRAFT
·
THE BOOK BY H.P. LOVECRAFT
·
THE ALCHEMIST BY H.P. LOVECRAFT
·
THE TREE BY H.P. LOVECRAFT
·
The Raven van E.A. Poe in Museum Meermanno, Den Haag
·
Tropenmuseum Amsterdam: Vodou, kunst & mystiek
·
Hans Hermans: The Loch Ness Mystery 2
·
Hans Hermans: The Loch Ness Mystery 1
·
Tales of Mystery and Imagination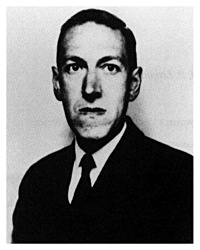 Sweet Ermengarde
Or, The Heart of a Country Girl
By Percy Simple [H. P. Lovecraft]
Chapter I
A Simple Rustic Maid
Ermengarde Stubbs was the beauteous blonde daughter of Hiram Stubbs, a poor but honest farmer-bootlegger of Hogton, Vt. Her name was originally Ethyl Ermengarde, but her father persuaded her to drop the praenomen after the passage of the 18th Amendment, averring that it made him thirsty by reminding him of ethyl alcohol, C2H5OH. His own products contained mostly methyl or wood alcohol, CH3OH. Ermengarde confessed to sixteen summers, and branded as mendacious all reports to the effect that she was thirty. She had large black eyes, a prominent Roman nose, light hair which was never dark at the roots except when the local drug store was short on supplies, and a beautiful but inexpensive complexion. She was about 5ft 5.33…in tall, weighed 115.47 lbs. on her father's copy scales—also off them—and was adjudged most lovely by all the village swains who admired her father's farm and liked his liquid crops.
Ermengarde's hand was sought in matrimony by two ardent lovers. 'Squire Hardman, who had a mortgage on the old home, was very rich and elderly. He was dark and cruelly handsome, and always rode horseback and carried a riding-crop. Long had he sought the radiant Ermengarde, and now his ardour was fanned to fever heat by a secret known to him alone—for upon the humble acres of Farmer Stubbs he had discovered a vein of rich GOLD!! "Aha!" said he, "I will win the maiden ere her parent knows of his unsuspected wealth, and join to my fortune a greater fortune still!" And so he began to call twice a week instead of once as before.
But alas for the sinister designs of a villain—'Squire Hardman was not the only suitor for the fair one. Close by the village dwelt another—the handsome Jack Manly, whose curly yellow hair had won the sweet Ermengarde's affection when both were toddling youngsters at the village school. Jack had long been too bashful to declare his passion, but one day while strolling along a shady lane by the old mill with Ermengarde, he had found courage to utter that which was within his heart.
"O light of my life," said he, "my soul is so overburdened that I must speak! Ermengarde, my ideal [he pronounced it i-deel!], life has become an empty thing without you. Beloved of my spirit, behold a suppliant kneeling in the dust before thee. Ermengarde—oh, Ermengarde, raise me to an heaven of joy and say that you will some day be mine! It is true that I am poor, but have I not youth and strength to fight my way to fame? This I can do only for you, dear Ethyl—pardon me, Ermengarde—my only, my most precious—" but here he paused to wipe his eyes and mop his brow, and the fair responded:
"Jack—my angel—at last—I mean, this is so unexpected and quite unprecedented! I had never dreamed that you entertained sentiments of affection in connexion with one so lowly as Farmer Stubbs' child—for I am still but a child! Such is your natural nobility that I had feared—I mean thought—you would be blind to such slight charms as I possess, and that you would seek your fortune in the great city; there meeting and wedding one of those more comely damsels whose splendour we observe in fashion books.
"But, Jack, since it is really I whom you adore, let us waive all needless circumlocution. Jack—my darling—my heart has long been susceptible to your manly graces. I cherish an affection for thee—consider me thine own and be sure to buy the ring at Perkins' hardware store where they have such nice imitation diamonds in the window."
"Ermengarde, me love!"
"Jack—my precious!"
"My darling!"
"My own!"
"My Gawd!"
[Curtain]
Chapter II
And the Villain Still Pursued Her
But these tender passages, sacred though their fervour, did not pass unobserved by profane eyes; for crouched in the bushes and gritting his teeth was the dastardly 'Squire Hardman! When the lovers had finally strolled away he leapt out into the lane, viciously twirling his moustache and riding-crop, and kicking an unquestionably innocent cat who was also out strolling.
"Curses!" he cried—Hardman, not the cat—"I am foiled in my plot to get the farm and the girl! But Jack Manly shall never succeed! I am a man of power—and we shall see!"
Thereupon he repaired to the humble Stubbs' cottage, where he found the fond father in the still-cellar washing bottles under the supervision of the gentle wife and mother, Hannah Stubbs. Coming directly to the point, the villain spoke:
"Farmer Stubbs, I cherish a tender affection of long standing for your lovely offspring, Ethyl Ermengarde. I am consumed with love, and wish her hand in matrimony. Always a man of few words, I will not descend to euphemism. Give me the girl or I will foreclose the mortgage and take the old home!"
"But, Sir," pleaded the distracted Stubbs while his stricken spouse merely glowered, "I am sure the child's affections are elsewhere placed."
"She must be mine!" sternly snapped the sinister 'squire. "I will make her love me—none shall resist my will! Either she becomes muh wife or the old homestead goes!"
And with a sneer and flick of his riding-crop 'Squire Hardman strode out into the night.
Scarce had he departed, when there entered by the back door the radiant lovers, eager to tell the senior Stubbses of their new-found happiness. Imagine the universal consternation which reigned when all was known! Tears flowed like white ale, till suddenly Jack remembered he was the hero and raised his head, declaiming in appropriately virile accents:
"Never shall the fair Ermengarde be offered up to this beast as a sacrifice while I live! I shall protect her—she is mine, mine, mine—and then some! Fear not, dear father and mother to be—I will defend you all! You shall have the old home still [adverb, not noun—although Jack was by no means out of sympathy with Stubbs' kind of farm produce] and I shall lead to the altar the beauteous Ermengarde, loveliest of her sex! To perdition with the crool 'squire and his ill-gotten gold—the right shall always win, and a hero is always in the right! I will go to the great city and there make a fortune to save you all ere the mortgage fall due! Farewell, my love—I leave you now in tears, but I shall return to pay off the mortgage and claim you as my bride!"
"Jack, my protector!"
"Ermie, my sweet roll!"
"Dearest!"
"Darling!—and don't forget that ring at Perkins'."
"Oh!"
"Ah!"
[Curtain]
Chapter III
A Dastardly Act
But the resourceful 'Squire Hardman was not so easily to be foiled. Close by the village lay a disreputable settlement of unkempt shacks, populated by a shiftless scum who lived by thieving and other odd jobs. Here the devilish villain secured two accomplices—ill-favoured fellows who were very clearly no gentlemen. And in the night the evil three broke into the Stubbs cottage and abducted the fair Ermengarde, taking her to a wretched hovel in the settlement and placing her under the charge of Mother Maria, a hideous old hag. Farmer Stubbs was quite distracted, and would have advertised in the papers if the cost had been less than a cent a word for each insertion. Ermengarde was firm, and never wavered in her refusal to wed the villain.
"Aha, my proud beauty," quoth he, "I have ye in me power, and sooner or later I will break that will of thine! Meanwhile think of your poor old father and mother as turned out of hearth and home and wandering helpless through the meadows!"
"Oh, spare them, spare them!" said the maiden.
"Neverr . . . ha ha ha ha!" leered the brute.
And so the cruel days sped on, while all in ignorance young Jack Manly was seeking fame and fortune in the great city.
Chapter IV
Subtle Villainy
One day as 'Squire Hardman sat in the front parlour of his expensive and palatial home, indulging in his favourite pastime of gnashing his teeth and swishing his riding-crop, a great thought came to him; and he cursed aloud at the statue of Satan on the onyx mantelpiece.
"Fool that I am!" he cried. "Why did I ever waste all this trouble on the girl when I can get the farm by simply foreclosing? I never thought of that! I will let the girl go, take the farm, and be free to wed some fair city maid like the leading lady of that burlesque troupe which played last week at the Town Hall!"
And so he went down to the settlement, apologised to Ermengarde, let her go home, and went home himself to plot new crimes and invent new modes of villainy.
The days wore on, and the Stubbses grew very sad over the coming loss of their home and still but nobody seemed able to do anything about it. One day a party of hunters from the city chanced to stray over the old farm, and one of them found the gold!! Hiding his discovery from his companions, he feigned rattlesnake-bite and went to the Stubbs' cottage for aid of the usual kind. Ermengarde opened the door and saw him. He also saw her, and in that moment resolved to win her and the gold. "For my old mother's sake I must"—he cried loudly to himself. "No sacrifice is too great!"
Chapter V
The City Chap
Algernon Reginald Jones was a polished man of the world from the great city, and in his sophisticated hands our poor little Ermengarde was as a mere child. One could almost believe that sixteen-year-old stuff. Algy was a fast worker, but never crude. He could have taught Hardman a thing or two about finesse in sheiking. Thus only a week after his advent to the Stubbs family circle, where he lurked like the vile serpent that he was, he had persuaded the heroine to elope! It was in the night that she went leaving a note for her parents, sniffing the familiar mash for the last time, and kissing the cat goodbye—touching stuff! On the train Algernon became sleepy and slumped down in his seat, allowing a paper to fall out of his pocket by accident. Ermengarde, taking advantage of her supposed position as a bride-elect, picked up the folded sheet and read its perfumed expanse—when lo! she almost fainted! It was a love letter from another woman!!
"Perfidious deceiver!" she whispered at the sleeping Algernon, "so this is all that your boasted fidelity amounts to! I am done with you for all eternity!"
So saying, she pushed him out the window and settled down for a much needed rest.
Chapter VI
Alone in the Great City
When the noisy train pulled into the dark station at the city, poor helpless Ermengarde was all alone without the money to get back to Hogton. "Oh why," she sighed in innocent regret, "didn't I take his pocketbook before I pushed him out? Oh well, I should worry! He told me all about the city so I can easily earn enough to get home if not to pay off the mortgage!"
But alas for our little heroine—work is not easy for a greenhorn to secure, so for a week she was forced to sleep on park benches and obtain food from the bread-line. Once a wily and wicked person, perceiving her helplessness, offered her a position as dish-washer in a fashionable and depraved cabaret; but our heroine was true to her rustic ideals and refused to work in such a gilded and glittering palace of frivolity—especially since she was offered only $3.00 per week with meals but no board. She tried to look up Jack Manly, her one-time lover, but he was nowhere to be found. Perchance, too, he would not have known her; for in her poverty she had perforce become a brunette again, and Jack had not beheld her in that state since school days. One day she found a neat but costly purse in the park; and after seeing that there was not much in it, took it to the rich lady whose card proclaimed her ownership. Delighted beyond words at the honesty of this forlorn waif, the aristocratic Mrs. Van Itty adopted Ermengarde to replace the little one who had been stolen from her so many years ago. "How like my precious Maude," she sighed, as she watched the fair brunette return to blondeness. And so several weeks passed, with the old folks at home tearing their hair and the wicked 'Squire Hardman chuckling devilishly.
Chapter VII
Happy Ever Afterward
One day the wealthy heiress Ermengarde S. Van Itty hired a new second assistant chauffeur. Struck by something familiar in his face, she looked again and gasped. Lo! it was none other than the perfidious Algernon Reginald Jones, whom she had pushed from a car window on that fateful day! He had survived—this much was almost immediately evident. Also, he had wed the other woman, who had run away with the milkman and all the money in the house. Now wholly humbled, he asked forgiveness of our heroine, and confided to her the whole tale of the gold on her father's farm. Moved beyond words, she raised his salary a dollar a month and resolved to gratify at last that always unquenchable anxiety to relieve the worry of the old folks. So one bright day Ermengarde motored back to Hogton and arrived at the farm just as 'Squire Hardman was foreclosing the mortgage and ordering the old folks out.
"Stay, villain!" she cried, flashing a colossal roll of bills. "You are foiled at last! Here is your money—now go, and never darken our humble door again!"
Then followed a joyous reunion, whilst the 'squire twisted his moustache and riding-crop in bafflement and dismay. But hark! What is this? Footsteps sound on the old gravel walk, and who should appear but our hero, Jack Manly—worn and seedy, but radiant of face. Seeking at once the downcast villain, he said:
"'Squire—lend me a ten-spot, will you? I have just come back from the city with my beauteous bride, the fair Bridget Goldstein, and need something to start things on the old farm." Then turning to the Stubbses, he apologised for his inability to pay off the mortgage as agreed.
"Don't mention it," said Ermengarde, "prosperity has come to us, and I will consider it sufficient payment if you will forget forever the foolish fancies of our childhood."
All this time Mrs. Van Itty had been sitting in the motor waiting for Ermengarde; but as she lazily eyed the sharp-faced Hannah Stubbs a vague memory started from the back of her brain. Then it all came to her, and she shrieked accusingly at the agrestic matron.
"You—you—Hannah Smith—I know you now! Twenty-eight years ago you were my baby Maude's nurse and stole her from the cradle!! Where, oh, where is my child?" Then a thought came as the lightning in a murky sky. "Ermengarde—you say she is your daughter. . . . She is mine! Fate has restored to me my old chee-ild—my tiny Maudie!—Ermengarde—Maude—come to your mother's loving arms!!!"
But Ermengarde was doing some tall thinking. How could she get away with the sixteen-year-old stuff if she had been stolen twenty-eight years ago? And if she was not Stubbs' daughter the gold would never be hers. Mrs. Van Itty was rich, but 'Squire Hardman was richer. So, approaching the dejected villain, she inflicted upon him the last terrible punishment.
"'Squire, dear," she murmured, "I have reconsidered all. I love you and your naive strength. Marry me at once or I will have you prosecuted for that kidnapping last year. Foreclose your mortgage and enjoy with me the gold your cleverness discovered. Come, dear!" And the poor dub did.
THE END
Sweet Ermengarde
Or, The Heart of a Country Girl (1917)
By Percy Simple [H. P. Lovecraft (1890 – 1937)]
fleursdumal.nl magazine
More in: Archive K-L, Lovecraft, H.P., Tales of Mystery & Imagination
---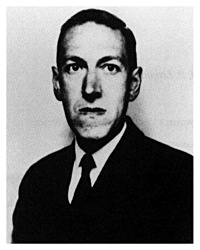 The Terrible Old Man
by H. P. Lovecraft
It was the design of Angelo Ricci and Joe Czanek and Manuel Silva to call on the Terrible Old Man. This old man dwells all alone in a very ancient house on Water Street near the sea, and is reputed to be both exceedingly rich and exceedingly feeble; which forms a situation very attractive to men of the profession of Messrs. Ricci, Czanek, and Silva, for that profession was nothing less dignified than robbery.
The inhabitants of Kingsport say and think many things about the Terrible Old Man which generally keep him safe from the attention of gentlemen like Mr. Ricci and his colleagues, despite the almost certain fact that he hides a fortune of indefinite magnitude somewhere about his musty and venerable abode. He is, in truth, a very strange person, believed to have been a captain of East India clipper ships in his day; so old that no one can remember when he was young, and so taciturn that few know his real name. Among the gnarled trees in the front yard of his aged and neglected place he maintains a strange collection of large stones, oddly grouped and painted so that they resemble the idols in some obscure Eastern temple. This collection frightens away most of the small boys who love to taunt the Terrible Old Man about his long white hair and beard, or to break the small-paned windows of his dwelling with wicked missiles; but there are other things which frighten the older and more curious folk who sometimes steal up to the house to peer in through the dusty panes. These folk say that on a table in a bare room on the ground floor are many peculiar bottles, in each a small piece of lead suspended pendulum-wise from a string. And they say that the Terrible Old Man talks to these bottles, addressing them by such names as Jack, Scar-Face, Long Tom, Spanish Joe, Peters, and Mate Ellis, and that whenever he speaks to a bottle the little lead pendulum within makes certain definite vibrations as if in answer. Those who have watched the tall, lean, Terrible Old Man in these peculiar conversations, do not watch him again. But Angelo Ricci and Joe Czanek and Manuel Silva were not of Kingsport blood; they were of that new and heterogeneous alien stock which lies outside the charmed circle of New England life and traditions, and they saw in the Terrible Old Man merely a tottering, almost helpless greybeard, who could not walk without the aid of his knotted cane, and whose thin, weak hands shook pitifully. They were really quite sorry in their way for the lonely, unpopular old fellow, whom everybody shunned, and at whom all the dogs barked singularly. But business is business, and to a robber whose soul is in his profession, there is a lure and a challenge about a very old and very feeble man who has no account at the bank, and who pays for his few necessities at the village store with Spanish gold and silver minted two centuries ago.
Messrs. Ricci, Czanek, and Silva selected the night of April 11th for their call. Mr. Ricci and Mr. Silva were to interview the poor old gentleman, whilst Mr. Czanek waited for them and their presumable metallic burden with a covered motor-car in Ship Street, by the gate in the tall rear wall of their host's grounds. Desire to avoid needless explanations in case of unexpected police intrusions prompted these plans for a quiet and unostentatious departure.
As prearranged, the three adventurers started out separately in order to prevent any evil-minded suspicions afterward. Messrs. Ricci and Silva met in Water Street by the old man's front gate, and although they did not like the way the moon shone down upon the painted stones through the budding branches of the gnarled trees, they had more important things to think about than mere idle superstition. They feared it might be unpleasant work making the Terrible Old Man loquacious concerning his hoarded gold and silver, for aged sea-captains are notably stubborn and perverse. Still, he was very old and very feeble, and there were two visitors. Messrs. Ricci and Silva were experienced in the art of making unwilling persons voluble, and the screams of a weak and exceptionally venerable man can be easily muffled. So they moved up to the one lighted window and heard the Terrible Old Man talking childishly to his bottles with pendulums. Then they donned masks and knocked politely at the weather-stained oaken door.
Waiting seemed very long to Mr. Czanek as he fidgeted restlessly in the covered motor-car by the Terrible Old Man's back gate in Ship Street. He was more than ordinarily tender-hearted, and he did not like the hideous screams he had heard in the ancient house just after the hour appointed for the deed. Had he not told his colleagues to be as gentle as possible with the pathetic old sea-captain? Very nervously he watched that narrow oaken gate in the high and ivy-clad stone wall. Frequently he consulted his watch, and wondered at the delay. Had the old man died before revealing where his treasure was hidden, and had a thorough search become necessary? Mr. Czanek did not like to wait so long in the dark in such a place. Then he sensed a soft tread or tapping on the walk inside the gate, heard a gentle fumbling at the rusty latch, and saw the narrow, heavy door swing inward. And in the pallid glow of the single dim street-lamp he strained his eyes to see what his colleagues had brought out of that sinister house which loomed so close behind. But when he looked, he did not see what he had expected; for his colleagues were not there at all, but only the Terrible Old Man leaning quietly on his knotted cane and smiling hideously. Mr. Czanek had never before noticed the colour of that man's eyes; now he saw that they were yellow.
Little things make considerable excitement in little towns, which is the reason that Kingsport people talked all that spring and summer about the three unidentifiable bodies, horribly slashed as with many cutlasses, and horribly mangled as by the tread of many cruel boot-heels, which the tide washed in. And some people even spoke of things as trivial as the deserted motor-car found in Ship Street, or certain especially inhuman cries, probably of a stray animal or migratory bird, heard in the night by wakeful citizens. But in this idle village gossip the Terrible Old Man took no interest at all. He was by nature reserved, and when one is aged and feeble one's reserve is doubly strong. Besides, so ancient a sea-captain must have witnessed scores of things much more stirring in the far-off days of his unremembered youth.
The Terrible Old Man (1920)
by H. P. Lovecraft (1890 – 1937)
fleursdumal.nl magazine
More in: Archive K-L, Lovecraft, H.P., Tales of Mystery & Imagination
---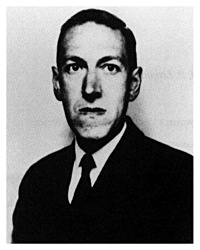 The Book
by H. P. Lovecraft
My memories are very confused. There is even much doubt as to where they begin; for at times I feel appalling vistas of years stretching behind me, while at other times it seems as if the present moment were an isolated point in a grey, formless infinity. I am not even certain how I am communicating this message. While I know I am speaking, I have a vague impression that some strange and perhaps terrible mediation will be needed to bear what I say to the points where I wish to be heard. My identity, too, is bewilderingly cloudy. I seem to have suffered a great shock—perhaps from some utterly monstrous outgrowth of my cycles of unique, incredible experience.
These cycles of experience, of course, all stem from that worm-riddled book. I remember when I found it—in a dimly lighted place near the black, oily river where the mists always swirl. That place was very old, and the ceiling-high shelves full of rotting volumes reached back endlessly through windowless inner rooms and alcoves. There were, besides, great formless heaps of books on the floor and in crude bins; and it was in one of these heaps that I found the thing. I never learned its title, for the early pages were missing; but it fell open toward the end and gave me a glimpse of something which sent my senses reeling.
There was a formula—a sort of list of things to say and do—which I recognised as something black and forbidden; something which I had read of before in furtive paragraphs of mixed abhorrence and fascination penned by those strange ancient delvers into the universe's guarded secrets whose decaying texts I loved to absorb. It was a key—a guide—to certain gateways and transitions of which mystics have dreamed and whispered since the race was young, and which lead to freedoms and discoveries beyond the three dimensions and realms of life and matter that we know. Not for centuries had any man recalled its vital substance or known where to find it, but this book was very old indeed. No printing-press, but the hand of some half-crazed monk, had traced these ominous Latin phrases in uncials of awesome antiquity.
I remember how the old man leered and tittered, and made a curious sign with his hand when I bore it away. He had refused to take pay for it, and only long afterward did I guess why. As I hurried home through those narrow, winding, mist-choked waterfront streets I had a frightful impression of being stealthily followed by softly padding feet. The centuried, tottering houses on both sides seemed alive with a fresh and morbid malignity—as if some hitherto closed channel of evil understanding had abruptly been opened. I felt that those walls and overhanging gables of mildewed brick and fungous plaster and timber—with fishy, eye-like, diamond-paned windows that leered—could hardly desist from advancing and crushing me . . . yet I had read only the least fragment of that blasphemous rune before closing the book and bringing it away.
I remember how I read the book at last—white-faced, and locked in the attic room that I had long devoted to strange searchings. The great house was very still, for I had not gone up till after midnight. I think I had a family then—though the details are very uncertain—and I know there were many servants. Just what the year was, I cannot say; for since then I have known many ages and dimensions, and have had all my notions of time dissolved and refashioned. It was by the light of candles that I read—I recall the relentless dripping of the wax—and there were chimes that came every now and then from distant belfries. I seemed to keep track of those chimes with a peculiar intentness, as if I feared to hear some very remote, intruding note among them.
Then came the first scratching and fumbling at the dormer window that looked out high above the other roofs of the city. It came as I droned aloud the ninth verse of that primal lay, and I knew amidst my shudders what it meant. For he who passes the gateways always wins a shadow, and never again can he be alone. I had evoked—and the book was indeed all I had suspected. That night I passed the gateway to a vortex of twisted time and vision, and when morning found me in the attic room I saw in the walls and shelves and fittings that which I had never seen before.
Nor could I ever after see the world as I had known it. Mixed with the present scene was always a little of the past and a little of the future, and every once-familiar object loomed alien in the new perspective brought by my widened sight. From then on I walked in a fantastic dream of unknown and half-known shapes; and with each new gateway crossed, the less plainly could I recognise the things of the narrow sphere to which I had so long been bound. What I saw about me none else saw; and I grew doubly silent and aloof lest I be thought mad. Dogs had a fear of me, for they felt the outside shadow which never left my side. But still I read more—in hidden, forgotten books and scrolls to which my new vision led me—and pushed through fresh gateways of space and being and life-patterns toward the core of the unknown cosmos.
I remember the night I made the five concentric circles of fire on the floor, and stood in the innermost one chanting that monstrous litany the messenger from Tartary had brought. The walls melted away, and I was swept by a black wind through gulfs of fathomless grey with the needle-like pinnacles of unknown mountains miles below me. After a while there was utter blackness, and then the light of myriad stars forming strange, alien constellations. Finally I saw a green-litten plain far below me, and discerned on it the twisted towers of a city built in no fashion I had ever known or read of or dreamed of. As I floated closer to that city I saw a great square building of stone in an open space, and felt a hideous fear clutching at me. I screamed and struggled, and after a blankness was again in my attic room, sprawled flat over the five phosphorescent circles on the floor. In that night's wandering there was no more of strangeness than in many a former night's wandering; but there was more of terror because I knew I was closer to those outside gulfs and worlds than I had ever been before. Thereafter I was more cautious with my incantations, for I had no wish to be cut off from my body and from the earth in unknown abysses whence I could never return.
The Book (1933?)
by H. P. Lovecraft (1890 – 1937)
fleursdumal.nl magazine
More in: - Book Stories, Archive K-L, Lovecraft, H.P., Tales of Mystery & Imagination
---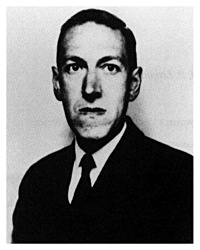 The Alchemist
by H. P. Lovecraft
High up, crowning the grassy summit of a swelling mound whose sides are wooded near the base with the gnarled trees of the primeval forest, stands the old chateau of my ancestors. For centuries its lofty battlements have frowned down upon the wild and rugged countryside about, serving as a home and stronghold for the proud house whose honoured line is older even than the moss-grown castle walls. These ancient turrets, stained by the storms of generations and crumbling under the slow yet mighty pressure of time, formed in the ages of feudalism one of the most dreaded and formidable fortresses in all France. From its machicolated parapets and mounted battlements Barons, Counts, and even Kings had been defied, yet never had its spacious halls resounded to the footsteps of the invader.
But since those glorious years all is changed. A poverty but little above the level of dire want, together with a pride of name that forbids its alleviation by the pursuits of commercial life, have prevented the scions of our line from maintaining their estates in pristine splendour; and the falling stones of the walls, the overgrown vegetation in the parks, the dry and dusty moat, the ill-paved courtyards, and toppling towers without, as well as the sagging floors, the worm-eaten wainscots, and the faded tapestries within, all tell a gloomy tale of fallen grandeur. As the ages passed, first one, then another of the four great turrets were left to ruin, until at last but a single tower housed the sadly reduced descendants of the once mighty lords of the estate.
It was in one of the vast and gloomy chambers of this remaining tower that I, Antoine, last of the unhappy and accursed Comtes de C——, first saw the light of day, ninety long years ago. Within these walls, and amongst the dark and shadowy forests, the wild ravines and grottoes of the hillside below, were spent the first years of my troubled life. My parents I never knew. My father had been killed at the age of thirty-two, a month before I was born, by the fall of a stone somehow dislodged from one of the deserted parapets of the castle; and my mother having died at my birth, my care and education devolved solely upon one remaining servitor, an old and trusted man of considerable intelligence, whose name I remember as Pierre. I was an only child, and the lack of companionship which this fact entailed upon me was augmented by the strange care exercised by my aged guardian in excluding me from the society of the peasant children whose abodes were scattered here and there upon the plains that surround the base of the hill. At the time, Pierre said that this restriction was imposed upon me because my noble birth placed me above association with such plebeian company. Now I know that its real object was to keep from my ears the idle tales of the dread curse upon our line, that were nightly told and magnified by the simple tenantry as they conversed in hushed accents in the glow of their cottage hearths.
Thus isolated, and thrown upon my own resources, I spent the hours of my childhood in poring over the ancient tomes that filled the shadow-haunted library of the chateau, and in roaming without aim or purpose through the perpetual dusk of the spectral wood that clothes the side of the hill near its foot. It was perhaps an effect of such surroundings that my mind early acquired a shade of melancholy. Those studies and pursuits which partake of the dark and occult in Nature most strongly claimed my attention.
Of my own race I was permitted to learn singularly little, yet what small knowledge of it I was able to gain, seemed to depress me much. Perhaps it was at first only the manifest reluctance of my old preceptor to discuss with me my paternal ancestry that gave rise to the terror which I ever felt at the mention of my great house; yet as I grew out of childhood, I was able to piece together disconnected fragments of discourse, let slip from the unwilling tongue which had begun to falter in approaching senility, that had a sort of relation to a certain circumstance which I had always deemed strange, but which now became dimly terrible. The circumstance to which I allude is the early age at which all the Comtes of my line had met their end. Whilst I had hitherto considered this but a natural attribute of a family of short-lived men, I afterward pondered long upon these premature deaths, and began to connect them with the wanderings of the old man, who often spoke of a curse which for centuries had prevented the lives of the holders of my title from much exceeding the span of thirty-two years. Upon my twenty-first birthday, the aged Pierre gave to me a family document which he said had for many generations been handed down from father to son, and continued by each possessor. Its contents were of the most startling nature, and its perusal confirmed the gravest of my apprehensions. At this time, my belief in the supernatural was firm and deep-seated, else I should have dismissed with scorn the incredible narrative unfolded before my eyes.
The paper carried me back to the days of the thirteenth century, when the old castle in which I sat had been a feared and impregnable fortress. It told of a certain ancient man who had once dwelt on our estates, a person of no small accomplishments, though little above the rank of peasant; by name, Michel, usually designated by the surname of Mauvais, the Evil, on account of his sinister reputation. He had studied beyond the custom of his kind, seeking such things as the Philosopher's Stone, or the Elixir of Eternal Life, and was reputed wise in the terrible secrets of Black Magic and Alchemy. Michel Mauvais had one son, named Charles, a youth as proficient as himself in the hidden arts, and who had therefore been called Le Sorcier, or the Wizard. This pair, shunned by all honest folk, were suspected of the most hideous practices. Old Michel was said to have burnt his wife alive as a sacrifice to the Devil, and the unaccountable disappearances of many small peasant children were laid at the dreaded door of these two. Yet through the dark natures of the father and the son ran one redeeming ray of humanity; the evil old man loved his offspring with fierce intensity, whilst the youth had for his parent a more than filial affection.
One night the castle on the hill was thrown into the wildest confusion by the vanishment of young Godfrey, son to Henri the Comte. A searching party, headed by the frantic father, invaded the cottage of the sorcerers and there came upon old Michel Mauvais, busy over a huge and violently boiling cauldron. Without certain cause, in the ungoverned madness of fury and despair, the Comte laid hands on the aged wizard, and ere he released his murderous hold his victim was no more. Meanwhile joyful servants were proclaiming the finding of young Godfrey in a distant and unused chamber of the great edifice, telling too late that poor Michel had been killed in vain. As the Comte and his associates turned away from the lowly abode of the alchemists, the form of Charles Le Sorcier appeared through the trees. The excited chatter of the menials standing about told him what had occurred, yet he seemed at first unmoved at his father's fate. Then, slowly advancing to meet the Comte, he pronounced in dull yet terrible accents the curse that ever afterward haunted the house of C——.
"May ne'er a noble of thy murd'rous line
Survive to reach a greater age than thine!"
spake he, when, suddenly leaping backwards into the black wood, he drew from his tunic a phial of colourless liquid which he threw into the face of his father's slayer as he disappeared behind the inky curtain of the night. The Comte died without utterance, and was buried the next day, but little more than two and thirty years from the hour of his birth. No trace of the assassin could be found, though relentless bands of peasants scoured the neighbouring woods and the meadow-land around the hill.
Thus time and the want of a reminder dulled the memory of the curse in the minds of the late Comte's family, so that when Godfrey, innocent cause of the whole tragedy and now bearing the title, was killed by an arrow whilst hunting, at the age of thirty-two, there were no thoughts save those of grief at his demise. But when, years afterward, the next young Comte, Robert by name, was found dead in a nearby field from no apparent cause, the peasants told in whispers that their seigneur had but lately passed his thirty-second birthday when surprised by early death. Louis, son to Robert, was found drowned in the moat at the same fateful age, and thus down through the centuries ran the ominous chronicle; Henris, Roberts, Antoines, and Armands snatched from happy and virtuous lives when little below the age of their unfortunate ancestor at his murder.
That I had left at most but eleven years of further existence was made certain to me by the words which I read. My life, previously held at small value, now became dearer to me each day, as I delved deeper and deeper into the mysteries of the hidden world of black magic. Isolated as I was, modern science had produced no impression upon me, and I laboured as in the Middle Ages, as wrapt as had been old Michel and young Charles themselves in the acquisition of daemonological and alchemical learning. Yet read as I might, in no manner could I account for the strange curse upon my line. In unusually rational moments, I would even go so far as to seek a natural explanation, attributing the early deaths of my ancestors to the sinister Charles Le Sorcier and his heirs; yet having found upon careful inquiry that there were no known descendants of the alchemist, I would fall back to occult studies, and once more endeavour to find a spell that would release my house from its terrible burden. Upon one thing I was absolutely resolved. I should never wed, for since no other branches of my family were in existence, I might thus end the curse with myself.
As I drew near the age of thirty, old Pierre was called to the land beyond. Alone I buried him beneath the stones of the courtyard about which he had loved to wander in life. Thus was I left to ponder on myself as the only human creature within the great fortress, and in my utter solitude my mind began to cease its vain protest against the impending doom, to become almost reconciled to the fate which so many of my ancestors had met. Much of my time was now occupied in the exploration of the ruined and abandoned halls and towers of the old chateau, which in youth fear had caused me to shun, and some of which, old Pierre had once told me, had not been trodden by human foot for over four centuries. Strange and awesome were many of the objects I encountered. Furniture, covered by the dust of ages and crumbling with the rot of long dampness, met my eyes. Cobwebs in a profusion never before seen by me were spun everywhere, and huge bats flapped their bony and uncanny wings on all sides of the otherwise untenanted gloom.
Of my exact age, even down to days and hours, I kept a most careful record, for each movement of the pendulum of the massive clock in the library told off so much more of my doomed existence. At length I approached that time which I had so long viewed with apprehension. Since most of my ancestors had been seized some little while before they reached the exact age of Comte Henri at his end, I was every moment on the watch for the coming of the unknown death. In what strange form the curse should overtake me, I knew not; but I was resolved, at least, that it should not find me a cowardly or a passive victim. With new vigour I applied myself to my examination of the old chateau and its contents.
It was upon one of the longest of all my excursions of discovery in the deserted portion of the castle, less than a week before that fatal hour which I felt must mark the utmost limit of my stay on earth, beyond which I could have not even the slightest hope of continuing to draw breath, that I came upon the culminating event of my whole life. I had spent the better part of the morning in climbing up and down half-ruined staircases in one of the most dilapidated of the ancient turrets. As the afternoon progressed, I sought the lower levels, descending into what appeared to be either a mediaeval place of confinement, or a more recently excavated storehouse for gunpowder. As I slowly traversed the nitre-encrusted passageway at the foot of the last staircase, the paving became very damp, and soon I saw by the light of my flickering torch that a blank, water-stained wall impeded my journey. Turning to retrace my steps, my eye fell upon a small trap-door with a ring, which lay directly beneath my feet. Pausing, I succeeded with difficulty in raising it, whereupon there was revealed a black aperture, exhaling noxious fumes which caused my torch to sputter, and disclosing in the unsteady glare the top of a flight of stone steps. As soon as the torch, which I lowered into the repellent depths, burned freely and steadily, I commenced my descent. The steps were many, and led to a narrow stone-flagged passage which I knew must be far underground. The passage proved of great length, and terminated in a massive oaken door, dripping with the moisture of the place, and stoutly resisting all my attempts to open it. Ceasing after a time my efforts in this direction, I had proceeded back some distance toward the steps, when there suddenly fell to my experience one of the most profound and maddening shocks capable of reception by the human mind. Without warning, I heard the heavy door behind me creak slowly open upon its rusted hinges. My immediate sensations are incapable of analysis. To be confronted in a place as thoroughly deserted as I had deemed the old castle with evidence of the presence of man or spirit, produced in my brain a horror of the most acute description. When at last I turned and faced the seat of the sound, my eyes must have started from their orbits at the sight that they beheld. There in the ancient Gothic doorway stood a human figure. It was that of a man clad in a skull-cap and long mediaeval tunic of dark colour. His long hair and flowing beard were of a terrible and intense black hue, and of incredible profusion. His forehead, high beyond the usual dimensions; his cheeks, deep-sunken and heavily lined with wrinkles; and his hands, long, claw-like, and gnarled, were of such a deathly, marble-like whiteness as I have never elsewhere seen in man. His figure, lean to the proportions of a skeleton, was strangely bent and almost lost within the voluminous folds of his peculiar garment. But strangest of all were his eyes; twin caves of abysmal blackness, profound in expression of understanding, yet inhuman in degree of wickedness. These were now fixed upon me, piercing my soul with their hatred, and rooting me to the spot whereon I stood. At last the figure spoke in a rumbling voice that chilled me through with its dull hollowness and latent malevolence. The language in which the discourse was clothed was that debased form of Latin in use amongst the more learned men of the Middle Ages, and made familiar to me by my prolonged researches into the works of the old alchemists and daemonologists. The apparition spoke of the curse which had hovered over my house, told me of my coming end, dwelt on the wrong perpetrated by my ancestor against old Michel Mauvais, and gloated over the revenge of Charles Le Sorcier. He told how the young Charles had escaped into the night, returning in after years to kill Godfrey the heir with an arrow just as he approached the age which had been his father's at his assassination; how he had secretly returned to the estate and established himself, unknown, in the even then deserted subterranean chamber whose doorway now framed the hideous narrator; how he had seized Robert, son of Godfrey, in a field, forced poison down his throat, and left him to die at the age of thirty-two, thus maintaining the foul provisions of his vengeful curse. At this point I was left to imagine the solution of the greatest mystery of all, how the curse had been fulfilled since that time when Charles Le Sorcier must in the course of Nature have died, for the man digressed into an account of the deep alchemical studies of the two wizards, father and son, speaking most particularly of the researches of Charles Le Sorcier concerning the elixir which should grant to him who partook of it eternal life and youth.
His enthusiasm had seemed for the moment to remove from his terrible eyes the hatred that had at first so haunted them, but suddenly the fiendish glare returned, and with a shocking sound like the hissing of a serpent, the stranger raised a glass phial with the evident intent of ending my life as had Charles Le Sorcier, six hundred years before, ended that of my ancestor. Prompted by some preserving instinct of self-defence, I broke through the spell that had hitherto held me immovable, and flung my now dying torch at the creature who menaced my existence. I heard the phial break harmlessly against the stones of the passage as the tunic of the strange man caught fire and lit the horrid scene with a ghastly radiance. The shriek of fright and impotent malice emitted by the would-be assassin proved too much for my already shaken nerves, and I fell prone upon the slimy floor in a total faint.
When at last my senses returned, all was frightfully dark, and my mind remembering what had occurred, shrank from the idea of beholding more; yet curiosity overmastered all. Who, I asked myself, was this man of evil, and how came he within the castle walls? Why should he seek to avenge the death of poor Michel Mauvais, and how had the curse been carried on through all the long centuries since the time of Charles Le Sorcier? The dread of years was lifted from my shoulders, for I knew that he whom I had felled was the source of all my danger from the curse; and now that I was free, I burned with the desire to learn more of the sinister thing which had haunted my line for centuries, and made of my own youth one long-continued nightmare. Determined upon further exploration, I felt in my pockets for flint and steel, and lit the unused torch which I had with me. First of all, the new light revealed the distorted and blackened form of the mysterious stranger. The hideous eyes were now closed. Disliking the sight, I turned away and entered the chamber beyond the Gothic door. Here I found what seemed much like an alchemist's laboratory. In one corner was an immense pile of a shining yellow metal that sparkled gorgeously in the light of the torch. It may have been gold, but I did not pause to examine it, for I was strangely affected by that which I had undergone. At the farther end of the apartment was an opening leading out into one of the many wild ravines of the dark hillside forest. Filled with wonder, yet now realising how the man had obtained access to the chateau, I proceeded to return. I had intended to pass by the remains of the stranger with averted face, but as I approached the body, I seemed to hear emanating from it a faint sound, as though life were not yet wholly extinct. Aghast, I turned to examine the charred and shrivelled figure on the floor. Then all at once the horrible eyes, blacker even than the seared face in which they were set, opened wide with an expression which I was unable to interpret. The cracked lips tried to frame words which I could not well understand. Once I caught the name of Charles Le Sorcier, and again I fancied that the words "years" and "curse" issued from the twisted mouth. Still I was at a loss to gather the purport of his disconnected speech. At my evident ignorance of his meaning, the pitchy eyes once more flashed malevolently at me, until, helpless as I saw my opponent to be, I trembled as I watched him.
Suddenly the wretch, animated with his last burst of strength, raised his hideous head from the damp and sunken pavement. Then, as I remained, paralysed with fear, he found his voice and in his dying breath screamed forth those words which have ever afterward haunted my days and my nights. "Fool," he shrieked, "can you not guess my secret? Have you no brain whereby you may recognise the will which has through six long centuries fulfilled the dreadful curse upon your house? Have I not told you of the great elixir of eternal life? Know you not how the secret of Alchemy was solved? I tell you, it is I! I! I! that have lived for six hundred years to maintain my revenge, FOR I AM CHARLES LE SORCIER!"
The Alchemist (1908)
by H. P. Lovecraft (1890 – 1937)
fleursdumal.nl magazine
More in: Archive K-L, Lovecraft, H.P., Tales of Mystery & Imagination
---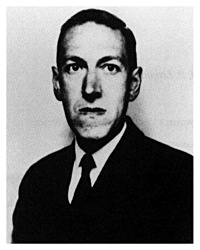 The Tree
by H. P. Lovecraft
"Fata viam invenient."
On a verdant slope of Mount Maenalus, in Arcadia, there stands an olive grove about the ruins of a villa. Close by is a tomb, once beautiful with the sublimest sculptures, but now fallen into as great decay as the house. At one end of that tomb, its curious roots displacing the time-stained blocks of Pentelic marble, grows an unnaturally large olive tree of oddly repellent shape; so like to some grotesque man, or death-distorted body of a man, that the country folk fear to pass it at night when the moon shines faintly through the crooked boughs. Mount Maenalus is a chosen haunt of dreaded Pan, whose queer companions are many, and simple swains believe that the tree must have some hideous kinship to these weird Panisci; but an old bee-keeper who lives in the neighbouring cottage told me a different story.
Many years ago, when the hillside villa was new and resplendent, there dwelt within it the two sculptors Kalos and Musides. From Lydia to Neapolis the beauty of their work was praised, and none dared say that the one excelled the other in skill. The Hermes of Kalos stood in a marble shrine in Corinth, and the Pallas of Musides surmounted a pillar in Athens, near the Parthenon. All men paid homage to Kalos and Musides, and marvelled that no shadow of artistic jealousy cooled the warmth of their brotherly friendship.
But though Kalos and Musides dwelt in unbroken harmony, their natures were not alike. Whilst Musides revelled by night amidst the urban gaieties of Tegea, Kalos would remain at home; stealing away from the sight of his slaves into the cool recesses of the olive grove. There he would meditate upon the visions that filled his mind, and there devise the forms of beauty which later became immortal in breathing marble. Idle folk, indeed, said that Kalos conversed with the spirits of the grove, and that his statues were but images of the fauns and dryads he met there—for he patterned his work after no living model.
So famous were Kalos and Musides, that none wondered when the Tyrant of Syracuse sent to them deputies to speak of the costly statue of Tyché which he had planned for his city. Of great size and cunning workmanship must the statue be, for it was to form a wonder of nations and a goal of travellers. Exalted beyond thought would be he whose work should gain acceptance, and for this honour Kalos and Musides were invited to compete. Their brotherly love was well known, and the crafty Tyrant surmised that each, instead of concealing his work from the other, would offer aid and advice; this charity producing two images of unheard-of beauty, the lovelier of which would eclipse even the dreams of poets.
With joy the sculptors hailed the Tyrant's offer, so that in the days that followed their slaves heard the ceaseless blows of chisels. Not from each other did Kalos and Musides conceal their work, but the sight was for them alone. Saving theirs, no eyes beheld the two divine figures released by skilful blows from the rough blocks that had imprisoned them since the world began.
At night, as of yore, Musides sought the banquet halls of Tegea whilst Kalos wandered alone in the olive grove. But as time passed, men observed a want of gaiety in the once sparkling Musides. It was strange, they said amongst themselves, that depression should thus seize one with so great a chance to win art's loftiest reward. Many months passed, yet in the sour face of Musides came nothing of the sharp expectancy which the situation should arouse.
Then one day Musides spoke of the illness of Kalos, after which none marvelled again at his sadness, since the sculptors' attachment was known to be deep and sacred. Subsequently many went to visit Kalos, and indeed noticed the pallor of his face; but there was about him a happy serenity which made his glance more magical than the glance of Musides—who was clearly distracted with anxiety, and who pushed aside all the slaves in his eagerness to feed and wait upon his friend with his own hands. Hidden behind heavy curtains stood the two unfinished figures of Tyché, little touched of late by the sick man and his faithful attendant.
As Kalos grew inexplicably weaker and weaker despite the ministrations of puzzled physicians and of his assiduous friend, he desired to be carried often to the grove which he so loved. There he would ask to be left alone, as if wishing to speak with unseen things. Musides ever granted his requests, though his eyes filled with visible tears at the thought that Kalos should care more for the fauns and the dryads than for him. At last the end drew near, and Kalos discoursed of things beyond this life. Musides, weeping, promised him a sepulchre more lovely than the tomb of Mausolus; but Kalos bade him speak no more of marble glories. Only one wish now haunted the mind of the dying man; that twigs from certain olive trees in the grove be buried by his resting-place—close to his head. And one night, sitting alone in the darkness of the olive grove, Kalos died.
Beautiful beyond words was the marble sepulchre which stricken Musides carved for his beloved friend. None but Kalos himself could have fashioned such bas-reliefs, wherein were displayed all the splendours of Elysium. Nor did Musides fail to bury close to Kalos' head the olive twigs from the grove.
As the first violence of Musides' grief gave place to resignation, he laboured with diligence upon his figure of Tyché. All honour was now his, since the Tyrant of Syracuse would have the work of none save him or Kalos. His task proved a vent for his emotion, and he toiled more steadily each day, shunning the gaieties he once had relished. Meanwhile his evenings were spent beside the tomb of his friend, where a young olive tree had sprung up near the sleeper's head. So swift was the growth of this tree, and so strange was its form, that all who beheld it exclaimed in surprise; and Musides seemed at once fascinated and repelled.
Three years after the death of Kalos, Musides despatched a messenger to the Tyrant, and it was whispered in the agora at Tegea that the mighty statue was finished. By this time the tree by the tomb had attained amazing proportions, exceeding all other trees of its kind, and sending out a singularly heavy branch above the apartment in which Musides laboured. As many visitors came to view the prodigious tree, as to admire the art of the sculptor, so that Musides was seldom alone. But he did not mind his multitude of guests; indeed, he seemed to dread being alone now that his absorbing work was done. The bleak mountain wind, sighing through the olive grove and the tomb-tree, had an uncanny way of forming vaguely articulate sounds.
The sky was dark on the evening that the Tyrant's emissaries came to Tegea. It was definitely known that they had come to bear away the great image of Tyché and bring eternal honour to Musides, so their reception by the proxenoi was of great warmth. As the night wore on, a violent storm of wind broke over the crest of Maenalus, and the men from far Syracuse were glad that they rested snugly in the town. They talked of their illustrious Tyrant, and of the splendour of his capital; and exulted in the glory of the statue which Musides had wrought for him. And then the men of Tegea spoke of the goodness of Musides, and of his heavy grief for his friend; and how not even the coming laurels of art could console him in the absence of Kalos, who might have worn those laurels instead. Of the tree which grew by the tomb, near the head of Kalos, they also spoke. The wind shrieked more horribly, and both the Syracusans and the Arcadians prayed to Aiolos.
In the sunshine of the morning the proxenoi led the Tyrant's messengers up the slope to the abode of the sculptor, but the night-wind had done strange things. Slaves' cries ascended from a scene of desolation, and no more amidst the olive grove rose the gleaming colonnades of that vast hall wherein Musides had dreamed and toiled. Lone and shaken mourned the humble courts and the lower walls, for upon the sumptuous greater peristyle had fallen squarely the heavy overhanging bough of the strange new tree, reducing the stately poem in marble with odd completeness to a mound of unsightly ruins. Strangers and Tegeans stood aghast, looking from the wreckage to the great, sinister tree whose aspect was so weirdly human and whose roots reached so queerly into the sculptured sepulchre of Kalos. And their fear and dismay increased when they searched the fallen apartment; for of the gentle Musides, and of the marvellously fashioned image of Tyché, no trace could be discovered. Amidst such stupendous ruin only chaos dwelt, and the representatives of two cities left disappointed; Syracusans that they had no statue to bear home, Tegeans that they had no artist to crown. However, the Syracusans obtained after a while a very splendid statue in Athens, and the Tegeans consoled themselves by erecting in the agora a marble temple commemorating the gifts, virtues, and brotherly piety of Musides.
But the olive grove still stands, as does the tree growing out of the tomb of Kalos, and the old bee-keeper told me that sometimes the boughs whisper to one another in the night-wind, saying over and over again, "Οἶδα! Οἶδα!—I know! I know!"
The Tree (1920)
by H. P. Lovecraft (1890 – 1937)
fleursdumal.nl magazine
More in: Archive K-L, Lovecraft, H.P., Tales of Mystery & Imagination
---

Lezing en voordracht van The Raven van E.A. Poe in Museum Meermanno / Huis van het boek, Den Haag
Op zaterdag 30 augustus spreekt Johan Vandendriessche over 'The Raven' van Edgar Allan Poe en draagt hij het gedicht voor.
'The Raven' van Edgar Allan Poe (1809 – 1849) is één der meest beklijvende gedichten uit de Amerikaanse literatuur. Wat zit er achter de symboliek? Hoe breng je dit gedicht uit 1845 vandaag, in het Nederlands, met respect voor de originele versie? Wat doet dit gedicht met een mens, die er lang mee bezig is? En welke dualiteit spookte door het brein van Poe? Johan Vandendriessche (Bibliotheek Permeke – Antwerpen) duikt samen met de raaf in een tolvlucht naar de kern van het gedicht.
Na de lezing en voordracht van het gedicht is er gelegenheid voor vragen. De lezing wordt afgesloten met koffie en thee. Tevens kunt u de tentoonstelling 'Vogels. Duizenden vogels in honderden boeken' bezoeken en de nieuwe aanwinsten van het museum met onder meer een geïllustreerde uitgave van 'The Raven' door de Cheloniidae Press met etsen en houtgravuren van kunstenaar Alan James Robinson.
De lezing is van 14.00 tot 15.00 uur, waarna koffie en thee wordt geserveerd. (Inloop vanaf 13.30)
Kosten en aanmelden: de lezing kost € 5,- exclusief museumentree. Zie voor meer informatie over lezing, tentoonstelling en andere activiteiten: www.meermanno.nl
Huis van het boek
Museum Meermanno
Prinsessegracht 30
2514 AP Den Haag
T 070 34 62 700
info@meermanno.nl
www.meermanno.nl
fleursdumal.nl magazine
More in: Archive O-P, Art & Literature News, Poe, Edgar Allan, Tales of Mystery & Imagination
---
Tentoonstelling Vodou,  

kunst & mystiek

31 oktober 2008 t/m 10 mei 2009
T r o p e n m u s e u m   A m s t e r d a m
Bezoekers van het Tropenmuseum kunnen deze winter kennismaken met vodou: de volksreligie van Haïti. Meer dan 250 (kunst)voorwerpen geven een beeld van de intrigerende goden- en geestenwereld van vodou. Ze zijn gemaakt voor vodou-tempels en geheime genootschappen. De objecten maken deel uit van de belangrijkste vodou-collectie van Haïti: de privé verzameling van Marianne Lehmann. Veel van deze voorwerpen zijn nog nooit buiten Haïti getoond.
Kleurrijke ceremoniële vlaggen, levensgrote Bizango-krijgers, reusachtige spiegels en complete altaren zijn in de tentoonstelling te zien. De bezoeker van het Tropenmuseum maakt kennis met een religie die rijk is aan historie en traditie, met unieke rituelen en fascinerende kunstvoorwerpen. De expositie laat vodou zien op een indringende manier, die voorbij gaat aan de extreme clichébeelden van Hollywood.
De volksreligie vodou ontstond met de onvrijwillige vestiging van Afrikaanse slaven op Haïti. Vodou is een mengeling van verschillende door hen meegenomen Afrikaanse religies, aangevuld met aspecten van katholieke rites. Als geloof van de massa's en de onderdrukten heeft vodou een cruciale rol gespeeld in de geschiedenis van Haïti, vanaf de eerste slavenopstand die het in 1804 tot een onafhankelijke zwarte republiek maakte, tot aan de dag van vandaag. Ondanks lange periodes van onderdrukking is vodou een levende religie gebleven, beleden door miljoenen Haïtianen in Haïti en daarbuiten. Het is een complexe maar ook flexibele religie zonder dogma of hiërarchie die haar gelovigen veel vrijheden biedt, ook op artistiek gebied.
Een groot deel van de expositie in het Tropenmuseum is gewijd aan de beelden en voorwerpen van geheime Bizango-genootschappen. Deze gaan terug tot de tijd van slavernij en de gewelddadige vrijheidsstrijd. De levensgrote beelden die tientallen Bizango-geesten verbeelden, herinneren op beklemmende wijze aan deze oorsprong van chaos en strijd, en zijn tegelijkertijd indrukwekkend door hun artistieke waarde.
Bijna alle objecten in de tentoonstelling zijn gewijd aan de Lwa's: de talloze goden en geesten die het vodou-pantheon bevolken. Vaak worden deze Lwa's uitgebeeld als de katholieke heiligen met wie ze geïdentificeerd worden. Lwa's worden ook weergegeven door vévé's: grafische tekens. De geborduurde vlaggen, sculpturen, bewerkte kruiken en spiegels hebben zelf vaak een sacrale betekenis of zijn 'geladen' met magische krachten.
De rijk geïllustreerde tentoonstellingscatalogus 'Vodou, kunst & mystiek uit Haïti' is samengesteld door Jacques Hainard, Philippe Mathez en Olivier Schinz en wordt uitgegeven door KIT Publishers. ISBN 9789068327441, € 24,50, 176 pagina's.
fleursdumal.nl magazine
More in: African Art, Tales of Mystery & Imagination
---
H A N S   H E R M A N S  P H O T O S
The LOCH NESS Mystery
part 2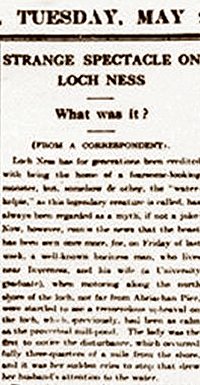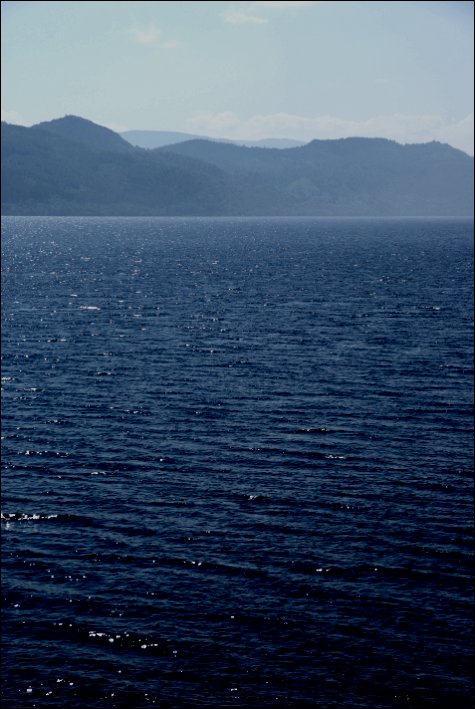 Hans Hermans Photos: The Loch Ness Mystery – part 2
fleursdumal.nl  magazine
More in: Hans Hermans Photos, Tales of Mystery & Imagination
---
H A N S   H E R M A N S   P H O T O S
The LOCH NESS Mystery
part 1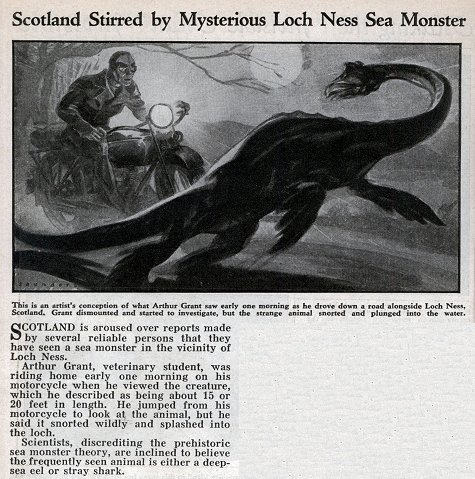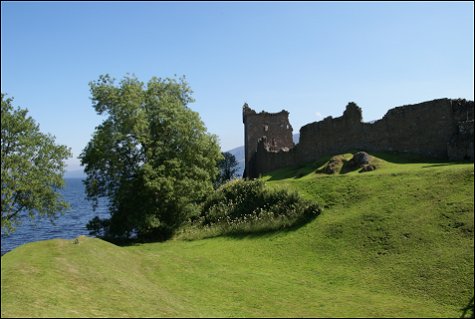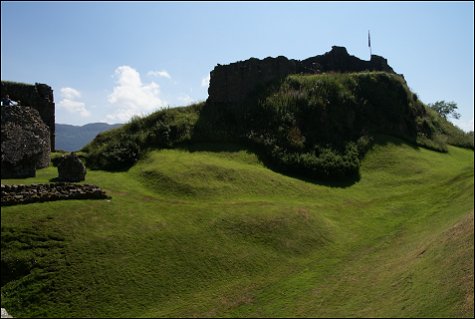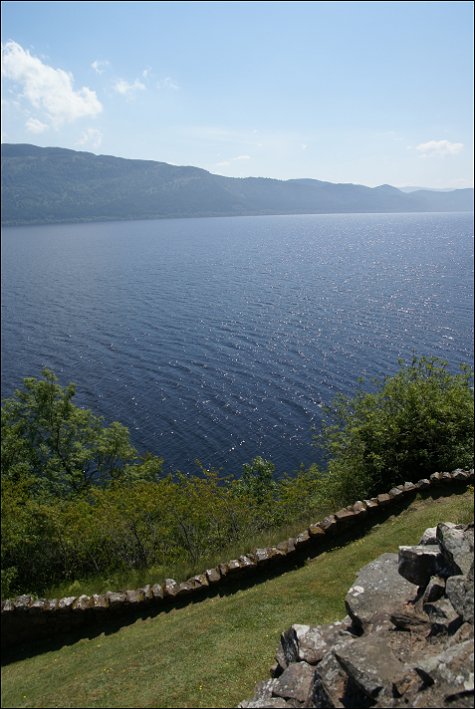 .
Hans Hermans Photos: The Loch Ness Mystery – part 1
(to be continued)
fleursdumal.nl magazine
More in: Hans Hermans Photos, Tales of Mystery & Imagination
---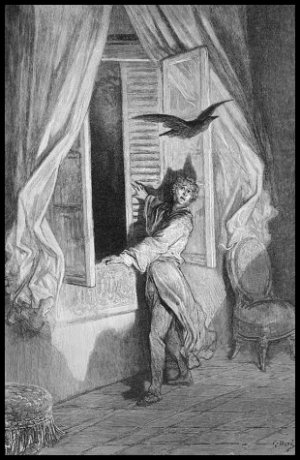 fleursdumal magazine
More in: Edgar Allan Poe, Tales of Mystery & Imagination
---
« Newer Entries
Thank you for reading FLEURSDUMAL.NL - magazine for art & literature