Philippe Soupault: Lost Profiles. Memoirs of Cubism, Dada, and Surrealism
A literary retrospective of a crucial period in modernism—the transition from Dada to Surrealism––via portraits and encounters with its literary lions, including Joyce, Proust, Reverdy, Apollinaire, Crevel and more by the co-founder of the Paris surrealist group.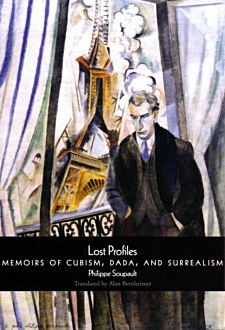 Poet Alan Bernheimer provides a long overdue English translation of this French literary classic—Lost Profiles is a retrospective of a crucial period in modernism, written by co-founder of the Surrealist Movement.
Opening with a reminiscence of the international Dada movement in the late 1910s and its transformation into the beginnings of surrealism, Lost Profiles then proceeds to usher its readers into encounters with a variety of literary lions.
We meet an elegant Marcel Proust, renting five adjoining rooms at an expensive hotel to "contain" the silence needed to produce Remembrance of Things Past; an exhausted James Joyce putting himself through grueling translation sessions for Finnegans Wake; and an enigmatic Apollinaire in search of the ultimate objet trouvé.
Soupault sketches lively portraits of surrealist precursors like Pierre Reverdy and Blaise Cendrars, a moving account of his tragic fellow surrealist René Crevel, and the story of his unlikely friendship with right-wing anti-Vichy critic George Bernanos.
The collection ends with essays on two modernist forerunners, Charles Baudelaire and Henri Rousseau. With an afterword by Ron Padgett recounting his meeting with Soupault in the mid 70's and a preface by André Breton biographer Mark Polizzotti, Lost Profiles confirms Soupault's place in the vanguard of twentieth-century literature.
Philippe Soupault (1897-1990) served in the French army during WWI and subsequently joined the Dada movement. In 1919, he collaborated with André Breton on the automatic text Les Champs magnétiques, launching the surrealist movement. In the years that followed, he wrote novels and journalism, directed Radio Tunis in Tunisia, and worked for UNESCO.
Lost Profiles
Memoirs of Cubism, Dada, and Surrealism
Philippe Soupault
Translated by Alan Bernheimer
Foreword by Mark Polizzotti
Afterword by Ron Padgett
Paperback – $13.95
Pages:112 – 2016
City Lights Publishers
ISBN978-0-87286-727-7
"(…) a brief account by a perceptive writer who was on the scene when modernity was young.", Robert Fulford
fleursdumal.nl magazine
More in: - Book News, - Book Stories, Archive S-T, Art & Literature News, Art Criticism, Cendrars, Blaise, DADA, Dadaïsme, EXPERIMENTAL POETRY, EXPRESSIONISM, DADA & DE STIJL, SURREALISM, Kubisme, SURREALISM, Surrealisme