The Sound of Blossom Falling: New book of poetry by Vincent Berquez
Vincent Berquez is a poet and artist, living in London with his wife and son. He was born to French parents and attended the French Lycée and Cannock boarding school.
Berquez studied Fine Art at Goldsmith's; followed by The Camden Institute, where he was taught by Frank Auerbach.
He worked as an artist for many years prior to studying museology and conservation at London University following which he worked as a curator and conserver at various institutions, including the British Museum, and the Louvre.
Berquez has published in Britain, Europe, America and New Zealand. His work is in many anthologies, collections and magazine worldwide. Vincent Berquez was requested to write a Tribute as part of 'Poems to the American People' for the Hastings International Poetry Festival for 9/11, read by the mayor of New York at the podium.
He has also been commissioned to write an eulogy by the son of Chief Albert Nwanzi Okoluko, the Ogimma Obi of Ogwashi-Uku to commemorate the death of his father.
Vincent Berquez has been a judge many times, including for Manifold Magazine and had work read as part of Manifold Voices at Waltham Abbey. He has recited many times, including at The Troubadour and the Pitshanger Poets, in London. In 2006 his name was put forward with the Forward Prize for Literature. Recently he was awarded a prize with Decanto Magazine. Berquez is now a member of London Voices who meet monthly in London, U.K
Berquez has also been collaborating in 07/08 with a Scottish composer and US film maker to produce a song-cycle of seven of his poems for mezzo-soprano and solo piano. These are being recorded at the Royal College of Music under the directorship of the concert pianist, Julian Jacobson. In 2009 he contributed 5 poems for the edition of A Generation Defining Itself, as well as 3 poems for Eleftheria Lialios's book on wax dolls published in Chicago. He also made poetry films that have been shown at various venues, including a Polish/British festival in London, Jan 07.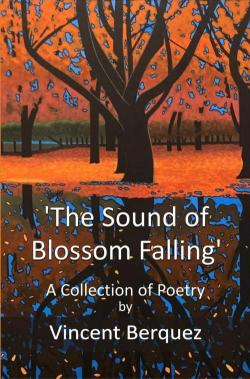 As an artist Vincent Berquez has exhibited world wide, winning prizes, such as at the Novum Comum 88' Competition in Como, Italy. He has also worked with an art's group, called Eins von Hundert, from Cologne, Germany for over 16 years. Berquez has shown his work at the Institute of Art in Chicago, US, as well as many galleries and institutions worldwide.
Recently he showed his paintings at the Lambs Conduit Festival, he took part in a group show called Gazing on Salvation, reciting his poetry for Lent and exhibiting paintings/collages.
He had a one-man show at Sacred Spaces Gallery with his Christian collages in 2007. In 2008 Vincent Berquez had a solo show of paintings at The Foundlings Museum and in 2011 an exposition with new work in Langham Gallery London.
Vincent Berquez has published regularly in fleursdumal.nl magazine for many years.
His book of poetry, called: The Sound of Blossom Falling, was recently published by CyberWit in London.
"The main point about these poems is deep emotion and concrete theme. We notice very impressive ardour of imagination in these poem."
The Sound of Blossom falling
He talks of her with the simple love of a father,
describing how they walked the verdant path
and along the softness of the hardy hills
entwined in each other's presence.
He feeds the dialogue of his love of nature
as he gazes and points out
the crisp colours and myriad greens –
he asks if she sees what he sees,
if she hears what he hears –
and as she looks and thinks
with a bright child's mind
she says 'I can hear the sound of blossom falling.'
They both stand still and listen for a moment.
The Sound of Blossom Falling
Author: Vincent Berquez
Poetry
Binding: Paperback
Language: ‎ English
86 pages
Publisher: Cyberwit.net
Pub. Date: 2021
ISBN-10: ‎9390601096
ISBN-13: ‎978-9390601097
Dimensions: ‎13.97 x 0.56 x 21.59 cm
£10.89
• fleursdumal.nl magazine
More in: #Editors Choice Archiv, - Book News, - Bookstores, Archive A-B, Archive A-B, Berquez, Vincent