Judas Goat: Poems by Gabrielle Bates
Gabrielle Bates's electric debut collection Judas Goat plumbs the depths of intimate relationships.
The book's eponymous animal is used to lead sheep to slaughter while its own life is spared, its harrowing existence echoes through this spellbinding collection of forty poems, which wrestle with betrayal and forced obedience, violence and young womanhood, and the "forbidden felt language" of sexual and sacred love.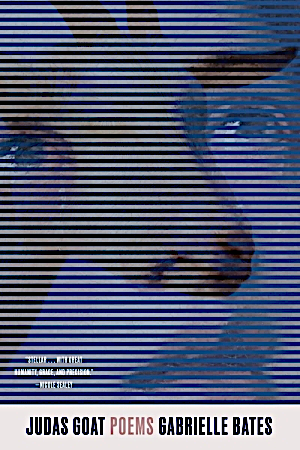 These poems conjure encounters with figures from scriptures, domesticated animals eyeing the wild, and mothering as a shapeshifting, spectral force; they question what it means to love another person and how to exorcise childhood fears. All the while, the Deep South haunts, and no matter how far away the speaker moves, the South always draws her back home.
In confession, in illumination, Bates establishes herself as an unflinching witness to the risks that desire necessitates, as Judas Goat holds readers close and whispers its unforgettable lines.
For a long time, the only part of my poems anyone praised
were the endings.
I didn't mind.
The way I understood it, if the ending was good,
it cast goodness back over the whole.
I thought we could be saved at the last minute.
Gabrielle Bates is the author of the debut poetry collection Judas Goat (Tin House, 2023). Her work has appeared in the New Yorker, Poetry Magazine, Ploughshares, APR, Virginia Quarterly Review, New England Review, Gulf Coast, Mississippi Review, Black Warrior Review, the Best of the Net anthology, and BAX: Best American Experimental Writing, among other journals and anthologies, and her poetry comics have been featured internationally in a variety of exhibitions, festivals, and conferences. Originally from Birmingham, Alabama, she currently lives in Seattle, where she serves as the Social Media Manager of Open Books: A Poem Emporium, a contributing editor for Bull City Press, and a University of Washington teaching fellow. With Luther Hughes and Dujie Tahat, she co-hosts the podcast The Poet Salon, where poets talk over drinks.
Judas Goat: Poems
by Gabrielle Bates (Author)
January 24, 2023
Publisher: ‎Tin House Books (January 24, 2023)
Language: ‎English
Paperback
‎104 pages
ISBN-10: ‎ 1953534643
ISBN-13: ‎ 978-1953534644
$16.95
• fleursdumal.nl magazine
More in: #Editors Choice Archiv, - Book News, - Bookstores, Archive A-B, Archive A-B