Tilburgs Stadsdichter Onias Landveld gast tijdens Tilt Festival 2019
Onias Landveld Stadsdichter van Tilburg organiseert op 30 maart, de tweede editie van The Stage. Die avond zal hij met zijn podium te gast zijn bij het Tilt Festival in Theater De Nieuwe Vorst in Tilburg.
Het thema van de avond is "Zij is", een knik naar de Boekenweek 2019, die 'Moeder de vrouw' als onderwerp heeft.
Met een aantal speciale gasten zal The Stage bezoekers die avond vermaken met poëzie, verhalen en muziek.
De stadsdichter is het podium gestart omdat hij iets wil achterlaten als hij in Augustus dit jaar afzwaait.
Onias Landveld vindt dat woordkunst in een stad als Tilburg een plaats moet blijven hebben. Daarom is hij vorig jaar dit evenement gestart dat zijn vaste plek in de Nwe Vorst heeft.
Op 30 maart staan on Stage: Zeinab El Bouni, Aminata Cairo, LouLou Elisabettie, Lev Avitan, Whitney Muanza Sabina Lukovic en Tessa Gabriëls.
Onias Landveld & The Stage
Tilt Festival in Theater De Nieuwe Vorst
Willem II straat – Tilburg.
Aanvang: 20:45
Einde: 22:45
Kaarten verkrijgbaar via de website van Tilt of de Nieuwe Vorst
# website theater de nieuwe vorst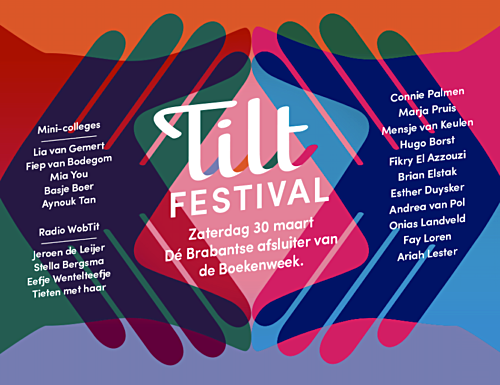 • fleursdumal.nl magazine
More in: *Concrete + Visual Poetry K-O, - Book Lovers, Archive K-L, Archive K-L, Art & Literature News, City Poets / Stadsdichters, Landveld, Onias, STREET POETRY, THEATRE, Tilt Festival Tilburg