Kill Class by Nomi Stone (Poetry)
A poet and anthropologist explores the surprising world of war games in mock Middle Eastern villages in which the U.S. military trains.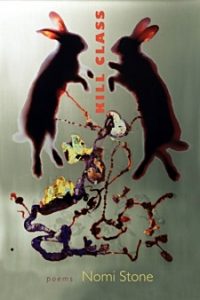 With deft lyrical attention, these documentary poems reveal the nuanced culture and violence of the war machine—alive and well within these basecamp villages, the American military, and, ultimately, the human heart.
Kill Class is based on Nomi Stone's two years of fieldwork in mock Middle Eastern villages at military bases across the United States.
The speaker in these poems, an anthropologist, both witnesses and participates in combat training exercises staged at "Pineland," a simulated country in the woods of the American South, where actors of Middle Eastern origin are hired to theatricalize war, repetitively pretending to bargain and mourn and die.
Kill Class is an arresting ethnography of American military culture, one that allows readers to circle at length through the cloverleaf interchanges where warfare nestles into even the most mundane corners of everyday life.
Nomi Stone is a poet, anthropologist, and author of a previous book of poems, Stranger's Notebook (TriQuarterly, 2008). Winner of a 2018 Pushcart Prize, Stone's poems appear recently in POETRY Magazine, American Poetry Review, The Best American Poetry, The New Republic, Tin House, New England Review, and elsewhere. Stone has a PhD in Cultural Anthropology from Columbia University, an MPhil in Middle East Studies from Oxford, and an MFA in Poetry from Warren Wilson College. She teaches at Princeton University and her ethnography in progress, Human Technology and American War, is a finalist for the University of California Press Atelier Series.
Kill Class
by Nomi Stone (Author)
Paperback
87 pages
Publisher: Tupelo Press
February 1, 2019
Language: English
Poetry
ISBN-10: 1946482196
ISBN-13: 978-1946482198
$17.95
# new poetry
Kill Class
by Nomi Stone
• fleursdumal.nl magazine
More in: *War Poetry Archive, - Book News, - Book Stories, Archive S-T, Archive S-T, Art & Literature News, WAR & PEACE