Death Blossoms. Reflections from a Prisoner of Conscience, Expanded Edition by Mumia Abu-Jamal
Profound meditations on life, death, freedom, family, and faith, written by radical Black journalist, Mumia Abu-Jamal, while he was awaiting his execution.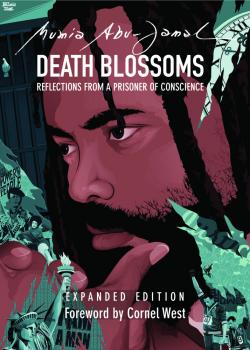 During the spring of 1996, black journalist Mumia Abu-Jamal was living on death row and expecting to be executed for a crime he steadfastly maintained he did not commit—the murder of a white Philadelphia police officer. It was in that period, with the likelihood of execution looming over him, that he received visits from members of the Bruderhof spiritual community––refugees from Hitler's Germany––anti-fascist, anti-racist, and deeply opposed to the death penalty. Inspired by the encounters, Mumia hand-wrote Death Blossoms—a series of short essays and personal vignettes reflecting on his search for spiritual meaning, freedom, and truth in a deeply racist and materialistic society.
Featuring a new introduction by Mumia and a report by Amnesty International detailing how his trial was "in violation of minimum international standards," this new edition of Death Blossoms is essential reading for the Black Lives Matter era, and is destined to endure as a classic in American prison literature.
"In this revised edition of his groundbreaking work, Death Blossoms, convicted death row prisoner Mumia Abu-Jamal tackles hard and existential questions, searching for God and a greater meaning in a caged life that may be cut short if the state has its way and takes his life. As readers follow Mumia's journey through his poems, short essays, and longer musings, they will learn not only about this singular individual who has retained his humanity despite the ever present threat of execution, but also about themselves and our society: what we are willing to tolerate and who we are willing to cast aside. If there is any justice, Mumia will prevail in his battle for his life and for his freedom."––Lara Bazelon, author of Rectify: The Power of Restorative Justice After Wrongful Conviction
"Mumia Abu-Jamal has challenged us to see the prison at the center of a long history of US oppression, and he has inspired us to keep faith with ordinary struggles against injustice under the most terrible odds and circumstances. Written more than two decades ago, Death Blossoms helps us to see beyond prison walls; it is as timely and as necessary as the day it was published."––Nikhil Pal Singh, founding faculty director of the NYU Prison Eduction Program, author of Race and America's Long War.
Title: Death Blossoms
Subtitle: Reflections from a Prisoner of Conscience, Expanded Edition
Author: Mumia Abu-Jamal
Foreword: Cornel West
Introduction by Mumia Abu-Jamal
Preface by Julia Wright
Publisher: City Lights Publishers
Tags: African American history, black lives matter, black panther party, death row, injustice, institutional injustice, mass incarceration, prison industrial complex, prison writing, racial injustice, U.S. political prisoners, white supremacy
Format: Paperback
ISBN-10 0872867978
ISBN-13 9780872867970
Publication Date; 12 November 2019
Main content page count 240
List Price $16.95
# new books
Mumia Abu-Jamal
Death Blossoms
Reflections from a Prisoner of Conscience
• fleursdumal.nl magazine
More in: #Editors Choice Archiv, - Book Lovers, - Book News, Archive A-B, Archive A-B, CRIME & PUNISHMENT, REPRESSION OF WRITERS, JOURNALISTS & ARTISTS