The Nightfields by Joanna Klink
Joanna Klink's fifth book begins with poems of personal loss–a tree ripped out by a windstorm, a friendship broken off after decades, the nearing death of parents.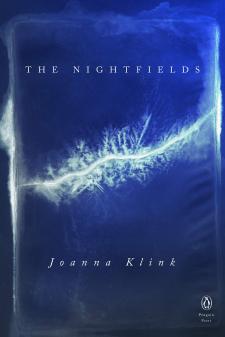 Other poems take on the cost of not loving fully, or are written from bewilderment at the accumulation of losses and at the mercilessness of having, as one ages, to rule things out. There are elegies for friends, and a group of devotional poems.
The Nightfields closes with thirty-one metaphysical poems inspired by the artist James Turrell's Roden Crater, an extinct volcano in Arizona that Turrell has been transforming into an observatory for the perception of time. The sequence unfolds as a series of revelations that begin in psychic fear and move gradually toward the possibility of infinitude and connection.
Joanna Klink is the author of five books of poetry. She has received awards and fellowships from the Rona Jaffe Foundation, Jeannette Haien Ballard, Civitella Ranieri, the Bogliasco Foundation, the American Academy of Arts and Letters, the Trust of Amy Lowell, and the John Simon Guggenheim Memorial Foundation. She is teaching at the Michener Center in Austin. Her most recent book, The Nightfields, was published July 7, 2020 by Penguin Books.
( . . . )
When the wind pushes
branches in and out of
shade it is an opening,
as every small gesture
toward another person is
incomprehensibly alive.
Will you be part of the
stoneless passage?
( . . . )
A new collection from a poet whose books "are an amazing experience: harrowing, ravishing, essential, unstoppable" (Louise Glück)
The Nightfields
by Joanna Klink (Author)
Publisher: ‎Penguin Books
July 7, 2020
Language: ‎English
Paperback: ‎112 pages
ISBN-10: ‎ 0143135392
ISBN-13: ‎ 978-0143135395
Price: $20.00
• fleursdumal.nl magazine
More in: #Editors Choice Archiv, - Book News, - Bookstores, Archive K-L, Archive K-L