APOLLINAIRE, THE EYES OF THE POET, IN MUSÉE DE L'ORANGERIE PARIS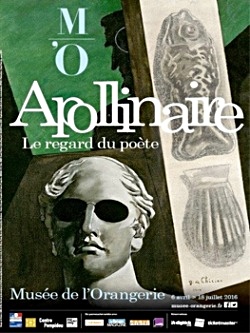 Musée de l'Orangerie, Paris
Apollinaire, the vision of the poet
Until 18 July 2016
The exhibition Apollinaire, the Eyes of the Poet looks at the period between 1902 and 1918 when Guillaume Apollinaire was active as an art critic. This period of fifteen years, seemingly a brief span, would in fact see a prodigious concentration of schools, manifestos, experiments and discoveries flourishing throughout the arts. Apollinaire's character, his artistic sensitivity and his insatiable curiosity, made him a witness, a participant and a privileged intermediary in the turbulent times of the early 20th century. With a keen eye for discovering the art of his time, Apollinaire "defined once and for all the approach of artists like Matisse, Derain, Picasso and Chirico (…) using intellectual surveying techniques not seen since Baudelaire" Breton declared in 1952.
The aim of this exhibition is to recognise the important effect that this poet-critic's discerning eye had on his era, in much the same way as Baudelaire and Mallarmé had on theirs.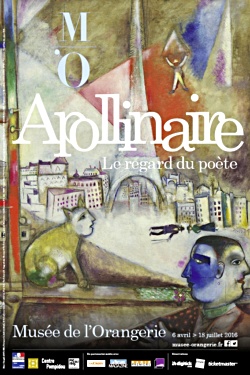 Poet, critic, friend of artists and one of the first to discover African arts, Apollinaire proved to be a key player in the aesthetic revolution that led to the birth of modern art.
This exhibition aims to explore Apollinaire's mental and aesthetic universe through a thematic display: from Douanier Rousseau to Matisse, Picasso, Braque and Delaunay, from Cubism to Orphism and Surrealism, from academic sources to modernity, from tribal arts to popular arts. One section will highlight in particular the poet's links with Picasso.
The exhibition sits quite naturally in the Musée de l'Orangerie alongside the works collected by his friend Paul Guillaume, whom Apollinaire introduced into the avant-garde circles, and whose adviser he became.
Musée de l'Orangerie
Jardin des Tuileries
Place de la Concorde
Paris fr
+33 (0)1 44 77 80 07
+33 (0)1 44 50 43 00
Jours et horaires d'ouverture
Ouvert de 9h à 18h
Dernier accès : 17h15
Fermé le mardi
# Website: Le musée de l'Orangerie
fleursdumal.nl magazine
More in: Apollinaire, Guillaume, Archive A-B, Art & Literature News, Art Criticism, Exhibition Archive, FDM in Paris, SURREALISM