Anything the Landlord Touches by Emma Lew
Anything the Landlord Touches was Emma Lew's second collection to be published in Australia.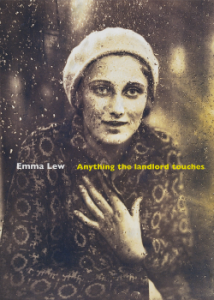 The book won the C.J. Dennis Prize for Poetry (the Victorian State Premier's award for poetry), and the Judith Wright Calanthe Award (the Queensland Premier's Prize for Poetry), two of the main literary prizes in the country, and was also short-listed for The Age award and the NSW and South Australian Premier's Literary Prizes.
Emma Lew lives in Melbourne. Her first collection of poems, The Wild Reply (1997), won the Mary Gilmore Award and was joint winner of the Age Poetry Book of the Year Award. Her second collection, Anything the Landlord Touches (2002), won the Victorian Premier's C. J. Dennis Prize for Poetry and the Queensland Premier's Judith Wright Calanthe Prize for Poetry. A selection of German language translations of her poems by Mirko Bonne was published under the title Nesselgesang in 2008. Crow College: New and Selected Poems was published by Giramondo in 2019.
Anything the Landlord Touches
by Emma Lew
Poetry
Giramondo Publishing Australia
96 pages
Paperback
21 x 15 cm
2002
ISBN 0957831161
$22.00
• fleursdumal.nl magazine
More in: #Editors Choice Archiv, - Book News, - Bookstores, Archive K-L, Archive K-L