Opium-Eaters
·
Charles Bukowski: The Mathematics of the Breath and the Way. On Writers and Writing
·
Old Angel Midnight by Jack Kerouac
·
William Brewer: I Know Your Kind. Poems about the American opioid epidemic
·
Samuel Taylor COLERIDGE: Love
·
William WORDSWORTH: I wandered lonely as a cloud
·
Samuel Taylor COLERIDGE: Youth And Age a poem
·
William WORDSWORTH: London 1802
·
Samuel Taylor COLERIDGE: Xanadu – Kubla Khan
·
Samuel Taylor COLERIDGE: The Presence of Love
·
Samuel Taylor COLERIDGE: Frost at Midnight poem
·
William WORDSWORTH: Lines Composed a Few Miles above Tintern Abbey
·
Samuel Taylor COLERIDGE: Desire
In The Mathematics of the Breath and the Way, Charles Bukowski considers the art of writing, and the art of living as writer.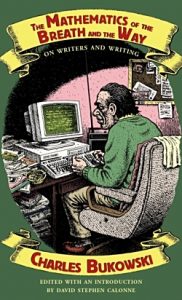 Bringing together a variety of previously uncollected stories, columns, reviews, introductions, and interviews, Mathematics finds him approaching the dynamics of his chosen profession with cynical aplomb, deflating pretentions and tearing down idols armed with only a typewriter and a bottle of beer.
Beginning with the title piece—a serious manifesto disguised as off-handed remarks en route to the racetrack—Mathematics runs through numerous tales following the author's adventures at poetry readings, parties, film sets, and bars, and also features an unprecedented gathering of Bukowski's singular literary criticism.
From classic authors like Hemingway to underground legends like d.a. levy to his own stable of obscure favorites, Bukowski uses each occasion to expound on the larger issues around literary production.
The book closes with a handful of interviews in which he discusses his writing practices and his influences, making Mathematics a perfect guide to the man behind the myth and the disciplined artist behind the boozing brawler.
The method behind the madness, revealing the critical acumen of everyone's favorite Dirty Old Man.
"Genius could be the ability to say a profound thing in a simple way, or even to say a simple thing in a simpler way."—Charles Bukowski
Charles Bukowski was born in Andernach, Germany on August 16, 1920, the only child of an American soldier and a German mother. At the age of three, he came with his family to the United States and grew up in Los Angeles. He attended Los Angeles City College from 1939 to 1941, then left school and moved to New York City to become a writer. His lack of publishing success at this time caused him to give up writing in 1946 and spurred a ten-year stint of heavy drinking. After he developed a bleeding ulcer, he decided to take up writing again. He worked a wide range of jobs to support his writing, including dishwasher, truck driver and loader, mail carrier, guard, gas station attendant, stock boy, warehouse worker, shipping clerk, post office clerk, parking lot attendant, Red Cross orderly, and elevator operator. He also worked in a dog biscuit factory, a slaughterhouse, a cake and cookie factory, and he hung posters in New York City subways.
Bukowski published his first story when he was twenty-four and began writing poetry at the age of thirty-five. His first book of poetry was published in 1959; he went on to publish more than forty-five books of poetry and prose, including Pulp (Black Sparrow, 1994), Screams from the Balcony: Selected Letters 1960-1970 (1993), and The Last Night of the Earth Poems (1992), and the following books with City Lights Publishers: Notes of a Dirty Old Man (1981), The Most Beautiful Woman in Town & Other Stories (1983), Tales of Ordinary Madness (1984), Portions from a Wine-Stained Notebook: Uncollected Stories and Essays, 1944-1990 (2008), Absence of the Hero: Uncollected Stories and Essays, Vol. 2: 1946-1992 (2010), More Notes of a Dirty Old Man: The Uncollected Columns (2011), and The Bell Tolls for No One (2015). He died of leukemia in San Pedro on March 9, 1994.
Title: The Mathematics of the Breath and the Way
Subtitle: On Writers and Writing
Author: Charles Bukowski
Introduction by David Stephen Calonne
Edited by David Stephen Calonne
Publisher: City Lights Publishers
Format Paperback
ISBN-10 0872867595
ISBN-13 9780872867598
250 Pages
List Price $16.95
Publication Date 15 May 2018
new books
fleursdumal.nl magazine
More in: - Book News, Archive A-B, Archive A-B, Art & Literature News, Bukowski, Charles, Opium-Eaters
---
Old Angel Midnight is a treasure trove of Kerouac's experiments with automatic writing, a method he practiced constantly to sharpen his imaginative reflexes.
Recorded in a series of notebooks between 1956-1959, what Kerouac called his "endless automatic writing piece" began while he shared a cabin with poet Gary Snyder.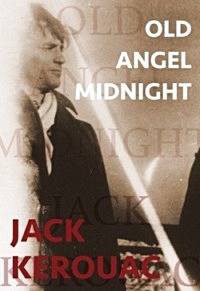 Kerouac tried to emulate Snyder's daily Buddhist meditation discipline, using the technique of "letting go" to free his mind for pure spontaneous writing, annotating the stream of words flowing through his consciousness in response to auditory stimuli and his own mental images.
Kerouac continued his exercise in spontaneous composition over the next three years, including a period spent with William Burroughs in Tangiers. He made no revisions to the automatic writing entries in his notebooks, which were collected and transcribed for publication as originally written.
Old Angel Midnight attests to the success of Kerouac's experiment and bears witness to his commitment to his craft, and to the pleasure he takes in writing: "I like the bliss of mind."
"Kerouac's ambition to capture the living moment (crucially for him, recapitulating memory) developed poetic form in 1954 with his collection San Francisco Blues, and it reached greater fulfilment with the sixty-seven free-association passages of Old Angel Midnight. This new edition from City Light Books adds one more, found among Kerouac's papers by John Sampas, concluding 'Eyes of Ray Charles see Me here realize O Holy.' Mostly written during April 1956 when Kerouac shared a shack with Gary Snyder in rural Mill Valley, outside San Francisco, Old Angel Midnight was likely facilitated by the 'letting go' technique he observed from Snyder's Buddhist meditation." – Jules Smith – The Times Literary Supplement
"Tried to warn all of you, essence of stuff wont do
— God why did you make the world?
Answer: –Because I gwt pokla renamash ta va in
ming the atss are you forever with it?
I like the bliss of mind.
Awright I'll call up all the fuckin Gods, right now!
Parya! Arrive! Ya damn hogfuckin lick lip twillerin
fishmonger! Kiss my purple royal ass baboon! Poota!
Whore! You and yr retinues of chariots & fucks! Devadatta!
Angel of Mercy! Prick! Lover! Mush! Run on
ya dog eared kiss willying nilly Dexter Michigan ass—
warlerin ratpole! The rat in my cellar's an old canuck who
wasnt fooled by rebirth but b God gotta admit I was born for
the same reason I bring this glass to my lip — ?
Rut! Old God whore, the key to ecstasy is forevermore
furthermore blind! Potanyaka! God of Mercy!"
Excerpt from 'Old Angel Midnight' by Jack Kerouac
Old Angel Midnight
Jack Kerouac
Preface by Ann Charters, Michael McClure
Collection City Lights/Grey Fox
Publisher City Lights Publishers
Paperback, $13.95
Pages 94
Publication 2016
ISBN-10 087286703X
ISBN-13 9780872867031
fleursdumal.nl magazine
More in: - Book Lovers, - Book Stories, Archive K-L, Art & Literature News, Automatic writing, Kerouac, Jack, Opium-Eaters
---
Selected for the National Poetry Series by Ada Limón, I Know Your Kind is a haunting, blistering debut collection about the American opioid epidemic and poverty in rural Appalachia.
In West Virginia, fatal overdoses on opioids have spiked to three times the national average. In these poems, William Brewer demonstrates an immersive, devastating empathy for both the lost and the bereaved, the enabled and the enabler, the addict who knocks late at night and the brother who closes the door.
He shows us the high, at once numbing and transcendent: "this warm moment when I forget which part of me / I blamed."
He shows us the overdose, when "the poppies on my arms / bruised red petals." And he shows us the mourner, attending his high school reunion: "I guess we were underdressed: / me in my surf shoes / you in an urn."
Underneath and among this multiplicity of voices runs the Appalachian landscape—a location, like the experience of drug addiction itself, of stark contrasts: beauty and ruin, nature and industry, love and despair.
Uncanny, heartbreaking, and often surreal, I Know Your Kind is an unforgettable elegy for the people and places that have been lost to opioids.
William Brewer is the author of I Know Your Kind, a winner of the 2016 National Poetry Series, as well as the chapbook Oxyana, which was awarded the Poetry Society of America Chapbook Fellowship 30 and Under. He is currently a Stegner Fellow at Stanford University. He was born and raised in West Virginia.
Poetry
I Know Your Kind
By William Brewer
Paperback $16.00
ISBN: 978-1-57131-495-6
Publish Date: Sept. 2017
Pages: 96
Size:5.5 × 8.5 × 0.25 in
Milkweed Books
fleursdumal.nl magazine
More in: - Book News, - Bookstores, Archive A-B, Art & Literature News, EDITOR'S CHOICE, Opium-Eaters
---
Samuel Taylor Coleridge
Love
All thoughts, all passions, all delights,
Whatever stirs this mortal frame,
All are but ministers of Love,
And feed his sacred flame.
Oft in my waking dreams do I
Live o'er again that happy hour,
When midway on the mount I lay,
Beside the ruined tower.
The moonshine, stealing o'er the scene
Had blended with the lights of eve:
And she was there, my hope, my joy,
My own dear Genevieve!.
She leant against the arméd man,
The statue of the arméd knight:
She stood and listened to my lay,
Amid the lingering light.
Few sorrows hath she of her own,
My hope ! my joy ! my Genevieve !
She loves me best, whene'er I sing
The songs that make her grieve.
I played a soft and doleful air,
I sang an old and moving story-
An old rude song, that suited well
That ruin wild and hoary.
She listened with a flitting blush,
With downcast eyes and modest grace:
For well she know, I could not choose
But gaze upon her face.
I told her of the Knight that wore
Upon his shield a burning brand:
And that for ten long years he wooed
The Lady of the Land.
I told her how he pined : and ah!
The deep, the low, the pleading tone
With which I sang another's love,
Interpreted my own.
She listened with a flitting blush,
With downcast eyes, and modest grace:
And she forgave me, that I gazed
Too fondly on her face!.
But when I told the cruel scorn
That crazed that bold and lovely Knight,
And that he crossed the mountain-woods,
Nor rested day nor night:
That sometimes from the savage den,
And sometimes from the darksome shade,
And sometimes starting up at once
In green and sunny glade,-
There came and looked him in the face
An angel beautiful and bright:
And that he knew it was a Fiend,
This miserable Knight!.
And that unknowing what he did,
He leaped amid a murderous band,
And saved from outrage worse than death
The Lady of the Land!.
And how she wept, and clasped his knees:
And how she tended him in vain-
And ever strove to expiate
The scorn that crazed his brain ;-
And that she nursed him in a cave:
And how his madness went away,
When on the yellow forest-leaves
A dying man he lay ;-
His dying words -but when I reached
That tenderest strain of all the ditty,
My faultering voice and pausing harp
Disturbed her soul with pity!.
All impulses of soul and sense
Had thrilled my guileless Genevieve:
The music and the doleful tale,
The rich and balmy eve:
And hopes, and fears that kindle hope,
An undistinguishable throng,
And gentle wishes long subdued,
Subdued and cherished long!.
She wept with pity and delight,
She blushed with love, and virgin-shame:
And like the murmur of a dream,
I heard her breathe my name.
Her bosom heaved -she stepped aside,
As conscious of my look she stepped-
The suddenly, with timorous eye
She fled to me and wept.
She half enclosed me with her arms,
She pressed me with a meek embrace:
And bending back her head, looked up,
And gazed upon my face.
'Twas partly love, and partly fear,
And partly 'twas a bashful art,
That I might rather feel, than see,
The swelling of her heart.
I calmed her fears, and she was calm,
And told her love with virgin pride:
And so I won my Genevieve,
My bright and beauteous Bride.
Samuel Taylor Coleridge (1772 – 1834)
Love
fleursdumal.nl magazine
More in: Archive C-D, Coleridge, Coleridge, Samuel Taylor
---
William Wordsworth
I wandered lonely as a cloud
I wandered lonely as a cloud
That floats on high o'er vales and hills,
When all at once I saw a crowd,
A host, of golden daffodils;
Beside the lake, beneath the trees,
Fluttering and dancing in the breeze.
Continuous as the stars that shine
And twinkle on the milky way,
They stretched in never-ending line
Along the margin of a bay:
Ten thousand saw I at a glance,
Tossing their heads in sprightly dance.
The waves beside them danced, but they
Out-did the sparkling leaves in glee;
A poet could not be but gay,
In such a jocund company!
I gazed—and gazed—but little thought
What wealth the show to me had brought:
For oft, when on my couch I lie
In vacant or in pensive mood,
They flash upon that inward eye
Which is the bliss of solitude;
And then my heart with pleasure fills,
And dances with the daffodils.
William Wordsworth (1770 – 1850)
I wandered lonely as a cloud
fleursdumal.nl magazine
More in: Archive W-X, Wordsworth, Wordsworth, William
---
Samuel Taylor Coleridge
Youth And Age a poem
Verse, a breeze 'mid blossoms straying,
Where Hope clung feeding, like a bee
Both were mine! Life went a-maying
With Nature, Hope, and Poesy,
When I was young!
When I was young? Ah, woeful When!
Ah! for the change 'twixt Now and Then!
This breathing house not built with hands,
This body that does me grievous wrong,
O'er aery cliffs and glittering sands
How lightly then it flashed along,
Like those trim skiffs, unknown of yore,
On winding lakes and rivers wide,
That ask no aid of sail or oar,
That fear no spite of wind or tide!
Nought cared this body for wind or weather
When Youth and I lived in't together.
Flowers are lovely; Love is flower-like;
Friendship is a sheltering tree;
O the joys! that came down shower-like,
Of Friendship, Love, and Liberty,
Ere I was old!
Ere I was old? Ah woeful Ere,
Which tells me, Youth's no longer here!
O Youth! for years so many and sweet
'Tis known that Thou and I were one,
I'll think it but a fond conceit
It cannot be that Thou art gone!
Thy vesper-bell hath not yet tolled
And thou wert aye a masker bold!
What strange disguise hast now put on,
To make believe that thou art gone?
I see these locks in silvery slips,
This drooping gait, this altered size:
But Springtide blossoms on thy lips,
And tears take sunshine from thine eyes:
Life is but Thought: so think I will
That Youth and I are housemates still.
Dew-drops are the gems of morning,
But the tears of mournful eve!
Where no hope is, life's a warning
That only serves to make us grieve
When we are old:
That only serves to make us grieve
With oft and tedious taking-leave,
Like some poor nigh-related guest
That may not rudely be dismist;
Yet hath out-stayed his welcome while,
And tells the jest without the smile.
Samuel Taylor Coleridge (1772 – 1834)
Poem: Youth And Age
fleursdumal.nl magazine
More in: Archive C-D, Coleridge, Coleridge, Samuel Taylor
---
William Wordsworth
London 1802
Milton! thou should'st be living at this hour:
England hath need of thee: she is a fen
Of stagnant waters: altar, sword, and pen,
Fireside, the heroic wealth of hall and bower,
Have forfeited their ancient English dower
Of inward happiness. We are selfish men;
Oh! raise us up, return to us again;
And give us manners, virtue, freedom, power.
Thy soul was like a Star, and dwelt apart:
Thou hadst a voice whose sound was like the sea:
Pure as the naked heavens, majestic, free,
So didst thou travel on life's common way,
In cheerful godliness; and yet thy heart
The lowliest duties on herself did lay.
William Wordsworth (1770 – 1850)
Poem: London 1802
fleursdumal.nl magazine
More in: Archive W-X, Milton, John, Wordsworth, Wordsworth, William
---
Samuel Taylor Coleridge
Xanadu – Kubla Khan
In Xanadu did Kubla Khan
A stately pleasure-dome decree:
Where Alph, the sacred river, ran
Through caverns measureless to man
Down to a sunless sea.
So twice five miles of fertile ground
With walls and towers were girdled round:
And there were gardens bright with sinuous rills,
Where blossomed many an incense-bearing tree;
And here were forests ancient as the hills,
Enfolding sunny spots of greenery.
But oh! that deep romantic chasm which slanted
Down the green hill athwart a cedarn cover!
A savage place! as holy and enchanted
As e'er beneath a waning moon was haunted
By woman wailing for her demon-lover!
And from this chasm, with ceaseless turmoil seething,
As if this earth in fast thick pants were breathing,
A mighty fountain momently was forced:
Amid whose swift half-intermitted burst
Huge fragments vaulted like rebounding hail,
Or chaffy grain beneath the thresher's flail:
And 'mid these dancing rocks at once and ever
It flung up momently the sacred river.
Five miles meandering with a mazy motion
Through wood and dale the sacred river ran,
Then reached the caverns measureless to man,
And sank in tumult to a lifeless ocean:
And 'mid this tumult Kubla heard from far
Ancestral voices prophesying war!
The shadow of the dome of pleasure
Floated midway on the waves;
Where was heard the mingled measure
From the fountain and the caves.
It was a miracle of rare device,
A sunny pleasure-dome with caves of ice!
A damsel with a dulcimer
In a vision once I saw:
It was an Abyssinian maid,
And on her dulcimer she played,
Singing of Mount Abora.
Could I revive within me
Her symphony and song,
To such a deep delight 'twould win me
That with music loud and long
I would build that dome in air,
That sunny dome! those caves of ice!
And all who heard should see them there,
And all should cry, Beware! Beware!
His flashing eyes, his floating hair!
Weave a circle round him thrice,
And close your eyes with holy dread,
For he on honey-dew hath fed
And drunk the milk of Paradise.
Samuel Taylor Coleridge (1772 – 1834)
Xanadu – Kubla Khan
fleursdumal.nl magazine
More in: Archive C-D, Coleridge, Coleridge, Samuel Taylor
---
Samuel Taylor Coleridge
The Presence of Love
And in Life's noisiest hour,
There whispers still the ceaseless Love of Thee,
The heart's Self-solace and soliloquy.
You mould my Hopes, you fashion me within;
And to the leading Love-throb in the Heart
Thro' all my Being, thro' my pulse's beat;
You lie in all my many Thoughts, like Light,
Like the fair light of Dawn, or summer Eve
On rippling Stream, or cloud-reflecting Lake.
And looking to the Heaven, that bends above you,
How oft! I bless the Lot that made me love you.
Samuel Taylor Coleridge (1772 – 1834)
Poem: The Presence of Love
fleursdumal.nl magazine
More in: Archive C-D, Coleridge, Coleridge, Samuel Taylor
---
Samuel Taylor Coleridge
Frost at Midnight

The Frost performs its secret ministry,
Unhelped by any wind. The owlet's cry
Came loud, -and hark, again! loud as before.
The inmates of my cottage, all at rest,
Have left me to that solitude, which suits
Abstruser musings: save that at my side
My cradled infant slumbers peacefully.
'Tis calm indeed! so calm, that it disturbs
And vexes meditation with its strange
And extreme silentness. Sea, hill, and wood,
With all the numberless goings-on of life,
Inaudible as dreams! the thin blue flame
Lies on my low-burnt fire, and quivers not;
Only that film, which fluttered on the grate,
Still flutters there, the sole unquiet thing.
Methinks its motion in this hush of nature
Gives it dim sympathies with me who live,
Making it a companionable form,
Whose puny flaps and freaks the idling Spirit
By its own moods interprets, every where
Echo or mirror seeking of itself,
And makes a toy of Thought.
But O! how oft,
How oft, at school, with most believing mind,
Presageful, have I gazed upon the bars,
To watch that fluttering stranger! and as oft
With unclosed lids, already had I dreamt
Of my sweet birthplace, and the old church-tower,
Whose bells, the poor man's only music, rang
From morn to evening, all the hot Fair-day,
So sweetly, that they stirred and haunted me
With a wild pleasure, falling on mine ear
Most like articulate sounds of things to come!
So gazed I, till the soothing things, I dreamt,
Lulled me to sleep, and sleep prolonged my dreams!
And so I brooded all the following morn,
Awed by the stern preceptor's face, mine eye
Fixed with mock study on my swimming book:
Save if the door half opened, and I snatched
A hasty glance, and still my heart leaped up,
For still I hoped to see the stranger's face,
Townsman, or aunt, or sister more beloved,
My playmate when we both were clothed alike!
Dear Babe, that sleepest cradled by my side,
Whose gentle breathings, heard in this deep calm,
Fill up the interspersed vacancies
And momentary pauses of the thought!
My babe so beautiful! it thrills my heart
With tender gladness, thus to look at thee,
And think that thou shalt learn far other lore,
And in far other scenes! For I was reared
In the great city, pent mid cloisters dim,
And saw nought lovely but the sky and stars.
But thou, my babe! shalt wander like a breeze
By lakes and sandy shores, beneath the crags
Of ancient mountain, and beneath the clouds,
Which image in their bulk both lakes and shores
And mountain crags: so shalt thou see and hear
The lovely shapes and sounds intelligible
Of that eternal language, which thy God
Utters, who from eternity doth teach
Himself in all, and all things in himself.
Great universal Teacher! he shall mould
Thy spirit, and by giving make it ask.
Therefore all seasons shall be sweet to thee,
Whether the summer clothe the general earth
With greenness, or the redbreast sit and sing
Betwixt the tufts of snow on the bare branch
Of mossy apple-tree, while the nigh thatch
Smokes in the sun-thaw; whether the eave-drops fall
Heard only in the trances of the blast,
Or if the secret ministry of frost
Shall hang them up in silent icicles,
Quietly shining to the quiet Moon.
Samuel Taylor Coleridge (1772 – 1834)
Frost at Midnight
fleursdumal.nl magazine
More in: Archive C-D, Coleridge, Coleridge, Samuel Taylor
---
William Wordsworth
Lines Composed a Few Miles above Tintern Abbey
Five years have passed; five summers, with the length
Of five long winters! and again I hear
These waters, rolling from their mountain-springs
With a soft inland murmur.Once again
Do I behold these steep and lofty cliffs,
That on a wild secluded scene impress
Thoughts of more deep seclusion; and connect
The landscape with the quiet of the sky.
The day is come when I again repose
Here, under this dark sycamore, and view
These plots of cottage-ground, these orchard-tufts,
Which at this season, with their unripe fruits,
Are clad in one green hue, and lose themselves
'Mid groves and copses. Once again I see
These hedgerows, hardly hedgerows, little lines
Of sportive wood run wild; these pastoral farms,
Green to the very door; and wreaths of smoke
Sent up, in silence, from among the trees!
With some uncertain notice, as might seem
Of vagrant dwellers in the houseless woods,
Or of some Hermit's cave, where by his fire
The Hermit sits alone.
These beauteous forms,
Through a long absence, have not been to me
As is a landscape to a blind man's eye;
But oft, in lonely rooms, and 'mid the din
Of towns and cities, I have owed to them,
In hours of weariness, sensations sweet,
Felt in the blood, and felt along the heart;
And passing even into my purer mind
With tranquil restoration feelings too
Of unremembered pleasure; such, perhaps,
As have no slight or trivial influence
On that best portion of a good man's life,
His little, nameless, unremembered, acts
Of kindness and of love.Nor less, I trust,
To them I may have owed another gift,
Of aspect more sublime; that blessed mood,
In which the burthen of the mystery,
In which the heavy and the weary weight
Of all this unintelligible world,
Is lightened that serene and blessed mood,
In which the affections gently lead us on
Until, the breath of this corporeal frame
And even the motion of our human blood
Almost suspended, we are laid asleep
In body, and become a living soul;
While with an eye made quiet by the power
Of harmony, and the deep power of joy,
We see into the life of things.
If this
Be but a vain belief, yet, oh! how oft
In darkness and amid the many shapes
Of joyless daylight; when the fretful stir
Unprofitable, and the fever of the world,
Have hung upon the beatings of my heart
How oft, in spirit, have I turned to thee,
O sylvan Wye! thou wanderer through the woods,
How often has my spirit turned to thee!
And now, with gleams of half-extinguished thought,
With many recognitions dim and faint,
And somewhat of a sad perplexity,
The picture of the mind revives again;
While here I stand, not only with the sense
Of present pleasure, but with pleasing thoughts
That in this moment there is life and food
For future years.And so I dare to hope,
Though changed, no doubt, from what I was when first
I came among these hills; when like a roe
I bounded o'er the mountains, by the sides
Of the deep rivers, and the lonely streams,
Wherever nature led more like a man
Flying from something that he dreads than one
Who sought the thing he loved.For nature then
(The coarser pleasures of my boyish days
And their glad animal movements all gone by)
To me was all in all. I cannot paint
What then I was. The sounding cataract
Haunted me like a passion; the tall rock,
The mountain, and the deep and gloomy wood,
Their colors and their forms, were then to me
An appetite; a feeling and a love,
That had no need of a remoter charm,
By thought supplied, not any interest
Unborrowed from the eye. That time is past,
And all its aching joys are now no more,
And all its dizzy raptures. Not for this
Faint I, nor mourn nor murmur; other gifts
Have followed; for such loss, I would believe,
Abundant recompense.For I have learned
To look on nature, not as in the hour
Of thoughtless youth; but hearing oftentimes
The still sad music of humanity,
Nor harsh nor grating, though of ample power
To chasten and subdue.And I have felt
A presence that disturbs me with the joy
Of elevated thoughts; a sense sublime
Of something far more deeply interfused,
Whose dwelling is the light of setting suns,
And the round ocean and the living air,
And the blue sky, and in the mind of man:
A motion and a spirit, that impels
All thinking things, all objects of all thought,
And rolls through all things. Therefore am I still
A lover of the meadows and the woods,
And mountains; and of all that we behold
From this green earth; of all the mighty world
Of eye, and ear both what they half create,
And what perceive; well pleased to recognize
In nature and the language of the sense
The anchor of my purest thoughts, the nurse,
The guide, the guardian of my heart, and soul
Of all my moral being.
Nor perchance,
If I were not thus taught, should I the more
Suffer my genial spirits to decay:
For thou art with me here upon the banks
Of this fair river; thou my dearest Friend,
My dear, dear Friend; and in thy voice I catch
The language of my former heart, and read
My former pleasures in the shooting lights
Of thy wild eyes.Oh! yet a little while
May I behold in thee what I was once,
My dear, dear Sister! and this prayer I make,
Knowing that Nature never did betray
The heart that loved her; 'tis her privilege,
Through all the years of this our life, to lead
From joy to joy: for she can so inform
The mind that is within us, so impress
With quietness and beauty, and so feed
With lofty thoughts, that neither evil tongues,
Rash judgments, nor the sneers of selfish men,
Nor greetings where no kindness is, nor all
The dreary intercourse of daily life,
Shall e'er prevail against us, or disturb
Our cheerful faith, that all which we behold
Is full of blessings.Therefore let the moon
Shine on thee in thy solitary walk;
And let the misty mountain winds be free
To blow against thee: and, in after years,
When these wild ecstasies shall be matured
Into a sober pleasure; when thy mind
Shall be a mansion for all lovely forms,
Thy memory be as a dwelling place
For all sweet sounds and harmonies; oh! then,
If solitude, or fear, or pain, or grief,
Should be thy portion, with what healing thoughts
Of tender joy wilt thou remember me,
And these my exhortations! Nor, perchance
If I should be where I no more can hear
Thy voice, nor catch from thy wild eyes these gleams
Of past existence wilt thou then forget
That on the banks of this delightful stream
We stood together; and that I, so long
A worshipper of Nature, hither came
Unwearied in that service; rather say
With warmer love oh! with far deeper zeal
Of holier love.Nor wilt thou then forget,
That after many wanderings, many years
Of absence, these steep woods and lofty cliffs,
And this green pastoral landscape, were to me
More dear, both for themselves and for thy sake!
William Wordsworth (1770 – 1850)
Lines Composed a Few Miles above Tintern Abbey
fleursdumal.nl magazine
More in: Archive W-X, Wordsworth, Wordsworth, William
---
Samuel Taylor Coleridge
Desire
Where true Love burns Desire is Love's pure flame;
It is the reflex of our earthly frame,
That takes its meaning from the nobler part,
And but translates the language of the heart.
Samuel Taylor Coleridge (1772 – 1834)
Desire
fleursdumal.nl magazine
More in: Archive C-D, Coleridge, Coleridge, Samuel Taylor
---
Older Entries »
Thank you for reading FLEURSDUMAL.NL - magazine for art & literature