Ton van Reen: Het diepste blauw (096). Een roman als feuilleton
De herinnering aan de grote brand emotioneert hem. Hij merkt dat zijn hoofd gaat dazen, of er bijen in rond zoemen. Het zijn geen bijen, maar kinderstemmen. De school is uit.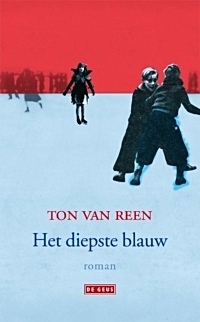 `Zit je hier al lang, opa?' Het zijn Afke en Zhia. In hun kleurige jurken hinkelen ze rond zijn rolstoel.
`Ik wachtte op jullie.'
`Wat gaan we doen?'
`Naar de watermolen?'
`Goed', zegt Afke.
`Is er feest?'
`Hoezo?'
`Omdat jullie jurken dragen. Jullie lopen altijd in broeken.'
`Straks ga ik bij haar thuis spelen', zegt Afke. `Zhia's oma is over. Ze is heel aardig, maar tegen meisjes in broeken praat ze niet.'
`Ik vind die jurken ook veel mooier.' Hij meent het echt.
Als vlinders lopen ze voor hem uit.
Bij het vlondertje van het voormalige huis van grootvader Rudolf staan ze even stil. Omdat ze daar altijd even stilstaan en omdat Mels er altijd wat vertelt.
`Hier legde ik vroeger mijn boot vast', zegt hij. `Dan liep ik naar binnen. Grootvader vertelde vaak over zijn denkbeeldige reizen, of over de oorlog. In het schuurtje had hij een klein museum.'
`Waar is dat spul gebleven?' vraagt Afke.
`Het meeste ligt bij mij op zolder.'
`Mogen wij er gaan kijken?'
`Zeker. Het spul moet er trouwens weg. Misschien is het iets voor een echt museum.'
`En als we het zelf willen houden?' zegt Afke. `Je kunt het aan mij geven. Ik bewaar het goed.'
`Dan mag jij alles hebben.'
De meisjes hinkelen voor hem uit. Als ze te ver voorop zijn, wachten ze op hem.
`Ik wil het weitje bij mijn grootvaders huis wel weer eens zien', zegt Mels.
`Wij spelen daar vaak', zegt Afke.
`Vroeger kwam er nooit iemand. Alleen wij. Tijger heeft er een kist met spullen begraven. Voor later.'
`Wat zat erin?'
`Zijn cadeaus van een verjaardagsfeestje. Ook de mondharmonica die ik hem had gegeven.'
`Die is allang verroest', zegt Zhia. `Waarom heeft hij dat spul begraven?'
`Tijger was net een eekhoorn. Hij stopte de dingen waarvan hij hield weg.'
`Eekhoorns vergeten waar ze hun noten begraven hebben', zegt Zhia.
`Tijger kreeg niet eens de tijd om zijn spullen terug te zoeken.'
Bij de brug slaat hij de weg in die langs de Wijer naar de molen en de parkeerplaats loopt.
`Jij rijdt hard', roept Afke tegen hem. `Straks rij je het water in.'
`Passen júllie maar op. Er zitten duiveltjes in het water, die je met hun haakstokken de beek in trekken.'
Hij stopt omdat hij een dode kraai aan de kant ziet liggen. Verderop ligt een dode egel. Vroeger stonden hier de frambozen van zijn moeder. De dieren hadden er vrij spel, maar op het asfalt hebben ze geen kans. De vogels en dieren die vroeger te snel of te stekelig waren om ze te kunnen pakken, zijn nu te langzaam of te zacht om te ontsnappen aan de auto's van de mensen die de molen bezoeken.
Ton van Reen: Het diepste blauw (096)
wordt vervolgd
• fleursdumal.nl magazine
More in: - Book News, - Het diepste blauw, Archive Q-R, Reen, Ton van