Ton van Reen: Het diepste blauw (081). Een roman als feuilleton
Tijger grijpt de punterstok om de boot uit het riet te houden. Grootvader Bernhard staat voor zijn molenhuis en zwaait hen na.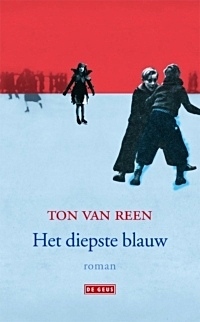 `Je zult zelf zien dat de Chinezen op hun handen lopen', roept hij. `Ze eten met hun voeten.'
`Ik stuur u een kaart van het paleis van de keizer', roept Mels.
Hij roeit. Hij roeit altijd. De taken zijn verdeeld. Tijger is stuurman en piloot.
Iemand moet de leiding hebben. Dat is altijd Tijger. Tijger die op de kracht van Mels vertrouwt. Mels is matroos en machinist tegelijk. Het roeien gaat hem makkelijk af. Hij hoeft zich nauwelijks in te spannen. Het water in de Wijer staat hoog en stroomt flink, alsof het haast heeft zich onder de brug door te wurmen en uit het dorp weg te komen. De boot gaat als vanzelf.
`Moet je zien hoeveel mensen ons uitzwaaien', zegt Thija. `Het hele dorp is uitgelopen om afscheid te nemen.'
Ze zijn al bijna bij de brug. Opeens ziet hij Lizet, die haar tong uitsteekt tegen Thija. Haar been dat ze op de reling zet. De kanten strik rond haar dij. De slip die haar billen bijna bloot laat. Thija doet of ze het niet ziet.
Ze glijden onder de brug door. In de geheimzinnige grot onder de brug wordt opeens alles anders. De natte wanden glinsteren groen, om aan te kondigen dat er een wonder staat te gebeuren. In het schemerdonker veranderen hun stemmen en nemen alle dingen andere vormen aan. Als een dartel klein vliegtuig komt de boot onder de overkapping te voorschijn en vliegt omhoog. Een kleine pipercub op weg naar China, die opstijgend onophoudelijk van vorm en kleur verandert.
De mensen juichen. Mels ziet zijn moeder met haar beide handen wuiven, net of ze zelf ook mee wil. Hij zwaait terug.
`Ik breng zijden bloemen voor je mee', roept hij naar zijn moeder. `En voor jou breng ik een … een …' roept hij naar zijn vader, die hem in zijn deftigste zwart nawuift. `Een … een …' probeert hij nog, maar hij weet niet wat hij voor zijn vader mee moet brengen, want ook als hij jarig is, weet hij nooit wat hij voor hem moet kopen.
`We gaan!' schreeuwt Tijger enthousiast vanuit de cockpit. Hij heeft het nog maar net geroepen, of het vliegtuig klapt tegen de starre, dode muur van de graansilo. Meel stuift in het rond. Alles is wit. De zwaaiende mensen stuiven onder, maar ze blijven doorgaan met zwaaien, alsof ze niet hebben gezien dat het vliegtuig voor hun ogen uit elkaar is gespat. Ze blijven zwaaien tot het allemaal sneeuwpoppen zijn geworden, met zwarte hoeden en verkoolde ogen.
Ton van Reen: Het diepste blauw (081)
wordt vervolgd
fleursdumal.nl magazine
More in: - Book News, - Het diepste blauw, Archive Q-R, Reen, Ton van