Poetry by Keetje Kuipers: 'All Its Charms'
A luminous new collection from Keetje Kuipers, All Its Charms is a fearless and transformative reckoning of identity.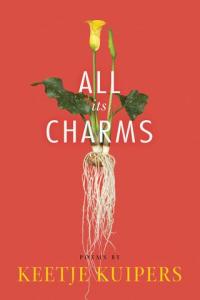 By turns tender and raw, these poems chronicle Kuipers's decision to become a single mother by choice, her marriage to the woman she first fell in love with more than a decade before giving birth to her daughter, and her family's struggle to bring another child into their lives. All Its Charms is about much more than the reinvention of the American family—it's about transformation, desire, and who we can become when we move past who we thought we would be.
Keetje Kuipers is the author of three books of poems: Beautiful in the Mouth, The Keys to the Jail, and, most recently, All Its Charms, which includes poems honored by publication in both The Pushcart Prize and Best American Poetry anthologies. 
Her poetry and prose have appeared in Narrative, Virginia Quarterly Review, The New York Times Magazine, The Believer, and over a hundred other magazines. Her poems have also been featured as part of the Academy of American Poets' Poem-a-Day series and read on NPR. Keetje has been a Stegner Fellow, a Bread Loaf fellow, and PEN Northwest's Margery Davis Boyden Wilderness Writing Resident. She lives with her wife and children on an island in the Salish Sea, a short ferry ride away from Seattle where she is Editor of Poetry Northwest.
(. . .)
I climbed the red rocks robed in their red dust.
I put the earth—all its charms—within me,
into each waiting pocket. Lip and ear.
What will happen when my body can no longer
hold this fragrant salt, its hardened tears,
inside? Let mine into the dirt. The names
I've chosen for my children are already fast
across the sky like the ochre feathers that frame
the blackbird's shrug.
(. . .)
Fragment of 'Landscape with Sage and the Names of My Children'
All Its Charms
By: Keetje Kuipers
Language: English
Paperback: 112 pages
Publisher: BOA Editions Ltd.
Publication Date: April 23, 2019
ISBN-10: 1942683766
ISBN-13: 978-1942683766
Regular price $ 17.00
# new poetry
Keetje Kuipers:
All Its Charms
• fleursdumal.nl magazine
More in: - Book News, Archive K-L, Archive K-L, MODERN POETRY