Greil Marcus: Folk Music A Bob Dylan Biography in Seven Songs
Acclaimed cultural critic Greil Marcus tells the story of Bob Dylan through the lens of seven penetrating songs Marcus delivers yet another essential work of music journalism.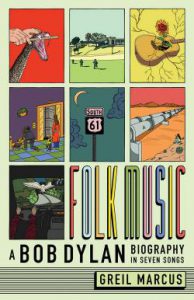 -Kirkus Reviews: Just as Dylan allows a song to carry him away, readers will be transported by the sheer poetry of Marcus' prose.
In Folk Music, Greil Marcus tells Dylan's story through seven of his most transformative songs. Marcus's point of departure is Dylan's ability to see myself in others.
Like Dylan's songs, this book is a work of implicit patriotism and creative skepticism. It illuminates Dylan's continuing presence and relevance through his empathy-his imaginative identification with other people.
This is not only a deeply felt telling of the life and times of Bob Dylan but a rich history of American folk songs and the new life they were given as Dylan sat down to write his own.
Greil Marcus
Folk Music A Bob Dylan Biography in Seven Songs
Hardcover
English language
11-10-2022
288 pages
Yale University Press
EAN 9780300255317
€ 25,99
• fleursdumal.nl magazine
More in: - Book News, - Bookstores, Archive C-D, Archive C-D, Archive M-N, AUDIO, CINEMA, RADIO & TV, Bob Dylan, Dylan, Bob