Exhibition: Soul of a Nation, Art in the Age of Black Power, until October 22 in Tate Modern
Soul of a Nation shines a bright light on the vital contribution of Black artists to a dramatic period in American art and history
The show opens in 1963 at the height of the Civil Rights movement and its dreams of integration. In its wake emerged more militant calls for Black Power: a rallying cry for African American pride, autonomy and solidarity, drawing inspiration from newly independent African nations.
Artists responded to these times by provoking, confronting, and confounding expectations. Their momentum makes for an electrifying visual journey. Vibrant paintings, powerful murals, collage, photography, revolutionary clothing designs and sculptures made with Black hair, melted records, and tights – the variety of artworks reflects the many viewpoints of artists and collectives at work during these explosive times.
Some engage with legendary figures from the period, with paintings in homage to political leaders Martin Luther King, Malcolm X and Angela Davis, musician John Coltrane and sporting hero Jack Johnson. Muhammad Ali appears in Andy Warhol's famous painting.
This landmark exhibition is a rare opportunity to see era-defining artworks that changed the face of art in America.
Book of the exhibtion:
Soul of a Nation
Art in the Age of Black Power
Edited with text by Mark Godfrey, Zoé Whitley. Contributions by Linda Goode Bryant, Susan E. Cahan, David Driskell, Edmund Barry Gaither, Jae Jarrell, Wadsworth Jarrell, Samella Lewis.
Hbk, 8.5 x 10 in.
256 pgs
203 color – 33 bw.
9/26/2017
ISBN 9781942884170
$39.95
In the period of radical change that was 1963–83, young black artists at the beginning of their careers confronted difficult questions about art, politics and racial identity. How to make art that would stand as innovative, original, formally and materially complex, while also making work that reflected their concerns and experience as black Americans?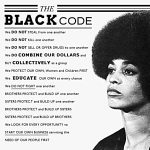 Soul of a Nation surveys this crucial period in American art history, bringing to light previously neglected histories of 20th-century black artists, including Sam Gilliam, Melvin Edwards, Jack Whitten, William T. Williams, Howardena Pindell, Romare Bearden, David Hammons, Barkley L. Hendricks, Senga Nengudi, Noah Purifoy, Faith Ringgold, Betye Saar, Charles White and Frank Bowling.
The book features substantial essays from Mark Godfrey and Zoe Whitley, writing on abstraction and figuration, respectively. It also explores the art-historical and social contexts with subjects ranging from black feminism, AfriCOBRA and other artist-run groups to the role of museums in the debates of the period and visual art's relation to the Black Arts Movement. Over 170 artworks by these and many other artists of the era are illustrated in full color.
2017 marks the 50th anniversary of the first use of the term "black power" by student activist Stokely Carmichael; it will also be 50 years since the US Supreme Court overturned the prohibition of interracial marriage. At this turning point in the reassessment of African American art history, Soul of a Nation is a vital contribution to this timely subject.
Exhibition
Soul of a Nation:
Art in the Age of Black Power
Tate Modern
Bankside
London SE1 9TG
Until 22 October 2017
# More information on website Tate Modern
African American art in the era of Malcolm X and the Black Panthers
fleursdumal.nl magazine
More in: - Book News, Andy Warhol, Art & Literature News, Art Criticism, AUDIO, CINEMA, RADIO & TV, DANCE, Exhibition Archive, MUSIC, REPRESSION OF WRITERS, JOURNALISTS & ARTISTS, Street Art, The talk of the town, Urban Art