Charles Bukowski: The Mathematics of the Breath and the Way. On Writers and Writing
In The Mathematics of the Breath and the Way, Charles Bukowski considers the art of writing, and the art of living as writer.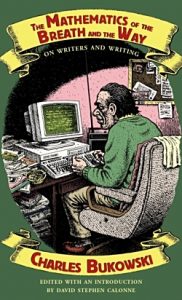 Bringing together a variety of previously uncollected stories, columns, reviews, introductions, and interviews, Mathematics finds him approaching the dynamics of his chosen profession with cynical aplomb, deflating pretentions and tearing down idols armed with only a typewriter and a bottle of beer.
Beginning with the title piece—a serious manifesto disguised as off-handed remarks en route to the racetrack—Mathematics runs through numerous tales following the author's adventures at poetry readings, parties, film sets, and bars, and also features an unprecedented gathering of Bukowski's singular literary criticism.
From classic authors like Hemingway to underground legends like d.a. levy to his own stable of obscure favorites, Bukowski uses each occasion to expound on the larger issues around literary production.
The book closes with a handful of interviews in which he discusses his writing practices and his influences, making Mathematics a perfect guide to the man behind the myth and the disciplined artist behind the boozing brawler.
The method behind the madness, revealing the critical acumen of everyone's favorite Dirty Old Man.
"Genius could be the ability to say a profound thing in a simple way, or even to say a simple thing in a simpler way."—Charles Bukowski
Charles Bukowski was born in Andernach, Germany on August 16, 1920, the only child of an American soldier and a German mother. At the age of three, he came with his family to the United States and grew up in Los Angeles. He attended Los Angeles City College from 1939 to 1941, then left school and moved to New York City to become a writer. His lack of publishing success at this time caused him to give up writing in 1946 and spurred a ten-year stint of heavy drinking. After he developed a bleeding ulcer, he decided to take up writing again. He worked a wide range of jobs to support his writing, including dishwasher, truck driver and loader, mail carrier, guard, gas station attendant, stock boy, warehouse worker, shipping clerk, post office clerk, parking lot attendant, Red Cross orderly, and elevator operator. He also worked in a dog biscuit factory, a slaughterhouse, a cake and cookie factory, and he hung posters in New York City subways.
Bukowski published his first story when he was twenty-four and began writing poetry at the age of thirty-five. His first book of poetry was published in 1959; he went on to publish more than forty-five books of poetry and prose, including Pulp (Black Sparrow, 1994), Screams from the Balcony: Selected Letters 1960-1970 (1993), and The Last Night of the Earth Poems (1992), and the following books with City Lights Publishers: Notes of a Dirty Old Man (1981), The Most Beautiful Woman in Town & Other Stories (1983), Tales of Ordinary Madness (1984), Portions from a Wine-Stained Notebook: Uncollected Stories and Essays, 1944-1990 (2008), Absence of the Hero: Uncollected Stories and Essays, Vol. 2: 1946-1992 (2010), More Notes of a Dirty Old Man: The Uncollected Columns (2011), and The Bell Tolls for No One (2015). He died of leukemia in San Pedro on March 9, 1994.
Title: The Mathematics of the Breath and the Way
Subtitle: On Writers and Writing
Author: Charles Bukowski
Introduction by David Stephen Calonne
Edited by David Stephen Calonne
Publisher: City Lights Publishers
Format Paperback
ISBN-10 0872867595
ISBN-13 9780872867598
250 Pages
List Price $16.95
Publication Date 15 May 2018
new books
fleursdumal.nl magazine
More in: - Book News, Archive A-B, Archive A-B, Art & Literature News, Bukowski, Charles, Opium-Eaters