Arcana. A Stephen Jonas Reader
Arcana: A Stephen Jonas Reader is the first selection of his work to appear in 25 years.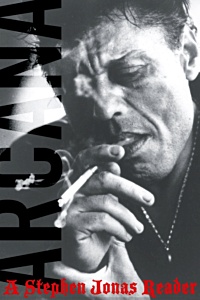 With a biographical introduction and a postscript delving into recent discoveries concerning the poet's birthplace and background, Arcana is a crucial corrective to our understanding of post-war American poetry, restoring Jonas to his rightful place among the period's vanguard.

Featuring previously uncollected and unpublished work, a section of never-before-seen facsimiles from notebooks, and a generous selection from his innovative serial poem Exercises for Ear (1968), Arcana is a much-needed retrieval of an overlooked American poet, as well as a valuable contribution to African American and Queer literature.
Beginning in the 1950s until his untimely death at age 49, Stephen Jonas (1921-1970) was an influential if underground figure of the New American Poetry. A gay, African-American poet of self-obscured origins, heavily influenced by Ezra Pound and Charles Olson, the Boston-based Jonas was a pioneer of the serial poem and an erudite mentor to such acknowledged masters as Jack Spicer and John Wieners, even as he lived a shadowy existence among drug addicts, thieves, and hustlers.

Major publications include Love, the Poem, the Sea & Other Pieces Examined by Me (1957), Exerces for Ear (1968), and Selected Poems (1994).
"A true poet of modern classic culture in mid-twentieth century U.S.A."—Allen Ginsberg
Title: Arcana
Subtitle: A Stephen Jonas Reader
Author: Stephen Jonas
Edited by Garrett Caples, Derek Fenner, David Rich, Joseph Torra
Introduction by Joseph Torra
Afterword by David Rich
Publisher: City Lights Publishers
African American poetry
Format Paperback
ISBN-10 0872867919
ISBN-13 9780872867918
Publication Date: 16 April 2019
Main content page count 264
List Price $21.95
# new books
Arcana
A Stephen Jonas Reader
• fleursdumal.nl magazine
More in: - Book News, Archive I-J, Archive I-J, Art & Literature News