Ton van Reen: Het diepste blauw (027). Een roman als feuilleton
`Ik wil geen blauwe broek', roept Mels. `Ik wil een bruine, net als Tijger. En een rood hemd. Of geel. Of groen.' `Je krijgt alleen blauw', zegt zijn moeder kortaf. `Je bent toegewijd aan Maria.'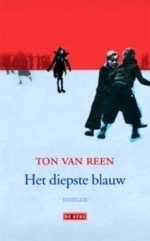 Hij weet het. Hij heet Emilius Maria. Hij schaamt er zich een beetje voor dat hij een Mariakind is. Het is iets voor meisjes. Voor anderen probeert hij het geheim te houden. Of hij liegt erover. Emilius Michael, zegt hij als anderen naar zijn doopnamen vragen, maar ze twijfelen natuurlijk wel. Iedereen weet dat wie altijd in het blauw loopt, een Mariakind is.
`Paars mag ook', zegt hij. `Of wit of zwart. Ik wil wat anders.' Om dat eeuwige blauw heeft hij niet gevraagd.
`Het kan niet', zegt zijn moeder. `Het is een belofte. Ik heb het Maria beloofd toen ik je onder mijn hart droeg. Een paar keer ging het bijna mis. Dat het leek of je te vroeg werd geboren. Ik was bang dat je een achterblijver zou worden. Toen heb ik die belofte gedaan.'
`Ik begrijp het', zegt hij. Nu weet hij opeens waarom Tijger altijd van hem wint. Er is iets met hem. Hij is niet helemaal goed. Het komt door zijn moeder. Nog steeds is ze vaak ziek.
Tijger komt binnen. Hij ziet zijn teleurgestelde gezicht. Hij weet niet waarom, maar toch legt hij troostend een arm om Mels' schouders.
`Het is vreselijk', zegt Mels. `Ik zal nooit van je kunnen winnen. Toen ik werd geboren, was ik bijna dood.'
Tijger schrikt.
`Dan had ik je nooit gekend!'
`Ik weet het', zegt Mels. `Jij bent mijn vriend.'
Zijn moeder kijkt hem verwijtend aan.
`Zo erg was het ook weer niet', zegt ze, hoewel het als een verdediging klinkt. `Je was een beetje blauw, maar je woog zeven pond. Ik was er trots op dat ik, zo mager als ik altijd was, een baby van zeven pond op de wereld had gezet. Je mankeert niks.'
Ton van Reen: Het diepste blauw (027)
wordt vervolgd
fleursdumal.nl magazine
More in: - Book Stories, - Het diepste blauw, Archive Q-R, Reen, Ton van