INSEL, the only novel by Mina Loy
Insel, the only novel by the surrealist master Mina Loy, is a book like no other—about an impossible friendship amid the glamorous artistic bohemia of 1930s Paris.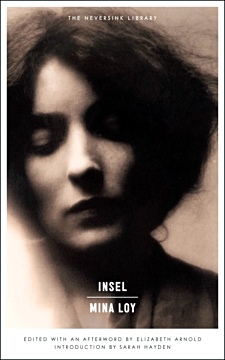 German painter Insel is a perpetual sponger and outsider—prone to writing elegant notes with messages like "Am starving to death except for a miracle—three o'clock Tuesday afternoon will be the end"—but somehow writer and art dealer Mrs. Jones likes him.
Together, they sit in cafés, hatch grand plans, and share their artistic aspirations and disappointments. And they become friends. But as they grow ever closer, Mrs. Jones begins to realize just how powerful Insel's hold over her is.
Unpublished during Loy's lifetime, Insel—which is loosely based on her friendship with the painter Richard Oelze—is a supremely surrealist, deliberately excessive creation: baroque in style, yet full of deft comedy and sympathy. Now, with an alternate ending only recently unearthed in the Loy archives, Insel is finally back in print, and Loy's extraordinary achievement can be appreciated by a new generation of readers.
Mina Loy was born in London in 1882 and began her artistic career as painter; she was influenced by Impressionism and achieved success in the Parisian art world before turning to poetry and other forms of visual art, including lampshades and "junk collages." She was at the heart of the modernist movement (as well as Dada, Futurism, and Surrealism) and had close friendships with Djuna Barnes and Gertrude Stein, among many others. Her frank and rigorously experimental writing earned her both praise and censure, as did her unconventional life: she spent many years living in Greenwich Village and on the Bowery, befriending bums, drunks, and other down-and-outs. Her work has recently been collected inThe Lost Lunar Baedeker (FSG) and Stories and Essays of Mina Loy (Dalkey Archive). She died in 1966 in Aspen, Colorado.
Elizabeth Arnold, a scholar and poet, is the author of Effacement and two other collections.
Sarah Hayden is a postdoctoral fellow at the University of Cork, where her focus is on Mina Loy and avant-garde artistic movements.
Insel
Mina Loy
Edited by Elizabeth Arnold,
with an Introduction by Sarah Hayden
Trade Paperback
Novel, 2014
180 pages
ISBN 9781612193533
Publisher Melville House
Part of The Neversink Library
"Is there anyone in America except you, Bill [William Carlos Williams,] and Mina Loy who can write anything of interest in verse?" — Ezra Pound, letter to Marianne Moore
fleursdumal.nl magazine
More in: - Book Lovers, Archive K-L, Archive K-L, Art & Literature News, Loy, Mina, SURREALISM