'Useful Junk' by: Erika Meitner
A master of documentary poetry, Erika Meitner takes up the question of desire and intimacy in her latest collection of poems.
In her previous five collections of poetry, Erika Meitner has established herself as one of America's most incisive observers, cherished for her remarkable ability to temper catastrophe with tenderness. In her newest collection Useful Junk, Meitner considers what it means to be a sexual being in a world that sees women as invisible—as mothers, customers, passengers, worshippers, wives.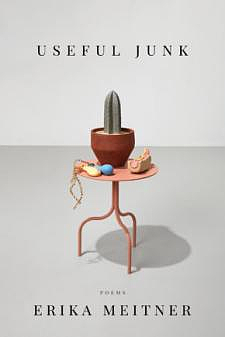 These poems render our changing bodies as real and alive, shaped by the sense memories of long-lost lovers and the still thrilling touch of a spouse after years of parenthood, affirming that we are made of every intimate moment we have ever had.
Letter poems to a younger poet interspersed throughout the collection question desire itself and how new technologies—Uber, sexting, Instagram—are reframing self-image and shifting the ratios of risk and reward in erotic encounters.
With dauntless vulnerability, Meitner travels a world of strip malls, supermarkets, and subway platforms, remaining porous and open to the world, always returning to the intimacies rooted deep within the self as a shout against the dying earth.
Boldly affirming that pleasure is a vital form of knowledge, Useful Junk reminds us that our bodies are made real and beautiful by our embodied experiences and that our desire is what keeps us alive.
Erika Meitner is the author of five books of poems, including Ideal Cities (Harper Perennial, 2010), which was a 2009 National Poetry Series winner, Copia (BOA Editions, 2014), and Holy Moly Carry Me (BOA Editions, 2018). Her poems have appeared in The New York Times Magazine, Tin House, The New Republic, Virginia Quarterly Review, Oxford American, Best American Poetry, Ploughshares, and elsewhere. In 2015, she was the US-UK Fulbright Distinguished Scholar in Creative Writing at the Seamus Heaney Centre for Poetry at Queen's University Belfast, and she has also received fellowships from The MacDowell Colony, the Virginia Center for Creative Arts, the Blue Mountain Center, and the Wisconsin Institute for Creative Writing. She is currently an associate professor of English at Virginia Tech, where she directs the MFA and undergraduate programs in Creative Writing.
# new poetry
Useful Junk
By: Erika Meitner
Regular price $ 17.00
Publisher: ‎ BOA Editions Ltd.
April 5, 2022
Language: ‎ English
Paperback: ‎ 104 pages
ISBN-10: ‎ 1950774538
ISBN-13: ‎ 978-1950774531
•fleursdumal.nl magazine
More in: #Modern Poetry Archive, - Book News, Archive M-N, Archive M-N