The Walter Scott Prize 2018 longlist is out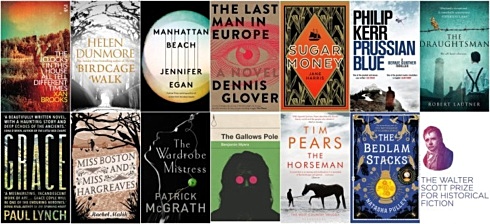 The judges of the Walter Scott Prize 2018 announced a longlist of thirteen books:
The books are:
# The Clocks In This House All Tell Different Times by Xan Brooks
# Birdcage Walk by Helen Dunmore
# Manhattan Beach by Jennifer Egan
# The Last Man In Europe by Dennis Glover
# Sugar Money by Jane Harris
# Prussian Blue by Philip Kerr
# The Draughtsman by Robert Lautner
# Grace by Paul Lynch
# The Wardrobe Mistress by Patrick McGrath
# Miss Boston and Miss Hargreaves by Rachel Malik
# The Gallows Pole by Benjamin Myers
# The Horseman by Tim Pears
# The Bedlam Stacks by Natasha Pulley
The Judges said:
"This year our Prize has attracted a record number of entries, and historical fiction continues to ride a wave of publishing success. As a result, we have been able to make our selection from a body of remarkable and varied novels. In our longlist, we have attempted to represent different styles – from lyrical to experimental, and from epic to intimate.
"All human life is here, from outlaws making a living forging coins in Yorkshire's badlands, to post-war London theatre society. We hope that in representing such a richness of styles and diversity of settings, the Walter Scott Prize can bring to public attention new work, while at the same time rewarding writers at the top of their game. We're looking forward to bringing the best of these forward to shortlist in April."
# end March 2018: Academy Recommends list announced
# April 2018: Shortlist announced
# 14th-17th June 2018: Baillie Gifford Borders Book Festival, Melrose – Winner of Walter Scott Prize 2018 announced and presented
# more information on the website of the Walter Scott Prize
fleursdumal.nl magazine
More in: - Book Lovers, Archive S-T, Art & Literature News, Awards & Prizes, Literary Events, Sir Walter Scott, The Art of Reading