PREVIEW 47th POETRY INTERNATIONAL FESTIVAL ROTTERDAM
C. BUDDINGH' PRIJS 2016
Optredens van de genomineerden voor de C. Buddingh'-Prijs 2016.  Presentatie van de festivalbundel. M.m.v. Daniël Dee, Bas Kwakman, Marcel Möring en Robert van Raffe.
zondag 29 mei – 14:00 uur – podium – toegang vrij
Lokatie BOEKHANDEL DONNER
Optredens van de genomineerden voor de C. Buddingh'-Prijs 2016: Matthijs Gomperts met Zes, Joanthan Griffioen met Wijk, Sebastiene Postma met Trappen, Marieke Rijneveld met Kalfsvlies.
"Een groot deel van de nieuwe lichting dichteressen en dichters houdt het wat hun poëzie betreft dicht bij huis. Persoonlijke herinneringen of emoties worden tot gedicht opgewerkt, waarbij zaken als experiment in vorm of de kracht van muzikaliteit in een tekst veelal ontbreken. Dit ietwat sombere beeld is zeker niet van toepassing op de vier genomineerde debutanten, die zich juist door onderwerpkeuzes, vorm of een combinatie van die twee, aan de poëtische bedeesdheid van de nieuwste dichtgeneratie onttrekt." Aldus de jury.
De C. Buddingh'-Prijs wordt sinds 1988 jaarlijks uitgereikt tijdens het Poetry International Festival. Dichters alsTonnus Oosterhoff, Anna Enquist, Joke van Leeuwen, Ilja Pfeijffer, Henk van der Waal en Maria Barnas hebben al eens eerder de prijs in ontvangst mogen nemen.
Met optredens van Daniël Dee, Bas Kwakman en Robert van Raffe. Tevens wordt de festivalbundel gepresenteerd.
Presentatie Marcel Möring.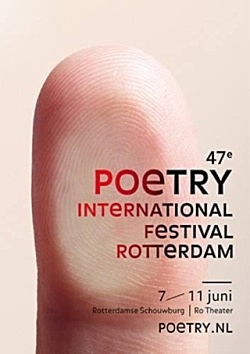 POEZIE EN STRIPS
Tijdens het Poetry International Festival verschijnt DUPLEX, een bundeling grafische gedichten van dichters en striptekenaars. Samensteller en initiatiefnemer Stefan Nieuwenhuis nodigde acht duo's uit Nederland en Vlaanderen uit om samen een grafisch gedicht te maken. 'Dit project,' vertelt tekenaar Ruben Steenman, 'waarbij je van begin tot eind samenwerkt, is iets heel nieuws en vergt echt een nieuwe aanpak'.
De duo's Tsead Bruinja – Lies van Gasse, Daniel Dee – Robert van Raffe, Ellen Deckwitz – Ruben Steeman, Delphine Frantzen – Maud Vanhauwaert en Maarten van der Graaff zonder tekenaar Maarten de Saeger presenteren het veelkleurige resultaat van hun samenwerkingen op vrijdag 10 juni op het festival. Het duo Daniel Dee en Robert van Raffe vertelt er in Donner alvast meer over .
FESTIVALTIPS EN BLOEMLEZING 'NEWSPEAK'
Een god die vrouwen door een rietje drinkt, de alles-komt-goed-man van ijzer, een privé-leger van deftige zombies en Sean Penn die straalverliefd door het bos rent, wat komt er niet voorbij tijdens het 47e Poetry International Festival Rotterdam. Poetrydirecteur Bas Kwakman geeft een persoonlijke en veelkleurige rondleiding langs festivaldichters en -programma's en leest alvast enkele gedichten ter illustratie.
Tijdens de festivalopening NEWSPEAK presenteren alle dichters zich met een geladen gedicht, vertolkt het Mondriaan Kwartet gedichten van Allen Ginsberg en maakt u kennis met de Anti-Synthpop van Rooie Waas. De gedichten van deze avond staan gebundeld in de gelijknamige bloemlezing die vandaag wordt gepresenteerd en waarmee u zich alvast kunt inlezen op uw eerste festivalbezoek. En mis dit jaar zeker de Language & Art Gallery Tour niet!
Boekhandel Donner op zondag 29 mei a.s., 14:00 uur
Preview 47th Poetry International Festival Rotterdam
fleursdumal.nl magazine
More in: - Book Lovers, - Bookstores, Art & Literature News, Literary Events, POETRY ARCHIVE, Poetry International, Rijneveld, Marieke Lucas