IN MEMORIAM BERNARD HEIDSIECK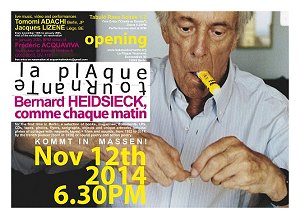 Bernard Heidsieck (1928 – 22 November 2014) a French sound poet was born in Paris.
Apart from being a poet he was vice-president of the Banque Française du Commerce Extérieur in Paris and president of the Commission Poésie at the Centre National du Livre.
In the mid 50s Heidsieck started performing his Poèmes-Partitions pieces. He brought spoken word together with a wide range of recorded material. Bernard Heidsieck organised the first international festival of sound poetry in 1976 and later the event "Rencontres Internationales 1980 de poésie sonore" which took place in Rennes, in Le Havre and at the Pompidou Centre in Paris. He was also initiater of the journals Sound Poetry and Action Poetry.
Bibliographie
Sitôt dit, Seghers, 1955.
B2B3, Éditions du Castel Rose, 1967.
Encoconnage, avec Françoise Janicot, Guy Schraenen, 1972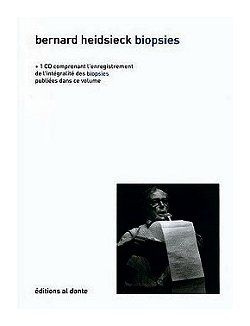 Portraits-Pétales, Guy Schraenen, 1973,
Foules, Guy Schraenen Éditeur, 1976 (Belgique).
D2 + D3Z, Poèmes-Partitions, Collection Où, Henri Chopin Éditeur, 1973.
Partition V, Le Soleil Noir, 1973 avec une œuvre de Ruth Francken.
Poésie action / Poésie sonore 1955-1975, Atelier Annick Le Moine, 1976.
Participation à Tanger I et Tanger II, Christian Bourgois Éditeur, 1978, 1979.
Dis-moi ton utopie, Éditions Eter, 1975.
Poésie sonore et caves romaines suivi de Poème-Partition D4P, Éditions Hundertmark, RFA, 1984.
Au-delà de la poésie, with Julien Blaine and Servin, with drawings by Jean Touzot, L'Unique, 1985
Canal Street, SEVIM/ B. Heidsieck, 1986
Poésie et dynamite (avec un texte de Jean-Jacques Lebel), Factotumbook 38, Sarenco-Strazzer, 1986
Derviche / Le Robert, Éditeurs Évidant, 1988.
Poème-Partition « A », Électre Éditeur, 1992.
D'un art à l'autre (Poésure et Peintrie), Ville de Marseille, 1993
Poème-Partition « R », Cahiers de nuit, Caen, 1994.
Poème-Partition « N », Les Petits classiques du grand pirate, 1995.
Sitôt dit, Seghers, 1995.

Coléoptères and Co, with P.A. Gette, Yéo Éditeur, Paris, 1997.
Poème-Partition « T », with a CD, Derrière la Salle de bains, 1998.
Vaduz, avec un CD, Francesco Conz Éditeur/Al Dante éditeur, 1998.
La Fin d'un millénaire, catalogue Ventabrun Art Contemporain, 2000
Poème-Partition « Q », Derrière la salle de bains, 1999 + une autre édition en 2001.
Bonne Année, avec Yoland Bresson, Éditions du toit, 1999
Respirations et brèves rencontres, with 3 CDs, Al Dante éditeur, 2000. (aussi en K7)
Affiche et bande magnétique, L'Affiche de poésie n°28, Le bleu du ciel, 2000
Nous étions bien peu en …, Onestar Press, 2001.
Partition V, with 1 CD, réédition, Le bleu du ciel, 2001
Canal Street, with 2 CDs, Al Dante éditeur, 2001.
Poème-Partition « F », with 1 CD, le corridor bleu, 2001. (aussi en K7)
Le carrefour de la chaussée d'Antin, with 2 CDs, Al Dante éditeur, 2001
Partition V, Le bleu du ciel, 2001 (2-9511615-3-0)
Notes convergentes, Al Dante Éditeur, 2001. (aussi en K7)
La poinçonneuse, with 1 CD, Al Dante éditeur, 2003.

Ca ne sera pas long, fidel Anthelme X, 2003.(CD)
Lettre à Brion, CD, Al Dante Éditeur, 2004.
Derviche ; Le Robert, with 3 CDs, Al Dante éditeur, 2004.
Démocratie II, with 1 CD, Al Dante éditeur, 2004.
Heidsieck et Hubaut, (cassette) avec Joël Hubaut
Morceaux choisis supplément à Bernard Heidsieck Poésie Action, Jean-Michel Place, (CD)
Collages, L'Affiche de poésie n°42, Le bleu du ciel, 2006
P puissance B, avec Radio Taxi(c), Lotta Poetica and Studio Morra
« Trois biopsies » et « Un passe – partout »
Djerassi, collages et écritures manuscrites, Le bleu du ciel, 2009 (978-2-915232-57-82)
« Trois contre 1″, CD audio et CDROM, avec Joel Hubaut, Jean-François Bory, Julien Blaine ( TRACE LABEL, 1999 ref TRACE 009)
Tapuscrits – Poèmes-Partitions, Biopsies, Passe-Partout, Les Presses du réel, 2013
IN MEMORIAM BERNARD HEIDSIECK
fleursdumal.nl magazine
More in: #Archive A-Z Sound Poetry, #Archive Concrete & Visual Poetry, Archive G-H, EXPERIMENTAL POETRY, In Memoriam