An Insomniac's Slumber Party with Marilyn Monroe by Heidi Seaborn
Poetry. An Insomniac's Slumber Party with Marilyn Monroe is a middle-of-the-night poetic conversation with Marilyn Monroe that explores obsessions, addictions, abuse, objectification, marriage, work, children, childlessness and death.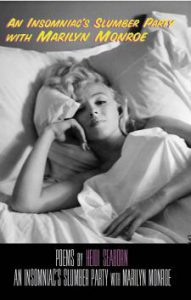 Pressing on the themes of her acclaimed debut, Give a Girl Chaos, Seaborn illuminates the biographical and emotional journey of Marilyn as intimacies whispered between two women.
These are women who have lived "on the glittering edge" and know that when a third husband "draws a blank page from his typewriter," it means she needs to go to work in a world dominated by men.
In An Insomniac's Slumber Party with Marilyn Monroe, Marilyn is a resilient, intelligent feminist who understands how to accumulate and wield power in the 1950's. She is also vulnerable, exploited, and broken in so many ways.
We see the speaker discover Marilyn until "then she is everywhere," a haunting presence that becomes both muse and reflection. Seaborn invites us into the poetic soul of the world's most famous woman with poems that celebrate and mourn. An Insomniac's Slumber Party with Marilyn Monroe is a sequined meditation on what keeps us up at night and what fills our dreams.
Heidi Seaborn wrote poetry as teenager then pursued a career as a business executive. She moved 27 times, raised three children, divorced and remarried and then after a 40-year hiatus, returned to poetry in 2016. Since then she's authored two full-length collections of poetry and three chapbooks of poetry, won or been shortlisted for over two dozen awards and been published widely. She is Executive Editor of THE ADROIT JOURNAL and holds an MFA in Poetry from NYU and a BA from Stanford University. She lives in Seattle.
An Insomniac's Slumber Party with Marilyn Monroe
by Heidi Seaborn (Author)
Paperback
June 10, 2021
Pages: 84
Publisher: ‎ PANK Books (June 10, 2021)
Language: ‎ English
ISBN-10: ‎194858719X
ISBN-13: ‎978-1948587198
$18.00
• fleursdumal.nl magazine
More in: #Biography Archives, #Modern Poetry Archive, Archive S-T, Archive S-T