When Watched & Veronica Bench, stories & poems by Leopoldine Core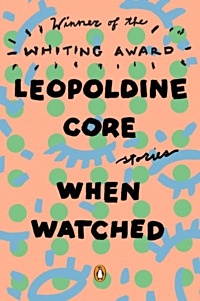 Refreshing, witty, and absolutely close to the heart, Core's twenty stories, set in and around New York City, have an other-worldly quality along with a deep seriousness—even a moral seriousness.
What we know of identity is smashed and in its place, true individuals emerge, each bristling with a unique sexuality, a belief-system all their own. Reminiscent of Jane Bowles, William Burroughs, and Colette, her writing glows with an authenticity that is intoxicating and rare.
When Watched
Stories (2016)
By Leopoldine Core
Paperback
Aug 2016
240 Pages
ISBN10 0143128698
Penguin Books
Literary Awards:
Whiting Award Winner
PEN/Hemingway Award Finalist
Lambda Literary Award Finalist
Longlisted for the PEN/Robert W. Bingham Prize for Debut Fiction & The Story Prize
"Core's stories have a voyeuristic quality, like peering through the windows of a groundfloor apartment as you walk by. . . . Core's narrative voice has earned her comparisons to Mary Gaitskill, Jane Bowles and even William Burroughs, but these references don't do justice to the intimacy and relative gentleness with which the author treats her group of modern, often millennial drifters. . . . Core captures a precious slice of what it is to be human. . . . She reaches moments of extraordinary grace."
—Alexandra Kleeman, The New York Times Book Review
"Core's prose isn't fancy, but it's gemstone smooth, and that's its most important quality: the writing is a seamless, nearly translucent vehicle that connects us to the tangled brushwork of her characters—their sorrows and desires and their so many attempts at striving for human intimacy more profound than strained conversations."
—The Paris Review Daily
Leopoldine Core was born and raised in New York's East Village and graduated from Hunter College. Her fiction and poetry have appeared in The Paris Review Daily, Open City, PEN America and Apology Magazine, among others. She is the recipient of a 2015 Whiting Award for fiction, as well as fellowships from The Center for Fiction and The Fine Arts Work Center. Author of the poetry collection Veronica Bench, Core lives in New York.
(. . .)
I've thought hard about this.
I've dug a dirt hole in my own
bedroom and lived there
rubbing my clit with a penny
under my blanket
there's an old sandwich
and a jewel.
(from poem: ITS NOT SILENCE)
Veronica Bench
Poems (2015)
By Leopoldine Core
"I like that Leopoldine's last name is Core because that is what her poems are: essential (like heaven on earth) and ephemeral (as in apple core). Her talent's in world-making, conjuring dialogic, chimeric moods that dust up an effet-monde only to let it drop casually, a strip-club curtain. Her zen-archery ease with poetry almost lets you forget how hard it really is to write like this: to be 'gutting with text' one's visions—writing not *about* God & sex but simply writing them. Her fluctuating registers and the sweet, cocky, somewhat lapidary sense of space on the page make me think of Han Shan or St. Giraud of the Naomi Poems. Core should write forever." —Ana Božičević
"It's hard to read these poems without falling in love—at least for an afternoon—with Leopoldine. She isn't speaking so much as flying." —Sparrow
# More information on website Penguin Books
fleursdumal.nl magazine
More in: - Book News, Archive C-D, Archive C-D, EDITOR'S CHOICE