BOEKENWEEK 2017 van 25 maart t/m 2 april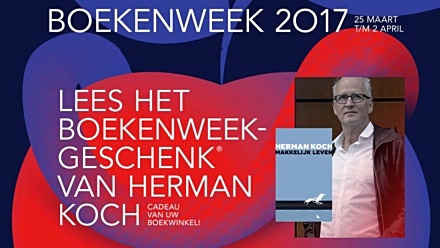 Boekenweekgeschenk van Herman Koch
Cadeau van uw boekhandel bij besteding van € 12,50 aan Nederlandstalige boeken
Synopsis Makkelijk leven
Tom Sanders is een gevierd schrijver van zelfhulpboeken en hij leidt een gelukkig leven met Julia en twee volwassen zonen, van wie de jongste, Stefan, zijn oogappel is. Tijdens een verjaardagsfeestje voor Julia staat hun schoondochter Hanna – op wie Tom en Julia niet dol zijn – opeens voor de deur. Snikkend vertelt ze dat ze door Stefan is geslagen en dat dat niet de eerste keer is. Moet Tom zijn lievelingszoon Stefan aanspreken op zijn gedrag? Of loont het misschien meer om de adviezen uit zijn zelfhulpboeken in praktijk te brengen, zoals zijn bekende richtlijn 'Probeer problemen niet altijd op te lossen door eraan te denken; vaak worden ze eerder opgelost door er niet aan te denken'?
Thema Verboden vruchten
De mens is genotzuchtig. Maar toegeven aan genot levert soms strijd op, met ons geweten, onze levensovertuiging, onze omgeving en onze fysieke dan wel geestelijke grenzen. Wel willen, niet mogen, toch doen: verboden vruchten, zowel in het leven als in de letteren. Wie kent ze niet: de drank- en drugsverslaafden in Meriswin (Hafid Bouazza), Hallo Muur (Erik Jan Harmens), Angst en walging in Las Vegas (Hunter S. Thomson) en
Naamloos (Pepijn Lanen), de gokkers in Alles of niets (Khalid Boudou), de seksjunks in De 120 dagen van Sodom (Marquis de Sade), Mieke Maaike's obscene jeugd (Louis Paul Boon) en Lolita (Nabokov), de troosteters in Chocolat (Joanne Harris), de vreetzakken in de Romeinse klassieker Satyricon (passage Het feestmaal bij Trimalchio) en de kannabalist in De maagd Marino (Yves Petry). En natuurlijk de overspeligen zoals beschreven in De buitenvrouw (Joost Zwagerman), Godin, held (Gustaaf Peek), Komt een vrouw bij de dokter(Kluun) en Mélodie d'Amour (Margriet de Moor).
Boekenweekessay bij het thema Verboden vruchten
Voor maar € 3,50 in uw boekwinkel
Libris Literatuur Prijswinnares Connie Palmen (Prometheus) schreef het Boekenweekessay 2017 bij het thema van de Boekenweek 2017: Verboden vruchten. Titel: De zonde van de vrouw.
In de bibliotheek
De Boekenweek is het literaire hoogtepunt van het jaar. De Openbare Bibliotheken grijpen dit evenement jaarlijks aan om de mooiste boeken te presenteren die zij in huis hebben. Uiteraard heeft de bibliotheek ook veel boeken bij het thema van de Boekenweek 2017: Verboden vruchten. (lees op deze pagina meer over het thema).
Boekenweekmagazine: haal gratis bij de bibliotheek
BOEKENWEEK 2017 van 25 maart tot en met 2 april
fleursdumal.nl magazine
More in: - Book Lovers, - Bookstores, Boekenweek, FICTION & NONFICTION ARCHIVE, Illustrators, Illustration, Joost Zwagerman, Literary Events, Louis Paul Boon, Marquis de Sade