Michelle Witen: James Joyce and Absolute Music
Drawing on draft manuscripts and other archival material, James Joyce and Absolute Music, explores Joyce's deep engagement with musical structure, and his participation in the growing modernist discourse surrounding 19th-century musical forms.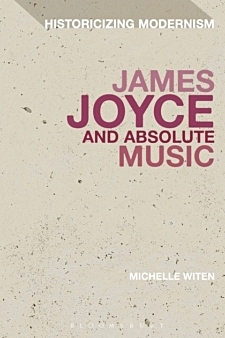 Michelle Witen examines Joyce's claim of having structured the "Sirens" episode of his masterpiece, Ulysses, as a fuga per canonem, and his changing musical project from his early works, such as Dubliners and A Portrait of the Artist as a Young Man.
Informed by a deep understanding of music theory and history, the book goes on to consider the "pure music" of Joyce's final work, Finnegans Wake.
Demonstrating the importance of music to Joyce, this ground-breaking study reveals new depths to this enduring body of work.
Towards a Modernist Condition of Absolute Music – Joyce's Early Use of Music – Joyce's fuga per canonem: A Case of Structure – Joyce's fuga per canonem: A Case of Effect – Voided Fugue in "Circe" – "It's Pure Music": Finnegans Wake
Michelle Witen is Postdoctoral Teaching and Research Fellow at the University of Basel, Switzerland.
Michelle Witen
James Joyce and Absolute Music
Published: 22-02-2018
Format: Hardback
Edition: 1st
Extent: 320 p.
ISBN: 9781350014220
Imprint: Bloomsbury Academic
Series: Historicizing Modernism
Illustrations: 9 bw illus
Dimensions: 234 x 156 mm
RRP: £85.00
literature and music
fleursdumal.nl magazine
More in: # Music Archive, Archive I-J, Archive I-J, Art & Literature News, Joyce, James, Joyce, James