Gregor Schneider by Raimund Stecker (Ed.)
Since 1985, Gregor Schneider has occupied an abandoned house next to one of the largest chasms in the world—the lignite-rich surface mine near Rheydt-Mönchengladbach known as the Garzweiler—which is also next to where his parents ran their business.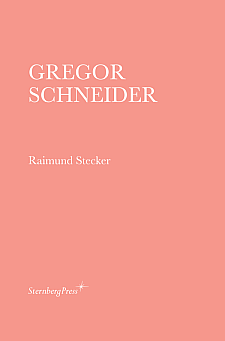 In the building, which he named Haus u r, he proceeded to build rooms within rooms.
These eerie spaces are constructed from materials salvaged from the houses that were to be crushed by juggernaut-sized bucket-wheel excavators to expand the mine.
With this publication, art historian Raimund Stecker reconnects with his first visit to Haus u r. Schneider and Stecker have known each other since the artist's student years at the Münster Academy of Art in the late 1980s.
In 1992, Stecker curated one of Schneider's first exhibitions, and has closely followed his career ever since.
This book is published on the occasion of Konschthal Esch's inaugural exhibition, curated by Christian Mosar.
# new books
Gregor Schneider
by Raimund Stecker (Ed.)
January 2022,
German/English
13.4×20.3 cm
112 pages
18 b/w ill.
softcover
ISBN 978-3-95679-635-7
Sternberg Press
Design: Cropmark
Copublisher: Konschthal Esch
Available
€28.00
• fleursdumal.nl magazine
More in: - Book News, - Bookstores, Archive S-T, Art & Literature News, AUDIO, CINEMA, RADIO & TV, Gregor Schneider