Carmen Giménez Smith: Cruel Futures
A Latina feminist State of the Union address at the intersection of pop culture and interiority.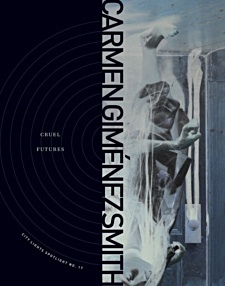 Cruel Futures is a witchy confessional and wildly imagistic volume that examines subjects as divergent as Alzheimers, Medusa, mumblecore, and mental illness in sharp-witted, taut poems dense with song. Chronicling life on an endangered planet, in a country on the precipice of profound change compelled by a media machine that produces our realities, the book is a high-energy analysis of popular culture, as well as an exploration of the many social roles that women occupy as mother, daughter, lover, and the resulting struggle to maintain personhood—all in a late capitalist America.
Born in New York, poet Carmen Giménez Smith earned a BA in English from San Jose State University and an MFA in creative writing from the University of Iowa. She writes lyric essays as well as poetry, and is the author of the poetry chapbook Casanova Variations (2009); the memoir Bring Down the Little Birds: On Mothering, Art, Work, and Everything Else (2010); and the full-length collections Odalisque in Pieces (2009), Milk and Filth (2013), finalist for the National Book Critics Circle Award, and Cruel Futures: City Lights Spotlight No. 17 (City Lights Publishers, 2018).
Giménez Smith's work explores issues affecting the lives of females, including Latina identity, and frequently references myth and memory. With the publication of Odalisque in Pieces, Giménez Smith was featured as a New American Poet on the Poetry Society of America's website. Her poems have been included in the anthologies Floricanto Si! U.S. Latina Poets (1998) and Contextos: Poemas (1994).
Giménez Smith is the editor-in-chief of Puerto del Sol and publisher of Noemi Press. She was appointed as poetry co-editor (along with Steph Burt) at The Nation in 2017 and teaches at Virginia Tech University.
Title Cruel Futures
Author Carmen Giménez Smith
Collection City Lights Spotlight
Publisher City Lights Publishers
Format Paperback
ISBN-10 0872867587
ISBN-13 9780872867581
Publication Date 15 April 2018
Main content page count 88
List Price $15.95
new books
fleursdumal.nl magazine
More in: - Book News, - Book Stories, Archive G-H, Art & Literature News, Opium-Eaters, Psychiatric hospitals