Oliver Sacks: Dankbaarheid. Essays
Oliver Sacks (1933 – 2015), befaamd neuroloog, wetenschapper en arts. Sacks studeerde medicijnen in Oxford, woonde sinds 1965 in New York en werkte als hoogleraar aan de NYU School of Medicine.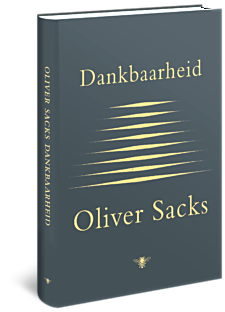 Oliver Sacks verwierf internationale roem met zijn populairwetenschappelijke boeken over de belevingswereld van zijn patiënten. Hij is de auteur van internationale bestsellers als Migraine, Ontwaken in verbijstering, De man die zijn vrouw voor een hoed hield, Stemmen zien, Een antropoloog op Mars, Musicofilia en Hallucinaties. In 2015 verscheen zijn autobiografie Onderweg. In augustus 2015 overleed hij in zijn woonplaats New York.
"Ik heb van mensen gehouden en zij hebben van mij gehouden, ik heb veel gekregen en ik heb iets teruggegeven, ik heb gelezen, gereisd, nagedacht en geschreven. Ik heb in contact gestaan met de wereld en de bijzondere uitwisselingen ervaren tussen een schrijver en zijn lezers. Maar in de eerste plaats ben ik op deze prachtige planeet een bewust denkend wezen geweest, een denkend dier, en dat alleen al was een enorm voorrecht en avontuur."
In februari 2015 maakte Oliver Sacks, in een aangrijpend stuk in The New York Times, bekend dat hij ongeneeslijk ziek was. Eind augustus overleed hij in New York, 82 jaar oud. Sinds het bericht van zijn ziekte werkte hij met grote gedrevenheid verder aan de boeken die hij nog wilde afmaken. Intussen publiceerde hij een reeks essays waarin hij probeerde grip te krijgen op het verloop van zijn ziekte en de betekenis van zijn naderende dood.
In Dankbaarheid zijn deze stukken bijeengebracht. Het is een boek dat getuigt van een grote veerkracht en menselijkheid: het laat zien hoe iemand die geconfronteerd wordt met het naderende einde toch het leven kan vieren en dankbaar kan zijn.
Auteur: Oliver Sacks
Titel: Dankbaarheid
Taal: Nederlands
Hardcover
2015
1e druk
80 pagina's
ISBN13 9789023497912
Uitgever De Bezige Bij
Vertaald door Luud Dorresteijn
€ 12,99
# new books
Oliver Sacks
Dankbaarheid. Essays
fleursdumal.nl magazine
More in: - Book News, - Book Stories, Archive S-T, AUDIO, CINEMA, RADIO & TV, Oliver Sacks, Psychiatric hospitals