MUSEUM MEERMANNO TOONT 'INSIDE/OUTSIDE', EXPERT CLASSES BOOK- EN TYPE DESIGN, PLANTIN INSTITUUT ANTWERPEN
In de tentoonstelling 'Inside/outside' wordt het werk getoond van 29 geslaagde deelnemers aan de expert classes 'Book design' en 'Type Design' uit de periode 2011-2015 van het Plantin Instituut voor Typografie dat gevestigd is in het gerenommeerde Museum Plantin Moretus te Antwerpen.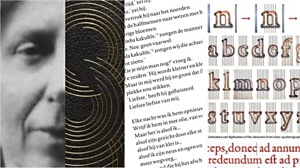 In de expert class 'Book design' krijgen de cursisten de opdracht verschillende boeken te ontwerpen: een dichtbundel, een toneeltekst, een essaybundel of een wetenschappelijke verhandeling. In de expositie wordt aan de hand van schetsen, dummy's en natuurlijk de verschillende eindresultaten getoond hoe de keuzes voor opmaak, papier, lettertype en bandontwerp tot stand kwamen. De diversiteit en originaliteit aan oplossingen laat zien hoe breed het vak van ontwerper is. In de expert class 'Type design' worden twee letterontwerpen gemaakt. Het eerste is het ontwerp van een zogenaamde 'revival letterontwerp', een digitale versie van een reeds bestaande letter uit het loden tijdperk. In de tweede module heeft de cursist alle vrijheid een eigen letter te ontwerpen. Het gehele ontwerpproces, van inspiratiebron en eerste schets tot digitaal font is in de tentoonstelling te zien. Het eindresultaat is een waar letterfeest, met klassieke boekletters, elegante cursieven en zwierige schrijfletters.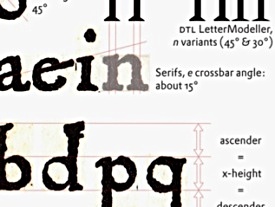 In Museum Meermanno | Huis van het boek staat de geschiedenis en de vormgeving van boeken centraal. Daarmee biedt het museum een inspirerend platform voor jonge grafische vormgevers, illustratoren en kunstenaars die zich met boeken bezighouden. Het is een onderdeel van het nieuwe beleid van het museum om een doorlopend podium te bieden aan studenten en pas afgestudeerden talenten van kunstacademies en grafische opleidingen.
De tentoonstelling is mede mogelijk gemaakt door Agfa Graphics en de Stichting Cox-De Ronde. Naar aanleiding van deze tentoonstelling zal in de winkel van Museum Meermanno de uitgave Rosart : making a revival from material of the Museum Plantin-Moretus te koop zijn. Prijs € 10,-.
De ontwerpers
BOOK DESIGN: Diane Aerts, Marian Akkermans, Sarah van Apeldoorn, Sander Belmans, Jasmijn de Boer, Anke Broeren, Omar Chafai, Philippe Debroey, Johan Duyk, Dylan Van Elewyck, Johan Jacobs, Kees Kanters, Sofie Moons, Sarah Schrauwen, Nina Serebrenick en Walter Vanhees.
TYPE DESIGN: Ianthe Bato, Ann Bessemans, Joost Dekker, Artur Frankowski, Jeroen Koning, Henrik Kubel, Johan Van Looveren, Fernando Mello, Ray O'Meara, Michel Paré, Nicolas Portnoï, Lukas Schneider,Francesco Storer en Walda Verbaenen.
Inside/outside
Van t/m 31 januari 2016
Museum Meermanno
Huis van het boek
Prinsessegracht 30
2514 AP Den Haag
T 070 34 62 700
info@meermanno.nl
www.meermanno.nl
fleursdumal.nl digital magazine
More in: - Book Lovers, - Book Stories, Art & Literature News, Design, PRESS & PUBLISHING