Cyriel Verschaeve: De Meeuw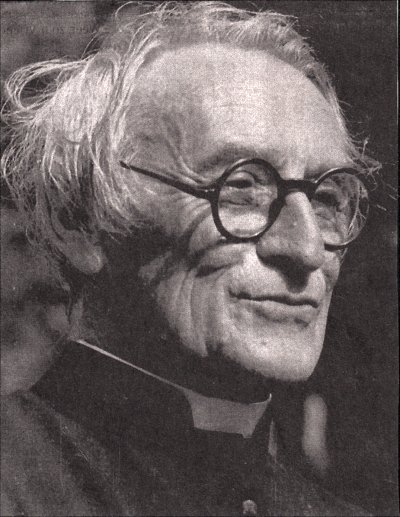 Cyriel Verschaeve
(1874-1949)
DE MEEUW
Waar men geen kleinheid kan ontwaren,
Maar zij alleen nog blijven leven:
De hemel waar de wolken varen,
De zee waarop de baren streven,
Daar streeft zij, vaart zij met haar mee
En hangt in den hemel boven de zee.
Als zeeschuim wit, blauw als de baren,
Mag zij haar moeders kleuren dragen;
Haar wentlend-boogde vleugels varen,
Gelijk de baren wiegewagen,
Ver, eenzaam ver van elke ree,
Alleen bij zijn moeder, 't kind van de zee.
In 't maatloos ruim van ijle luchten
En wijde zeeën blijft zij hangen;
Hun eenzaamheid doet haar niet vluchten.
Hun woede ziet zij zonder bangen,
Hoog in des zeewinds storm of vree
Daar hangt zij en volgt het leven der zee.
De zeewind is de zeedrift, vogel!
Als zeeliefde breed, als zeehaat machtig.
O span en stijf uw sterken vlogel,
Houd in den wind u, worstel krachtig,
Leef 't reuzen-driftenleven mee:
Al wie haar drift voelt, leeft met de zee.
Zij houdt haar driften eeuw op eeuwen;
Zij doen haar naar den hemel zingen
Of naar de donkre helle schreeuwen.
Blijf hangen in haar eeuwige kringen,
Al kost het moeheid, worstlen, wee;
Slechts wie van haar drift lijdt, vat ook de zee.
De zee te zien, haar drift te voelen
Den afgrond-wijden zieleboezem
Met brede golven binnenspoelen,
O daarvoor mag men tot den droesem
Den kelk wel legen van haar wee.
Slechts 't bittere water wordt ook de zee.
Blijft heel uw deel in de zeedrift vergen,
En, stormt hij langs de oneindige banen,
Huil, lijk uw broeder uit de bergen,
Met al de stormen en de orkanen
Het eindloos lied der grootheid mee,
O wildschone meeuwe, o arend der zee.
(12 october 1909)
  ♦  ♦  ♦
'Gij gaat toch nooit pastoor worden?
  (…)
'Ik ga schrijver worden lijk Cyriel Verschaeve of Guido Gezelle.'
'Maar dat zijn pastoors!'
(Hugo Claus, Het verdriet van België)
DE BETONNEN HEILIGE
Meer over Cyriel Verschaeve
Jef van kempen over Cyriel Verschaeve
# Lees meer over Cyriel Verschaeve: Jef van Kempen over 'De Betonnen Heilige' – Een bijdrage uit het literaire tijdschrift SIC
Cyriel Verschaeve poetry
fleursdumal.nl magazine
More in: *War Poetry Archive, Archive U-V, Cyriel Verschaeve