South African author Nadine Gordimer dies at 90
In Memoriam South African author
Nadine Gordimer
Nadine Gordimer (20 Nov.1923 -13 July 2014) the South African Nobel Prize-winning author, has died in Johannesburg aged 90.
The writer was one of the literary world's most strong voices against apartheid. She was a leading member of the African National Congress (ANC) and fought for the release of Nelson Mandela.
In 1974 Gordimer won the Booker Prize and she was awarded the Nobel Prize for Literature in 1991.
Bibliography Nadine Gordimer
2007 Beethoven Was One-Sixteenth Black, Bloomsbury
2005 Get A Life, Bloomsbury
2004 Telling Tales, editor, Bloomsbury
2003 Loot, Bloomsbury
2001 The Pickup, Bloomsbury
1999 Living in Hope and History: Notes On Our Century, Bloomsbury
1998 The House Gun, Bloomsbury
1996 Harald, Claudia and Their Son Duncan, Bloomsbury Birthday Quid, Bloomsbury
1994 Writing and Being, Harvard University Press
1994 None to Accompany Me, Bloomsbury
1992 Why Haven't You Written?: Selected Stories 1950-1972, Penguin
1991 Three in a Bed: Fiction, Morals and Politics, Bennington College (USA)
1991 Jump and Other Stories, Bloomsbury
1991 Crimes of Conscience: Selected Short Stories, Heinemann
1990 My Son's Story, Bloomsbury
1988 The Essential Gesture: Writing, Politics and Places, Cape
1987 A Sport of Nature, Cape
1986 Reflections of South Africa: Short Stories, Systime (USA)
1986 Lifetimes: Under Apartheid, with David Goldblatt, Cape
1986 A Correspondence Course and Other Stories, Eurographica (Iceland)
1985 The Tanner Lectures on Human Values, Cambridge University Press
1984 Something Out There, Cape
1981 July's People, Cape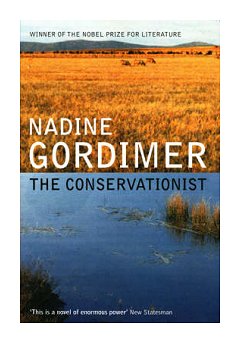 1980 What Happened to Burger's Daughter Or How South African Censorship Works, Taurus (South Africa)
1980 Town and Country Lovers, Collectors Edition, Sylvester and Orphanos (USA)
1980 A Soldier's Embrace, Cape
1979 Burger's Daughter, Cape
1975 Some Monday for Sure, Cape
1975 Selected Stories, reissued as "No Place Like: Selected Stories", Penguin, 1975, Cape
1974 The Conservationist, Cape
1973 The Black Interpreters: Notes on African Writing, Spro-Cas/Ravan (South Africa)
1973 On the Mines, with David Goldblatt, C. Struik (South Africa)
1972 Livingstone's Companions: Stories, Cape
1972 African Literature: The Lectures Given on This Theme at the University of Cape Town's Public Summer School, February 1972, University of Cape Town (South Africa)
1971 A Guest of Honour, Cape
1970 Penguin Modern Stories, contributor, Penguin
1967 South African Writing Today, co-editor with L. Abrahams, Penguin
1966 The Late Bourgeois World, Gollancz
1965 Not for Publication, Gollancz
1963 Occasion for Loving, Gollancz
1960 Friday's Footprint, Gollancz
1958 A World of Strangers, Gollancz
1956 Six Feet ofthe Country: Short Stories, Gollancz
1953 The Soft Voice of the Serpent and Other Stories, Gollancz
1953 The Lying Days, Gollancz
1949 Face to Face: Short Stories, Silver Leaf Books (South Africa)

fleursdumal.nl magazine
More in: Archive G-H, Archive S.A. literature, In Memoriam