Hart Crane: Praise for an Urn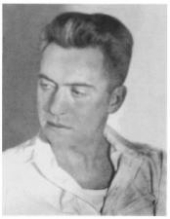 Praise for an Urn
[In Memoriam: Ernest Nelson]
It was a kind and northern face
That mingled in such exile guise
The everlasting eyes of Pierrot
And, of Gargantua, the laughter.
His thoughts, delivered to me
From the white coverlet and pillow,
I see now, were inheritances–
Delicate riders of the storm.
The slant moon on the slanting hill
Once moved us toward presentiments
Of what the dead keep, living still,
And such assessments of the soul
As, perched in the crematory lobby,
The insistent clock commented on,
Touching as well upon our praise
Of glories proper to the time.
Still, having in mind gold hair,
I cannot see that broken brow
And miss the dry sound of bees
Stretching across a lucid space.
Scatter these well-meant idioms
Into the smoky spring that fills
The suburbs, where they will be lost.
They are no trophies of the sun.
Hart Crane
(1889 – 1932)
Praise for an Urn
• fleursdumal.nl magazine
More in: Archive C-D, Archive C-D, Crane, Hart