Poëziepaleis zoekt talent!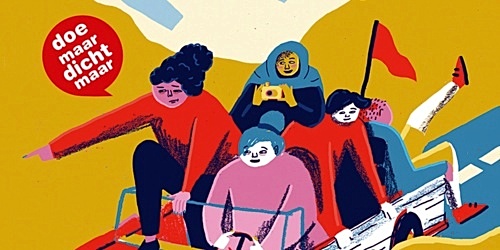 Kun jij goed schrijven? Ben jij creatief met woorden en heb je gevoel voor dichten, rappen of songteksten schrijven? Doe dan gauw mee met de dichtwedstrijd Doe Maar Dicht Maar. De honderd beste gedichten winnen een plekje in een mooie dichtbundel!
De deadline van de editie Doe Maar Dicht Maar 2018-2019 is 5 februari 2019. Stuur nu maximaal 3 gedichten in via het wedstrijdformulier. Vanzelfsprekend schrijf jij deze gedichten zelf; plagiaat is verboden! Omdat er duizenden gedichten worden ingestuurd, krijgen alleen de honderd winnaars begin mei 2019 bericht. De uitslag komt half mei op de website te staan.
Wanneer mag je meedoen?
– Je bent 12 t/m 18 jaar;
– Je spreekt en schrijft Nederlands;
– Je zit op het VMBO/ Havo/ VWO/ ROC of MBO;
– Je zit op de eerste t/m de derde graad van het secundair onderwijs in België.
Wat kun je winnen?
Van de duizenden inzendingen worden 100 gedichten gekozen die een plekje in de dichtbundel Doe Maar Dicht Maar 2018 krijgen.
De tien allerbeste dichters, vijf winnaars uit de leeftijdscategorie 12 t/m 14 jaar en vijf winnaars uit de leeftijdscategorie 15 t/m 18 jaar, krijgen een uniek cadeau met hun gedicht erop. De winnaars uit deze categorieën, gekozen door de jury, winnen een hoofdprijs!
Bovendien organiseert Het Poëziepaleis ieder jaar de dichtwedstrijd Kinderen & Poëzie voor basisschoolleerlingen uit groep 3 t/m 8. Alle kinderen van 6 t/m 12 jaar uit Nederland en België mogen meedoen.
Schrijf een gedicht over wat jij leuk, spannend, mooi of grappig vindt. Het gedicht mag rijmen, maar dat hoeft zeker niet. Je kunt dichten over jezelf, gebeurtenissen, dromen, verzinsels, mensen, dieren, gevoelens… je kunt het zo gek niet bedenken! Alles mag, zolang het gedicht maar door jou is verzonnen en geschreven.
# meer informtie op website Poëziepaleis
• fleursdumal.nl magazine
More in: #More Poetry Archives, Art & Literature News, Children's Poetry, Kinderstadsdichters / Children City Poets, MODERN POETRY, Poëziepaleis