JHERONIMUS BOSCH Art Center: tentoonstelling luchtschepen SJON BRANDS
Jheronimus Bosch Art Center: 'Jheronimus vliegt uit!' tentoonstelling luchtschepen Sjon Brands nog te zien t/m 8 januari 2017
Als afsluiting van een lange reis langs de steden waar ooit de 'Tuin der Lusten' van Jheronimus Bosch vertoefde, keren de gevleugelde luchtschepen van Sjon Brands terug naar Nederland. Na de geslaagde grote tentoonstelling in het prachtige 'Museo Lázaro Galdiano' in Madrid zijn zij ruim twee maanden te bewonderen in het 'Jheronimus Bosch Art Center' in 's-Hertogenbosch.
De tentoonstelling 'Jheronimus vliegt uit!' verwelkomt vijf gevederde "kathedralen van een op hol geslagen fantasie", beelden die onmiskenbaar doen denken aan het werk van Bosch. "Dat gevoel voor het verhalende valt samen met Bosch", zegt Amparo Lopéz, conservator van het 'Museo Lázaro Galdiano', "in beide gevallen tonen zich verhalen die de kijker al spelend kan voltooien, iets wat zeer karakteristiek is voor moderne kunst". Sergio Fanjul in 'El País': "Zijn fantasiebeelden zijn onuitputtelijk, vol met kleine hoekjes en tafereeltjes, zoals begrafenissen, fanfares, mensen die dode bomen dragen, Romeo en Julia in eigen persoon en zelfs actuele verwijzingen, zoals de onverschilligheid van de Europese Unie ten aanzien van Syrische vluchtelingen".
De uit Tilburg afkomstige kunstenaar is erg ingenomen met deze tentoonstelling op vaderlandse bodem: "Mijn werk is best wel on-Nederlands absurd, bont en barok, iets wat wij misschien wat minder gewend zijn van kunst. Maar ik hou van het onverwachte, het onbedachte, van al onze onvolkomenheden en ondeugden, van humor dus. Net als Jheronimus Bosch. Of Kurt Schwitters. Al doende laat ik me spelenderwijs inspireren door allerlei gevonden gebruiksvoorwerpen, door mooie (afval-) materialen, hun vormen, kleuren en verhoudingen. En door het onbestemde toeval dat altijd om de hoek komt kijken. Het is een groot voorrecht 'kunstenaar' te mogen zijn".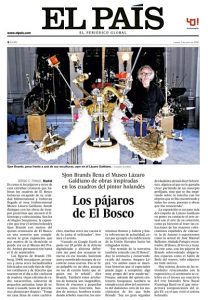 De expositie duurt nog tot en met zondag 8 januari 2017 en is van dinsdag tot en met zondag geopend van 12:00 tot 17:00 uur. 'Jheronimus Bosch Art Center', Jeroen Boschplein 2, 5211ML 's-Hertogenbosch. Meer info: www.jheronimusbosch-artcenter.nl of www.sjonbrands.nl.
'Jheronimus vliegt uit!' Sjon Brands luchtschepen
Productie: Dorith van der Lee
Organisatie: 'Jheronimus Bosch Art Center', 'stichting 'Bosch y Bosco' en de 'stichting 'Jheronimus Bosch 500'
Data: Van zondag 30 oktober 2016 t/m zondag 8 januari 2017
Plaats: 'Jheronimus Bosch Art Center', Jeroen Boschplein 2, 5211ML 's-Hertogenbosch, tel. 073-6126890
Openingstijden: Dinsdag tot zondag van 12:00 tot 17:00 uur, maandag gesloten.
Meer informatie: www.jheronimusbosch-artcenter.nl, www.sjonbrands.nl en www.boschybosco.org
Jheronimus Bosch Art Center
Jeroen Boschplein 2 (voorheen Hinthamerstraat 175)
5211 ML 's-Hertogenbosch
073 – 6126890
# Meer informatie op website van Sjon Brands
fleursdumal.nl magazine
More in: CATHEDRALS, Exhibition Archive, FDM Art Gallery, Jheronimus Bosch, Sjon Brands