Esther Porcelijn: Engel verstopt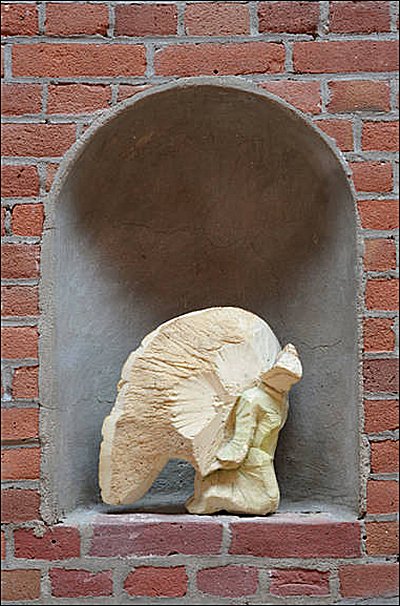 Rob Birza, De engel van Tilburg, Museum De Pont Tilburg
Engel verstopt
Eenieder heeft een sprookje nodig
Al is 't maar om de dag goed door te komen
En niemand kan eraan ontkomen
We zijn allen een beetje gelovig
Een nis als plek, tentoongesteld.
Of juist aan 't zicht ontweken
Dit is waar ik ben neergestreken
Betekenis op het beeld gespeld
Jaloers zou ik zijn, op de mensen
Ik weet niets van goed en kwaad
Weet niks van liefde, lust of haat
Zou 't amper kunnen wensen
Zwichtend voor de Grote Hand
Die leven vonkte op de aarde
Waar jullie eeuwenlang voor naar kruizen staarden
Als zwaarte lichtheid overmant
Wie zou ik moeten benijden dan?
De wezens die niets geloven?
Die niet durven dromen dat ze hopen?
Ik weet niet hoe misschien, en kán.
Zuiver mogelijk is wat ik benijd
Het alles kunnen zijn en meer
Maar ik was alles wat je wilde en weer
Zou ik alles kunnen zijn.
Ik zou uit andere verhalen willen stelen
Over keizers en ridders en vrouwen van sneeuw
Jachthonden die prinsen redden en monniken leeuwen
Maar wie wil er in mijn sprookje delen?
Esther Porcelijn
Voor: 'De Engel van Tilburg'.  Rob Birza, Museum De Pont , 23 juni 2012
kempis.nl poetry magazine
More in: Archive O-P, Porcelijn, Esther