Oscar Wilde: Requiescat, vertaling Cornelis W. Schoneveld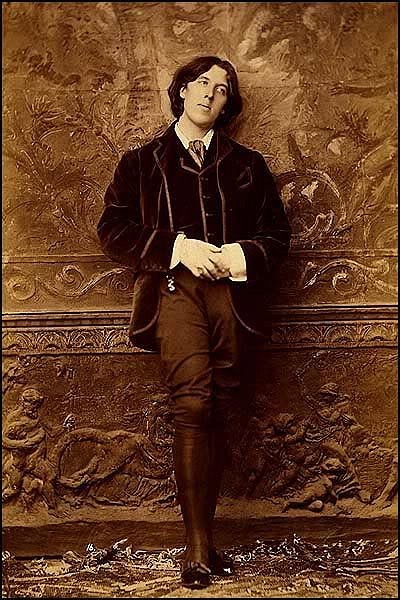 Oscar Wilde
(1854-1900)
Requiescat
Tread lightly, she is near
Under the snow,
Speak gently, she can hear
The daisies grow.
All her bright golden hair
Tarnished with rust,
She that was young and fair
Fallen to dust.
Lily-like, white as snow,
She hardly knew
She was a woman, so
Sweetly she grew.
Coffin-board, heavy stone,
Lie on her breast,
I vex my heart alone
She is at rest.
Peace, Peace, she cannot hear
Lyre or sonnet,
All my life's buried here,
Heap earth upon it.
Avignon
Oscar Wilde
Dat zij rusten mag
Stap zachtjes, zij is dichtbij,
Sneeuw ligt op haar,
Spreek teer, reeds groeit – hoort zij –
't Meizoentje daar.
Zij, nog zo jong, gezond
Daalde tot stof,
Lokken zo glanzend blond
Dor nu en dof.
'n Lelie gelijk, sneeuwwit,
Ging haar voorbij
't Vrouw-zijn als haar bezit,
Zo zoet werd zij.
Kistdeksel, zware steen,
Drukken op haar,
Ik terg mijn hart alleen
Zij rust nu daar.
Zij hoort ode noch lier,
Stil nu, O stop,
Heel mijn leven ligt hier,
Schep aarde er op.
Vertaling Cornelis W. Schoneveld
Oscar Wilde: Requiescat
Dit gedicht herdenkt Wilde's 3 jaar jongere zusje Isola die stierf in de winter van 1867 toen Oscar 12 jaar oud was. Wilde bezocht Avignon op zijn reis naar Italië in 1875.
kempis.nl poetry magazine
More in: Archive W-X, Wilde, Wilde, Oscar