Oscar Wilde Poetry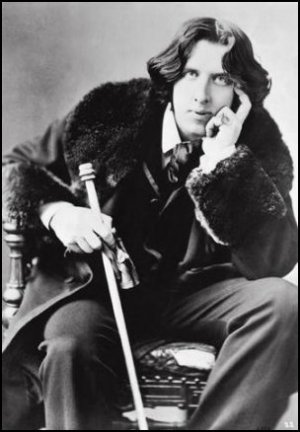 O s c a r W i l d e
(1854-1900)
Yet each man kills the thing he loves,
By each let this be heard,
Some do it with a bitter look,
Some with a flattering word,
The coward does it with a kiss,
The brave man with a sword!
Some kill their love when they are young,
And some when they are old;
Some strangle with the hands of Lust,
Some with the hands of Gold:
The kindest use a knife, because
The dead so soon grow cold.
Some love too little, some too long,
Some sell, and others buy;
Some do the deed with many tears,
And some without a sigh:
For each man kills the thing he loves,
Yet each man does not die.
From: The Ballad Of Reading Gaol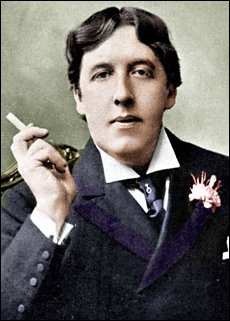 Sonnet To Liberty
Not that I love thy children, whose dull eyes
See nothing save their own unlovely woe,
Whose minds know nothing, nothing care to know,–
But that the roar of thy Democracies,
Thy reigns of Terror, thy great Anarchies,
Mirror my wildest passions like the sea
And give my rage a brother–! Liberty!
For this sake only do thy dissonant cries
Delight my discreet soul, else might all kings
By bloody knout or treacherous cannonades
Rob nations of their rights inviolate
And I remain unmoved–and yet, and yet,
These Christs that die upon the barricades,
God knows it I am with them, in some things.
On The Sale By Auction Of Keats' Love Letters
These are the letters which Endymion wrote
To one he loved in secret, and apart.
And now the brawlers of the auction mart
Bargain and bid for each poor blotted note,
Ay! for each separate pulse of passion quote
The merchant's price. I think they love not art
Who break the crystal of a poet's heart
That small and sickly eyes may glare and gloat.
Is it not said that many years ago,
In a far Eastern town, some soldiers ran
With torches through the midnight, and began
To wrangle for mean raiment, and to throw
Dice for the garments of a wretched man,
Not knowing the God's wonder, or His woe?
Oscar Wilde
More in: Wilde, Oscar